Want to eat healthy food, but life gets busy? Here are my best tips and hacks for quick healthy meals that'll save the day. This ultimate guide covers my best strategies (and easy recipe ideas) that I've perfected over nearly two decades. Bonus: download the Quick Healthy Meals Cheatsheets for free! ?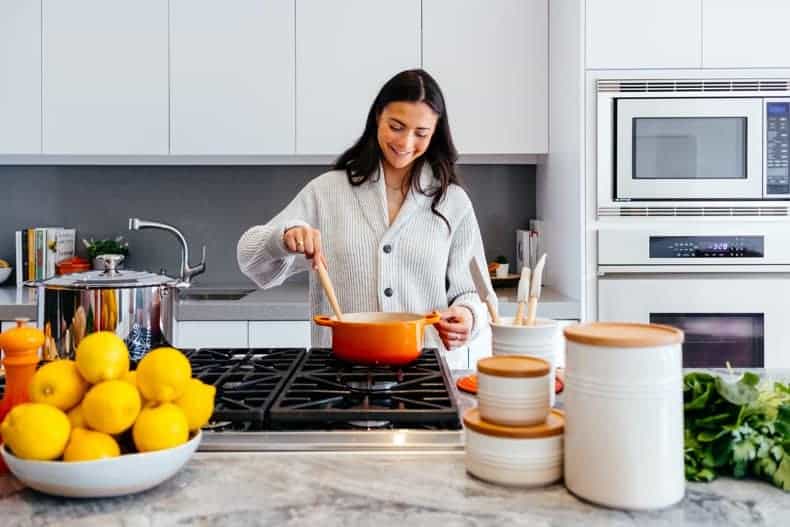 Let me guess – you're reading this post because you're not the type of person who has several unhurried hours every single afternoon to spend slaving away over a hot stove. Am I right? At the same time – you don't want to serve cereal for dinner every busy weeknight.
Don't get me wrong! I love a good long cooking session once in a while. There's something kind of magical about a glass of wine (ok, sparkling lime water for me because I'm weird), a great playlist, and fresh, quality ingredients being chopped and simmered into something truly delicious and nourishing (like this Bolognese Sauce, inspired by Chris's Italian Nonna.) I find it so satisfying and relaxing… when I'm not feeling rushed, that is.
Despite my appreciation for cooking, the reality is that there are plenty of times when easy and quick healthy dinners is what saves my bacon. This is going to make me feel super old, but… I've been married since 2003 (I was 19!) and a mom since 2008.
Today, as a busy work-from-home, homeschooling family of six, we rely on the ol' quick and easy standards pretty dang often, but as healthy living nerds we have zero desire to regularly rely on foods that make us feel yucky and don't nourish us. A delicious meal that is quick and healthy is the ultimate win around here!
Thankfully, I've spent almost two decades gaining experience in how to serve our family nourishing and easy meals without being a slave to the kitchen or sacrificing our healthy eating preferences, and I finally feel like we're crushing it.
Quick Healthy Meals Without Stress: What's the Secret?
To be honest, it's not so much a secret as it is strategy. I'm not a Type-A person, which means that most practical, detailed skills and habits are an uphill battle, but my biggest superpower is strategizing. (My saving grace!)
I apply my analytical and strategic brain to literally anything practical (then I apply my stubborn and obsessive streak to get 'er done) because that stuff doesn't come naturally to me. The upside is that because I've typically failed a thousand times, considered all angles, analyzed it to death, and gone deep into the obsession rabbit hole… once I master something, teaching it to others is a breeze.
That's the case with this topic, for sure. My entire family now benefits from years of refining my strategy and skill in mastering quick dinner ideas that are perfect for our goal of a healthy lifestyle. I'm pumped, obsessed, and (if I do say so myself) absolutely full of great advice here. ?
Let's get down to it!
? Strategy #1: Quick & Healthy No-Recipe Meals
A great way to save time is to keep a list (mentally, or written down somewhere) of meals that don't require recipes and use ingredients you always have on hand. Don't forget to think outside the box – healthy dinner recipes (and easy lunch ideas) can be breakfast food, snack plates, and other less conventional options. All of these can easily be 10-20 minute meals.
I'm always looking to add to my list, but here are our family's go-to ideas in this category:
Eggs & bacon – or any typical side – salad, smoothies, sausages, hash browns, etc.
Sandwiches – keep homemade chicken lunchmeat in the freezer, or did you know that you can freeze store-bought deli meat? Yup!
Smoothies & popcorn – here's my Quick Homemade Kettle Corn recipe if you like it sweet, and make sure you add some healthy fats like avocado or coconut oil – and collagen for protein – to your smoothie to balance the sugar levels.
Snack plates: cheese and crackers, nuts, fruit, sliced meats, etc. Serve it in a muffin tin if you have kids – trust me on this.
Spaghetti – can be done with sauce like my Italian Nonna-inspired homemade bolognese sauce (especially if you batch cook your sauce and freeze in meal-sized portions), or it could be as simple as dumping a jar of seasoned tomato sauce into browned ground beef, and serving over pasta.
Quesadillas – these whip up in a flash with store-bought (or homemade and frozen) corn tortillas, a little oil, and a frying pan. Use simple fillings like salsa, cheese, leftover chicken (that you shredded in your meal prepping, as per Strategy #2 below!) black beans or refried beans, fresh tomatoes, and serve with a side of sour cream.
Salads – Read this post for How to Make Main Dish Salads that Aren't Boring.
---
? Strategy #2: Meal Prepping Hacks (That Don't Require Several Hours Set Aside)
Some people think meal prep means taking all Sunday afternoon to prep what you need for all lunches and dinners for the week. While that can certainly be a big help if you are sending kids to school or making work lunches, it doesn't have to be that big of a process.
There are plenty of simple and easy meal prep hacks you can slip in to your normal routine without a big time commitment to make quick healthy meals a breeze. Here are my favorites to turn regular recipes into easy dinner ideas:
Cook a whole chicken

Shred the meat to pull out for quesadillas, soup, salads, BBQ chicken. Save even more time by doing this when you're cooking a whole chicken as that night's meal. Simply cook a 2nd one to shred!
Here's my post on How to Cook a Frozen Whole Chicken in the Instant Pot, one of my top favorite time savers!

Slice up your produce when you bring it home

People are more likely to snack on veggies when they are ready to eat… plus it's easier to hand a quick, healthy snack to your kids when they are hungry for the eleventy-billionth time that afternoon.
Berries and grapes are perfect to have washed and ready, as are lots of veggies like carrots, peppers, celery, and more. Lime and lemon slices can be frozen and added to your daily cups of water for a healthy upgrade.

Cook up your ground beef before freezing

Whether you keep it plain or make things like chili, spaghetti, or taco seasoned meat, it is much quicker to grab cooked meat from the freezer than to thaw a raw block.

Chop ingredients like onions, bell peppers, celery, mushrooms, and carrots and freeze them in bags.

Save a ton of time when making recipes like taco soup, chili, pizza, etc. Especially helpful for vegetarian recipes!
I always have a bag in the freezer of my "soup mix" (carrot/onion/celery) and one of my "pizza mix" (onion/pepper/mushrooms), at minimum!
You can also pre-grate cheese to store in the freezer to use as toppings on various dishes, such as mozzarella, cheddar, and parmesan.

Make double the amount of rice

Freeze extra in quart bags for fried rice. (Add some egg, some soy sauce, and some frozen veg and you have a super simple meal.)

Bake a big batch of bacon (here's how my friend Tiffany does bacon in the oven)

Freeze for mess-free reheating, or freeze as crumbled bacon to top salads or go in soups or other dishes.
By the way, my favorite mantra that I repeat to myself when taking a few extra minutes on these things is this:
Get more meal prep tips for quick healthy meals in these posts >>>
? Strategy #3: Time-Saving Small Appliances for Quick Healthy Meals
1) Instant Pot
Do you have an Instant Pot yet? It may seem like it's a fad, but I promise that a pressure cooker is a great way to save time for an easy weeknight meal. It may not be "instant" as the name implies, but once you get everything in and turned on, it's completely hands-off which means you can fold laundry while a healthy dinner cooks. Plus, many things really do cook way faster, such as squashes, dried beans, beef, chicken, pork chops, white or brown rice, and more!
All of these ones are here @ R&H:
More instant pot hacks and tips for delicious dinners in these posts >>>
2) Slow Cooker (Crockpot)
The Instant Pot may be the new thing, but you likely still have a slow cooker hanging around. It does take a little more cook time, and of course you have to be prepared to turn it on in the morning, but it is another great way to have a simple dinner cooking while you do housework or are at work.
If late afternoons are your busy time (aka the "witching hour" if you have small children) then having no hands-on work in those hours is worth its weight in gold, and can really make the difference between a healthy, homemade meal or some
Note: The Instant Pot has a slow cooker setting also, but I find it runs hot, so keep an eye on it when using it the first few times until you get a feel for it.
3) Air Fryer
I got my air fryer in 2017 and am in love with it! The time it saves me on roasted veggies alone is worth the counter space it takes, but it also does a fantastic job on homemade fries, sweet potatoes, bacon, roasting a while chicken, and so much more.
I have several quick dinner ideas in the queue that are specific to the air fryer, and I'll be sure to add those here when they're published. (Leave a comment below if you have air fryer questions – I'm currently developing several air fryer recipes and I'd love to answer any questions you might have).
Here's the one I have: Cuisinart Air Fryer Convection Oven.
? Strategy #4: Meal Plan Like It's Your Job
I'm sure you've heard it over and over – but meal planning really does make the days less hectic! You won't be as tempted to grab takeout or be in a panic at dinner time when the kids are hungry and nothing's ready if you take some time to plan your week or month ahead.
In my experience, quick healthy meals for the whole family are a total breeze when you meal plan because you can match up your strategies to your busy nights (i.e. a crockpot meal planned for a day that you have appointments in the late afternoon… a batch of instant pot shredded beef the Sunday before an extra-busy week… an easy midweek meal like bacon and eggs for a day that your partner works late and you'll be solo for the kids' dinner/bedtime routine… etc.)
By pacing yourself (your time, your energy…) you can stay serve a balanced variety of quick healthy meals without burning out – always a good thing to avoid. 😉
Meal Planning Pro Tip: Make sure you plan REALISTICALLY.
A week's menu plan is not an opportunity to try seven nights of a new recipe from Pinterest. (Please don't do that to yourself!) Plan some family favorites, some quick healthy meals like those in this post, and even one or "easy button" meals, such as a pack of nitrate-free hotdogs and rice, with carrot sticks.
A healthy dinner meal plan should be realistic to your lifestyle, above all else, or it won't be sustainable. (And don't forget my #1 favorite: doubling what you make, and enjoying leftovers the next night! The ultimate in quick and healthy meals.) 😉
? Strategy #5: Quick Healthy Shortcuts from the Grocery Store
Takeout may seem easy in the moment, but often it isn't nourishing to our bodies and we pay the price later. (Plus, the food quality is low.) A simple solution when your options at home are sparse, or even a simple recipe is just not in the cards? Head to the grocery store instead.
There are plenty of quick healthy meal options you can grab and bring home and have on the table in under 15 minutes when you have nothing else planned.
Buy sausages (or nitrate-free hotdogs, chicken breast to slice and pan-fry, etc)

Cook them in the oven or frying pan while you steam up some rice as a simple side. Add veggies (quick options include steaming frozen veggies, like green beans, or using your air fryer), and you're done in 15-20 minutes with a balanced meal. Check out Air Fryer Broccoli (Crispy & Perfect)!

A store-cooked rotisserie chicken

A great option, and already hot. Add whatever sides you want for the easiest wholesome dinner!

In a pinch, you can grab pre-sliced fruit and vegetables, individual cheeses or cottage cheese cups, crackers, hummus, and nuts

While they cost more, sometimes the convenience is worth it! You can also usually trust that plain fruit and vegetables don't have strange ingredients added to them. (This is a common quick healthy meal on the go for us when we don't feel like paying restaurant prices for our family of six.)

Check out the deli counter

Depending on what sort of grocery store you have, they may even have ready-to-go soups and salads that are made with whole (at least mostly) simple ingredients.

Buy convenience foods that make a big impact without compromise

After 17 years of chopping every onion and garlic clove we used, I discovered bags of frozen diced onions at the grocery store and it has been revolutionary! (I don't know why it took me so long to embrace this!)
Last year I also started buying minced garlic in a jar, which saves a ton of time too. I do keep fresh onions and garlic on hand for certain uses, but not having to dice or mince these things every single time is awesome, and doesn't require compromising on unhealthy ingredients.
? Strategy #6: One-Pot (or Pan) Meal Ideas
What could be easier than putting everything in a single pot or pan and popping it in the oven? One of the best ways to create a delicious weeknight dinner that's easy and simple is by combining your meat, veggies, and carbs all in one pan. Grab some rolls or chips and call it a complete meal.
Some of these delicious recipes won't necessarily be as quick-cooking as, say, bacon & eggs with a side of sliced sweet tomatoes, but they typically involve simpler prep and cooking steps (which saves you time), and of course – they dirty fewer dishes, which is always a win in my house.
? Strategy #7: Batch Your Breakfasts
Breakfast is a hectic time of day, whether you are heading out to school or work, or settling in for a day of homemaking. Starting the day off with nutrition just makes things go more smoothly. Resist the urge of a box of cereal and have these on hand.
Need More Quick Healthy Meals Inspiration for Breakfast?
? Strategy #8: Quick Healthy Meal Ideas That Don't Require Cooking
Becoming an expert at serving up quick healthy meals whenever necessary means thinking about it from different angles. With that in mind – some of these recipes may have been mentioned above, but sometimes when you don't feel like cooking, you REALLY don't feel like cooking… ya know?
Here are some awesome and quick healthy meal ideas that don't require any cooking or baking at all. I mostly use these as easy healthy lunch recipes and ideas, but they'll do dinner in a pinch, too.
Waldorf Tuna Salad with Apples & Pecans, especially delish with fresh herbs (here @ R&H) – pictured below
Smoothies – if I'm making smoothies as a meal, I always add avocado, coconut oil, collagen, hemp hearts, chia seeds (or flax), and yogurt to ensure there's plenty of healthy fat, fiber, and protein to satiate us. (Another great option is peanut butter, which pairs well with banana and cocoa, along with the above-mentioned add-ins.)
Charcuterie Board – aka fancy-speak for snack plates, aka all the food groups covered in snacky foods – like carrot sticks, red peppers, cucumbers, crackers & cheese, nuts, deli meat, etc. My Healthy Homemade Granola Bars would make a great addition here.
Sandwiches – the possibilities are endless
Salads – you can add chopped deli meat, sliced cooked chicken from your freezer, boiled eggs (technically these are cooked but you can batch cook ahead!), or canned white beans for protein. Top with various healthy nuts and seeds like chia, hemp hearts, and sesame seeds.
Crunchy Maple Granola with milk
Quick Healthy Meals Cheatsheets: FREE PRINTABLES ⬇️
Always forgetting all of these great ideas when that last-minute healthy weeknight dinner panic hits? Simple solution: write them down! Use my free printable cheatsheets to jot down all of your family's easy healthy recipes favorites. Pin it on a bulletin board or inside of a kitchen cupboard for quick healthy dinner ideas at a glance any time. (You'll thank yourself later.)
---