Tuna. It's one of those things most people either love or hate.
For most of my life, I landed solidly in the "meh" camp. It was smelly, bland, and uninteresting, but edible. All I knew to do with it was mix it with Miracle Whip and put it between slices of bread for a really cheap and boring sandwich. Maybe add some pickles if you really wanted to put off your lunch-mates at school or work.
So for most of my life, I simply avoided it.
Which is a shame, because canned tuna is a wonderfully economical and convenient source of protein. Sometimes, when you're tired of cooking everything from scratch, it can be nice to pull something inexpensive out of the pantry that's pretty much ready-made, right? Tuna to the rescue!
And if it's nutritious, too? Bonus! In addition to protein (and all the essential amino acids), tuna contains a healthy dose of iron, potassium, omega-3 fatty acids, niacin, and vitamin B12. Not bad for something so easy and cheap! (It also contains trace amounts of mercury, though, so you don't want to overdo it — no more than once or twice a week.)
I recently came across a recipe for Waldorf tuna salad, and my whole outlook on this fish-in-a-can has changed. Turns out, with a couple of fresh herbs, some sweetness from apples, and some chopped nuts for textural intrigue, tuna can be quite delightful!
This salad is the opposite of boring. I can easily polish off this entire recipe in one sitting if I'm not careful (though it is intended for two).
The best thing about this recipe is that if you have all the ingredients on hand, you can put it together in about five minutes. A tasty, refreshing, protein-packed lunch whipped up in the span of time it takes to microwave a TV dinner? Yes please!
Oh! But I absolutely must mention: DO try making your own mayonnaise — for this recipe, and for all your mayo needs. It is so, so easy. And you can avoid all the gross and troubling ingredients commonly found in conventional mayonnaise. (Here's my simple and scrumptious recipe. Seriously, if you haven't tried it, you must. You will never go back. All my friends are now converts. Even the ones who never make stuff from scratch.)
Please: if you're a fellow tuna-hater, give this recipe a try. It just might change your mind.
Adapted from Well Fed: Paleo Recipes for People Who Love to Eat by Melissa Joulwan (which, ps, is a wonderful little ebook chock-full of delicious and inspiring grain-free meals.)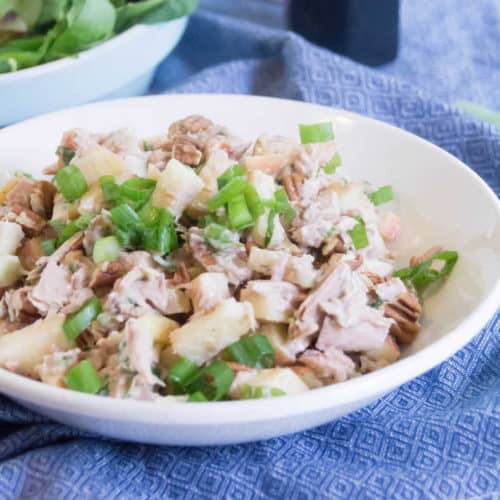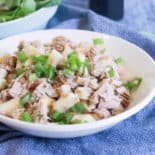 Print Recipe
Waldorf Tuna Salad
A couple of fresh herbs, some sweetness from apples, and some chopped nuts for textural intrigue, make this tuna salad delightful!
Ingredients
2

cans tuna

drained

2

small apples

diced

3

green onions

tops only (sliced)

¼

cup

chopped walnuts or pecans

¼

cup

fresh parsley leaves

finely chopped

½

teaspoon

dry mustard powder

¼

cup

mayo

preferably homemade

salt and pepper

to taste
Instructions
Toss apple, green onions, nuts, and parsley together in a medium-sized bowl.

Add drained tuna, and stir with a fork, flaking the fish and breaking up large clumps as you mix.

Add mustard and mayo and continue stirring until blended. Taste, and adjust seasoning with salt and pepper.

Eat right out of the bowl, or use as a filling for sandwiches or wraps with lettuce if desired.
Kathleen is an overeducated stay-at-home mom and homesteader wannabe, living and seeking Jesus' backwards Kingdom in Ontario with her husband and two-year-old daughter. She's a recent brewer of kombucha, goes barefoot eight months out of the year, and owns a disconcerting number of garden gnomes. Read more posts by
Kathleen
.
Latest posts by Kathleen Quiring (see all)