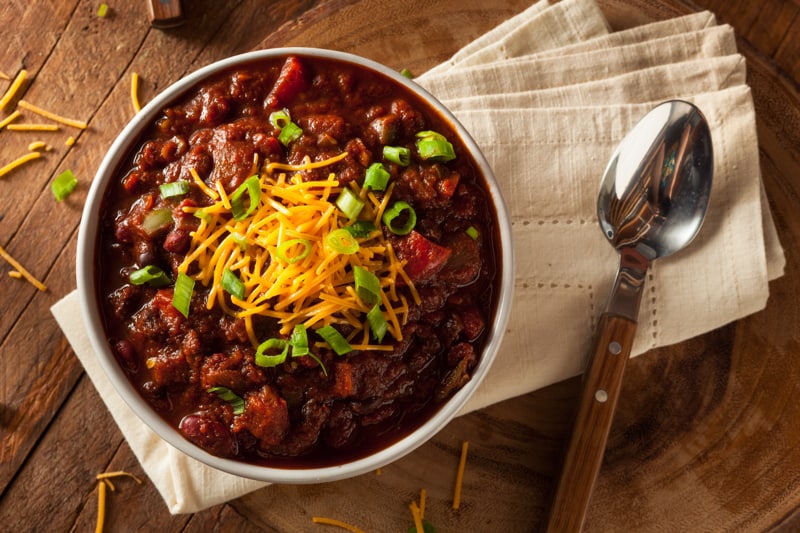 If you're anything like me, you love a hearty bowl of chili. And if you're anything like me, you're not always great at planning ahead.
So what's a girl to do when faced with a lack of dinner plans, a craving for chili, and a pantry of dried beans?
Make this instant pot chili recipe, that's what! It uses dried beans without any pre-soaking or cooking required. MAGICAL, I TELL YOU.
I developed my chili recipe years ago, and published it here on the blog in 2012. (So basically in the jurassic era of blogs.) I took a better photo a few years ago, but otherwise it's the same post from five years ago. I've been making it for my family in regular rotation all of these years, and it remains a crowd favourite.
It's also the best chili in the entire world, in my super humble opinion.
Truth be told, there are a couple of unusual ingredients that make all the difference – like the cocoa powder that brings out the flavours of the tomatoes, and the honey that adds a touch of sweet to contrast the acidity of the dish. There are some pretty happy comments on that original recipe to prove my point. And whatever you do, don't leave out the coriander. Mmmm, coriander.
Of course, I jumped on board the Instant Pot bandwagon at Christmas, thanks to my parents. I have this 8-quart model, and I LOVE it. We're a family of five (soon to be six), I love to cook double and eat leftovers, and I most definitely would go for the 8-qt again. It's worth every penny.
I remember my mom using a stovetop pressure cooker from time to time when I was a kid. It was a 70's mossy green and the top handle whistled and wiggled like it had ants in its pants. They fell out of style though (from fears of nutrient loss due to the high pressure, I think?) and she hasn't owned one since.
When the Instant Pot (an electric pressure cooker that sits on your countertop, much like a slow cooker) came onto the scene a few years ago, the discussion reopened, and well-respected health bloggers, like Katie at Wellness Mama, published their researched opinions that pressure cooking is actually a healthy way to cook our food.
So the Instant Pot craze has now reached new heights. Every real foodie blogger is either pining for an Instant Pot, experimenting with the Instant Pot, developing recipes for the Instant Pot, or even publishing Instant Pot ebooks. For a crowd who typically spends hours in the kitchen making food from single ingredients rather than boxes and cans of processed junk, the ease and convenience of the Instant Pot is straight from heaven.
I'm in the process of adapting many of my recipes to be done in the Instant Pot, and naturally chili was the first up. It's easy enough to throw the ingredients in just like with a slow cooker (browned ground beef, cooked beans, tomatoes, spices, etc.) but to be honest, that still requires forethought. Which is fine and all for Other People.
But I needed to develop the ultimate Oops I Did it Again (I forgot to plan dinner) version. And that needed to involve dried beans. So I googled around, found that a few others had done it successfully, and set out on a mission.
By following this recipe, I'm hashtag-blessed with perfectly cooked instant pot chili in just 40 minutes of cook time in the Instant Pot. Now, to be clear, that 40 minutes doesn't include the time that it comes to pressure (probably 15-20 minutes in this case), and this recipe also calls for browning the ground beef (in the Instant Pot on sauté, no need to dirty extra pans) beforehand. Plus there's a bit of time to let the pressure release afterward.
But still, all things considered, this is a pretty fast version of chili since you don't have to prep your beans ahead. If you do have time and forethought to soak your beans for any amount of time, it may help reduce the chance that one or two will be slightly undercooked in your bowl (nobody complained, but I had one bite with a slightly undercooked bean, so, ya know, full disclosure and all) but again, it's not necessary.
Go ahead and try it. You won't be sorry!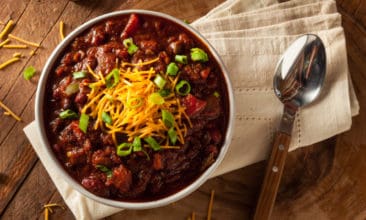 Best Ever Instant Pot Chili Recipe (Using Dried Beans without Pre-Soaking or Cooking!)
Quick and easy chili using dried beans. Magic!
Ingredients
1

cup

of diced sweet peppers

red, yellow, and/or orange

2

medium onions

diced

6

cloves

of garlic

finely diced or pressed

1

pound

ground beef

I use 2, but might use less if I needed to be a bit more frugal

2-3

large cans diced tomatoes

4

cups

dried kidney beans

pre-soaking optional

1

tablespoons

honey

1/2

tablespoon

cocoa powder

a few shakes of black pepper

1

tablespoon

sea salt

2

teaspoons

paprika

1

tablespoon

cumin

2

teaspoons

coriander

3

tablespoons

chili powder
Instructions
Using the sauté function on your Instant Pot, brown the ground beef.

Halfway through browning, add the diced peppers and onions. A few minutes later, add the garlic.

When beef is browned and peppers and onions are softened, add the rest of the ingredients.

Add lid and set Instant Pot to 40 minutes on manual.

Allow for natural pressure release (I've done quick release when in a hurry, and it's fine in a pinch.)

Serve with your favourite toppings, and enjoy!
Recipe Notes
Lately I've been replacing one of the cans of diced tomatoes for a can of plain tomato sauce (just pureed tomato, no other ingredients). My kids prefer it with less chunky tomatoes, but it totally works fine either way.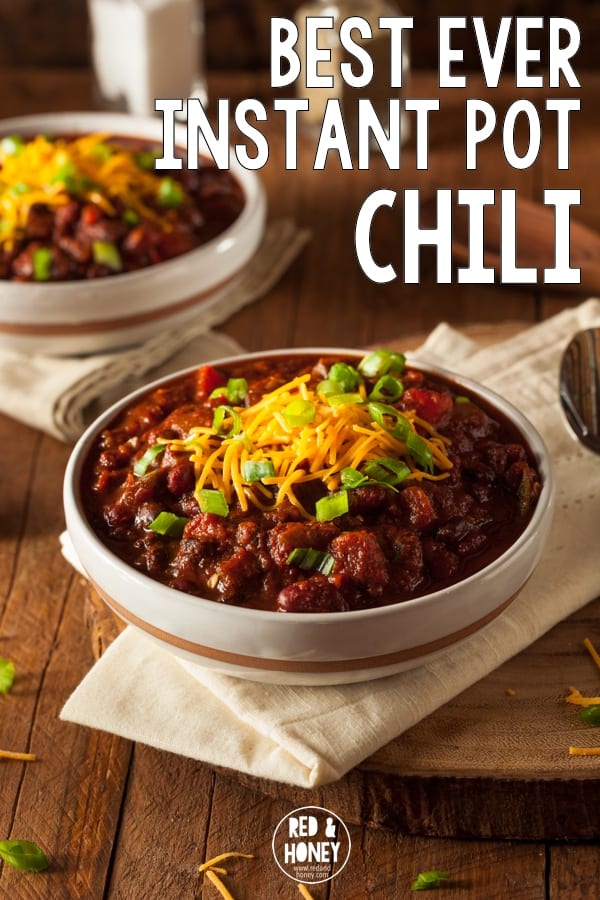 Beth is the creator here at
Red & Honey
. Mom of (almost) four, wife of one, and proud redhead. Sushi and tex-mex lover, fan of adventure, books, natural health talk, and pyjamas. INFP and Type 4 enneagram. Allergic to small talk. And, if you haven't figured it out already, #nerd. Read more posts by
Beth
.