Main dish salads can keep you feeling full for a long time, and they don't have to be boring!
Growing up, I don't remember eating many salads, let alone main dish salads. If I did they were just a sad little side salad made up of lettuce and tomato drowning in store-bought ranch dressing, and not full main dish salads.
I think that a lot of people have negative associations with salads. They think salads are boring, not filling enough, and don't taste good. Well, I am about to flip that notion on its head.
When I moved out I didn't really know how to cook much. Then when I was 22, I became vegetarian and everything changed for me in terms of my meals. I was forced to really pay attention to what I was eating and find a way to consume a lot more plant-based foods to make up for the missing chunk of the food pyramid.
I'm not saying you have to become vegetarian to become a better cook, but that is how it worked out for me. Whether you are a vegetarian, omnivore, or something else, these tips will help you make exciting and satisfying main dish salads with no recipe.
Why You Should Eat Main Dish Salads
Salads no longer have to be relegated to side-dish status. You can get everything you need in a salad and have it as your main dish, but you may be wondering why you would even want to. Here are a few reasons.
High in fibre – feel fuller, lower cholesterol, prevent constipation
Nutrient-rich – support overall health, prevent disease
Minimal cooking – perfect for the warmer months when you don't want to turn on the oven
Fewer dishes – it's all in one bowl, baby
How to Make a Perfect Main Dish Salad
A typical main dish salad in my home consists of four components:
Vegetable
Carbohydrate
Protein
Dressing
Let's go through them in more detail. I have all sorts of suggestions and inspiration for you to make your best main dish salad yet, no recipe required.
1. Vegetables
This one is pretty obvious – of course a salad has vegetables. However, the surprising thing for me is that these vegetables almost never include lettuce. I'm just not a big lettuce fan. It doesn't have much flavour, I hate trying to elegantly fit leaf pieces in my mouth, and it wilts if left in the dressing for too long.
Instead, I look to use a variety of other vegetables which change depending on the dressing or what is in season. I choose four different vegetables for main dish salads.
Here are some examples of common ones in my home:
zucchini
purple cabbage
bell peppers
carrots
cucumber
kale
peas
beets
broccoli
cauliflower
celery
And of course, if you are a lettuce fan, there are tons of varieties to include. Play around with mixing them together and seeing which types are your fave. (Beth's note: I adore arugula, and add it to almost every salad I make!)
Beans sprouts are another highly nutritious addition, and surprisingly – growing bean sprouts at home is apparently easy to do! Check out the tutorial from Kris at Attainable Sustainable. It's on my kitchen tasks wish list now!
2. Carbohydrate
I think this is what people often leave out of a salad, but if you're eating it as a meal, you need this to help keep you feeling fuller longer.
In my salads, the carbohydrate is usually some sort of a grain or grain product. Sometimes, though, I will add in roasted squash or yams in place of a grain. I love trying out new and different grains that I see at my local bulk food store. You may also be surprised to find new options that are gluten-free.
Here are some examples from my kitchen:
whole wheat pasta (or your fave gluten-free pasta)
brown rice (GF)
buckwheat soba noodles (GF)
freekeh
rice noodles (GF)
quinoa (GF)
bulgar
millet (GF)
couscous
amaranth (GF)
3. Protein
This is another often left out component of salads, but a necessary one to turn a side dish salad into a main dish salad. Protein also makes a huge difference in keeping you satisfied longer.
Here are some examples that I add in:
beans
chickpeas
lentils
seeds (sunflower, sesame, pumpkin)
nuts (peanuts, almonds, walnuts)
As a vegetarian my protein sources are plant-based, but there are so other options too.
Here are some more ideas for the omnivores out there:
tuna
chicken
bacon
salmon
cheese
boiled eggs
4. Dressing
Now the dressing is, in my humble opinion, the most important component. It will make or break your salad in terms of flavour. I like to follow another formula for making my own salad dressings: oil + vinegar + sweetener + seasoning.
Here are some examples that I use:
oils: extra virgin olive oil, avocado oil, sesame oil
kinds of vinegar: balsamic, apple cider, rice, lemon juice, lime juice
sweeteners: honey, maple syrup, brown rice syrup, coconut sugar
seasonings: garlic, onion, ginger, turmeric, herbs, red pepper flakes, salt, pepper
other add-ins: peanut butter, tahini, hummus, mustard
There you have it. You can make a tasty, healthy, satisfying salad with this formula: vegetables + carbohydrate + protein + dressing.
You will find that some ingredients can play double duty as well. Quinoa is both a carbohydrate and a protein source. Peas are both a vegetable and a protein source (and actually pretty high in carbs too – triple whammy).
The most important factor is variety! Eat the rainbow. I love seeing a bright, colourful bowl in front of me when I sit down to eat dinner. I think it's important to have a variety of textures as well – crunchy, juicy, soft and more.
Salad does not have to be boring. I eat a main dish salad for dinner almost every day through the warm months and yet I hardly ever eat the same salad twice. With all of these tips, you can make healthy, filling, flavourful main dish salads to last you through the spring and summer too.
Check out these salad recipes here at Red & Honey for inspiration:
Thai Mango Salad with Cashew Ginger Dressing
30 Crowd-Pleasing and Healthy Potluck Salads
Apple Walnut Kale Salad with Citrus Vinaigrette
Late-Summer Loaded Fresh Vegetable Salad
Tuna Salad with Apples & Pecans (Waldorf Tuna)
10+ Ways to Sneak More Fruits and Veggies Into Your Day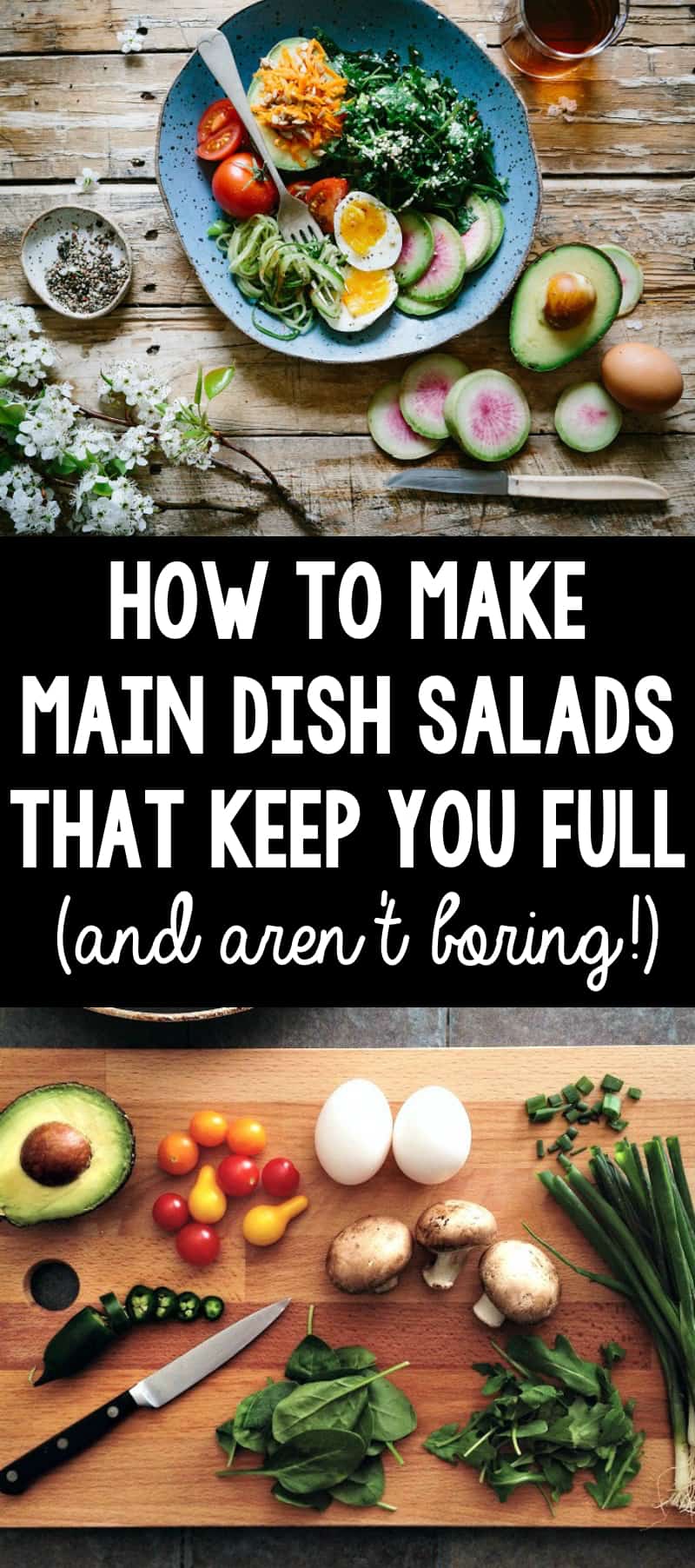 ---
Grace Furman is a freelance writer and blogger at Heartful Habits. Heartful Habits is a place of inspiration and support for your natural health and wellness journey. Check out her new, free email course The 3 R's Challenge: Go from Resenting to Releasing to Relating in 7 Days.