This iced chai tea latte recipe is so quick and easy you'll never want to waste your money buying it again! Plus, it's honey-sweetened!
Craving an iced chai latte but don't want the sugar bomb or the mile-high price tag from a coffee shop? Try this quick & easy recipe instead! It totally hits the spot on a warm day!
Sweet, a tad spicy, and full of flavor. Why settle for a plain old iced tea when a creamy iced chai tea latte is a far tastier option?
I love a creamy bulletproof chai latte but when it's hot out, I need something to beat the heat. This tasty drink fits the bill.
Oh, and you don't even have to leave your house. When you whipped one of these babies you will be getting all the flavors of a coffee shop from your kitchen. It's so easy to make I can hardly call it a recipe. You'll have it made in less time than it takes to wrestle a toddler into a car seat.
Iced Chai Tea Latte (My Personal Fave)
I first fell in love with the distinct and delicious taste of chai (or more accurately – masala chai, aka "spiced tea". The word chai on its own simply means "tea") when I spent 3 months in Kenya and Tanzania in my twenties. Most people know that masala chai originated in India, but with the significant migration of Indian people to East Africa over the years, chai has become a cultural standard there too.
Chai tea is offered at every gathering and consumed daily by most, which is prepared the same way every time: with water, milk, spices, and plenty of sugar. A good cup of warm chai tea (plus those tiny little bananas that taste like candy) were my personal favorite flavors from those trips!
In the years since my travels, I've incorporated that masala chai flavor as often as possible in my life – there's just something about it that I crave! This iced chai tea latte recipe is a perfect addition to my roster, and it's the perfect drink to cool off with.
The great thing is that this is completely customizable. If you don't like the sweetness level, adjust accordingly. If you want a stronger chai flavor, use more tea and less milk (or steep your tea for longer). It is such a flavorful drink that you might forget about your favorite coffee drink, or at least love it equally as much!
Why Make Your Own Iced Chai Latte?
It's delicious
You will save money
Uses less sugar
Less caffeine than iced coffee
Customizable
Might just be better than your favorite drink at local coffee houses and the best tea you will drink.
Health Benefits of Chai Tea
This drink is pretty much guilt free and it's a great way to curb sugar cravings with a slight sweetness without overdoing it.
Chai is black tea mixed with varying spices, most often cinnamon, cardamom, cloves, ginger, and black peppercorns. It is the perfect balance of sweet and spicy. The tea's antioxidants mixed with the healing properties of the spices make chai an undisputed health drink. For those who avoid caffeine, a cup of coffee has about 5 or 6 times more caffeine than chai.
All those benefits kind of sort of go out the window when you order a chai at standard coffee shops though.
A grande chai tea latte at Starbucks has so much sugar – in fact – there's a whopping 42 grams of sugar! Add in the $4 to $6 price tag and that makes me pretty excited to share with you this cheap, easy, healthy alternative.
How to Make an Iced Chai Tea Latte
Cold drinks are a must on a hot day. And the best thing about it – it's easy. Like super easy. You are making a strong cup of tea (or concentrate), adding sweetener, milk, and ice. That's it!
Brew tea. I like to boil water in a kettle. Then add the hot water and two chai tea bags to a mug. No microwaving over here! Or you can make your own homemade chai concentrate.
Stir in honey. If you can, find some raw honey from somewhere close to you. It's so much better for you and here's why. You can adjust the amount of honey if you want it sweeter or less sweet.
Cool. Allow the chai tea to cool on the counter or in the fridge.
Add milk and ice. Fill your glass with ice cubes and cold milk. Raw whole milk is an amazing and healthy choice. Lots of Red and Honey readers are dairy-free and if you are too, simply use whatever milk you prefer. Then pour in your chai mixture.
Simply increase the amount of water and tea bags and you are in business. Store the extra in a sealed container or jar for up to a week… because I mean, when it comes to a cool, refreshing iced chai… I don't like to wait.
Heads Up: Make sure you add the honey when the tea is still hot or warm, as it'll melt and mix in. If you add honey to a cold liquid it will most likely stay in a blob and be difficult to combine!
Expert Tips & Tricks
Starbucks Iced Chai Latte Recipe Copycat
Given the depth of my love for a good cuppa chai, over the years I've definitely consumed my fair share of hot or iced chai tea lattes from Starbucks. Is that my first choice? Nah. Do I guilt myself over it? Life is too short for that, people. But I DO love having this simple and perfect chai tea latte recipe in my back pocket that I can use as my ideal for when those iced chai tea cravings hit.
What Kind of Chai Does Starbucks Use?
Starbucks uses tea bags for hot tea, but a pre-made syrup for their iced and hot lattes, which makes it much less customizable. (More on that below.)
Why is this Recipe Even Better Than Starbucks?
This is not an exact Starbucks chai tea latte recipe. It's even better.
1. Sugar
When you order an iced chai latte at Starbucks, they are using a pre-made spiced syrup as their base. It includes the tea, the spices, and the sugar all in one shot, so customizing this drink gets tricky. If I order a syrup-based drink at Starbucks, I always order it half sweet, but if you order a chai latte half sweet it doesn't turn out well at all!
The spices really play a starring role with chai, and by ordering half-sweet, you are also only getting half the spice, too. Bummer! Making this iced chai tea latte recipe at home instead allows you to spice it up while avoiding a massive sugar bomb (like most Starbucks fancy drinks).
2. Cost
Another great reason to make it at home is obvious: the price! If I were going to use Starbucks to fuel my love for iced chai tea lattes, I'd have to figure out how to grow a money tree in the backyard first. I don't have $4-5 to spend on something that I crave daily, that's for darn sure.
3. Simplicity
Not all popular Starbucks drinks happen to be this dead easy to make at home. One of my winter faves, for example, is my Gingerbread Latte recipe, and it requires making the syrup ahead of time, as well as steaming the milk when serving. Iced tea lattes don't require steaming the milk, and you can choose to make the tea from scratch or just use pre-made chai tea bags – both work.
When you have a simple recipe like this on hand, you'll head out for a Starbucks iced chai latte less often.
What Spices Are Used in a Chai Latte?
Every chai tea recipe is going to vary a bit when it comes to the blend of spices. Most recipes call for a basic masala chai spice blend- cinnamon sticks, black peppercorns, allspice berries, whole cloves, green cardamom pods, and ginger root blend with black loose tea leaves. Sometimes you will find star anise and even a bit of ground nutmeg added.
You can totally make your own chai spice mix and add it to black tea bags or black loose leaf tea. Traditionally, you start with whole spices and grind them yourself. Chai ingredients vary a little but not a lot. Not every recipe calls for each spice but they will use some variation of those spices.
You can make your own chai concentrate from several tea bags or from your own blend of masala chai spices to keep on hand in the fridge. Whenever you are ready for an iced chai latte all you have to do is pull it out of the fridge and pour over ice, and add milk.
When you grab a box of chai tea bags be sure to check the ingredient list. You want to see a simple list that only has black tea and some variation of those spices. Some companies like to sneak natural flavors, which is the code for things like hidden addatives and secretions from a beaver's behind. (Fair warning: clicking that link may result in a feeling of horror.) Not my cup of tea if you know what I mean…
You could also use the premade Tazo chai concentrate (which is similar to Starbucks chai concentrate) in a pinch, the drawback is that there are natural flavors and of course, added sugar.
What Type of Tea is Used in a Chai Latte?
Generally, chai tea is made with black tea. You can sometimes you can find a caffeine-free version made with rooibos and chai spices, such as this one, which is my ultimate favorite non-caffeinated tea. (In fact, I love it so much that I bought all of the loose tea and spices, and I'm planning to create my own copycat blend.)
I've also bought decaf chai tea in the past, although it can be harder to find. It's the exact same chai tea, except that they use decaf black tea instead of caffeinated.
Is Iced Chai Healthy?
If you make it yourself, you bet! You are in control of what type of sweetener and how much you use. The milk is flexible according to your preferences, and you can use as much little sweetener as you prefer. This is better than a Starbucks copycat recipe.
What Substitutions Can I Make for This Recipe?
Can It Be Made Dairy-Free?
Yes! That is the beauty of the simplicity of this chai tea recipe. You can use whatever milk you prefer. Raw dairy is a great option for some people. Here are a few dairy-free milk substitutes that work well. When you buy non-dairy milk it's always a good idea to look for the brands with the least amount of additives. The main substitute that I try to avoid is soy milk. Just don't leave it out entirely or you will be missing that creamy latte taste.
Here are some great options:
Almond Milk
Oat Milk
Coconut Milk
Macadamia Nut Milk
Hemp Milk
What Type of Sweetener Does this Iced Chai Latte Use?
This healthy chai latte recipe calls for honey. Here are a few other sweeteners that would work while still retaining some health benefits:
maple syrup (may give a slight maple taste but would be ok if the spices are strong enough)
coconut palm sugar
stevia
You can definitely use a different sweetener, just know that they might not be as healthy.
Fun Variations & Additional Flavors for Your Iced Chai Tea Latte
Iced Vanilla Chai Latte – Add a splash of vanilla extract or homemade vanilla syrup.
Dirty Chai Latte– add a shot of espresso or 1/4 cup of strongly brewed coffee
Frappe– Blend the chai tea with ice, milk, and sweetener. Or better yet, make the tea into iced cubes and blend that with milk and a sweetener.
Make a simple syrup from honey or coconut sugar to drizzle in instead of adding honey.
Fun and Useful Tools
These mason jars are the perfect size for an iced chai latte. You can go all out and add a lid, a stainless steel straw, and a cute sleeve. Your iced chai tea latte will be ready to go where ever you do!
More Fun Cold Drinks & Tea Recipes to Try
Here are some tasty and popular recipes to try if you are in the mood for a new recipe. There is something for the tea drinker, coffee lover, and kids too.
Between those drool-worthy options and this iced chai latte, you're set for a deliciously indulgent summer!
Iced Chai Tea Latte
This iced chai tea latte recipe is so quick and easy you'll never want to waste your money buying it again! Plus, it's honey-sweetened!
Print
Pin
Rate
Ingredients
1

cup

boiling water

2

bags

chai tea

or two teaspoons loose leaf tea

2

Tbsp

honey

1

cup

milk of your choice

1

cup

ice
Instructions
Pour boiling water over the chai tea and steep for 10 minutes.

Remove tea and stir in honey.

Leave out or put in fridge until cool.

Serve in a large glass over ice with the milk.

Drink and be happy.
Notes
Quadruple this recipe to make a tea concentrate to have on hand for whenever an iced chai craving hits.
Nutrition
Serving:
0
g
|
Calories:
278
kcal
|
Carbohydrates:
47
g
|
Protein:
7
g
|
Fat:
7
g
|
Saturated Fat:
4
g
|
Cholesterol:
24
mg
|
Sodium:
113
mg
|
Potassium:
409
mg
|
Sugar:
46
g
|
Vitamin A:
395
IU
|
Calcium:
276
mg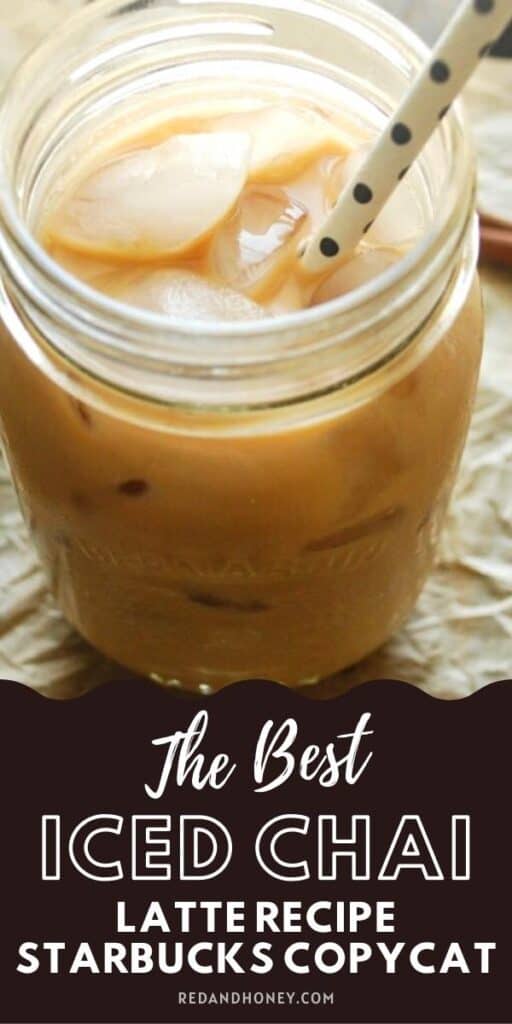 This post was originally published in 2017 by Andrea Vandiver. It was expanded & revised in 2021 by Beth @R&H.
SaveSave