This recipe makes a gigantic batch in a slow-cooker with lots left over. It freezes well, too! (I use large ziploc bags and freeze them flat-ish so they stack nicely in the freezer).
Quite frankly, I'm surprised I haven't posted any sort of Italian dish recipes thus far in my blogging career. My hubby is half Italian after all. My father-in-law grew up in Italy and his mother's sauce was legendary. The pressure – gah!
My hubs fondly remembers that sauce from his childhood. While we don't know exactly what went in to that recipe, we do know we've spent basically our whole married lives (11 years this spring) coming up with another recipe that we both love.
And… we finally did.
This spaghetti bolognese sauce is like our marriage – every year it just keeps getting better, but there are some real flops sometimes. It's a delicate balance of flavors and ingredients simmering together and getting cozy. And sometimes, we like to spice it up a little. If you know what I mean.
With chili flakes, duh! What did you think I meant? Yeesh.
This recipe makes a gigantic batch in a slow-cooker with lots left over. It freezes well, too! (I use large ziploc bags and freeze them flat-ish so they stack nicely in the freezer).
What's in it?
In case you're curious: the term "bolognese" in its most basic definition refers to a tomato and ground meat sauce with herbs/spices. Depending on who you ask, it may also include cheese, cream, garlic, diced veggies like peppers/onions/carrots, or wine. It's one of the most popular dishes in many countries around the world! (PS. let's just all say a collective thanks to google for making us all sound smarter on a daily basis. Right?!)
I'm not a huge fan of red wine (I love a fruity white, and am trying to acquire an appreciation for a good red), but I do so love the depth that cooking with wine brings to a dish. The next time I have red wine around I'll be saving some for a batch of this sauce!
Our recipe also has a touch of sweetness added with the honey and cinnamon, which we adore. You can leave those out if you're really opposed to sweet + savory together, but if I'm being honest, we probably can't be friends anymore. Your choice, punk.
What's under it?
Now you're probably going to ask me what kind of spaghetti I use. My personal favorite is spaghetti squash! It's the coolest thing – you just cut it in half, bake it for an hour, and rake it with a fork and the "noodles" come right out. It satisfies the spaghetti craving perfectly without the yucky bloat that often accompanies starchy foods. I love it. True love.
(The spaghetti squash raking thing? See also: perfect source of amusement for the easily amused).
For a gluten-free pasta that tastes pretty well exactly the same as "regular" pasta, this is our family's all-time favourite brand. It's rice pasta. It's not mushy, it has great flavour, and it is SO yummy! Believe me – we've tried a million GF pastas, and this one's the clear winner! We don't eat it very often – like maybe once a month or less – but we do enjoy it for that occasional comfort-food craving.
That's an affiliate link, by the way. Because duh: of course I want credit for the many hours of stuffing my face with various gluten-free pastas smothered in homemade sauce so that I could share my recommendations with you. It's a rough job, but that's just the kind of love and dedication I have for you all. You are so welcome.
PS. Don't have a heart attack when you click on that link for my fave GF pasta – that price is for a bundle of 6 packages. Whew!
Now go forth and maketh this saucy recipe. It shall be written in your books and plated on your spaghetti for all of your days, forever and ever amen.
Crock-Pot Spaghetti Bolognese Sauce
This recipe makes a gigantic batch in a slow-cooker with lots left over. It freezes well, too! (I use large ziploc bags and freeze them flat-ish so they stack nicely in the freezer).
Print
Pin
Rate
Total Time:
5
hours
15
minutes
Ingredients
3-4

lb

ground pork or beef

2

heads garlic

finely chopped (note: not just two cloves - two full heads!)

2

tablespoons

sea salt

3

tablespoons

honey

2

teaspoons

cumin

1

teaspoon

cinnamon

2

onions

diced

1

green pepper

diced

1

red or yellow pepper

diced

1

teaspoon

chili powder

2

tablespoons

basil

2

tablespoons

oregano

10

cups

tomato sauce

(if you buy it, be sure to check ingredients - you want it to have only tomatoes on the list)
Instructions
Throw a little bit of butter (coconut oil if you're dairy-free) into a cast-iron pan as it heats up on medium heat on the stove-top.

Saute the onions and peppers together for 5 minutes and then add spices and garlic. Saute another 5 minutes or so, then add meat.

Fry the mixture until the meat is partially cooked and nice and cozy with the onions, peppers, and spices. It's a big ol' party.

Throw the whole party into the crock-pot and add the tomato sauce.

Now set your crock-pot to cook on low for 4-8 hours (depending on your crock-pot settings and how many cups of coffee you had to make/drink before getting this started).

Leave the flavours to mix and mingle and get to know one another intimately.

Enjoy over your favourite spaghetti! And for goodness' sake: eat it with a salad. Eat your veggies, kids.
Nutrition
Calories:
226
kcal
|
Carbohydrates:
12
g
|
Protein:
13
g
|
Fat:
13
g
|
Saturated Fat:
5
g
|
Cholesterol:
48
mg
|
Sodium:
1388
mg
|
Potassium:
651
mg
|
Fiber:
2
g
|
Sugar:
8
g
|
Vitamin A:
790
IU
|
Vitamin C:
22.6
mg
|
Calcium:
47
mg
|
Iron:
3
mg
Don't forget to pin it for later: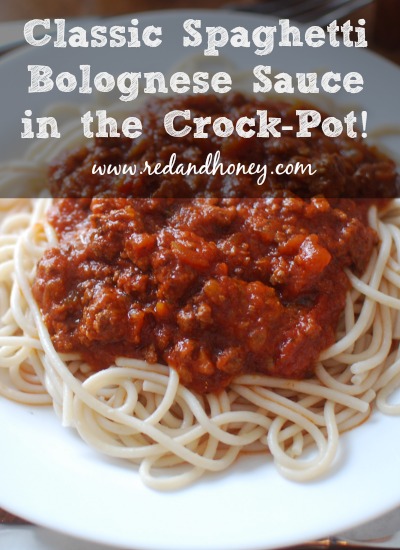 Beth is the creator here at
Red & Honey
. Mom of four, wife of one, and proud redhead. Sushi and tex-mex lover, fan of adventure, books, natural health talk, and pyjamas. INFP and Type 4 enneagram. Allergic to small talk. And, if you haven't figured it out already, #nerd. Read more posts by
Beth
.