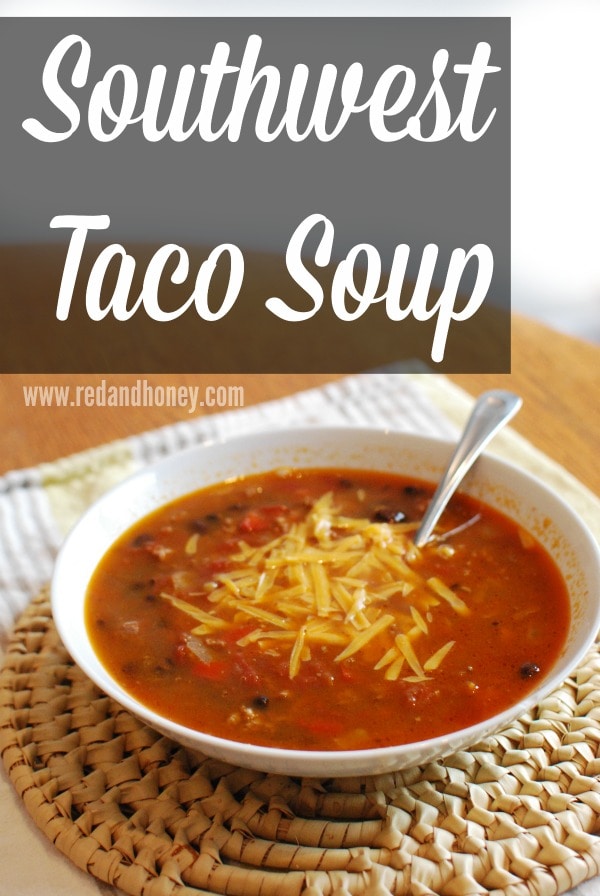 I have a serious love affair with all things Tex-Mex. I mean sure, yes, I'm pretty free with my love and devotion when it comes to my favorite foods. I have declared my undying affection for many an excellent recipe. For example, this Browned Butter Fudge, this Perfect Chili Recipe, and my Aunt Beulah's Saucy Chicken recipe.
Dangit, now I'm hungry. The perils of food blogging.
But this soup? It should win some awards, people. For things like turning soup-haters into lovers, for being magically man-pleasing (why do so many men complain about soup?!), and for being all around AMAZING.
This soup rocks my family's socks right off. Every last one of us eat it without complaint (no small miracle, I assure you), and it actually is hearty enough to fill us up.
Southwest Taco Soup
Southwest Taco Soup
This recipe is a mouth-watering explosion of hearty Tex-Mex flavors, sure to please even the pickiest palate!
Ingredients
¼ cup of butter
2 onions, chopped
6 cloves of garlic, crushed
2 tsp. salt
4 tsp. cumin
4 tsp. chili powder
2 tsp. oregano
2 sweet peppers, diced (yellow, red, or orange)
2 lbs. ground beef or ground pork
8-10 cups of bone broth (chicken or beef)
2 cans of diced tomatoes
2 cans of black beans
Instructions
Melt butter in large stock pot.
Saute onions until softened.
Add garlic and diced peppers, and stir.
Add salt, cumin, chili powder, and oregano, stir.
Add ¼ cup of the broth, if necessary.
Add the meat, stir until it is broken up and browned through.
Pour in remainder of broth and stir.
Add diced tomatoes and black beans.
Cover and let simmer for 30 minutes.
Stir in cilantro, if desired. Serve with suggested toppings, and enjoy!
Notes
Topping suggestions:
Fresh diced cilantro
Diced avocado
Grated cheese
Sour cream
Crumbled organic corn chips
(Reposted from the 2012 archives by popular demand. This is a Red+Honey family classic recipe.)
Beth is the creator here at
Red & Honey
. Mom of (almost) four, wife of one, and proud redhead. Sushi and tex-mex lover, fan of adventure, books, natural health talk, and pyjamas. INFP and Type 4 enneagram. Allergic to small talk. And, if you haven't figured it out already, #nerd. Read more posts by
Beth
.