Why I Stopped Using Coconut Oil as a Skin Moisturizer (and what I now use instead!)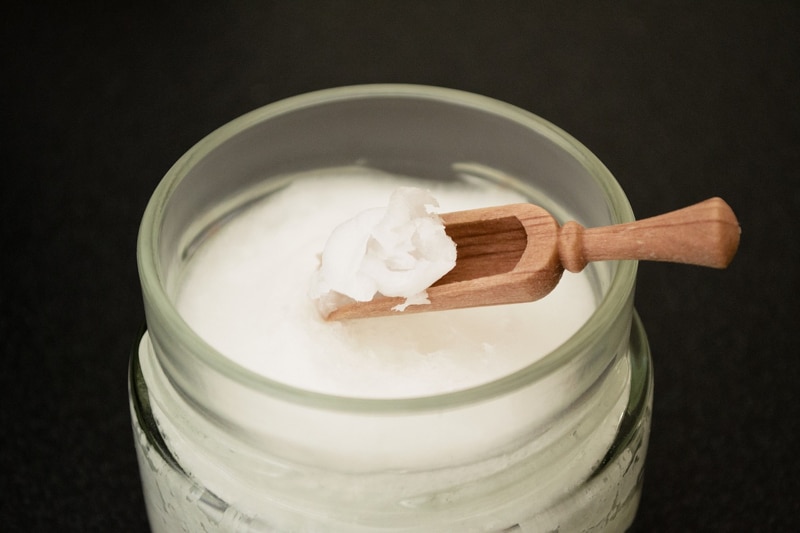 Every winter without fail, I get terribly dry skin on my face. The day after the we turn on the furnace for the first time in the fall, it starts. My face – especially in my T-zone – gets itchy, dry, and flaky. After my shower, it feels tight and awful, like that feeling you get when wearing a face mask that has dried and is ready to wash off. I do not appreciate this facet of my undeniably otherwise-flawless beauty. 😉 Not cool, face, not cool at all.
So what's a natural living, crunchy mama to do?
[Enter, stage left, hero character]
Coconut oil is the darling of the natural living crunchy community. Every real food blogger worth their (unrefined sea) salt will tell you that there are literally hundreds of ways to use the stuff, from eating it on toast to lubricating your guitar strings to lubricating your something else.
Ever seen My Big Fat Greek Wedding? Remember how Windex is the cure-all? Same idea, less hilarious and more natural.
It is often touted as the Awesomest! Moisturizer! Ever! For the last couple of years I've kept some in a little sealed container in my bathroom, carried it in my purse, and even packed it for trips, just so I could swipe a little out with my finger to help moisturize my dry skin. It worked… sorta. I also tried jojoba oil for a while (holy expensive, batman). It was better, but still not awesome.
My life was forever changed when an email landed in my inbox from Hannah at Wilder Supply Co. (Update September 2016: Wilder was formerly called Taproot Farms. Same great company, different name.)
I am totally not kidding, friends! This completely blew my mind.

Wilder Supply Co. is a family-owned business located on an off-grid modern day homestead in  Chickaloon, Alaska. They offer a variety of products including lip balm, face/body oils, shea butter, perfume, and goat milk soap (made from fresh goat milk from the family homestead – how cool is that?!)
[annnd… now cue the dramatic music] 
She wanted me to review some skin care products from their shop. I was all like, OK, sure, sounds fun. Little did I know that my face moisturizing routine as I knew it was about to be forever changed.
I tried a few different products: a peach lip balm which works beautifully, and a sandalwood goat milk handcrafted soap – smells incredible, feels totally luxurious in the shower. I LOVE the silky smooth feel of it.

Then… I tried the Moroccan Argan Oil. (Check out the special discount you can get as a Red & Honey reader here.)
Backstory: when Hannah asked me what I'd like to try from their shop, I mentioned that the Argan Oil looked interesting (I had never heard of it before) because I had suffered from dry, itchy skin on my face for so long, and my current routine was not really cutting it.
This was followed by a discussion of the various oils and some brilliant explanations from her which pretty much explained everything as to why the other oils hadn't worked for me. Here's what I learned that blew my mind:
 Jojoba oil isn't actually an oil.

It's a wax that is very similar to the skin's natural sebum. So, while it feels really nice on the skin, it can't soak in and moisturize as deeply as an oil like Argan.
Coconut oil is a very light moisturizer that sinks in quickly, which appeals to a lot of people. It works well for some, but not those with very dry skin as it

does not moisturize deeply enough

.
Argan is non-comedogenic, so it won't clog your pores, but it also moisturizes.
Conversely, coconut oil is considered to be fairly comedogenic. That doesn't bother many people, but if you have a tendency to get clogged pores (blackheads, etc), coconut oil might exacerbate that problem.
So while coconut oil might work well for people who have skin in the middle of the spectrum, it doesn't usually work great for those of us who tend to have dry or oily skin issues.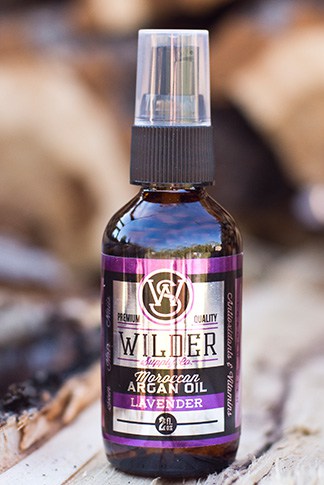 So, I started using the Argan Oil every morning, especially after a shower (I don't shower every day.)
I dab a few drops on my driest areas (right between my eyebrows, forehead, around the base of my nose) and massage it in. It literally only takes a few drops, and my skin drinks it up thirstily.
It is especially effective if I give my face a quick, gentle exfoliation first. In the shower, I just gently scrub my face with a washcloth and it works great. I don't feel a need to buy special products, or to be particularly harsh with scrubbing.
Since using the argan oil, I have noticed an absolute 100% improvement in the way the skin on my face feels on a daily basis. As far as I can tell, the results are long-lasting too, because on the days I don't shower, I sometimes don't even use the oil because my skin is still happily moisturized from the day before.
It's incredibly effective (this is about as close to defining something as a miracle product as I've ever gotten) and it's frugal too, considering how little of it you need at a time. At the risk of overstating my case, to be honest, I am utterly blown away and thrilled with this product. Truly.
Now, not only does it work well and not cost me an arm and a leg, but consider these amazing factors as well:
Some fascinating facts* about the origins and production of Argan Oil:
Argan oil is one of the rarest, most highly valued oils in the world. It is a plant-based oil that comes from the Argan tree, which is exclusive to Morocco. It is called the "tree of life" there, and it has been used by locals for centuries.
Every part of the plant is utilized: the fruit and leaves are used to feed livestock, the oil is used on skin and for cooking, and the nut shells are even used as fuel! Incredible.
The process of extraction and selling this oil is done in a sustainable fashion. Almost all Argan oil is distributed by local co-operatives of women in Morocco. To this day, the most efficient method of extraction is hand-pressing the kernels, which provides valuable jobs to women in the country.
Argan oil's composition is quite remarkable as well. It contains nearly 80% fatty acids and is extremely high in vitamin E, which are both traits held in high regard in the beauty industry. The industry often adds synthetic versions of these things to products to be able to market them as anti-aging and healing, but of course, the natural (non-synthetic) version is far superior.
Argan also contains active ingredients called phytosterols, which may have anti-tumor effects, reduce inflammation, and which also have cell stimulation properties."
Wilder Supply Co. (<– get a special discount through that link) is a small family business that prides itself on offering natural, affordable products of exceptional quality. They also value sustainability and top-notch service, which pretty well makes them my ideal company.
Disclosure: All opinions expressed are my own. I honestly use and love these products. This post is sponsored by Wilder Supply Co (formerly Taproot Farms), because it would have been downright wrong to keep this kind of info to myself. 🙂
What do you use to moisturize your skin?

SaveSave
Beth is the creator here at
Red & Honey
. Mom of four, wife of one, and proud redhead. Sushi and tex-mex lover, fan of adventure, books, natural health talk, and pyjamas. INFP and Type 4 enneagram. Allergic to small talk. And, if you haven't figured it out already, #nerd. Read more posts by
Beth
.