Your whole chicken can go from your freezer to your dining table in less than an hour thanks to the Instant Pot - how awesome is that?!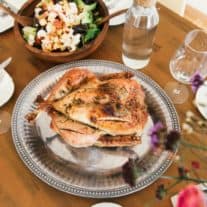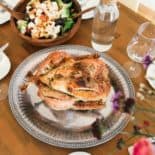 Cooking a frozen whole chicken in the instant pot in under an hour is one of my absolute favourite instant pot uses!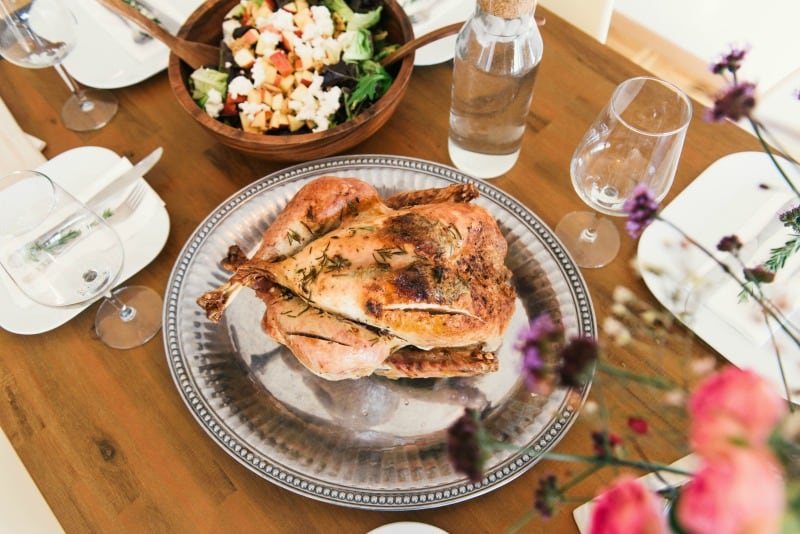 "What's your dinner plan tonight?" the husbands texts from work, mid-afternoon.
"Dinner plan!" I think, with panic. "I'm in charge of that again?!" (Yes, Beth, every single weeknight. Welcome back to reality, scatterbrain.)
"Ummm, I'm doing a whole chicken with mashed potatoes and green beans and gravy," I text back.
And just like that: I'm totally on the ball and winning at weeknight dinner. I mean, it's 2:53pm and the chicken is still frozen solid in the deep freeze downstairs, but no sweat – I got it handled like a boss thanks to my Instant Pot BFF. Let's just all pretend like I had planned this all along, 'kay?
A whole chicken dinner a family favourite meal, and until I acquired an Instant Pot, it required at least 48 hours of forethought: take the whole chicken out of the freezer to defrost in the fridge for a couple of days, and then make sure to start roasting it in the oven by early afternoon to ensure it was cooked through in time.
Now, with the Instant Pot, I can cook a whole chicken that's frozen solid in about 35 minutes. It's a dadgum miracle, I tell you. And since I typically make a whole chicken once weekly to ensure I have enough homemade bone broth on hand, this "recipe" (if we can call it that) has come in handy more times than I can count!
Now, the results won't be *exactly* the same as a perfectly golden roast chicken from the oven. The IP version is slightly less crispy or golden on top, so if that's super important to you, try this method when you're not serving it to guests so you can judge for yourself whether you like it.
But honestly – the Instant Pot version majorly impressed me with the end result. It gets lightly browned on top and the meat is tender and moist. Unless I'm staging a magazine photo shoot (which hasn't happened as of yet in my kitchen), I now go for the Instant Pot every time.
And these days – I actually do include this in my menu planning. Because I'm a genius like that, and because why complicate life when it can so deliciously simple?
Here's how to do it:
How to Cook a Frozen Whole Chicken in the Instant Pot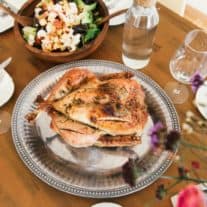 Instant Pot Whole Chicken (from frozen)
Your whole chicken can go from your freezer to your dining table in less than an hour thanks to the Instant Pot - how awesome is that?!
Print
Pin
Rate
Ingredients
1

whole chicken, frozen

salt & pepper

herbs and spices of your choice

dried or fresh
Instructions
My rule of thumb with frozen whole chicken in the instant pot is 10 minutes per pound, so I'd cook a 3-pound chicken for 30 minutes, a 4-pounder for 40 minutes, and so on. (For a fresh chicken, I'd do 6-7 minutes per pound.)

Place frozen whole chicken in the instant pot on the trivet. (You don't need to bother cooking the meat in the liquid, as I typically do in the oven, because the Instant Pot makes perfectly moist chicken every time.)

Add salt and pepper, seasonings of choice.

Add 1/2 cup to 1 cup water (depending on the size of your chicken. Minimum half a cup is important in order for the instant pot to function correctly.).

Set timer to appropriate time on manual mode (see first instruction above). Allow pressure to NPR (natural pressure release), and serve.

Use the remaining liquid for gravy.
Notes
Reminder: always use a meat thermometer to check the internal temperature before eating.
We typically add the bones back to the Instant Pot after dinner (our family typically eats most of the meat from a smallish whole chicken in one meal) and add water to make bone broth while we clean the kitchen and put the kids to bed.
Don't forget to account for pressurization and de-pressurization time in your planning. An Instant Pot with a frozen whole chicken takes longer to come up to pressure than most other recipes. I'd say it averages 25-30 minutes, and that's before your timer starts the countdown.
Nutrition
Calories:
272
kcal
|
Carbohydrates:
0
g
|
Protein:
23
g
|
Fat:
19
g
|
Saturated Fat:
5
g
|
Cholesterol:
95
mg
|
Sodium:
88
mg
|
Potassium:
239
mg
|
Sugar:
0
g
|
Vitamin A:
180
IU
|
Vitamin C:
2.1
mg
|
Calcium:
14
mg
|
Iron:
1.1
mg
Ultimate Bundles Healthy Meal Planning Bundle
Is healthy eating is important to you and your family? If you want to eat well, but you're overwhelmed with decision fatigue and the busyness of everyday life then the Healthy Meal Planning Bundle is for you!
This amazing collection of e-cookbooks and bonus resources (all indexed and organized to suit your dietary needs!) will help you to simplify mealtimes and help you eat better.
This bundle has
Over 1000 tried and tested recipes, categorized to help you find what you need
38 meal plans that have been made for you to choose from
14 cookbooks
Meal planning resources
Healthy eating resources
Nutritional information on every recipe
Each recipe is indexed by dietary needs & health goals (including gluten-free, dairy-free, nut-free, soy-free, wheat-free, keto, paleo, vegetarian and more!)
It integrates with the Real Plan app
And, is backed by Ultimate Bundles 30-Day Happiness Guarantee!
If you want easy plans & recipes to help you plan and achieve your healthiest year of meals then head here to grab your Healthy Meal Planning Bundle and get started today!