This instant pot italian meat sauce comes together quickly, and thanks to the magic of the instant pot is cooked super fast without compromising on flavor!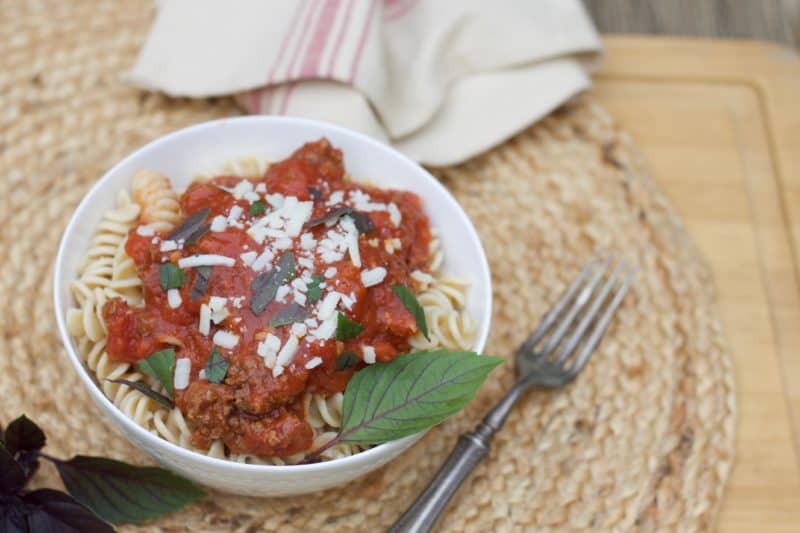 Rich meat sauce over a plate of noodles, topped with a bit of parmesan and fresh basil.
Who doesn't have fond memories of a fragrant pot of tomato sauce simmering away on the stove for hours on end? I wish I could say that I have stories of sauce bubbling in a pot on my Italian grandmother's stove, but alas, I don't have a drop of Italian in me as far as I know (onlike Beth's hubby, who helped to create this crockpot version with his childhood memories.) I'm an Irish, Scottish, and English type of gal with a bit of American mutt. So no Noni for me.
Thankfully, my Mid-west mama had a love for lasagna and pasta of all kinds so we frequently had delicious sauce simmering away on the stove.
Tomato sauce develops a rich and hearty flavor that can't be achieved in 30 minutes. That delicious flavor only happens when you slowly simmer the sauce for a few hours or all day on low heat.
That is until the Instant Pot came into play. With this amazing gem, you can reduce the cook time to just over 30 minutes! Note: When you count in the pressure rising and falling, the entire time will be about one hour.
This Instant Pot Italian Meat Sauce is perfect for those days when you forget to plan dinner or, you're an INFP like me and you just get distracted with all the other things in life around you.
The active time is no more than 15 minutes to chop the onions and garlic, saute them, and partially cook the Italian sausage. You can make your own sausage or buy it uncooked from the store. After that you put the lid on, set the cook time and there you go, you can forget it until the pressure naturally releases about 45 to 50 minutes later.
By then you can have your pasta cooked and drained, a simple salad or whatever vegetable you feel like making, and the table set, no stirring or hours waiting involved. The results are almost the same as a sauce that has simmered for several hours on the stove.
Bon apetit!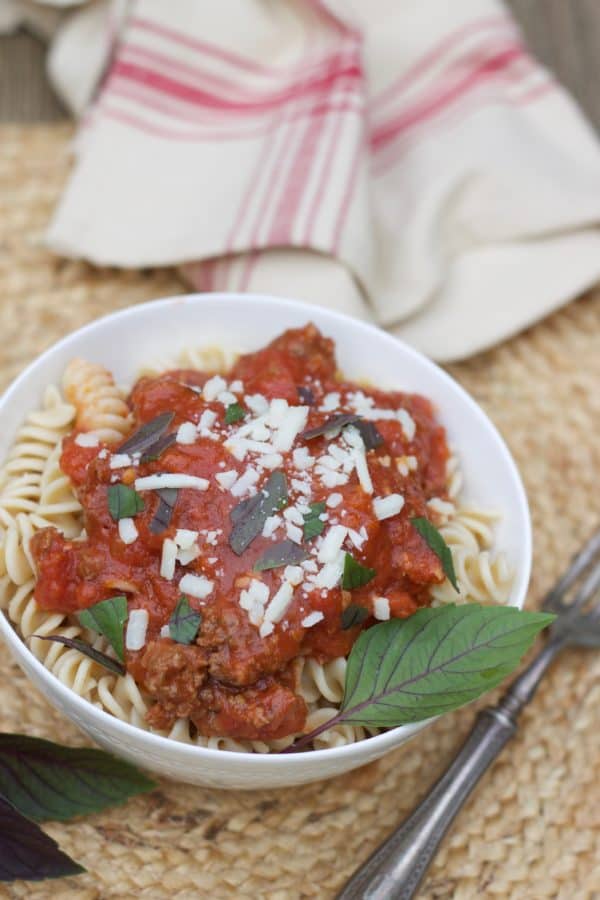 Instant Pot Italian Meat Sauce
Ingredients
1

lb

ground Italian sausage

1

medium

yellow onion

chopped

4

cloves

garlic

chopped

1/2

tsp

dried basil

1

tsp

dried oregano

1 1/2

tsp

unrefined salt

1/4

tsp

crushed red pepper flakes

2

18oz jars

crushed tomatoes

1/4

cup

olive oil
Instructions
Finely chop the onion and garlic.

Press the saute button on the Instant Pot. Add the olive oil.

Add the chopped onions to the pot. Sprinkle with the salt. Allow to cook for about 5 minutes or until almost translucent, stirring frequently.

Add the garlic, stir and allow to cook for one minute.

Add the Italian sausage to the onion/garlic mixture. Stir frequently until cooked half way.

Add the dried basil, dried oregano, red pepper flakes, and crushed tomatoes.

Turn off the saute function. Set the manual mode for 20 minutes, and allow the pressure to release naturally. My Instant Pot took about 20 minutes to rise to pressure and about 10 to release the pressure.
Katie Mae Stanley is the creator of Nourishing Simplicity, where she writes about crafting a made from scratch life with a heaping of grace. She spent 10 years as a missionary dorm "mama" for a bunch of amazing girls at a school for the deaf in Baja California, Mexico. Now she finds herself back in the Statesembracing God's next adventure. A cup of tea or coffee and a bit of dark chocolate make an appearance at some point in any given day.
Latest posts by Katie Mae Stanley (see all)