This jam was already pretty darn easy, but now it's just RIDICULOUSLY simple. Happy jamming. (pun totally intended. you're welcome.)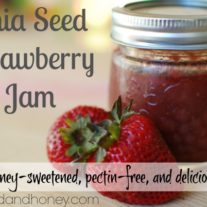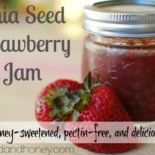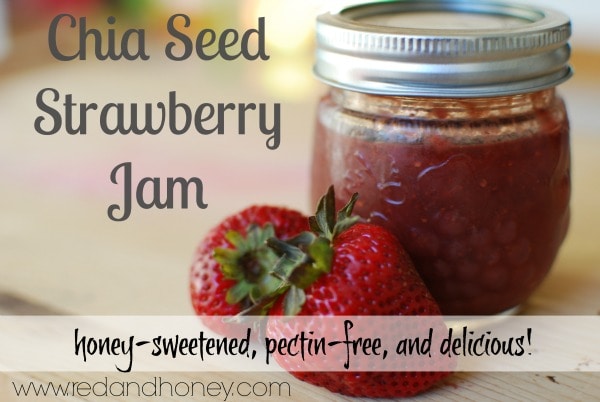 There's just something so grown-up about making homemade jam, don't you think? Especially instant pot strawberry chia seed jam. Now we're feeling fancy, too, thank-you-very-much.
It may be silly but I feel like making jam automatically entitles one to major Grown-Up Bragging Points. There's just so much awesomeness surrounding it, and so much solidarity and respect for past generations that have faithfully put up the harvest each year to be enjoyed in the long winter months to come.
In these days with a rise in traditional kitchen arts such as canning and All Things Homemade, we have the privilege of CHOOSING to perserve things because we want to, and not because we have to. That means I can do a batch of strawberry jam in July, maybe some peach preserves in a few weeks' time, and dream up some kind of blueberry goodness in jars to make in August and enjoy when the craving for fresh fruit hits next February.
I can also hit up the grocery store or my local farmer to fill in the gaps – an ability that generations before us were not afforded. It's a privilege I do not take lightly, and one for which I am profoundly grateful.
My personal food philosophy includes a slow enjoyment of the simple art of cooking and preparing fresh, real food. This strawberry chia seed jam is a perfect example of doing just that.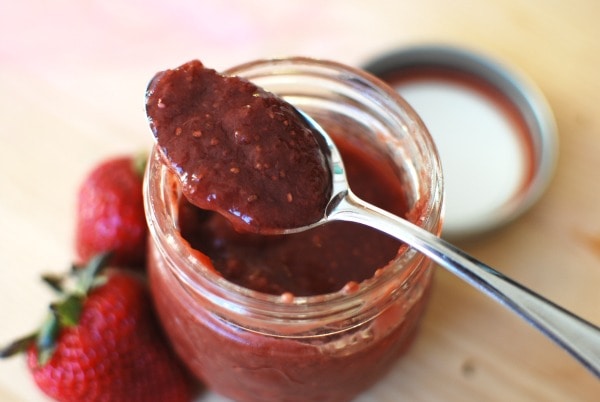 The usual jam-making recipes call for pectin – a product on the grocery store shelves derived from fruit. Pectin thickens the jam.
Unfortunately, it includes preservatives, and requires massive amounts of white sugar to work properly. (And I mean MASSIVE amounts of sugar. Sometimes more sugar than fruit! I've seen jam recipes with more sugar than most desserts! Imagine the sugar-rush that happens when you eat that stuff every day for breakfast. Yuck.)
Enter my latest foodie crush: the amazing, incredible chia seeds!
They absorb a ton of liquid and function like pectin, thickening the jam perfectly. The seeds themselves are not noticeable in the texture as there are already seeds from the strawberries. If anything, it may be a little "extra seedy", but I bet no one would notice unless they knew to look for it.
The other awesome thing about avoiding pectin is that you can use alternative sweeteners. If you don't want to use honey (although I think the favour of honey marries beautifully with the strawberries) you could experiment with stevia, maple syrup, or coconut palm sugar.
I used to cook my jam in a slow cooker or on the stovetop, but since becoming obsessed with my Instant Pot, I've been slowly converting many of my old favourite recipes.
This jam was already pretty darn easy, but now it's just RIDICULOUSLY simple. I mean, I can make a batch of jam while cooking dinner, listening to daughter read from her French book, and moderating an argument between my two boys. I may or may not know from personal experience. Ahem.
By the way – this jam lends itself to so much experimentation it's almost impossible to write up a recipe. These are the basic building blocks. Now you can customize and play to your own preferences – different fruits, etcetera. I think a blueberry-vanilla version would be amazing, as would a raspberry jam! You could even skip the cooking step altogether and just blend fresh fruit, thicken it with chia seeds, and freeze. I love that angle too!
Happy jamming. (pun totally intended. you're welcome.)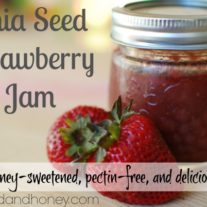 Instant Pot Strawberry Chia Seed Jam (Honey-Sweetened)
This jam was already pretty darn easy, but now it's just RIDICULOUSLY simple. Happy jamming. (pun totally intended. you're welcome.)
Print
Pin
Rate
Ingredients
2

pounds

of fresh strawberries

washed and cut in half, tops removed

1/3

cup

honey

more if you like your jam to be quite sweet

2

T

chia seeds
Instructions
Add cleaned and cut berries to the instant pot with the honey

Set on manual mode for 2 minutes, and let pressure release naturally (NPR)

If you like your jam on the smoother/blended side, then add mixture to your blender and blend on high for 10 seconds. If you don't want to blend, then use a potato masher to mash them up.

Add chia seeds (you can add them before blending, if you want the smoothest texture possible - either way works fine)

Pour jam into small, clean wide-mouth mason jars, and let cool on the counter

Use jam up within a week, or freeze* for later
Notes
Only freeze the wide-mouth jars - no shoulder - or else they are more at risk of spontaneous breakage in the freezer. Leave an inch of headroom below where the lid will go. Also, I recommend freezing without the lid on, and adding it 6+ hours later to allow for expansion. This jam is NOT shelf stable unless you use the traditional hot-water bath canning method. If you choose to do so, be sure to follow all safe canning practices to reduce the risk of botulism and other food spoilage risks. I always use the freezer method to keep it simple, so I can't advise you in this.
Nutrition
Serving:
0
g
|
Calories:
460
kcal
|
Carbohydrates:
103
g
|
Protein:
4
g
|
Fat:
7
g
|
Saturated Fat:
0
g
|
Cholesterol:
0
mg
|
Sodium:
8
mg
|
Potassium:
156
mg
|
Fiber:
8
g
|
Sugar:
92
g
|
Calcium:
15.1
%
|
Iron:
12.9
%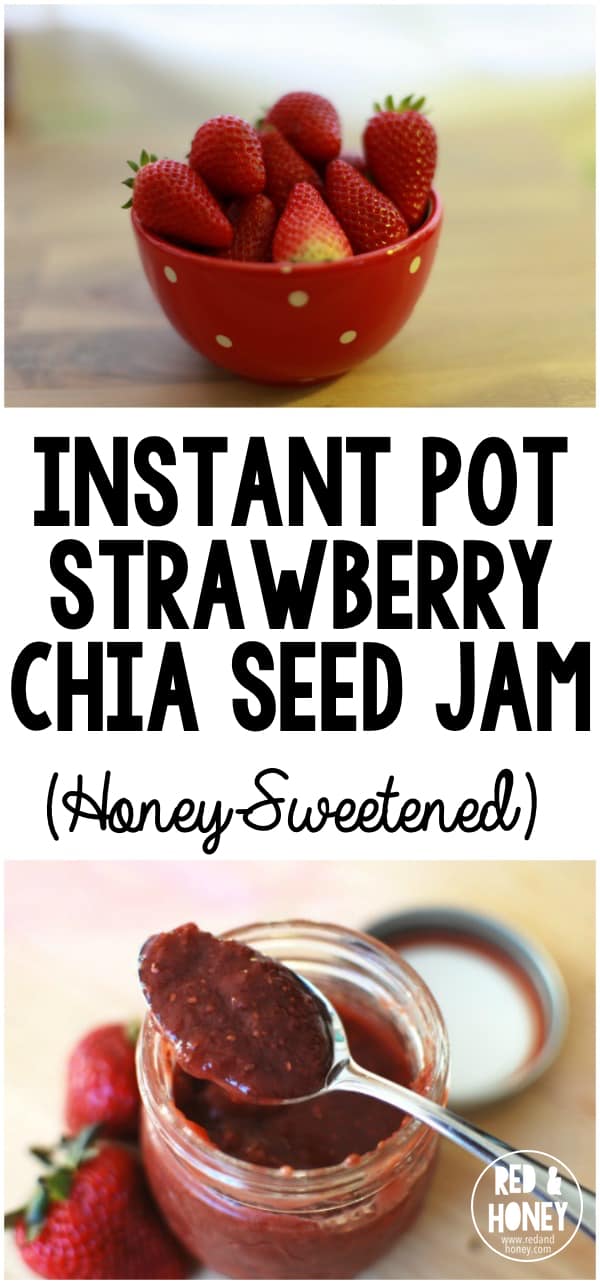 Beth is the creator here at
Red & Honey
. Mom of four, wife of one, and proud redhead. Sushi and tex-mex lover, fan of adventure, books, natural health talk, and pyjamas. INFP and Type 4 enneagram. Allergic to small talk. And, if you haven't figured it out already, #nerd. Read more posts by
Beth
.