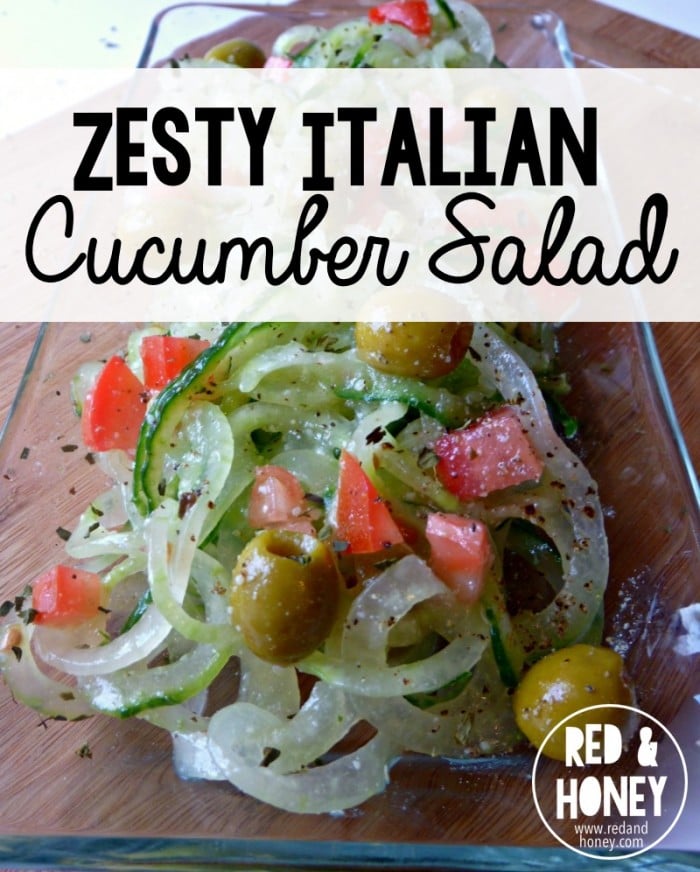 Guest post by Jessica of Simply Healthy Home
Growing up, summer meant spending lots of time at my aunt's house going swimming. This usually evolved into an all day event ending with grilling and lots of food.
I have many fond memories of being tossed around in the pool or laying on a float with a good book. There was also never a shortage of snacks and foods.
My favorite though, was always at the height of summer, when we had lots of salads with garden fresh vegetables. There really is nothing like a ripe tomato or cucumber freshly picked. Added to some pasta with homemade dressing and I seriously could eat it all day long.
Sadly, now that I have a thyroid issue, I need to stay away from gluten. While there are a lot of gluten-free pastas, I have not found one that I enjoy in a cold pasta salad. The texture is always off.
I totally admit pasta was one of the most difficult things to give up for me. It sounds silly but I think it is strongly associated as part of my childhood. I've gotten used to it now but I sometimes totally crave those fresh salads.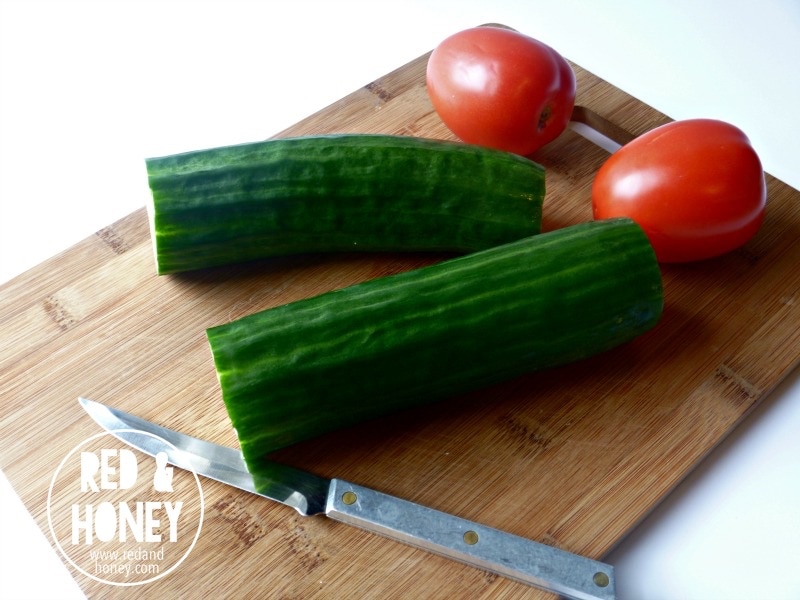 Last summer though, I started seeing recipe for vegetable noodles and decided to try my hand at using a spiralizer. Well, hello yummy noodles, I was in love again!
Using fresh summer produce for noodles totally hit the spot of filling the void of the missed summer pasta salads. Even my kids raved about them.
We tried a a lot of varieties, even a bacon/tomato salad with cucumber noodles that I never manage to make enough of to have leftovers.
Veggie noodles have been a game changer for my family. We love the variation of vegetables and dressings at each meal. It's so easy to change up with different spices, dressings and whatever vegetables that are coming in from the garden.
What's also great about these salads is they just make a great base for whatever sounds good to you. You can easily just add more of ingredients to bring it to a pot luck.
Or, if you don't have something on hand, use what you have.
We have easily subbed in ham or salami for the pepperoni. No parm? Feta cheese is a great addition to this salad.
I am just happy I can create great food memories with my kids without compromising our diet. Veggie noodles are an awesome way to get those picky veggie eaters to try vegetables. I have not met a kid yet that has turned away a cucumber noodle.
Food not only fuels your body but it such a part of how we socialize as families and friends. With some creativity it can be fun and nutritious.
This salad reminds me so much of the pasta salad my mom used to make all the time. It was my all time favorite version. I am so happy to have a healthy version to share with my kids.

Italian Cucumber Salad
Ingredients
3 cucumbers, spiralized into noodles
1 chopped tomato
¼ fined diced onion
¼ cup of green olives
¼ cup chopped nitrate free pepperoni
⅛ cup Parmesan cheese
1 tbsp. oregano
¼ tsp black pepper
Italian dressing* (you want enough to coat and marinade the salad)
Instructions
Add ingredients and toss in a bowl
Let stand in the refrigerator for an hour before serving
*I like to use
homemade dressing
but if you buy store bought, just check to make sure it contains good oils and is without high-fructose corn syrup.
If you don't have a vegetable spiralizerer, you can easily serve this with diced cucumbers.
We have used ranch dressing instead of Italian when I know I am serving kids because ranch is such a kid favorite. (Who am I kidding, it's an adult favorite too!)
What are some of your favorite food makeovers you have done to make family favorites healthy?
Jessica is a wife and mama to two boys and she loves spending her days with them, watching them grow and explore the world around them. Jessica grew up on fast food and quickly ditched that life when she became pregnant with her first. Since then it has been journey of learning about whole food nutrition, herbs and natural supplements. Her goal has been to keep her family healthy and happy…as naturally as possible. You can follow her blog Simply Healthy Home or find her on Facebook.
Beth is the creator here at
Red & Honey
. Mom of (almost) four, wife of one, and proud redhead. Sushi and tex-mex lover, fan of adventure, books, natural health talk, and pyjamas. INFP and Type 4 enneagram. Allergic to small talk. And, if you haven't figured it out already, #nerd. Read more posts by
Beth
.