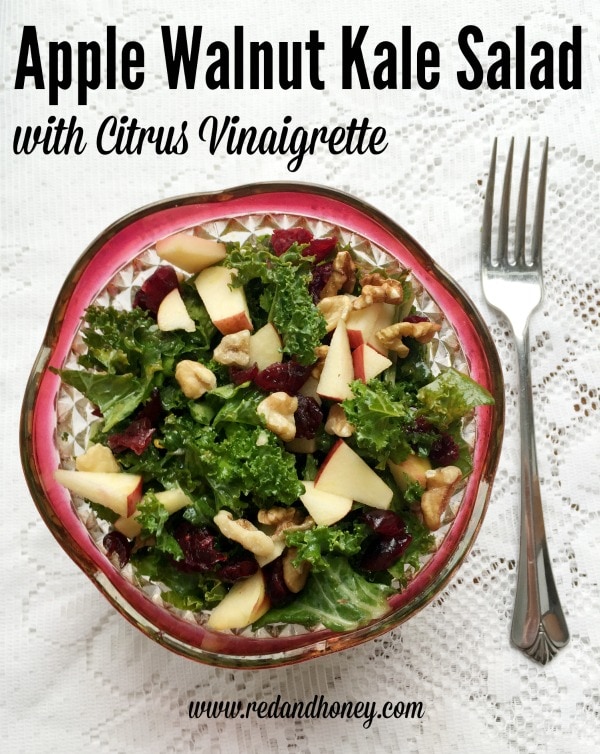 This salad is one of those dishes that quickly gets added to your regular meal rotation because it's fast, the ingredients are almost always on hand, and it just tastes so dang delicious.
And, unless you've been hiding under a rock in the last five years you know that kale is currently en vogue as a superfood darling. Even my Mom knows that. She's never heard of the Kardashians, or Taylor Swift, but she makes this kale salad like a total boss.
The vinaigrette is quick and easy, and can be made in batches to keep in the fridge. And since most of the ingredients in this salad are shelf-stable, it's the perfect fall-back for a last-minute salad addition to your dinner, especially in these winter months when fresh salad ingredients aren't yet in season.
The ingredients are also pretty flexible. Don't have nuts? Use sunflower or pumpkin seeds for crunch. Don't like dried cranberries? Use raisins! Swap the apple for pear, or something different altogether. This salad is totally tweakable to taste.
Quick and easy, convenient, blah blah blah. Yes, all of that is true… but the best part of this salad is the addictive mix of flavors. The tart cranberries mixed with the sweet crunchy apple and nutty taste of the walnuts, drizzled with the zing of citrus is sheer perfection.
Make it. Love it. Thank me later.

Apple Walnut Kale Salad with Citrus Vinaigrette
Ingredients
SALAD
1 bunch kale cut in small pieces (pull the green off the main stem & discard the stem which is tough and tends to be bitter)
¼ c dried cranberries or raisins or currents (I prefer cranberries)
1 apple, diced in small pieces (can substitute with fruits like pear if desired)
¼ c nuts (walnuts, sliced/slivered almonds) or hulled sunflower seeds


VINAIGRETTE
1 shallot minced fine (can be left out or substituted with onion)
2 T balsamic vinegar
¼ c citrus juice (we prefer orange)
2 T citrus zest
1 T prepared mustard
1 T honey
½ c olive oil
salt & pepper
Instructions
Combine vinaigrette ingredients and keep in the fridge for up to 2 weeks. When ready to serve salad, combine kale and salad ingredients, and mix well with desired amount of dressing. Enjoy!
Beth is the creator here at
Red & Honey
. Mom of (almost) four, wife of one, and proud redhead. Sushi and tex-mex lover, fan of adventure, books, natural health talk, and pyjamas. INFP and Type 4 enneagram. Allergic to small talk. And, if you haven't figured it out already, #nerd. Read more posts by
Beth
.