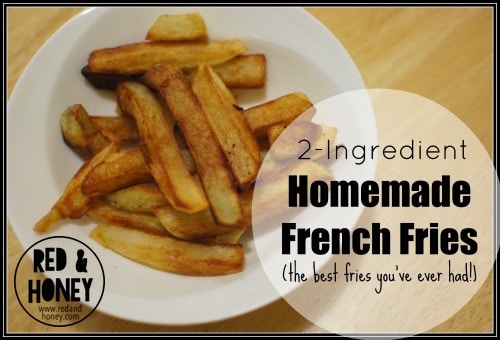 These fries are incredibly simple, and they taste better than restaurant fries. Name your favourite fast-food french fry. These are better. I know, lofty goal for those of us who have secret loves for fast food fries. I mean, um, did I just say that out loud??
These fries have only 2 ingredients. Well three if you count the salt, which technically is optional, but unsalted fries are totally lame-o. So use the salt, and for pete's sake use REAL sea salt. I like Redmond's Salt (I love their stuff! If you use my links it helps me keep the lights on at no cost to you! xoxo).
These are actually healthy fries, because they are slathered in coconut oil, which is this awesome super-health food that people are raving about. Some people even take it as a health supplement, so these fries definitely have earned the title "good for ya".
OK, less chatter, more fry-making. Onward and upward.
First, a disclosure: I am the blogger of the family, and generally I'm the cook too. But not in this case. These are all Chris. I got him a french-fry cutter for Christmas, and he is all "let's make fries!" at random times, and I'm just an innocent bystander. And fry-eater.
Print Recipe
Homemade French Fries (Better than Fast-Food!)
Ingredients
Potatoes

peeled and chopped (we use a fry cutter thingie but you could just cut them)

Organic unrefined coconut oil

Real sea salt

optional, but if you don't add the salt then we can't be friends
Instructions
Heat cast-iron frying pan with a good amount of coconut oil to medium-high (depending on stove). About a quarter-inch coating the bottom of the pan. (We use two pans at once for more fries).

Once it's hot, add fries evenly in one layer in the pan. There should be enough oil to cover the entire bottom of the pan and cook all of the fries at the same time. If there isn't enough oil add some more, but not enough to cover the fries - we aren't deep frying them.

Let them cook for a while, and then flip the fries over - the goal is to have let the fries cook enough to have browned them on one side.

Let the fries cook again on the other side for a while, and then continue to flip them every 30 seconds or so as they cook. They should be a golden brown when there done. This process should take around 15-20 minutes or so.

Take the fries out and filter through a metal strainer to let all of the excess oil drip off. Save the oil in a mason jar in the fridge to reuse next time.

Sprinkle with real sea salt and enjoy!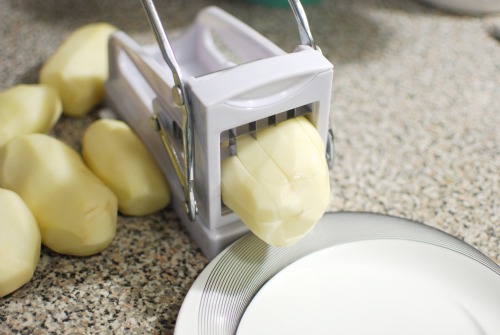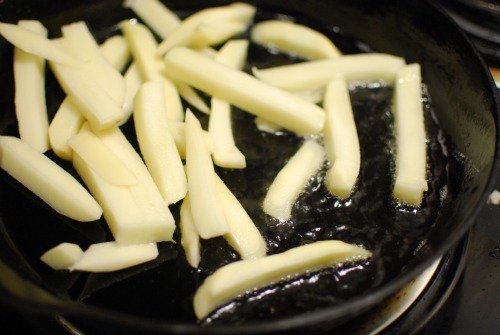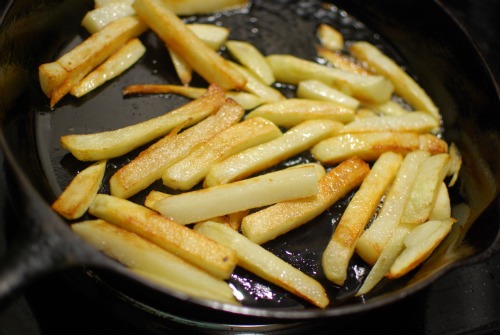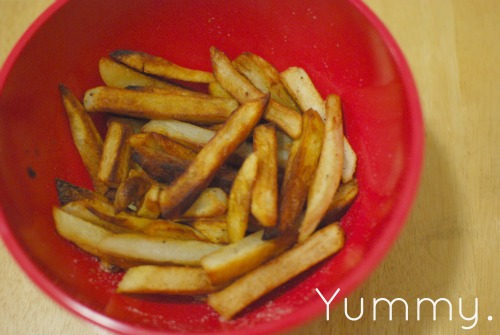 There are lots of seasoning options for homemade fries out there on the web, but we haven't tried any because we're too busy scarfing these down as soon as they're cool enough to eat. They. Are. Amazing.
Go forth and make them, and let thine tastebuds rejoice. Amen.
Beth is the creator here at
Red & Honey
. Mom of four, wife of one, and proud redhead. Sushi and tex-mex lover, fan of adventure, books, natural health talk, and pyjamas. INFP and Type 4 enneagram. Allergic to small talk. And, if you haven't figured it out already, #nerd. Read more posts by
Beth
.