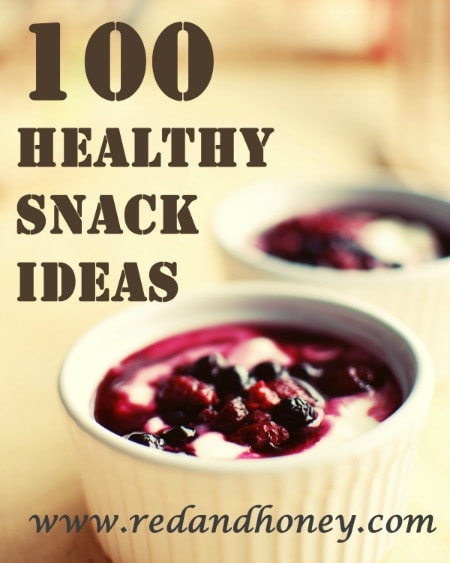 In my Pinterest browsing the other day I came across a pin that claimed to be a list of "100 Healthy Snack Ideas". I was massively disappointed when I clicked on the link only to find over a third of the items to involve unhealthy processed junk with lots of low-fat this and that, and calorie counting. Not at all healthy, in my books.
Here are my criteria for a healthy snack list…
non-processed (this generally means not from a box or bag, no "ingredient list", unless I made it myself)
NOT low-fat / low-calorie
limit how often we eat fruit
not heavily reliant on grains (gluten-free for us)
includes probiotics, lots of healthy fats, raw, high in protein
So, I made my own list and want to share it with you all, because I often find myself in a snack-time rut. This list is going on my fridge and with my meal planning notes, so that I can plan snacks wisely. Oh, and as a bonus, you can combine any number of these things to together to make an easy lunch. A snack tray for lunch is met with cheers (literally) from the under 3-feet-tall crowd in our house.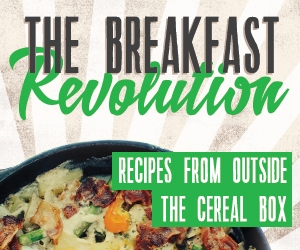 Update: I wrote a breakfast e-cookbook called The Breakfast Revolution which has recipes for lots of the ideas below – grab a copy today! Muffins, fruit salad, pancakes, eggs, soaked oatmeal breakfast cake, breakfast custard, and much more!
Bon Appetit!
Almonds & raisins
Air-popped popcorn with butter and real sea salt
Raw veggies with hummus
Apples & peanut butter
Mini tuna & cheese lettuce wraps (use a lettuce leaf as a wrap)
Chicken salad lettuce wraps
Egg Salad lettuce wraps
Green salad (our all-time favourite dressing is by Katie of Kitchen Stewardship, author of Healthy Snacks to Go)
Steamed veggies smothered in butter & real sea salt
Hard-boiled eggs
Plain yogurt with honey or maple syrup
Herbal tea or Homemade honey-sweetened lemonade
Homemade beef jerky – if you aren't into making your own this one has decent ingredients
Homemade fruit leather – if you are not wanting to make these at home, this one is a decent alternative.
Applesauce (no sugar added and/or homemade)
Real sourdough bread with lots of butter or homemade honey-sweetened strawberry chia seed jam
A piece of (seasonal) fresh fruit
Fruit salad
Homemade hot chocolate
Any kind of cheese (except processed, of course!)
Scrambled or fried egg
Organic corn chips and lacto-fermented salsa
Homemade pickles (you can lacto-ferment them for good probiotics)
Fresh berries & (honey or maple syrup-sweetened) whipped cream
Ants on a log (celery with PB & raisins)
Cherry tomatoes
Nitrate-free deli meat
Baked apples (sprinkle on some cinnamon)
Chocolate avocado pudding
Homemade granola bars (my own version)
A cup of homemade chicken bone broth (my kids love this!)
Homemade "larabars" (get the e-book with tons of larabar recipe variations here)
Sweet potato fries
Tuna melts
Homemade popsicles
Mini pizzas (on toast, tortilla, or pita)
Soaked/baked oatmeal
Chocolate-Banana smoothie
Frozen grapes
Snap peas
Homemade ice cream
A mug of soup (like this delectable curried butternut squash soup)
Homemade granola with coconut/almond milk
Parfait (yogurt, fruit, granola)
Grain-free muffins
Homemade trail mix
Homemade crackers
Homemade brittle
Roasted pumpkin or squash seeds
Deviled eggs
Spinach dip
Homemade potato chips
Roasted asparagus (topped with parmesan and salt  – yum!)
Steamed spinach
Homemade banana bread
Quinoa pudding
Dark chocolate
Dehydrated fruit chips
Roasted chickpeas
Nachos and cheese
Homemade crackers & PB
Crackers & pate (grass-fed organic livers are amazing super foods!)
Organic raw sweet peppers
Homemade milkshakes
Cold lentil salad
Green apples and homemade caramel sauce
Chocolate-dipped strawberries
Cold leftover pancakes (my kids love them!)
Meatballs with marinara for dipping
Bacon-wrapped asparagus, water chestnuts, or scallops
Cold fried chicken
Dried anchovies
Chickpea and bean salad
Vegetable juice
Baked beans
Dried dates
Egg muffins
Cream cheese & salsa mini-wraps
Rice pudding
Sandwich bites
Guacamole
For even more real-food snack recipes, check out the ebook from Kitchen Stewardship: Healthy Snacks to Go.
"With over 45 healthy snack recipes and ideas including traditional granola bars, iron-packed Popeye bars, and 15 "larabar" style variations, Kitchen Stewardship's Healthy Snacks To Go is the resource you need for healthy snack ideas."
Also, be sure to check out my Recipes page for more delicious real-food recipes.
Thanks for visiting Red & Honey! Please take a moment to subscribe by RSS or email in the sidebar, and "like" us on facebook!
(This post contains affiliate links).