Do you want a naturally-sweetened treat that comes together in a flash? This chocolate chia seed pudding is the delicious answer you've been looking for!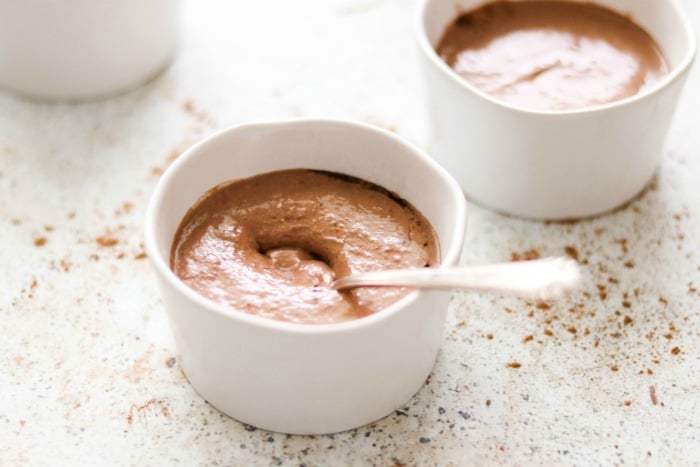 Sometimes, you just want to enjoy a treat that doesn't make you feel guilty. Or yucky. Or fat. Or in a diabetic coma from pounding your system with truckloads of sugar. I know, I know – I'm so high-maintenance. #sorrynotsorry
We're in a season of needing to take the 'path of least resistance' with our diet, so I'm not personally eating dairy-free at the moment. I do know that my body doesn't tolerate dairy amazingly well, however, so I tend to limit my intake to cheese, yogurt, and butter.
I like to use non-dairy milks (except for soy, which is on my avoid-like-the-plague list, like margarine, trans-fat, and MSG) whenever I am making something that calls for milk.
I've tried many non-dairy milks on the market today, and I've even made my own almond milk and coconut milk from scratch, however in busy seasons I tend to buy it from the store instead.
Silk is one of my favorite brands to buy because it doesn't contain carageenan – a controversial additive linked with intestinal and gut damage. I also love that it's non-GMO.
When those treat cravings hit and I need something sweet to stuff in my face ASAP (patience is not my strong suit), I often turn to this chocolate chia seed pudding recipe.
It's lightly sweetened with real maple syrup, thickened with the incredible, magical chia seeds, and rounded out with a splash of vanilla extract (I make my own). It's high in amazing nutrition, and contains no unhealthy ingredients.
This recipe has just five ingredients, and other than letting it set for a while in the fridge, it pretty much whips up in a jiffy. (Good golly, do cool people say "jiffy" anymore? What is a jiffy, anyway? I have no idea. Roll with it.)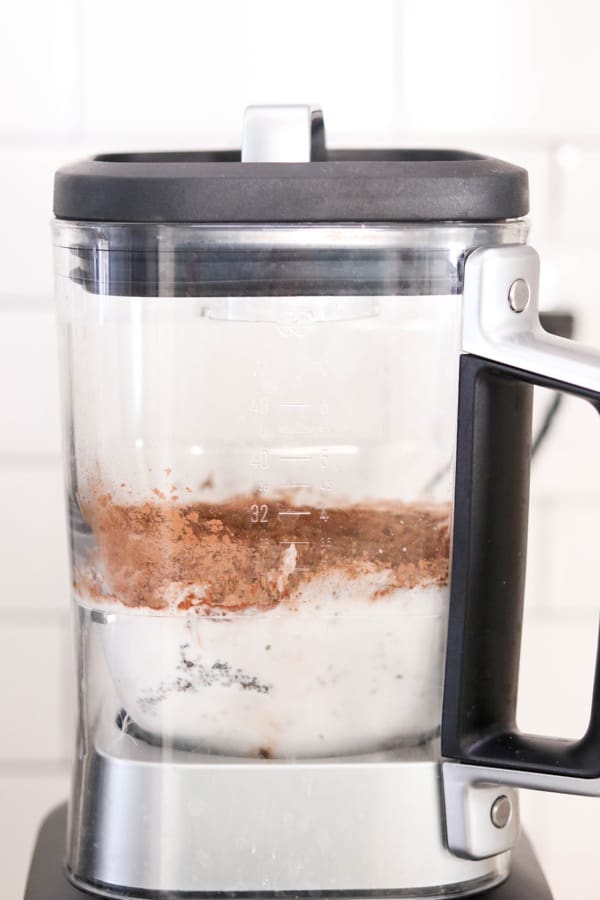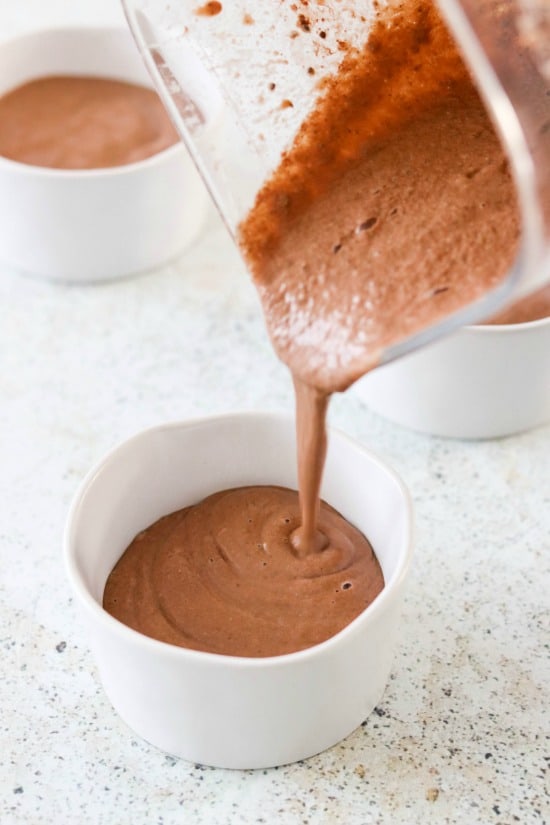 I know that a lot of chocolate chia seed puddings are not blended – the chia seeds remain whole. I don't love the mouthfeel of the goobery chia seeds all puffed up. The texture just does not agree with me. Easy solution: blend it up, baby! I get the best consistency when I grind the chia seeds ahead of time, but you can try skipping that step if you want. Let me know how it turns out, if you do.
Here's the recipe that I love. It's super simple, and it whips up in just five minutes. You can technically eat it at that point but if you let it sit in your fridge while you sing the patience song for an hour and twiddle your thumbs, you'll be rewarded with thick, creamy, chocolatey goodness. Enjoy!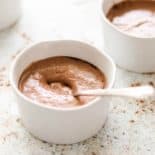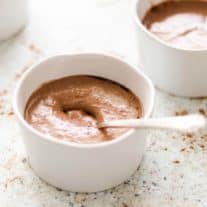 Print Recipe
5-Minute Chocolate Chia Seed Pudding
Ingredients
5

tablespoons

ground chia seeds

2

cups

cashew milk

1/3

cup

maple syrup

1

teaspoon

vanilla extract

3

tablespoons

cocoa
Instructions
Add all ingredients to a high-powered blender (I used a vitamix) and blend on high for 1 minute.

Pour into small serving dishes, like ramekins, and refrigerate for an hour or more. (The longer it's refrigerated, the more "set" it will be. Try overnight for less jiggle!)
Notes
Suggested toppings: whipped cream, berries, chocolate shavings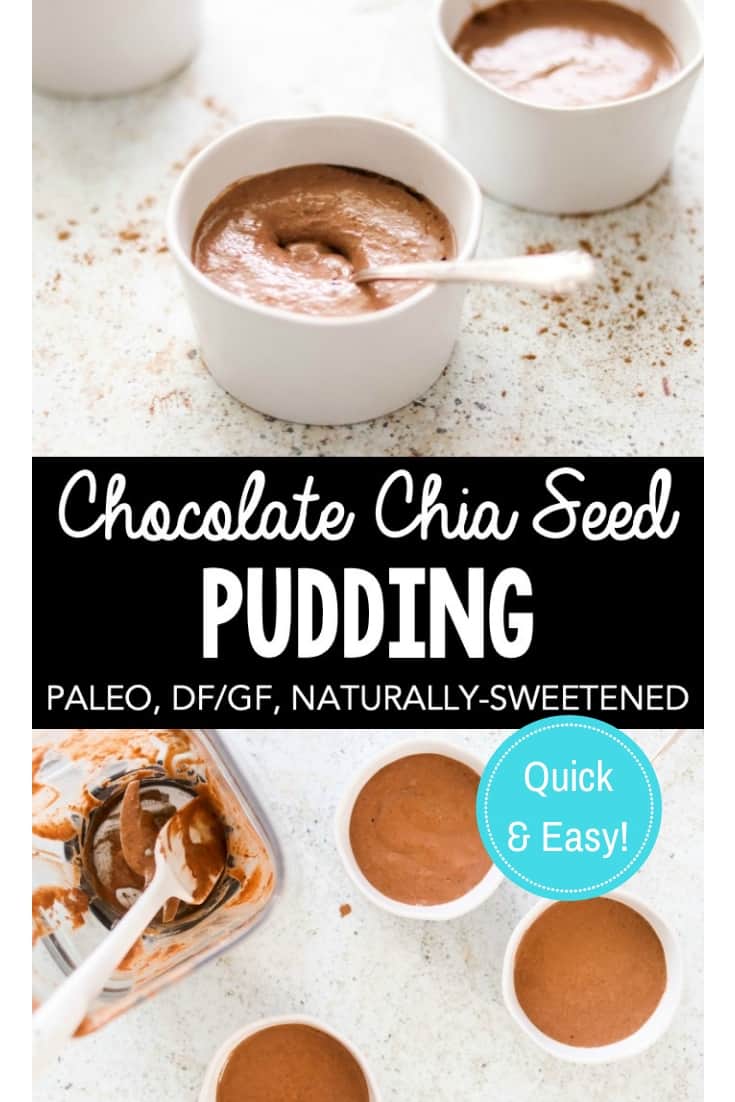 Beth is the creator here at
Red & Honey
. Mom of four, wife of one, and proud redhead. Sushi and tex-mex lover, fan of adventure, books, natural health talk, and pyjamas. INFP and Type 4 enneagram. Allergic to small talk. And, if you haven't figured it out already, #nerd. Read more posts by
Beth
.