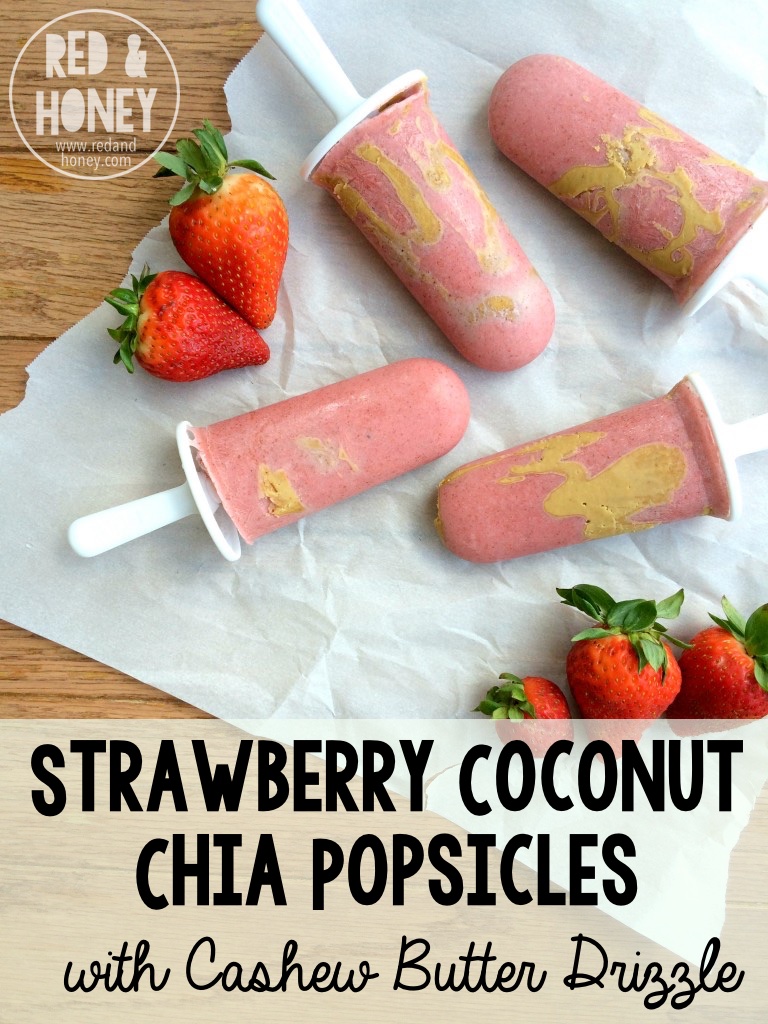 So, the other day my husband and I took
our pup, Kaya
, to the park for a long walk. It was hot. Really, really hot.
It seemed to skip spring and go straight to summer where we live in Princeton, NJ, and when we got home popsicles were just the thing to cool us off.
I went straight to the kitchen, scoured the fridge and came up with fresh strawberries, chia seeds, and coconut milk. Yes! Those would definitely work.
I combined them all in a blender, added some vanilla extract and some coconut nectar, and blended it all up in my blender until super creamy and got ready to pour them into popsicle molds.
Then it hit me. These things have to harden in the freezer! Ha. Details, right?
And then another thought struck me. How about drizzling them with cashew butter (which could easily be omitted or replaced by your favorite nut/seed butter)!
It pushed them over the edge, and made them more versatile – dessert? Yes. Snack? Yes. Breakfast on a super hot day? Yes.
Strawberries. Chia seeds. Coconut. Cashew butter.
These babies are full of tasty real food nutrition and besides the freeze-time, they're super easy and quick to make (and kid-friendly!).
I recommend you enjoy all summer. Cheers!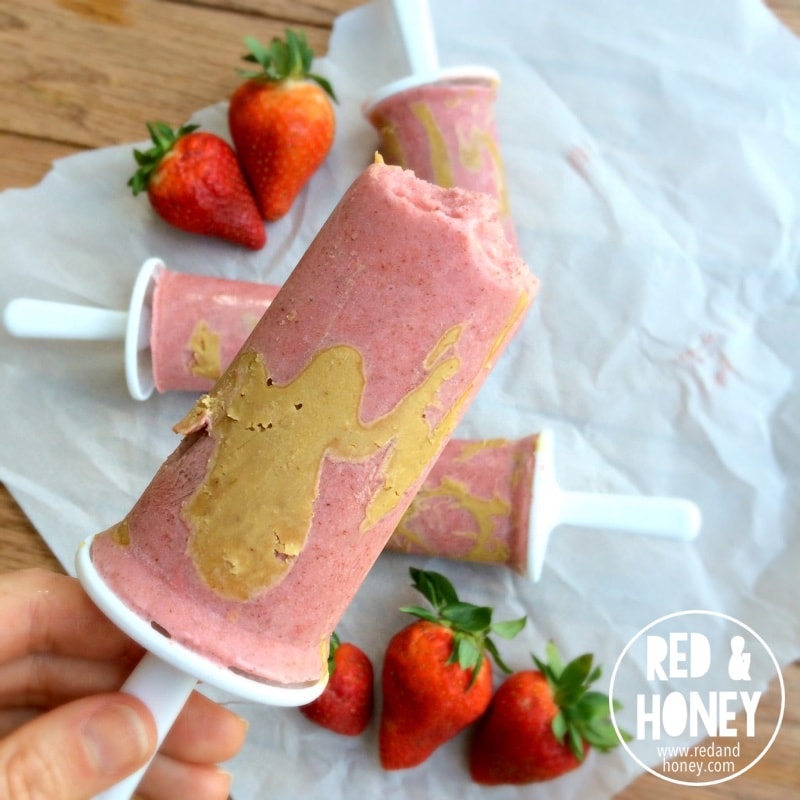 Now here's the thing. I like recipes that are easily customizable to various dietary restrictions and flavor preferences.
Nut-free or not a fan of cashew butter? Omit or use your favorite nut/seed butter.
Don't have any coconut nectar? Try subbing honey or maple syrup – add a little bit at a time, taste, and add more if needed. Both of those are sweeter than coconut nectar, so you may not need a lot.
Like using full-fat coconut milk better? Go for it! You may need to adjust the ratio of sweetener and strawberries as the coconut flavor from the thicker coconut milk may overpower a bit.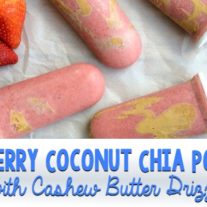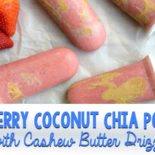 Print Recipe
Strawberry Coconut Chia Popsicles with Nut/Seed Butter Drizzle
Strawberries. Chia seeds. Coconut. Cashew butter. These babies are full of tasty real food nutrition and besides the freeze-time, they're super easy and quick to make (and kid-friendly!).
Ingredients
2

cups

chopped/quartered

stemmed strawberries

1

cup

of light unsweetened coconut milk

from a can

1/2

tsp

vanilla extract

1

TB

chia seeds

2

+ tsp coconut nectar

or maple syrup, honey, etc - see notes
Instructions
Blend all of the ingredients until well-combined, taste, add more sweetener as needed. It will thicken as it sits.

Pour into popsicle molds. If you'd like to add a drizzle of nut/seed butter, add a drizzle around the inside of the container. Then add the strawberry cream to about half way, add more nut/seed butter, add more strawberry cream, add another nut/seed butter drizzle, etc. No wrong way to do this - it all turns out yummy!

Freeze until hardened.
Notes
- You could use stevia (start with a several drops, blend, and then add more to taste), maple syrup or honey (start with a couple of tsp and work up to a few TB if needed), or you could even try medjool dates!
- Use the freshest, sweetest strawberries you can find. I always smell the bunch - if they smell strongly of sweet strawberries, usually they have more flavor.
- I've used both light and regular canned coconut milk... regular will be even thicker/creamier, but you might have to incrase the amount of strawberries and sweetener, as it will be more coconutty.
- Native Forest canned coconut milk is BPA-free.
- Optional add-ins:
nut/seed butter
coconut butter
chocolate chips or cacao nibs
strawberry jam
shredded coconut
What do you like to eat on a hot summer day?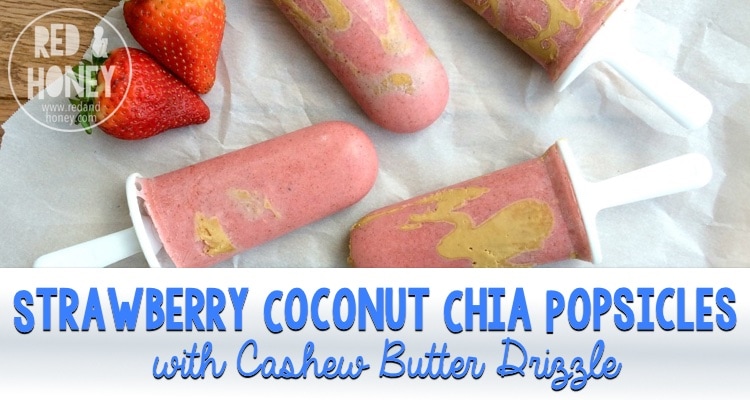 Alexandra Maul, MPH is a health educator, writer, and coach. After experiencing debilitating chronic health issues and learning how to heal, she created
Made to Glow
, an interactive community and healthy living guide that educates and inspires others around healthy eating, self-care practices, and non-toxic living. Alex is passionate about empowering others to feel their best, and loves to share kitchen tips, naturally gluten-free and dairy-free recipes, relaxation and fitness suggestions, and ways to live lean, clean, and green. Connect with Alex on
Facebook
,
Instagram
,
Twitter
, and
Pinterest
.
When we feel whole, balanced, and healthy, we radiate from the inside out. We are all made to glow!
Latest posts by Alexandra Maul (see all)