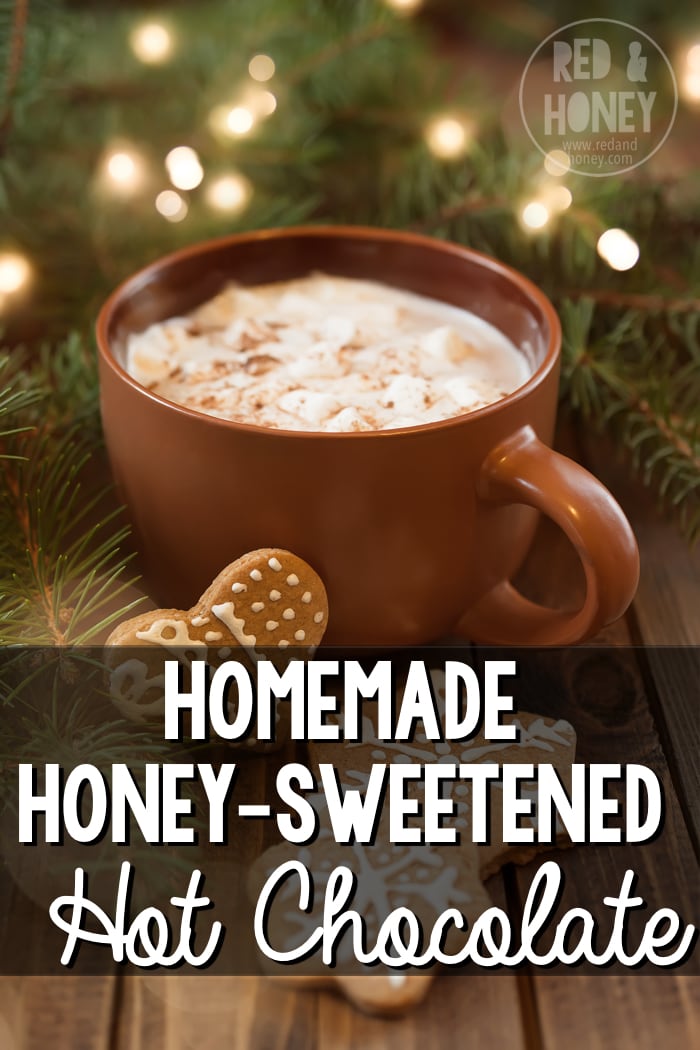 This recipe has been simmering along as a draft in my blog for ummm, about 3 months now. Ooops. I know, it was so mean of me to keep it to myself during the mean and nasty polar vortex. And the crazy snowy winter we're soon finishing. (She says, hopefully.)
I imagine you might be wondering why on earth anyone would want to make their own hot chocolate when you can just buy a little tin of mix that stays in your pantry for eleven years without changing or spoiling. (Mmmm, sounds appetizing…)
It tastes way better, and it might be more frugal. (Though to be honest, I'm not sure it really is more frugal than the store-brand mix, using only water. That's like eating dirt and water. Pretty freaking cheap. Also gross, which leads me to my best reason for making your own…
I make my own hot chocolate simply so that I know what ingredients are in it. Have you ever read the labels on your hot chocolate mix from the store? It's scary. Check out this list of ingredients on Nestle's Rich Chocolate Hot Cocoa mix:

There are SIX different types of hydrogenated oils in this list! The entire world knows that trans fats are horrible, and many countries are even moving toward banning them altogether, and here we have six different types in ONE product, which is most likely one of the biggest sellers out there.
Also, I checked out the ingredients on some of the more expensive brands, and they were marginally better, but still not awesome. Certainly nowhere near as great as homemade with just milk and honey and cocoa. Unless you love the taste of soy lecithin – a waste by-product of the genetically modified soy processing industry. In that case, have at 'er.
I am certainly not perfect in my diet (oh my gosh – not even close!) but when I stop turning a blind eye to what I'm really consuming, it becomes empowering and motivating to make these small changes.
Making your own hot chocolate is a small step, but it has great impact from being able to avoid that list of ingredients, plus it's crazy easy.
This recipe is made with dairy, so if you cannot tolerate cow dairy then I would recommend making it with coconut milk (the full-fat kind in a can that has the thick layer of cream in it). It's basically the same routine: milk + cocoa + honey/other sweetener of choice + vanilla (optional). If I ever come up with a specific recipe for it, I'll post it, but seriously, homemade hot chocolate is way more of an art than a science. Hard to mess up!
I made this recipe super rich and chocolatey and sweet on purpose, so that I could save some as a concentrate in the fridge for the next time my hot chocolate craving hit. I'm not gonna tell you that I didn't consume the entire bottle of concentrate within 24 hours, but I'm not denying it either.
Enjoy!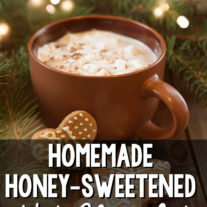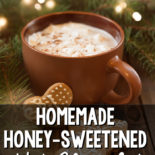 Print Recipe
Honey-Sweetened Hot Chocolate
Making your own hot chocolate is a small step, but it has great impact from being able to avoid that list of ingredients, plus it's crazy easy.
Ingredients
2

cups

whole milk

2

cups

cream

2/3

cups

unsweetened cocoa powder

1/2

cup

honey

I use raw, creamy honey

1

teaspoon

vanilla
Instructions
Heat milk and cream on stovetop on medium-low heat in a pot.

Add honey and stir well.

Slowly add cocoa, whisking well as you go to make sure there are no lumps.

Add vanilla.
Notes
The recipe as written will make a very strong and very rich hot chocolate. At this point, it is really all about personal taste. If you enjoy it this way, feel free to drink a small cup and enjoy. If not, it makes a fantastic concentrate that you can store in the fridge for 3-4 days, and use as desired. To make a more "normal" cup of hot chocolate from your concentrate, use half water, and half concentrate (or whatever proportions suit your tastes), and heat on the stove-top. Also note that the honey flavor does come through in this recipe, so if you prefer a less "honey-ish" taste, then you can use half honey, and half coconut palm sugar or unrefined cane sugar (though be aware that honey and coconut palm sugar are the healthiest choices - cane sugar will spike your blood sugar more than the other two.)
Nutrition
Calories:
1298
kcal
|
Carbohydrates:
105
g
|
Protein:
18
g
|
Fat:
99
g
|
Saturated Fat:
61
g
|
Cholesterol:
350
mg
|
Sodium:
204
mg
|
Potassium:
981
mg
|
Fiber:
9
g
|
Sugar:
82
g
|
Vitamin A:
77.9
%
|
Vitamin C:
2.2
%
|
Calcium:
47.2
%
|
Iron:
24.1
%
Beth is the creator here at
Red & Honey
. Mom of four, wife of one, and proud redhead. Sushi and tex-mex lover, fan of adventure, books, natural health talk, and pyjamas. INFP and Type 4 enneagram. Allergic to small talk. And, if you haven't figured it out already, #nerd. Read more posts by
Beth
.