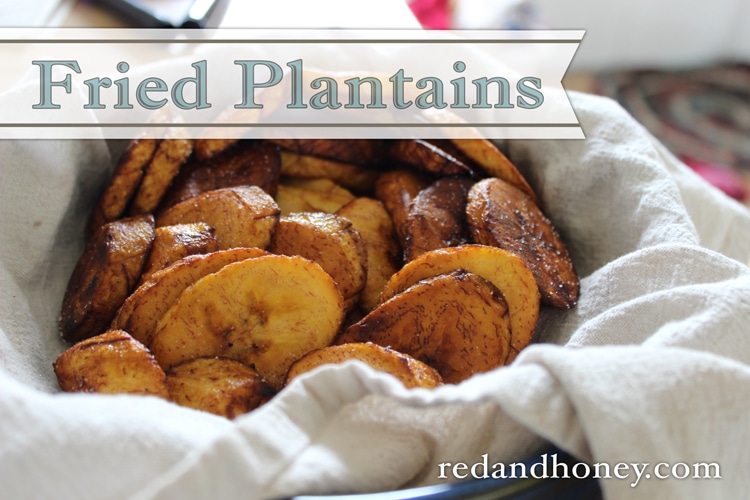 Post by contributor, Marissa
The other day as we were shopping the produce section, our five year old, Aneliese, spotted the "huge bananas" and wanted to buy them.
While explaining to her that they were actually plantains, Dan and I both remembered that while living in Haiti, the lady who cared for our cleaning and laundry would occasionally also cook a meal for us that usually included fried plantains when she learned how much we liked them.
Of course we got reminiscing and telling the girls about some of the food that we had enjoyed from that time in our lives. Once Aneliese heard that fried plantain (or Banan Fwit) were a bit like fries, she was eager to try them.
We love encouraging our girls to be adventurous in their eating and since my memory was that they were simple to make, we brought some home to fry up. They have now became a regularly requested item when we go shopping.
Why Plantains?
Now, I can't actually give a spiel about how healthy plantains are for you because I don't really know that much about them. I do know that they are higher in potassium than bananas, are supposed to be good sources of vitamin A and B-complex and also a source of the minerals magnesium, iron and phosphorus.
And, of course, fried in the oh-so-good-for-you coconut oil, they are an easy treat. Tasty on their own or with ketchup or a tangy dip, they are also a unique and delicious side to join your summer barbequing menu!
Fried Plantains
Ingredients
2-4 Green to Semi-ripe Plantains ((you can use really ripe as well but they will be softer and sweeter))
Coconut oil
Sea Salt
Instructions
Slice the peeled plantains at an angle (I have no real reason for this other than that is what I observed in Haiti.) thinly, but not too thin.
Heat a few tablespoons of coconut oil in a skillet on a medium high heat; I like to use my cast iron. I don't actually measure the coconut oil but have it so that the plantains are almost covered.
Fry a single layer in the skillet at a time in the very hot oil. Sprinkle a little sea salt over them, fry for a about 30 seconds to 1 min on one side until golden brown, turn and fry on the other side until golden brown .
Remove from oil and lightly blot the excess oil. Serve hot.
Have you ever tried fried plantains?
Beth's note: While in Uganda, we often had matoke, which is plantains as well. They were usually cooked in a tomato sauce with onions and other seasonings, and they were so delicious! My favourite dish there, for sure. Yum!
While learning to live a simple farming life in rural Nova Scotia, Marissa finds home wherever her beloved, Dan and three darling daughters are. She writes about her journey of life as a wife, mother, woman, novice farmer, homemaker, & Christ follower at Becoming Kindred.
Latest posts by Marissa Froese (see all)