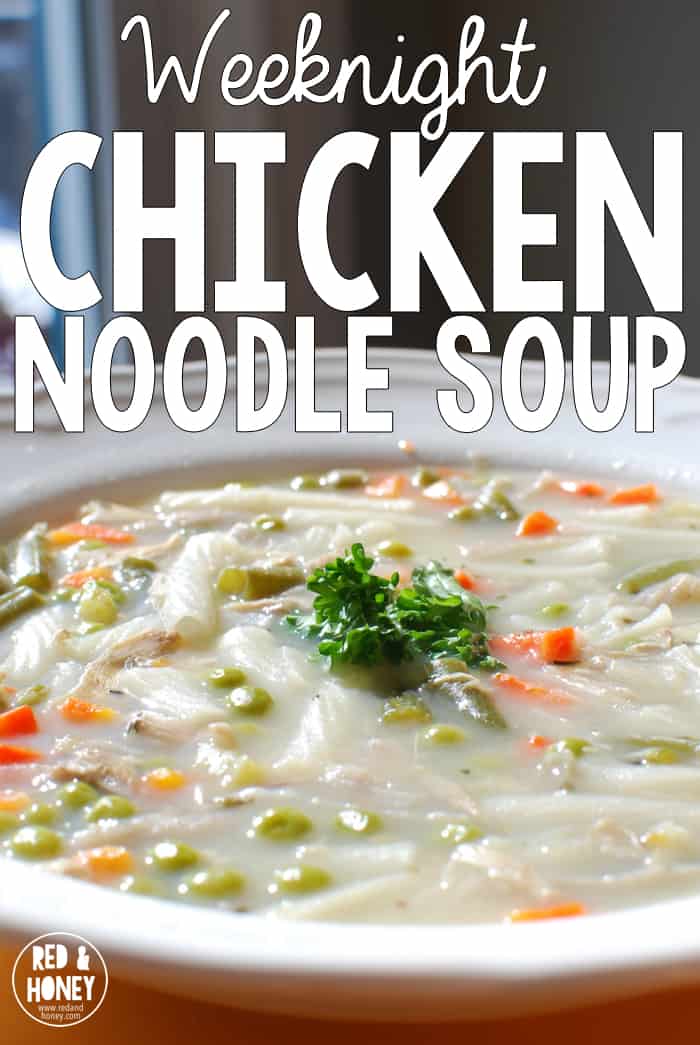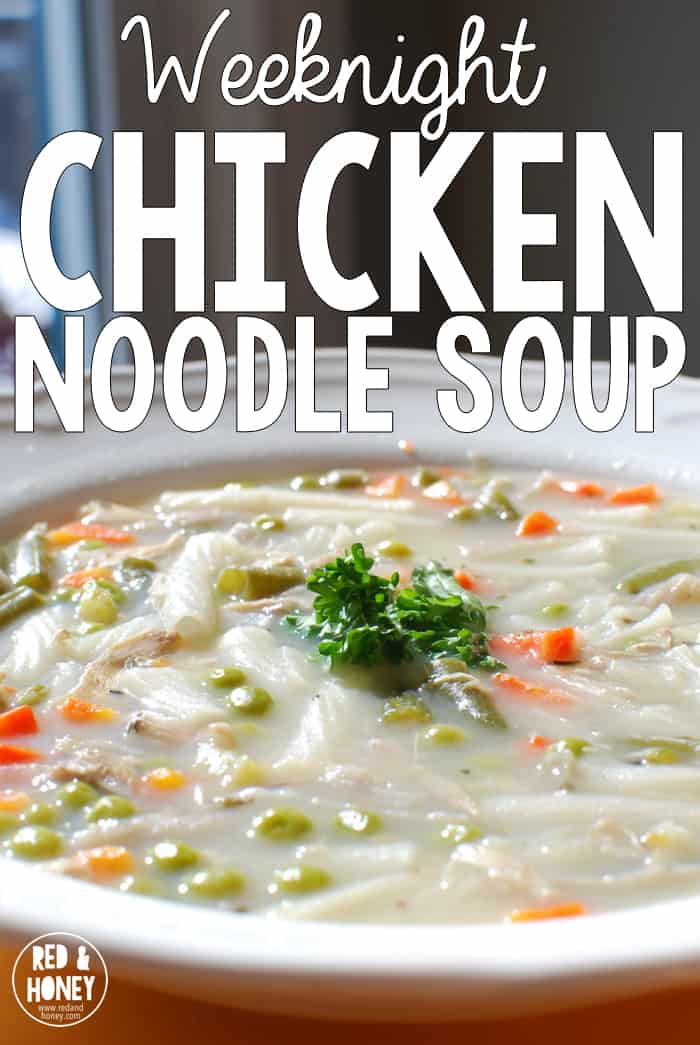 I am forever saying how crazy-easy it is to whip up a pot of soup with homemade broth and whatever other soup-ish ingredients you have on hand, and this easy chicken noodle soup proves it.
(Check out: How to Make Fantastic Soup from Scratch in Fifteen Minutes or Less)
Honestly, it's hard to mess up soup (although I have done it, because I'm talented like that). Sometimes I have the bad habit of overcomplicating things – I add too many spices or different ingredients, and it turns out… weird. I have proved over and over again to myself that most of the time – simple really is best.
That's certainly the case in this recipe. Homemade easy chicken noodle soup is unpretentious and comforting. No glitz and glamour necessary here – just a few basic ingredients that come together to make magic.
It's like slipping into your sweats after coming home from work: plain and unexciting, but somehow perfectly magical.
Have you ever heard of Jewish penicillin? That's what they call chicken soup with homemade chicken broth (see my tutorial for homemade chicken bone broth here).
Easy Chicken Noodle Soup: Why I Love It
Besides its unmatched comfort factor, chicken noodle soup made with homemade broth is actually very soothing and healing during illness.
It's gentle on the gut (you can skip the noodles if you don't tend to get along with really starchy stuff, or just use rice or potatoes maybe), easy to digest, and it's the first thing I reach for whenever anyone in the house has a questionable tummy thing happening. (If that's you, check out my Top 7 Must-Have Natural Remedies for Stomach Flu)
But honestly – the best part of this recipe is its simplicity. Just a couple of seasonings, some carrot/onion/celery diced up, and some cooked chicken. Add noodles and additional veggies if desired. And that's it. Super easy.
I make this easy chicken noodle soup recipe several times a month as a last-minute weeknight meal. My family loves it, it's super nourishing, and it's quick and easy. Winning on all fronts here.

Chicken Noodle Soup
Ingredients
6 quarts homemade chicken bone broth (approximate is okay)
1 onion (diced)
2 celery sticks (chopped)
3 carrots (chopped)
¾ teaspoons basil
¾ teaspoons summer savory
2 teaspoons salt (you may want to add more to taste when it's done cooking)
1 cup spiral noodles (or your favorite other type of pasta)
3 cups cooked chopped chicken
1 cup frozen peas
1 cup frozen green beans
Instructions
Add onion, carrots, and celery to broth and bring to a rolling boil
When veggies are tender-crisp, add basil and oregano and salt
Add noodles, and simmer for prescribed time on package
At the same time, add the frozen veggies and the chicken
Cook at a hard simmer for 10 minutes, then serve
Notes
This recipe is totally freezeable, but you might leave the noodles out, then cook them separately and add them at the time of serving. They might get mushy in the freezing/reheating process.
Note: This is our
all-time favorite gluten-free pasta
– it doesn't get mushy like other GF brands (it has awesome reviews on amazon!). We've also recently become obsessed with a gluten-free quinoa pasta that our local Costco carries. Both are delish.
Beth is the creator here at
Red & Honey
. Mom of (almost) four, wife of one, and proud redhead. Sushi and tex-mex lover, fan of adventure, books, natural health talk, and pyjamas. INFP and Type 4 enneagram. Allergic to small talk. And, if you haven't figured it out already, #nerd. Read more posts by
Beth
.