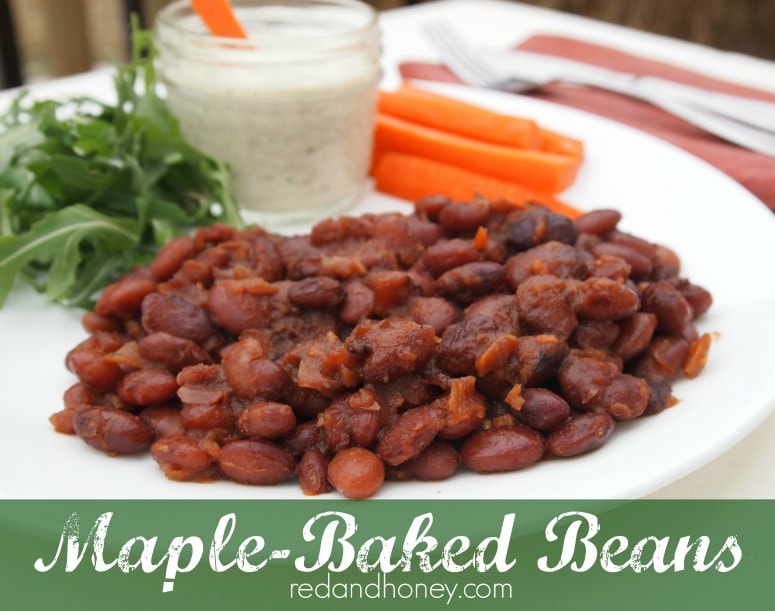 Confession: I love me a can of pork 'n beans.
I always have. That rich, earthy, caramel-sweet flavor with a hint of smokiness. Saucy and satisfying. Hot or cold. As a side dish, or eaten straight out of the can in front of a campfire. What's not to love?
Sure, beans don't have the sexiest reputation. I grew up hearing that rhyme about beans being "the musical fruit." Nothing says class like a can of pork 'n beans.
But I will always find them delightful.
However, I'm not a fan of what's all in the commercially canned stuff. They're usually loaded with sugar, preservatives, and "natural" flavours. And then there's always the concern about BPA in the cans.
Home-cooked beans, however, are wonderfully nutritious, loaded with iron, protein, fiber, and B-vitamins (especially folate, which is needed in pregnancy). I love how frugal and filling they are, too.
So I was tickled, in my early years of marriage and cooking (the two went hand-in-hand, incidentally), to find a recipe for maple baked beans that had the same delicious flavor profile as the canned variety, but without the artificial ingredients. And they're way yummier and heartier. Slow baking gives the beans this magical caramelized top to compliment the savoury-sweet sauce.
I've made some changes over the years to make the recipe more frugal and less sweet, by cutting back on the bacon and maple syrup, as well as swapping out a few ingredients.
This recipe tastes great paired with a simple arugula salad, tossed with olive oil, lemon juice, and Parmesan. I find the crunchy/bitter/sour combination cuts the sweetness beautifully.
It's also great to include a whole grain or a dairy item in your meal to complete the protein in the beans. (The bacon already does this to an extent). I like to eat them with carrot sticks and a homemade sour-cream based ranch dip.
Notes and Variations:
You can use a number of different kinds of beans. I prefer the rich, rustic brown of pinto beans; but others work well too. Navy beans are classic; Romano are another great alternative.
You can also use honey in place of the maple syrup if that's more readily available in your area. It is equally delicious. Then you just have honey-baked beans.
The original recipe uses bacon (YUM), but I've included a vegetarian option if you prefer.
I've also instructed you to drain and replace the water from the beans a couple of times throughout the process, which I believe helps reduce potential (ahem) flatulence problems. Feel free to skip all the draining if you're not concerned about that.
Note that you start soaking the night before, and the total cooking time is almost 5 hours (though that's almost all hands-off). So you'll need to plan ahead. I typically start cooking mine around 1pm. But it's a very simple recipe, and comes together quickly.
Recipe adapted from Vegetables You Used to Hate! by Darlene King.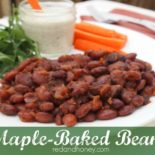 Print Recipe
Maple Baked Beans
Ingredients
1

lb

dried pinto beans

about 2½ cups

¼

lb

bacon

chopped (about 6 slices)

1

large onion

chopped

2

cloves

garlic

minced

1

cup

tomato sauce

½

cup

maple syrup

1

tablespoon

molasses

1

tablespoon

Dijon mustard

¼

teaspoon

crushed hot pepper flakes

½

teaspoon

Worcestershire sauce
Instructions
The night before, sort and rinse beans, discarding any broken or blemished ones. Cover with cold water in a large bowl or pot and let sit overnight.

The next day, drain water and cover with fresh water. Move to stove top and bring to a boil for 2 minutes. Drain and add about 5 cups of water. Bring to boil again; reduce heat, cover, and simmer until tender, about 1½ hours.

Meanwhile (about an hour into the bean cooking), saute the bacon in a skillet over medium heat until it begins to brown. Add the onions and garlic and continue to cook until the onion begins to soften and the bacon begins to crisp. Remove from heat.

Preheat oven to 250. (If you're in a hurry, you can crank that up to 350). Drain off bean liquid, reserving 1½ cups. (I usually remove the 1½ cups first and then pour the rest down the drain.)

Place the cooked beans, reserved liquid, and onion-bacon mixture (along with all pan drippings) into a large casserole. (It's nice if the casserole has a glass lid, but isn't necessary.) Add all remaining ingredients to casserole and mix well.

Cover with casserole lid, foil, or a cookie sheet and bake for 2 hours, stirring occasionally. (Again, if you don't have that much time, you can bake it for one hour at 350.) Finally, Increase heat to 350, uncover, stir, and bake for another 30 minutes, or until beans are very tender, the liquid has absorbed, and the top has caramelized.
Notes
For a vegetarian version, omit bacon and use 2 Tbsp butter or olive oil to saute the garlic and onion. I would personally miss the smokiness from the absent bacon, so I would recommend adding a teaspoon of liquid smoke.
Kathleen is an overeducated stay-at-home mom and homesteader wannabe, living and seeking Jesus' backwards Kingdom in Ontario with her husband and two-year-old daughter. She's a recent brewer of kombucha, goes barefoot eight months out of the year, and owns a disconcerting number of garden gnomes. Read more posts by
Kathleen
.
Latest posts by Kathleen Quiring (see all)