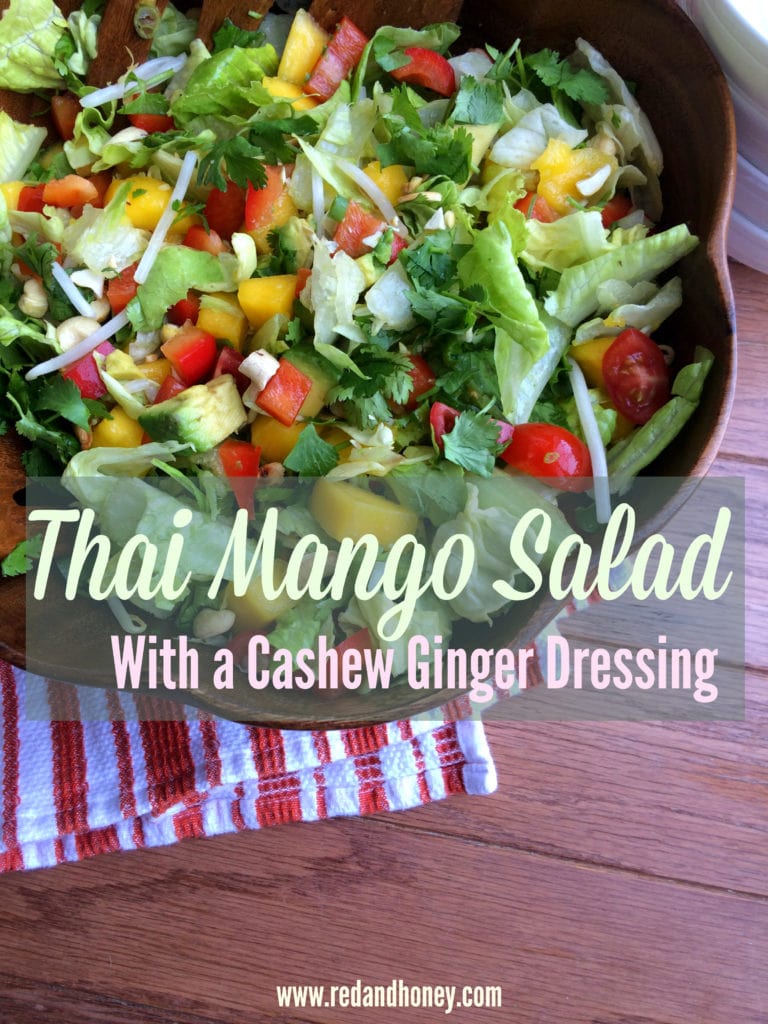 So if you've seen my Mango Coconut Chia Pudding, Minty Mango Nectarine Smoothie, Pumpkin Spice Green Smoothie, or Tropical Soft Serve, you know I'm a pretty big fan of mango.
I can't stop! Using mango in a main dish seemed like the next logical step. So I started with my beloved mango, added some fresh greens and herbs, crunchy veggies and cashews, creamy avocado, green onion, and ginger, and ended up with a super fresh, addicting, asian-inspired power bowl. Add your favorite protein (more on that below), and you're good to go.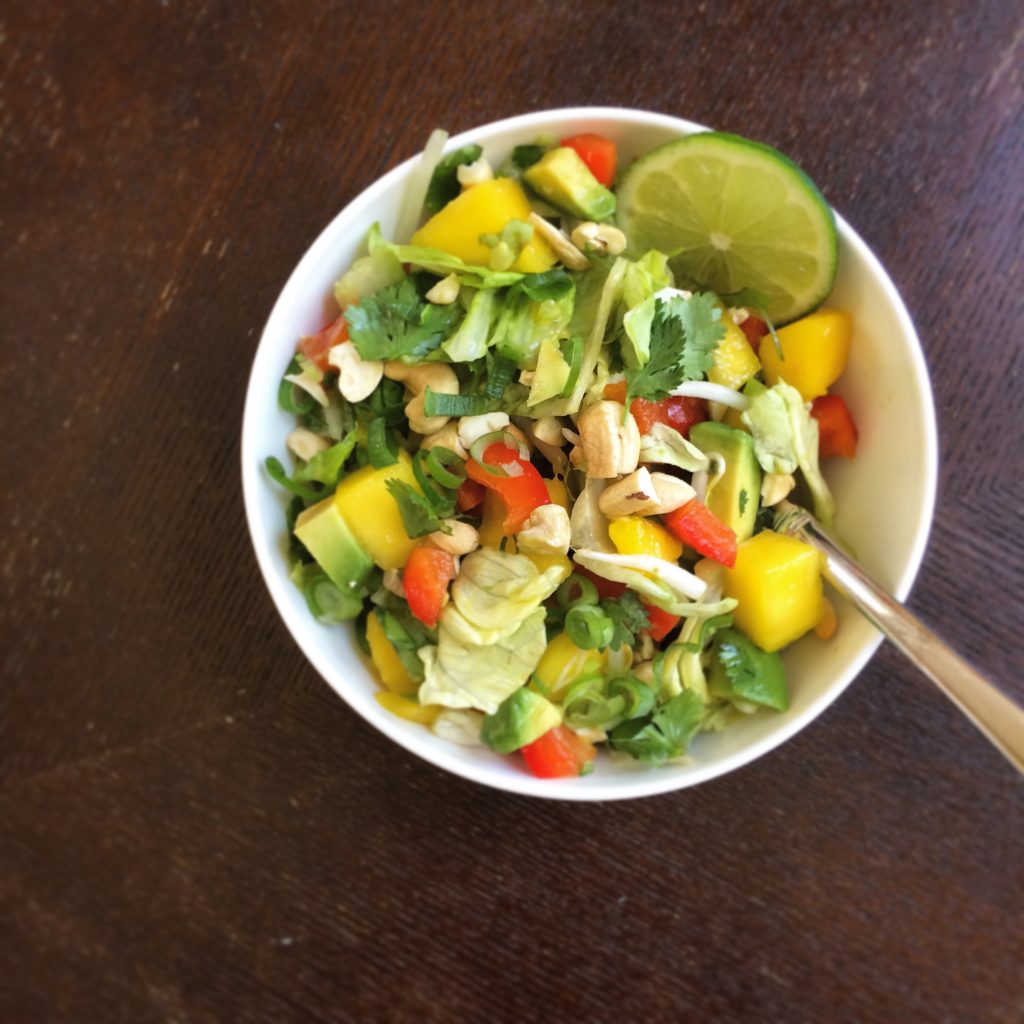 So here's the story. Last fall, my mom sent me an e-mail about a Thai mango salad she ate on vacation in Aspen last September. Like moms do, she was looking out for her baby – whenever a dish really stands out to her as a dish that I can: 1. easily modify for (my dietary restrictions) and 2. easily recreate, she always makes sure to let me know.
She sent me the ingredients she could recall (she wrote them down on a napkin like a good mama), and it did sound like a delicious salad! I switched things up a bit, added a few twists, made my own dressing, and voila! Thanks for the inspiration, mom.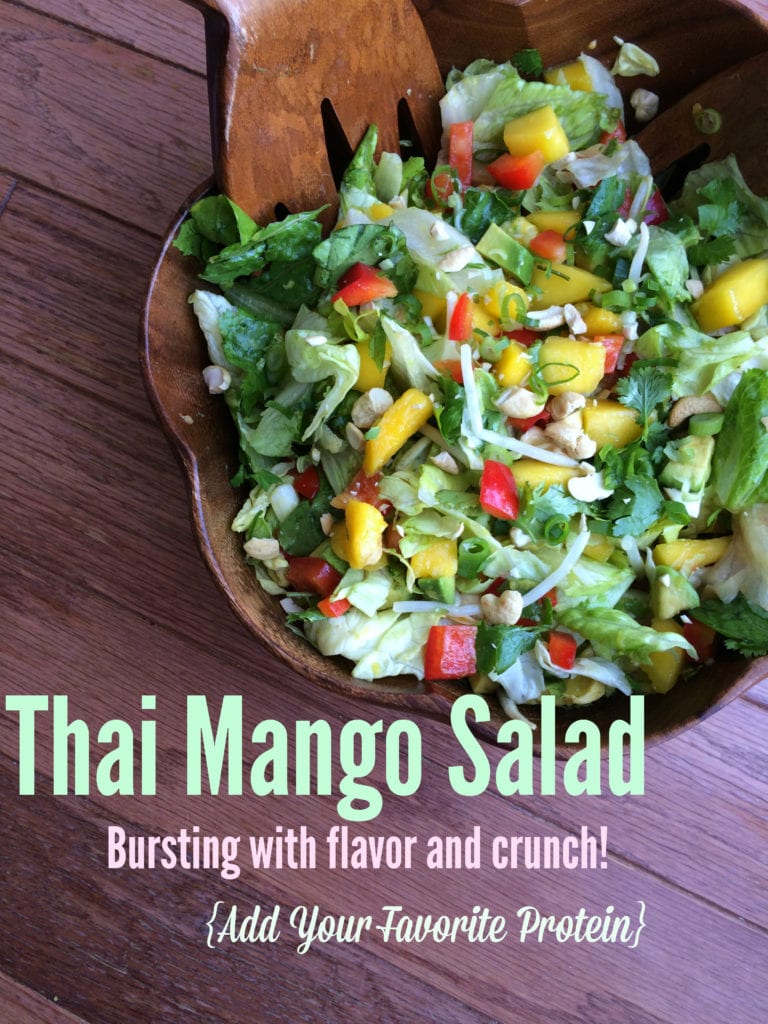 This salad is just so fresh. Perfect for spring meals al fresco. Bursting with color, flavor, and crunch!
It's also naturally gluten-free, dairy-free, and has no added sugar, which is perfect for my household (read about my story here). If you're looking for a delicious vegan meal, look no further, and you can simply omit the mung bean sprouts if you're strictly paleo.
Basically, this is a crowd pleaser. And, if you've seen my recipes before, you know I always provide tons of options. We're all different, so if a certain taste or texture is what you're looking of, go for it!
To skip the soy, feel free to use coconut amines instead of Tamari.
For more crunch, add more toasted cashews, red pepper, and bean sprouts.
Need to be nut-free? Try sunflower seed butter in place of the cashew butter in the dressing and use sunflower seeds in place of the cashews in the salad.
Peanut butter-lover? Try it in place of the cashew butter in the dressing.
Want more spice? Add more chili pepper flakes to the dressing, or toss in some minced jalapeño.
Want to make it heartier? Besides adding your favorite protein, you could add some noodles to make it a noodle salad… I have some ginger brown rice noodles that seem like they would be pretty perfect here. Yum!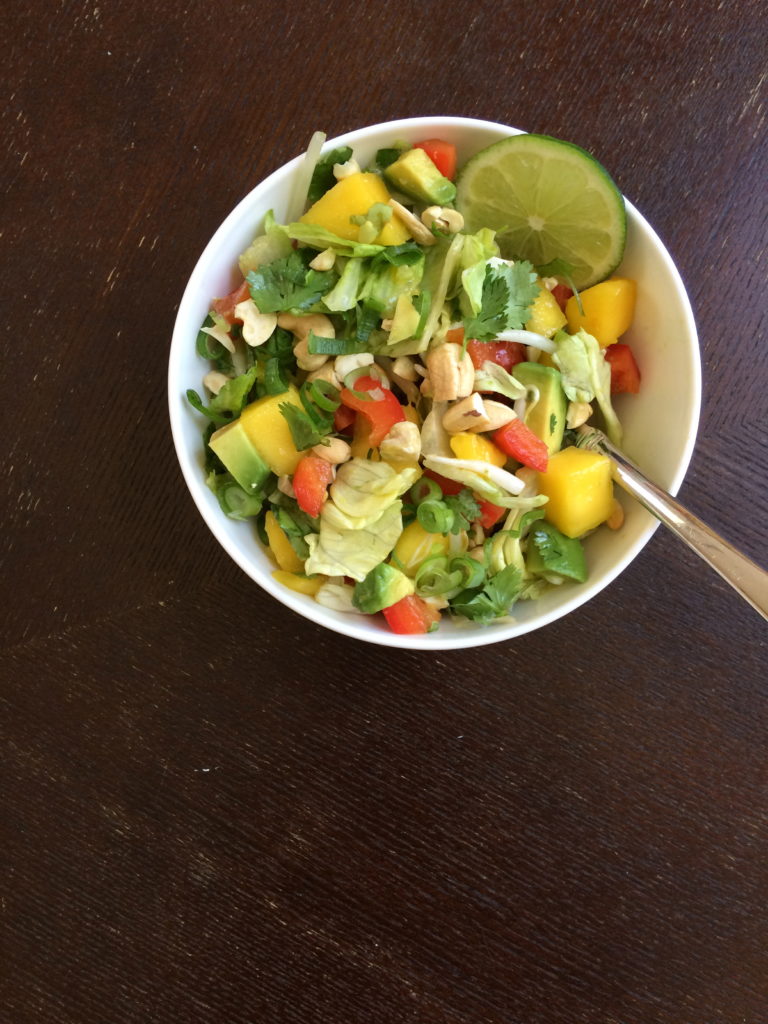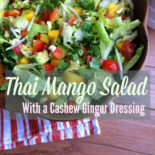 Print Recipe
Thai Mango Salad with a Cashew Ginger Dressing
Ingredients
5

oz

about a 1/2 of a 10 oz bag of butter lettuce, torn into pieces

5

oz

about 1/2 of a 10 oz bag of romaine, torn into pieces

2

mangos

cubed

1

red pepper

diced

1/2

cup

of quartered cherry tomatoes

2

handfuls of bean sprouts

1

avocado

cubed

1

green onion

sliced thinly, reserve 1/2 for garnish

1/2

cup

+ 2 TB toasted cashews

coarsely chopped

2

small handfuls cilantro

chopped

Lime juice
Cashew-Ginger Salad Dressing
2

tablespoons

cashew butter

1.5

tablespoons

tamari

1/4

teaspoon

coconut nectar

1

teaspoon

red pepper flakes

1

tablespoon

unrefined sesame oil

2

tablespoons

rice vinegar

1

lime

juiced

1

teaspoon

minced ginger

1

teaspoon

minced garlic
Instructions
Combine the lettuce, mango, rep pepper, cherry tomatoes, bean sprouts, avocado, 1/2 cup of cashews, 1/2 of the cilantro, and 1/2 of the green onion in a large serving bowl.

Toss with a light coating of dressing.

Garnish with the sesame seeds, cashews, green onion, and cilantro.

Add your protein of choice, give a generous spritz of lime juice, and serve immediately.
Cashew-Ginger Salad Dressing
Combine all ingredients in a jar and shake to combine. Store in fridge.

I make this in a jar as it's super easy to mix it up and you can keep it in the jar in the fridge. (Note: dressing thickens up in the fridge. Bringing it to room temp and shaking will help liquify it again.)
Notes
Optional add-ins:
cabbage
carrot
snap peas
basil and mint
sunflower seeds
black sunflower seeds Add your own protein:
Grilled shrimp
Shredded rotisserie Chicken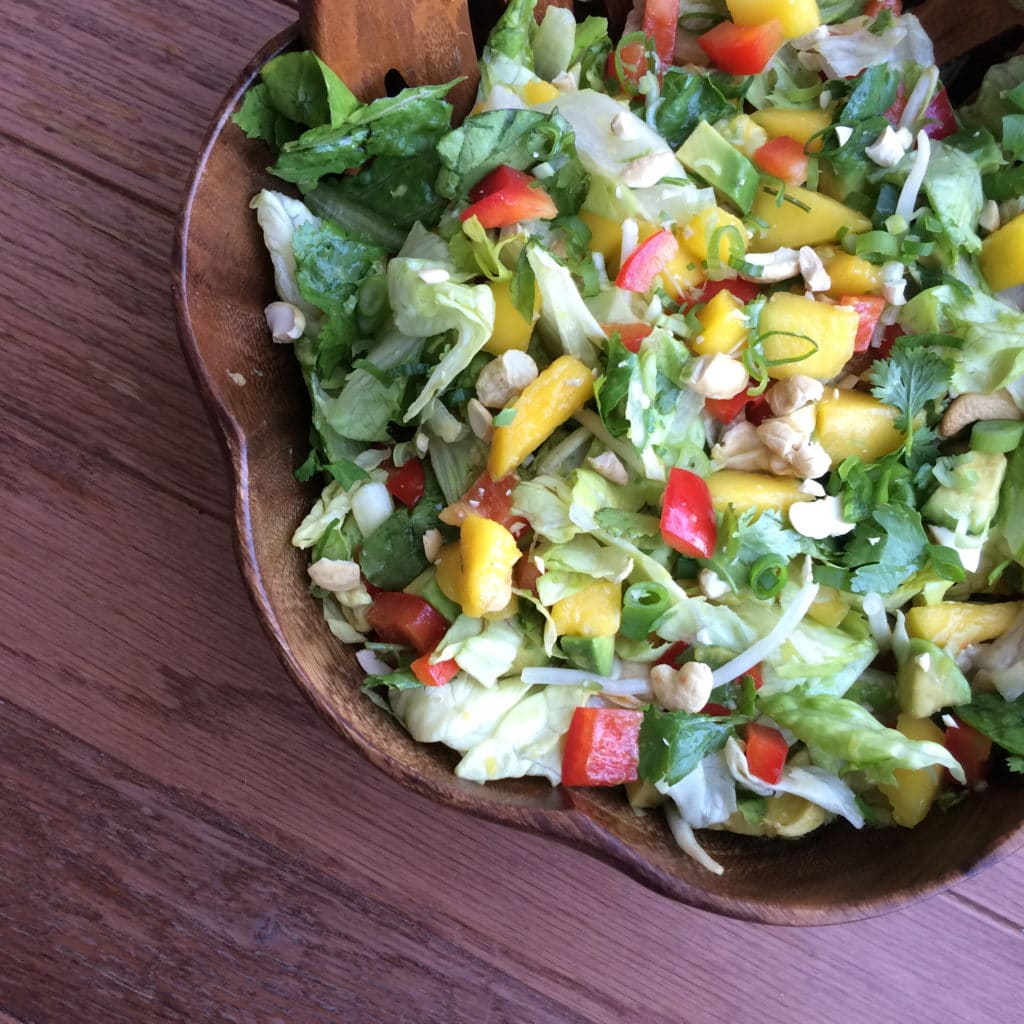 Alexandra Maul, MPH is a health educator, writer, and coach. After experiencing debilitating chronic health issues and learning how to heal, she created
Made to Glow
, an interactive community and healthy living guide that educates and inspires others around healthy eating, self-care practices, and non-toxic living. Alex is passionate about empowering others to feel their best, and loves to share kitchen tips, naturally gluten-free and dairy-free recipes, relaxation and fitness suggestions, and ways to live lean, clean, and green. Connect with Alex on
Facebook
,
Instagram
,
Twitter
, and
Pinterest
.
When we feel whole, balanced, and healthy, we radiate from the inside out. We are all made to glow!
Latest posts by Alexandra Maul (see all)