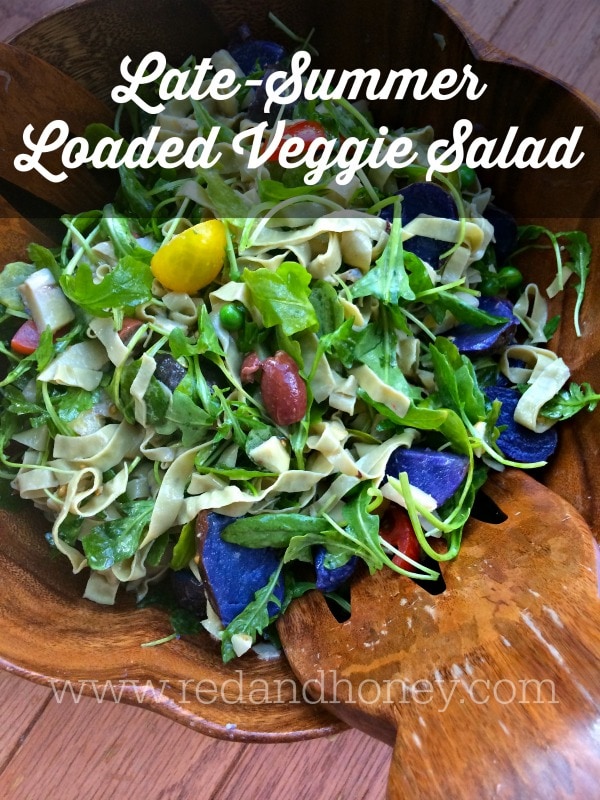 Guest post by Alexandra Maul of Made to Glow
This late summer salad is perfect for weeknight meals and makes great leftovers. It's filling, nutritious, and bursting with peak summer flavor. By adding purple potatoes and mung bean noodles, the salad has some serious staying power – with tons of fiber and protein.
I know, I know, it's *almost* fall. It was even cloudy and crisp today where I am, a sure sign of the nearing change of seasons, especially after 95+ degrees this past weekend.
But, I'm not giving up on summer yet (as you'll see with my latest posts)!
The fresh summer bounty is one of my favorite things – you'll find my recipes are packed with seasonal produce – and I'm taking advantage of all of the late summer farm market finds.
Savor the last of the summer produce with this light and easy dish.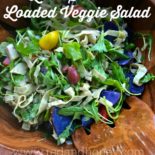 Print Recipe
Late-Summer Loaded Fresh Veggie Salad
Ingredients
Salad Ingredients:
2

tightly packed cups arugula

2

cups

of cooked mung bean fettuccine*

2

cups

of quartered cooked purple potatoes*

1

cup

chopped artichoke hearts

1

cup

chopped cherry or grape tomatoes

1/2

cup

fresh or frozen green peas

1/8

cup

sliced kalamata olives

Chopped parsley for garnish

optional

Lemon zest

optional
Dressing Ingredients*:
1 1/2

tsp

of dijon mustard

2

TB

lemon juice

6

TB

extra virgin olive oil

Salt and pepper to taste
Instructions
Scrub and wash your purple potatoes, halve or quarter them, and then boil until you can slide a fork through each chunk. At the same time the potatoes are boiling, boil and cook your noodles. While those are cooking, chop your veggies and make your dressing.


To make the dressing, combine the ingredients in a small jar and shake to combine (the jar also lets you save the rest for leftovers). Alternatively, whisk all of the ingredients in a small bowl.

Toss the arugula in a large bowl with just enough dressing to very lightly coat it. Then throw in the rest of the salad ingredients, pour a bit more dressing, and toss to combine. Garnish with a bit of lemon zest and chopped parsley. Taste, and adjust as needed (add more dressing, some salt and pepper, or a spritz of lemon juice). Enjoy!
Notes
Lots of options - choose what works for you!
*I use
mung bean fettuccine
 as it's naturally gluten-free (
read why I'm GF
), blends well with all sorts of flavors, and packs a serious punch of fiber (11 grams) and protein (25 grams). Use whatever noodles you like!
*Can't find those beautiful purple potatoes? Try baby red potatoes or fingerlings.
*This dressing is super simple in order to let the summer produce shine. If you want some more punch, try adding a drop of honey or maple syrup, a sprinkle of fresh or dried herbs, or some chopped garlic. Save the leftover dressing to use on other dishes throughout the week.
About Me:
Alexandra Maul, MPH is a health educator and public health professional. After experiencing debilitating chronic health issues and learning how to heal, she created Made to Glow, a healthy living guide that educates and inspires others around healthy eating, self-care practices, and non-toxic living.
Alex is passionate about empowering others to feel their best, and loves to share kitchen tips, naturally gluten-free and dairy-free recipes, relaxation and fitness suggestions, and ways to live lean, clean, and green.
Connect with Alex on Facebook, Instagram, Twitter, and Pinterest.
When we feel whole, balanced, and healthy, we radiate from the inside out. We are all made to glow!
(Beth's note: if you haven't already heard, the Ultimate Healthy Living Bundle is on now. This time quantities are limited, so check it out and snag yours before they're all gone! Just click the image below to learn more.)
Beth is the creator here at
Red & Honey
. Mom of four, wife of one, and proud redhead. Sushi and tex-mex lover, fan of adventure, books, natural health talk, and pyjamas. INFP and Type 4 enneagram. Allergic to small talk. And, if you haven't figured it out already, #nerd. Read more posts by
Beth
.