Instant Pot July is here! I'm partnering with Plan to Eat this month on sharing Instant Pot tips and tricks, recipes, and even giving away two Instant Pots. Details below on how to join all the fun!
If you're a regular around here at Red & Honey, you probably noticed that I went a little Instant-Pot-crazy last month. I posted a slew of IP recipes and just kept on raving about that wonderful little gadget in my kitchen.
It's true: I've had it for six months now, and I'm declaring that the Instant Pot is officially my new BFF. I'm honestly not usually the first one to hop onto bandwagons, in fact – I'm often the last. But something piqued my curiosity, and I decided to dive in (by telling my mom that I wanted one, and that they were on sale for Black Friday, ha!)
To my great excitement, there was one of these bad boys under the tree with my name on it.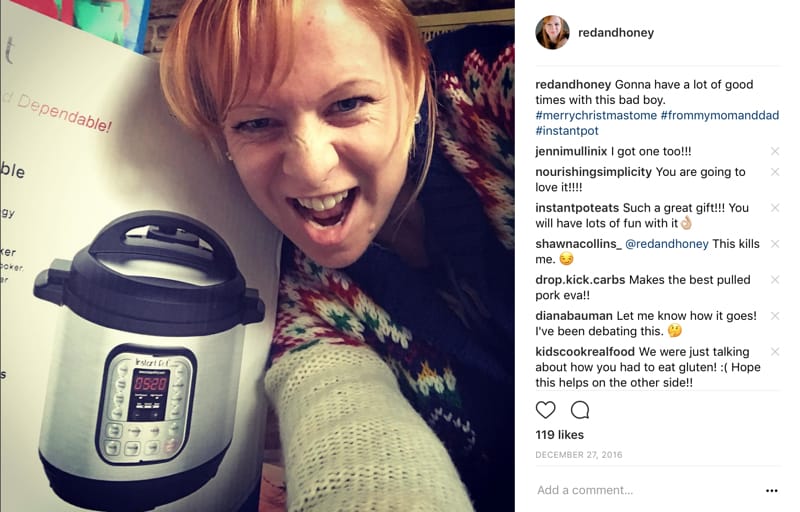 When I got my Instant Pot, I let it sit in the box for a week before I was brave enough to pull it out and try using it. After that there was no stopping me – I was off and running and constantly finding new things to do with it!
While there's a (small) learning curve to getting into the Instant Pot groove, I found it to be a very user-friendly, multi-purpose, handy tool. It saves me time and energy in the kitchen on a regular basis, which makes it a thousand percent worth it to people who lead full, busy lives and still try to cook from scratch and eat real food not from a box or a can.
In my opinion, the Instant Pot really shines in real food cooking in particular, with tricks like cooking a whole chicken from FROZEN in far less time than it would take to defrost it in the fridge and then bake in the oven or slow cooker.
For a 4-5lb chicken, straight from the freezer, I'd set the time for around 50 minutes. When you include pressurization and de-pressurization time on either end, you go from freezer to table in an hour and a half. In my world, that's pretty darn impressive!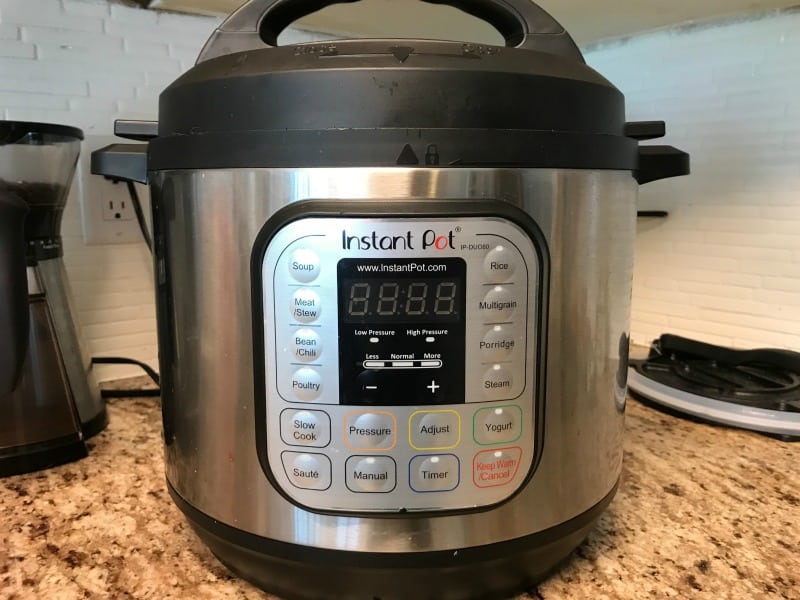 It's also amazing at boiled eggs, dried beans (so much faster than stovetop!), and defrosting or cooking a hunk of frozen-solid ground beef. (You can then use the cooked ground beef in whatever recipe you want – it doesn't get rubbery or weird, like when you defrost in the microwave.)
There are countless Instant Pot recipes out there in internet-land, with more and more every day as the Instant Pot grows in popularity. And here's a fun fact: the Instant Pot was invented right here in my hometown of Ottawa, ON, Canada by ex-Nortel employees.
Instant Pot July: The Low-Down
For the next four weeks, I will be publishing a post every Monday with an Instant Pot theme, and highlighting some awesome Instant Pot recipes that I created, which are included in Plan to Eat's Instant Pot July challenge.
I'm partnering with PTE to challenge you to use your Instant Pot more! (Or, if you don't have one yet, to start reading up on all of the many reasons you probably want one.)
I created twelve Instant Pot recipes to get you started, and I'll highlight a few each week. So how do you join in? Check out the details below!

Here's how to officially join the challenge:
Head over to this page and follow the instructions. You'll need to add "Instant Pot July" as a friend in your Plan to Eat account, and if you don't have an account yet, you can sign up for a free 30-day trial (and then proceed with the same directions).
That's it! You're officially in!
---
GIVEAWAY: An Instant Pot + a Free Year of Plan to Eat + an awesome canvas tote bag!
Once you're in, enter the giveaway here:
---
FACEBOOK GROUP
Join our Facebook group to find friends, discuss tips and tricks and share recipes with other Plan to Eat users! This group is very active and we would love for you to be a part of it.
---
PINTEREST BOARD
If Pinterest is more your style, we've put together a fantastic Instant Pot Pinterest Board with tons of Instant Pot ideas from all over the web.
---
Bottom Line?
Most importantly – USE YOUR INSTANT POT! This fun event isn't sponsored by Instant Pot in any way – we just want to encourage you to expand your Instant Pot horizons and have fun doing it!
Plan to Eat believes that eating at home should be easier, and I totally agree. I'm all about finding the best hacks and tools to make that happen. Meal planning is one of the best tricks of the trade, and the Instant Pot is definitely another!
Let's have fun with our Instant Pots this July, and make some kick-butt crowd-pleasing meals with half the effort. See you next week!