Gluten-free instant pot cheesecake for the win, y'all! If you own an Instant Pot, this is a must-try.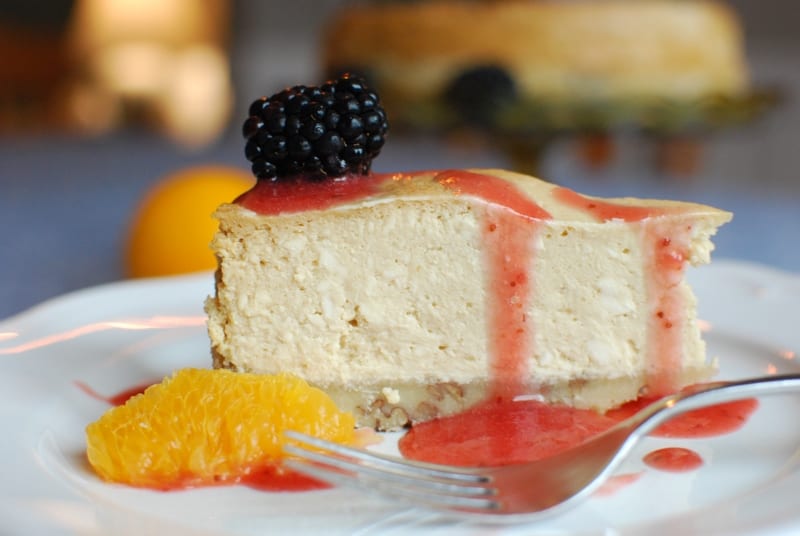 It was such a sacrifice – developing this recipe. But for you, my dear readers, I was willing to do hard things.
Like eat cheesecake every day for a week straight so that I could perfect the recipe for you. I know, I know, it's a tough job, but somebody's gotta do it. My husband was especially bummed* when I told him that I had to make it just one more time with a couple of final tweaks.
*Not even a little bit true. For the record, I honestly was getting tired of cheesecake by the end of this process, so I wrapped up the 2nd-to-last one I made, and froze it for a rainy day. Hours after I put it into the freezer, hubby came downstairs, opened the fridge, and turned to me with puppy dog eyes. "Where's the cheesecake?!" he asked with slight panic in his voice. Amused, I showed him the half-frozen cheesecake in the freezer, and crisis was thankfully averted.
This naturally-sweetened, grain-free and gluten-free instant pot cheesecake combines a salted caramel taste (thanks to the magic of coconut palm sugar) with a buttery grain-free crust made from pecans and almond flour.
It's all topped off with a light and sweet fruity combo that creates a true thing of beauty. Your tastebuds will thank you, and your health will too! It's definitely not an everyday treat kinda thing, but if you want something for a special occasion without the grains or refined sugars, this is the recipe for you.
Heck, even if you're all aboard the grains and refined sugar train, this recipe will STILL impress you. I know this for a fact because I gave some of our cheesecake bounty to my neighbours (who regularly consume grains and sugar) and they gave it an enthusiastic thumbs up. She said, and I quote: "I wouldn't tweak a thing!" I'm calling that a definite win.
And, of course, it's all made with my favourite new kitchen tool: the instant pot. (I mean – if it can produce this magical potato salad recipe, it's obviously BFF material, right?)
<—This is the exact model I have (click to see it on amazon) but lots of people with smaller families prefer the 6qt, which is currently selling for just $99!
Even as a devoted instant pot fan, I will readily admit that there are many things that you can make in an instant pot that aren't that much easier. Most of the time I find that the biggest benefit is when you can make the recipe significantly faster than the stove, oven, or slow-cooker.
But cheesecake? It's a whole different ball game, people. I was always kind of intimidated by cheesecake recipes that you bake in the oven. You have to put it in a water bath, you have to let it sit for a while, etc. etc. It just feels like so much margin for error when you're a busy mom with a million distractions.
I love that I can just press the crust into the pan, pour the filling on top, plunk it (gently, ha!) into the instant pot and hit a button. And voila – cheesecake. LOVE it.
Here's the recipe. The combo of the buttery, nutty crust with the salted caramel cheesecake filling (and the light fruity accompaniments) was inspired by a gluten-free cheesecake on the menu at a local restaurant. It was the stuff of dreams, but the high price tag on fancy desserts at a steakhouse motivated me to come up with my own version. Plus, mine's healthier, so I win!
Enjoy!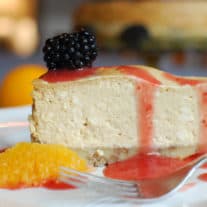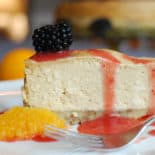 Print Recipe
Instant Pot Salted Caramel Cheesecake with Grain-Free Pecan-Almond Crust
This naturally-sweetened, gluten-free instant pot cheesecake is gonna blow your mind with the perfect pairing of flavours. The dense, buttery, nut-based crust snuggles up to the salted caramel cheesecake filling, and is accompanied perfectly with the light fruity taste of strawberry sauce, an orange wedge, and blackberries. It doesn't get much better than that.
Ingredients
For the crust:
2

cups

almond flour

1/3

cup

chopped pecans

1/3

cup

melted butter

3

tbsp

coconut palm sugar
For the filling:
2/3

cup

coconut palm sugar

1

tbsp

gelatin

(my recommended brand in the notes)

1

tsp

real salt

(my recommended brand in the notes)

1

tbsp

arrowroot powder

24

oz

cream cheese

(3x 8oz bricks, pre-softened at room temp for at least two hours)

2/3

cup

honey

3

eggs

room temperature for best results

2

tsp

pure vanilla extract
For the strawberry sauce topping:
12-15

strawberries

cleaned and halved (can use frozen if desired)

1

tsp

arrowroot powder

1/4

cup

water
Instructions
Grease an 8-inch springform pan with coconut oil. Grease liberally.

Combine ingredients for crust in a medium-sized bowl, and stir. It should be sticking together, but not overly wet.

Press crust mixture into your greased pan, with a little extra height around the edges. Use the bottom of a glass to press it down flat and even, if necessary.

Combine first four filling ingredients (dry ingredients) in a large mixing bowl, and stir.

Add all other filling ingredients, and beat with an electric mixer until well combined.

Pour filling into greased pan, on top of the crust. Use a spatula to spread it smooth.

Add half a cup of water to the bottom of your instant pot, set your trivet inside with the arms folded down.

Create a tinfoil "sling" for your cheesecake pan by folding a piece of tinfoil in half (lengthwise) and placing the pan in the middle. Bring the sides of the foil "sling" up to create handles. This will allow you to easily get the pan in and out of the instant pot without tipping or spilling.

Place your cheesecake with foil sling into the instant pot on top of the folded-down trivet, and set to manual mode for 28 minutes.

Allow pressure to release naturally, and when finished, let cheesecake cool on the countertop for 10 minutes before placing it in the fridge to chill for a minimum of four hours or overnight. (Longer is fine - I keep my cheesecake in the fridge, uncovered, the entire time it's in there.)

To create the strawberry sauce, combine berries, water, and arrowroot powder in a small saucepan on the stovetop. Bring to a boil, then reduce heat to simmer for five minutes. Puree in a blender, and use to garnish cheesecake.

Garnish also with an orange wedge and a couple of blackberries. (Trust me - it's an incredible combo!)
Notes
My recommended brand of gelatin is this one for its high quality and affordable pricing.
I've been a loyal fan of this salt for nearly a decade, and still love it today!
If your cheesecake comes out with a bit of liquid on top after cooking, gently tip it into the sink to let it run off before chilling in the fridge. It won't affect the end result.
My cheesecakes don't typically come out with perfectly flat tops, and I'm okay with that. If you're more of a perfectionist than I am, feel free to leave your flat-top cheesecake tips in the comments. 🙂
I know that the blackberry and orange wedge sound somewhat random, but the lightness of the fruit actually pairs exceptionally well with the dense and rich cheesecake. Obviously, you can experiment with whatever toppings or flavours you want, but try this at least once!
Beth is the creator here at
Red & Honey
. Mom of four, wife of one, and proud redhead. Sushi and tex-mex lover, fan of adventure, books, natural health talk, and pyjamas. INFP and Type 4 enneagram. Allergic to small talk. And, if you haven't figured it out already, #nerd. Read more posts by
Beth
.