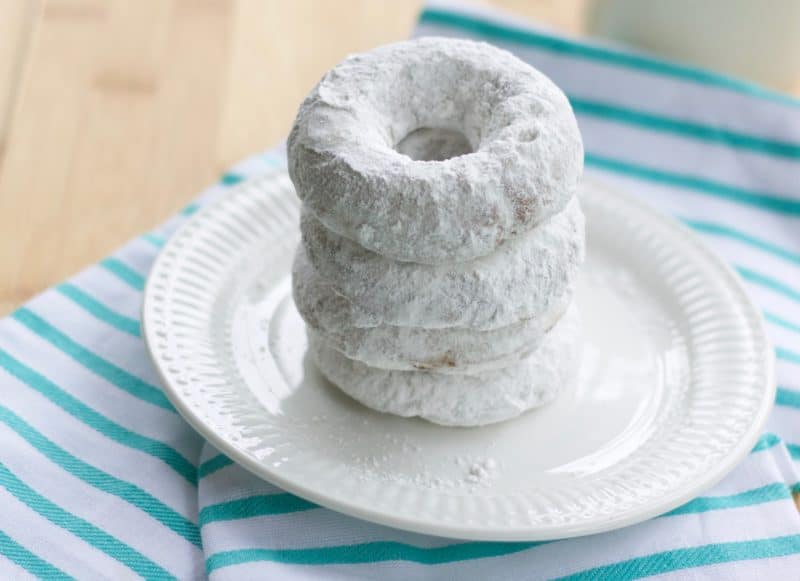 Doughnuts: is there any other food the brings the kid out in you like this simple treat does?
Doughnuts were not a thing at my house growing up. They were that special treat that showed up in the pink box occasionally at Sunday School or came wrapped up in plastic at a sleepover. Yet, they always had a soft spot in my heart.
About a year ago I decided to make "healthier" doughnuts. I made them with soaked whole wheat. They were good but not great. Honestly, it felt like eating a doughnut-shaped muffin. Not exactly what I was thinking of if you know what I mean.
As much as I like eating sourdough, soaked, and sprouted grains I know it's important to give my body a break from grains, even ones prepared in a healthy traditional way. I found myself getting back into baking with coconut flour and adding a couple new flours to the mix, cassava flour and tapioca starch/flour. And finally – these grain-free chocolate doughnuts were born.
Almond flour is widely popular in the grain-free baking world, but except for a couple things like almond bread and scones that I make occasionally, I prefer not to bake with a high concentration of nuts. Personally, I don't believe we were meant to eat such a large amount of almonds that often. Plus, I never feel great after eating baked goods made from them, even the flour that is from soaked almonds.
If you haven't guessed by now, I am a huge chocolate fan. Why else would I create instant peppermint hot cocoa and cassava flour brownies recipes? It only stands to reason that I would create a chocolate doughnut recipe. Like I've said before, chocolate makes the world a happier place. If chocolate doughnuts aren't your jam, I've got you covered with these traditional grain-free cake doughnuts.
As much as I loved the pink box full of fluffy doughnuts, I had a weakness for the doughnuts drenched in powdered sugar that came in a bag from the convenience store in my younger days. My uncle would buy them for our annual girl cousin sleep over. Being the "sugar deprived" kid I thought I was, I inhaled them, of course, always regretting it later. My body has never tolerated large amounts of sugar well.
These powder sugar covered grain-free chocolate doughnuts will have you reminiscing about stuffing your face with those high-sugar, powdery treats. If powder sugar doughnuts do not appeal to you, try them plain, or dip them in melted dark chocolate. All three ways are tasty, just ask me how I know. If you are out of powdered sugar, you can make your own in less than 5 minutes.
Don't let anyone try to convince you that just because these doughnuts are grain-free, Paleo, and baked, that they are healthy. Though I wish I could say that they were… there is still too much sugar in these babies to claim that. Repeat after me, "gluten-free does not make a food healthy." It's like when someone tells you that something is healthy because it's from Trader Joe's. (Face palm)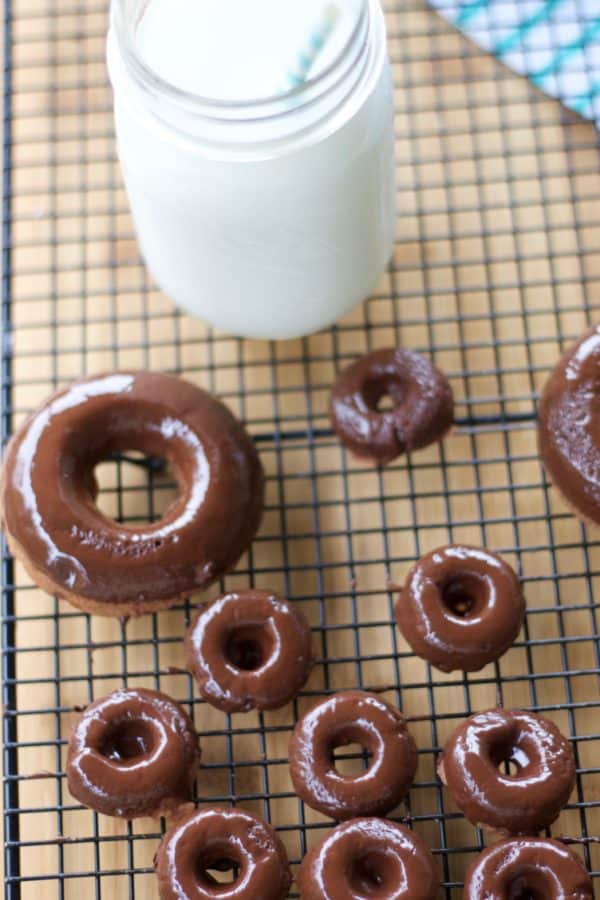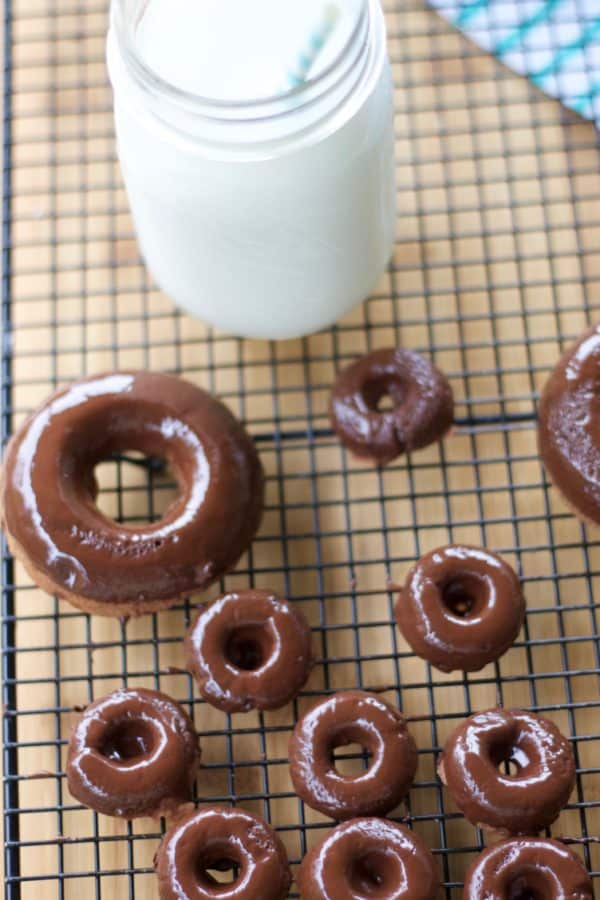 All that being said, coconut flour is good for you. Eggs are good for you. Both ingredients are good sources of protein. Tapioca starch, also know as tapioca flour, is made from the cassava root, just like cassava flour (but they can not be used interchangeably in recipes). Like cassava flour it is a resistant starch, making it wonderful for your digestive health.
So, you could say that these doughnuts are almost good for you. 😉
The combination of coconut flour and tapioca starch is what makes these doughnuts a work so well. Seriously, the coconut flour offers a softness and the tapioca starch adds a bit of texture that doughnuts need. They are much better for you than your average doughnut, especially if you leave off the powdered sugar or chocolate glaze.
Another key to these doughnuts is the coconut oil. I'm sure butter would taste just fine but coconut oil adds the perfect "crisp" factor that almost makes you think these are fried.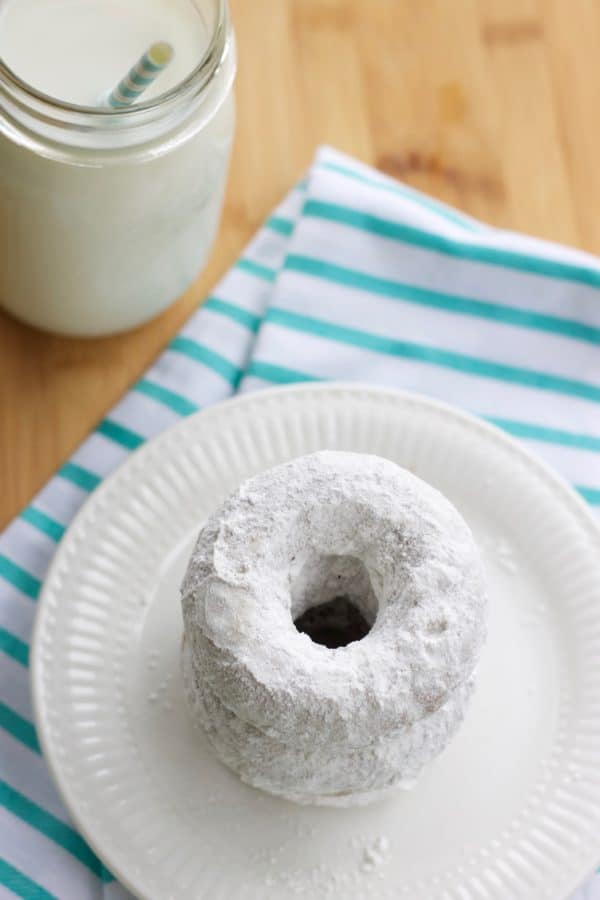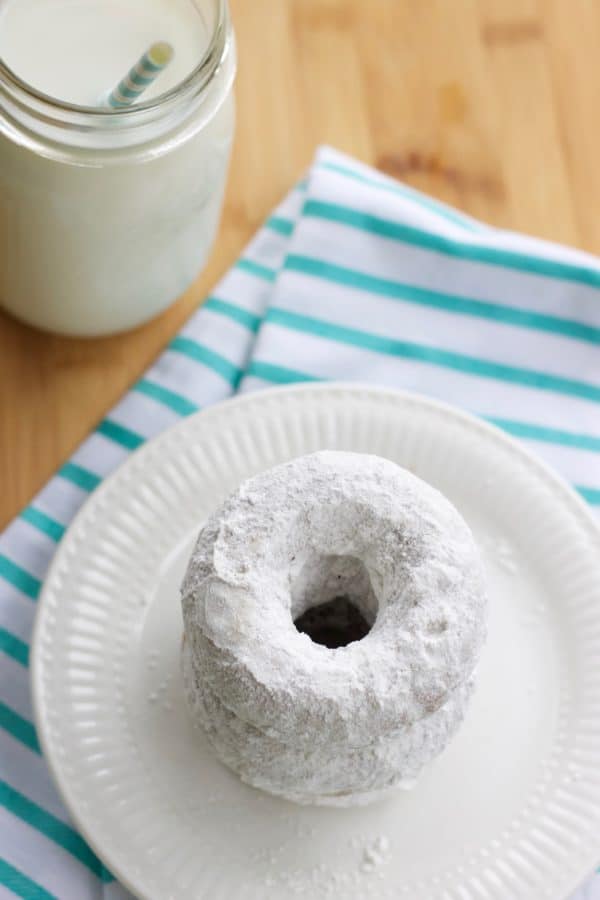 Gluten-free Chocolate Doughnuts
Author:
Katie Mae @ Red and Honey
Ingredients
¾ cup milk (I used almond)
½ cup unrefined sugar (coconut palm sugar would probably work too. let us know if you try it!)
½ cup coconut flour
¼ cup + 2 tablespoons tapioca starch
¼ cup + 2 tablespoons coconut oil, melted
2 tablespoons cocoa powder
2 eggs
2 teaspoons vanilla extract
1 teaspoon baking powder
½ teaspoon unrefined salt
Instructions
Preheat the oven to 350 F.
In a medium sized bowl, add the unrefined sugar, coconut flour, tapioca starch, baking powder, and salt in a bowl. Use a whisk to mix.
Add the eggs, milk, ¼ cup melted coconut oil and vanilla extract. Mix until smooth.
Use the remaining coconut oil to heavily grease the doughnut pans.
Pipe in or scoop batter into each mold, filling them ⅔rd of the way full.
Tap lightly on the counter to get rid of air bubbles.
Bake for 15-18 minutes, until the edges start to turn golden brown.
Allow the doughnuts to rest in the pans for 5 minutes before removing to cool on a cooling rack.
Eat plain or top with powdered sugar or melted chocolate.
Have you made baked doughnuts? What is your favourite flavor?
Katie Mae Stanley is the creator of Nourishing Simplicity, where she writes about crafting a made from scratch life with a heaping of grace. She spent 10 years as a missionary dorm "mama" for a bunch of amazing girls at a school for the deaf in Baja California, Mexico. Now she finds herself back in the Statesembracing God's next adventure. A cup of tea or coffee and a bit of dark chocolate make an appearance at some point in any given day.
Latest posts by Katie Mae Stanley (see all)