This maple-glazed gluten-free gingerbread cake in bundt form is sheer perfection with just the right amount of spice and sweet, plus made with ingredients you can feel good about.
This moist gluten-free gingerbread cake recipe is a total crowd-pleaser, and they won't even know it's naturally-sweetened & grain-free unless you tell them. The perfect treat for gingerbread fans!
I mean – maple-glazed gluten-free gingerbread cake that tastes decadent while rocking the lower carb flours and the natural sweeteners? HECK YES & AMEN.
That's practically all I would have to write for this entire post and it would be convincing already. (Un)fortunately for you, I'm allergic to brevity and am kind of super obsessed with gingerbread flavor. I already have a lightly-sweetened gluten-free gingerbread cookie cutout recipe, and a swoon-worthy gingerbread latte recipe. Now – we have cake too. #winning
Let's begin with the maple glaze. Basically anything with maple syrup and butter in it will taste good. It's practically a law. It's a thin drizzle that soaks in to the cake, drop by drop, until you're wishing you had doubled it altogether.
Wait – doubling the glaze. That's a BRILLIANT idea. Do it. Much of it will pool on the plate around the cake, but I don't personally see that as a problem considering I was eating the hardened glaze with a fork last time. (Don't look at me like that – you'll do it too.)
The cake was born from me throwing together healthier (i.e. real fats, natural sweeteners, almond and coconut flours to help lighten our carb intake) gingerbread-ish ingredients together in the hopes that it might be decent. It must have been destiny, because it came out beautifully! A few minor tweaks later and here we are.
It was also gone in less than 24 hours, and that was with me guarding it fiercely and rationing it out as slowly as possible without a mutiny on my hands. The family liked it, to say the least.
Go forth, friends. Let us eat make & eat cake! Here's what you need to know…
The Best Gluten-Free Gingerbread Cake
One of the hardest things about adapting to a whole foods healthier diet is finding the perfect recipes that you want to save and make again. They taste just as amazing as any unhealthy version, plus the ingredients are ones you keep on hand. This recipe quickly became a standard in our house, and I hope it will for you too!
This recipe is:
gluten-free & grain-free (almond and coconut flour)
naturally sweetened (honey and maple syrup, with a tiny bit of coconut palm sugar)
made without xanthan gum or other binders (the 6 eggs do the trick here)
easy and quick to bake
sweet enough (especially with the glaze) but not excessive
made out of ingredients that are healthier than what some people consider breakfast. (Translation: treat yo'self, guilt-free.)
How to Make This Gluten-Free Gingerbread Cake Recipe
This is a fairly quick and easy gluten-free gingerbread cake recipe to throw together – it's your typical dry ingredients, then wet, and bake. Add the glaze and you are golden.
I bake it in a bundt cake (because it's pretty for serving), but if you don't have one of those you could probably try it in a 9×9 pan instead.
Can I Make Substitutions?
Flours
Almond flour: made from ground, blanched almonds. Low carb, helps provide a fluffy texture.
Coconut flour: very "thirsty" and usually paired with lots of eggs for moisture. Gives a distinctly unique texture to baked goods, so I prefer using it alongside other flours to get a more traditional texture.
Unfortunately, I don't recommend any substitutions for these flours as they work in tandem in a unique way. If you do try – please let me know how it goes!
Sweeteners
(Cake) Honey: The honey in the cake provides the main sweetening, but also provides part of the liquid-dry balance. You could probably sub maple syrup, but I would not recommend a dry sweetener, and definitely not any alternative sweeteners (like sugar alcohols or stevia) unless you're quite experienced in making major tweaks like that.
(Cake) Molasses: Provides a bit of sweet, but the main purpose is the distinct flavor it brings. Don't sub this one.
(Glaze) Coconut Palm Sugar: In this small amount you could easily substitute another sweetener, or leave it out. The glaze being slightly thicker or thinner won't be a dealbreaker.
(Glaze) Maple Syrup: This is the key flavor of the glaze. If, however, you don't want to use maple syrup for whatever reason – honey would probably work fine, albeit with a noticeably different taste.
Eggs (Can I Make it Vegan?)
Unfortunately I would not recommend this recipe for a vegan. There is a high amount of eggs due to the coconut flour, and that sort of recipe doesn't usually work well with egg substitutes.
Is This Gingerbread Low Carb?
This recipe uses low carb flours, however honey is fairly high in carbs, so it's not low-carb as written. To lower the carb count, you may want to try substituting a liquid Keto-friendly sweetener for the honey and maple syrup, and leaving out the starch from the glaze (it will be runnier). I still wouldn't leave out the molasses, though, as it's a key flavor in gingerbread.
I haven't personally tried making it lower carb, so let me know how it goes if you do.
Can I Freeze This Maple-Glazed Gingerbread Cake?
I haven't tried it with this recipe specifically, but I think it would work fine. I would seal in a ziploc bag and freeze where it won't get squished.
(Pro tip: stick a straw halfway into the bag and zip it shut, then suck out the air with the straw. Zip the straw opening shut quickly as you remove the straw. Less air in the bag means less chance of freezer burn.)
You could freeze with or without the glaze, but if serving to guests I would add the glaze after defrosting – it'll look much prettier, and probably be a better texture too.
Should I Make This Maple-Glazed Gingerbread Cake?
Well obviously. And don't forget to come back and leave a review in the comments below – it always makes my day!
Recommended Equipment: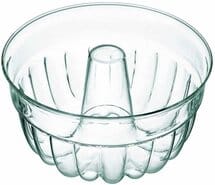 I love my glass bundt pan. I usually grease mine with butter, and it releases beautifully.
I've also used a silicone bundt pan, which works great too. (Stoneware is another great non-toxic bakeware option, but it's more expensive.)
I could swoon for days over gluten-free gingerbread cake, but we all know how short an internetter's attention span is. (I'm impressed if you're still reading… bonus points for you.)
Now, I highly recommend getting up to head to the kitchen to make this cake. In fact, I know what's on my agenda for tomorrow, and it rhymes with dingerbread jake.
What's the Ultimate Best Thing to Serve with this Gingerbread Bundt Cake?
Try it with a gingerbread latte, or perhaps for dessert after a maple pork stew to compliment the flavours!
Regardless of what you serve it with, be prepared for adoring fans!
Fellow Gingerbread Lovers: What's Your Absolute Favorite Kind of Gingerbread Treat?
Gluten-Free Gingerbread Cake Recipe with Maple Glaze
This maple-glazed gluten-free gingerbread cake in bundt form is sheer perfection with just the right amount of spice and sweet, plus made with ingredients you can feel good about.
Print
Pin
Rate
Ingredients
For the Gingerbread Bundt Cake
3/4

cups

coconut flour

1/2

cup

almond flour

2

teaspoons

baking soda

1

teaspoon

cinnamon

1/2

teaspoon

ground ginger

1/4

teaspoon

ground cloves

6

eggs

1/2

cup

honey

2/3

cup

coconut oil

1/4

cup

fancy molasses

1

teaspoon

pure vanilla extract
For the Maple Glaze
1

tablespoon

coconut palm sugar

or organic sugar

1

tablespoon

butter

1/3

cup

maple syrup

1

tablespoon

arrowroot powder
Instructions
For Gingerbread Bundt Cake
In a small pot on the stove, combine honey, molasses, and coconut oil on low heat until melted. Let cool to room temperature.

While the honey mixture is cooling, combine dry ingredients in a large bowl and stir.

When the honey mixture is cooled (approximately ten minutes), whisk in the vanilla extract and eggs to your wet ingredients.

Add the liquid mixture to the dry ingredients, and mix everything until well combined either by hand (whisking) or with an electric mixer.

Pour cake batter into a butter-greased bundt pan, and bake for 30 minutes or until inserted toothpick comes out clean.
For Maple Glaze
Combine all ingredients in a pot on the stovetop on medium-high heat.

Bring to a boil for one minute, then reduce heat and simmer until nicely thickened.

Place cake on a plate, then drizzle glaze over top.
Notes
Delicious served with a dollop of whipped cream! (I recommend real whipping cream + a dash of maple syrup, whipped with a mixer with whisk attachment until stiff and fluffy.)
If you aren't a fan of glazes, try looking up a cream cheese frosting recipe instead!
Nutrition
Serving:
0
g
|
Calories:
203
kcal
|
Carbohydrates:
22
g
|
Protein:
3
g
|
Fat:
11
g
|
Saturated Fat:
7
g
|
Cholesterol:
63
mg
|
Sodium:
182
mg
|
Potassium:
120
mg
|
Fiber:
2
g
|
Sugar:
17
g
|
Vitamin A:
110
IU
|
Vitamin C:
0.1
mg
|
Calcium:
37
mg
|
Iron:
0.9
mg