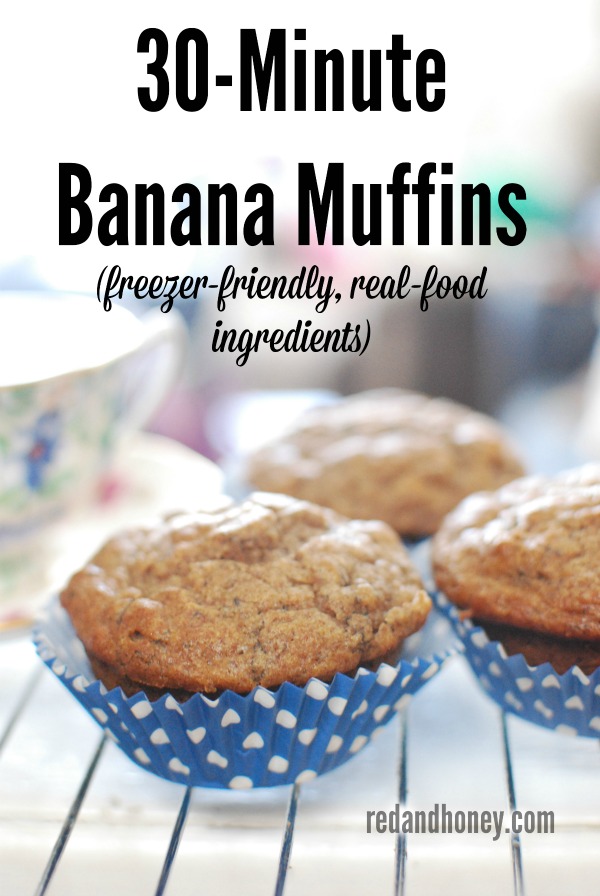 I want to say that this recipe came to me in a flash of creative genius, but really, it involved a bunch of modifications to a recipe on the back of a bag of sprouted spelt flour and a very bossy craving for some good ol' comfort food.
Banana muffins are total comfort food to me. They are both healthy and indulgent, and that's basically my goal in all food. Food that dances a sexy foxtrot in your mouth does not have to be made out of crap.
It doesn't.
Sorry I said crap.
Anyway. Back to my point. Muffins.
The only unlikable muffin I've ever met is the one around my waist (thank-you, three babies + adrenal fatigue.) But that's ok. I feel like the good name of muffins cannot be tarnished no matter how many squishy mama bellies drag it down with them.
I considered adding stuff in to this recipe to make it more exciting, but I opted for straight up classic banana. I will be adding in chocolate chips next time for sure, but only if my kids aren't around, because they tend to act like wild animals if they have too much refined sugar. For real.
This recipe is simple and easy, and can be whipped up in 30 minutes if you're on the ball, including bake time! I made them with the sprouted spelt flour that I found at Costco, but you could probably substitute white or whole wheat (I haven't tried it though.) They also freeze and defrost beautifully!
One last thing: eat them with butter. That's an order.
(Margarine is the devil.)

30-Minute Banana Muffins Recipe
These banana muffins are divine comfort food at its finest. Whip them up in 30 minutes for a healthy treat that isn't loaded with processed junk and refined sugar, yet still taste indulgent.
Ingredients
2 c sprouted spelt flour (or sub regular spelt flour, or wheat flour)
2 tsp baking soda
½ tsp cinnamon
¼ tsp sea salt
½ c yogurt
2 large eggs
¼ c maple syrup
3 mashed bananas
¼ c melted butter (or coconut oil)
1 tsp vanilla
⅓ c milk of choice
Instructions
Preheat oven to 350F, and grease a muffin tin (I use butter).
Start by melting the butter in a small saucepan on low heat.
While it's melting, combine dry ingredients in a bowl.
When butter is melted, remove from heat, let cool for a moment, and whisk in remaining ingredients except bananas.
Mash the bananas into the wet mixture.
Combine wet with dry ingredients in bowl and stir until well combined.
Fill muffin cups ¾ full, or slightly more, depending on how big you want your muffins.
Bake at 350F for 18-20 minutes.
Let them cool in the muffin tin for 5 minutes and they'll be easier to remove.
Enjoy!
Nutrition Information
Calories:
who cares
Fat:
yes please
Saturated fat:
NOT bad for you!
Trans fat:
ew
Sugar:
nope
Fiber:
yup
If you'd like to learn more ways to be healthy at home, and want more healthy recipes to tuck into your toolbox, check out this week's
Ultimate Homemaking Bundle
sale. Crazy good deal for some amazing resources!
Beth is the creator here at
Red & Honey
. Mom of (almost) four, wife of one, and proud redhead. Sushi and tex-mex lover, fan of adventure, books, natural health talk, and pyjamas. INFP and Type 4 enneagram. Allergic to small talk. And, if you haven't figured it out already, #nerd. Read more posts by
Beth
.