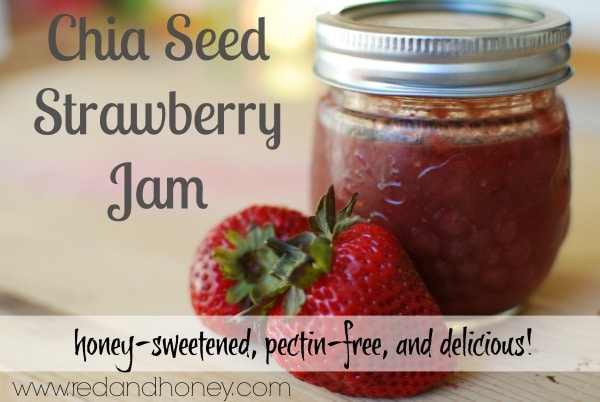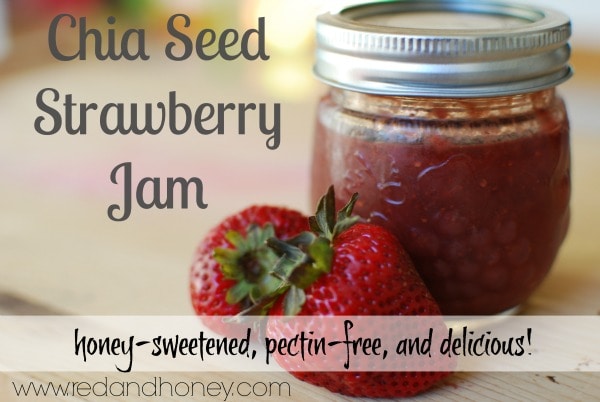 There's just something so grown-up about making homemade jam, dontchathink?
It may be silly but I feel like making jam automatically entitles one to major Grown-Up Bragging Points. There's just so much awesomeness surrounding it, and so much solidarity and respect for past generations that have faithfully put up the harvest each year to be enjoyed in the long winter months to come.
In these days with a rise in traditional kitchen arts such as canning and All Things Homemade, we have the privilege of CHOOSING to perserve things because we want to, and not because we have to. That means I can do a batch of strawberry jam in July, maybe some peach preserves in a few weeks' time, and dream up some kind of blueberry goodness in jars to make in August and enjoy when the craving for fresh fruit hits next February.
I can also hit up the grocery store or my local farmer to fill in the gaps – an ability that generations before us were not afforded. 'Tis a privilege I do not take lightly, and one for which I am profoundly grateful.
My personal food philosophy includes a slow enjoyment of the simple art of cooking and preparing fresh, real food. This strawberry chia seed jam is a perfect example of doing just that.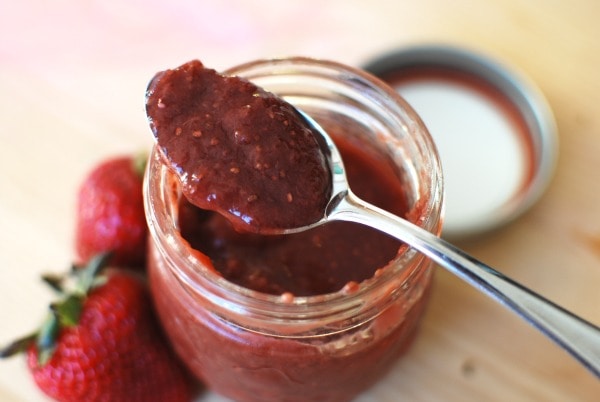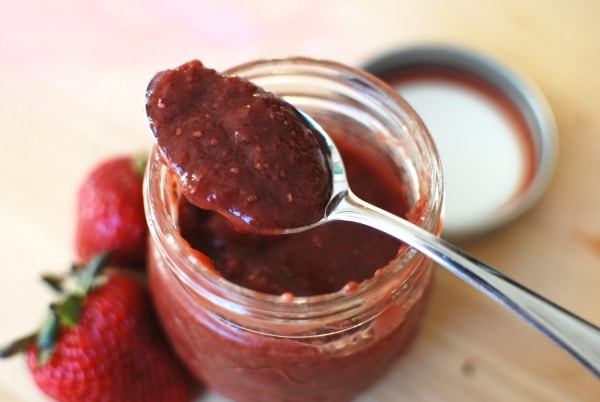 This Recipe's Story
The usual jam-making recipes call for pectin – a product on the grocery store shelves derived from fruit. Pectin thickens the jam. Cons: it includes preservatives and requires massive amounts of white sugar to work properly. I mean MASSIVE amounts of sugar. Sometimes more sugar than fruit! I've seen jam recipes with more sugar than most desserts! Imagine the sugar-rush that happens when people eat that stuff every day for breakfast. Yuck.
Enter my latest foodie crush: the amazing, incredible chia seeds!
They absorb a ton of liquid and function like pectin, thickening the jam perfectly. The seeds themselves are not noticeable in the texture as there are already seeds from the strawberries. If anything, it may be a little "extra seedy", but I bet no one would notice unless they knew to look for it.
The other awesome thing about avoiding pectin is that you can use alternative sweeteners. If you don't want to use honey (although I think the favour of honey marries beautifully with the strawberries) you could experiment with stevia, maple syrup, coconut palm sugar, or even xylitol. Don't use agave as it is highly-processed and NOT a healthy choice as has been claimed.
This jam lends itself to so much experimentation it's almost impossible to write up a recipe. These are the basic building blocks. Now you can customize and play to your own preferences. Have fun, and enjoy!
P.S. Homemade jam makes an amazing gift for family and friends!
Chia Seed Strawberry Jam (Honey-Sweetened)
Ingredients
12-15 cups strawberries (washed and cut in half, tops removed)
1-2 cup honey
¼ cup chia seeds
1 tablespoon lemon juice (optional)
Instructions
Cook berries

If using a crockpot, add berries and honey with half an inch of water to prevent sticking and cook on high for an hour, then reduce heat to low and continue cooking for 2-3 hours with the lid cracked open slightly to allow moisture to escape.

If using the stovetop, add berries and honey with half an inch of water to a large pot, bring to a rapid simmer for 20 minutes, then reduce and slowly simmer until liquid is reduced and berries have thickened.

Note: this stage does not need to be as thick as jam - the chia seeds will be doing that job. We just want to reduce the amount of water in the fruit mixture here and let the flavours really mature.
Once berries are cooked, taste a bit on a spoon. Add more honey if you want it sweeter.
Stir in lemon juice and chia seeds. You won't notice the chia seeds in the finished product because of the seeds in the strawberries.
Ladle or pour into jars, and store in the fridge for up to 2 weeks, the freezer for up to a year, or use the traditional hot-water canning method to preserve jam for your pantry.

(If you choose to hot-water can the jam, I would recommend letting it set in the fridge overnight first so the chia seeds can do their thing. I'm not sure what would happen if they are canned right away. It would probably be fine, but I'm not sure. If you hot-water can the jars from the fridge, be sure to place them in the water before it heats up so as not to break the jars by putting cold jars into boiling water. Of course, be sure to follow safe canning procedures.)
Notes
I haven't tested it, but you could probably leave this raw as well if you should so desire. Just use a blender for berries and honey, then add chia seeds just before pouring into jars. Let set in fridge overnight, then store in the freezer. This will yield a much lighter and fresher tasting jam, as opposed to the darker, cooked variety which is more of a caramelized fruity flavour of traditional jam.
I'm Beth. I created Red & Honey because I'm obsessed with the wild art of wellness.