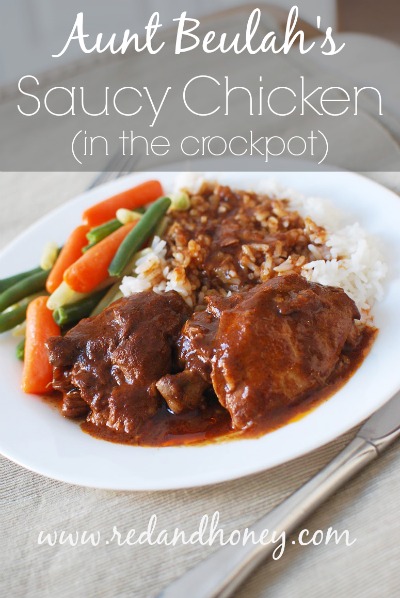 This chicken. YOU GUYS… how do you start a post about the chicken recipe that lives in your heart? Good golly, that's ridiculous. But it's true.
I have been wanting to share this recipe here with you since, well… since I started blogging. I'm not really sure why I haven't yet. Sometimes things are so much a part of you that it feels a bit vulnerable to show them to the world. But, really? A recipe? I suppose it's because this recipe is not just about the chicken. It's about the familiarity and the nostalgia. It was A Thing in our family – it was our thing. Like a favorite pair of slippers – both comforting and gratifying.
It's an old family recipe that I tweaked. My Dad's late Aunt Beulah passed this recipe down, and having been from the mid-20th-century in the advent of "miraculous" canned food, it involved a can of tomato soup and a few other undesirable ingredients, like half a cup of sugar. (Eek!)
I've been making it on a regular basis since I was old enough to cook (and especially since being married 11 years ago), so when I began my real food conversion, I played around with it until it was just right, using healthier ingredients.
My family loved it when I was growing up, and now my own family (hubby + kids) love it too. It's definitely a regular in our house, and I hope it might become one for your family, too.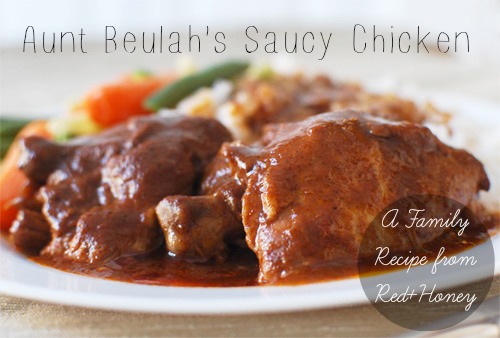 I call it 'saucy chicken' because it makes lots of the sauce to pour over your rice (and veggies, too, if you want). Also, the word 'saucy' just makes me laugh. Such a cheeky and impertinent recipe, really. It's like a smart-alecky teenager with such presumptuous sass because it knows exactly how good it really is.
I used to always make it on the stove top, but have recently done it in the crock pot and it turned out amazing. (I have a serious love affair going on with my crock pot lately.) It's wonderfully low-maintenance either way – just dump all the ingredients in together and let them simmer cozily for a while.
I have to admit, I love it with boneless chicken breasts, but you can pretty well use any cut of chicken. Bone-in, boneless, thighs, breasts, etc. We've also done it with pork chops lots of times, which is also delicious. Definitely serve it over rice, and add a side of your favorite veggies, perhaps a salad.
Here's the bottom line for the skimmers among us: make this for dinner, peeps. You won't be sorry.
Love,
B.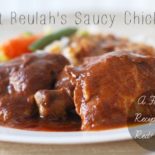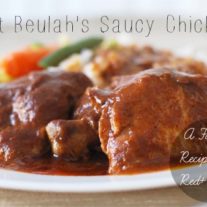 Print Recipe
Aunt Beulah's Saucy Chicken in the Crockpot
Ingredients
1.5

cups

water

2

tablespoons

flour

I use rice flour, but you can use your favorite thickener (various flours and starches would all work fine, most likely)

2

tablespoons

butter

1

can tomato paste

small

3

tablespoons

vinegar

1

teaspoon

worcestershire sauce

3

teaspoons

chili powder

¼

teaspoon

cinnamon

½

cup

honey

¼

teaspoon

cloves

6-8

pieces

chicken

breasts or thighs are best, though any cut will do
Instructions
Add water and chicken to the crockpot and turn it on.

In a covered container (like a mason jar with the lid on, shake the rice flour to combine with a bit of water - around ⅓ cup or so... but I never measure). This prevents lumps when you add it to the pot.

Add rice flour/water mixture, and all other ingredients.

Stir well to combine, ensuring chicken is coated in sauce.

Leave to cook on low for 6-8 hours (or according to your crockpot's usual times.)

Stir occasionally to coat the chicken in the sauce as it cooks.

Serve over rice, with lots of saucy yumminess.
Notes
To cook on the stovetop, just follow the same directions and simmer on medium. The length of cooking time will depend on your chicken pieces. Boneless will be shorter (15-20 minutes on a low simmer) and bone-in will take a little longer (20-30 minutes on a low simmer). I often throw it together in a pot, then start my rice and veggies to steam, and by the time the rice is ready, the chicken is too. Always check for doneness before eating. Chicken will easily pull off the bone when done, and be cooked all the way through when you cut into it, with no pink.
Beth is the creator here at
Red & Honey
. Mom of four, wife of one, and proud redhead. Sushi and tex-mex lover, fan of adventure, books, natural health talk, and pyjamas. INFP and Type 4 enneagram. Allergic to small talk. And, if you haven't figured it out already, #nerd. Read more posts by
Beth
.