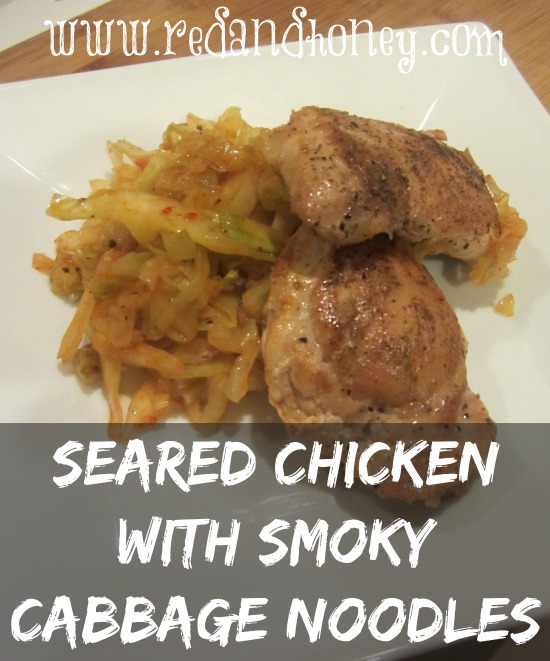 Guest post by Nicole of The Gingered Nectarine
At our house breakfast is the first thing on our minds when we get up in the morning. Well, not The Hubby, he is thinking about coffee; but us girls are all about what. is. for. breakfast.
We have egg sensitivities in our house, so the easy, quick breakfasts that everybody else gets to have are not an option here. As a result, we have had to get creative with the number one meal of the day. We tend to make homemade hash browns, bacon or sausage, and some fruit or a sauteed vegetable or fermented condiment. We rarely have smoothies because I like a hot breakfast. We save those for snacks.
But that gets kinda repetitive, and I have been branching out into non-traditional breakfast foods. Soup, leftovers from dinner, sweet potato fries…um, yes because if the kid will eat sweet potatoes I ain't gonna stop her, alright?
I first created this recipe trying to decide what veggie I could sneak into the family at 7 am. We tend to eat breakfast as a family more often than dinner, so I try to make it more filling and a bit more "special". Not that I am getting up at 4 in the morning to make it! This is quick enough to put together, and it would be even quicker if you use a fast cooking chicken cutlet instead of chicken thighs. We just love our dark meat over here.
Hope you enjoy!
Seared Chicken with Smoky Cabbage Noodles
Ingredients
1.5lb boneless, skinless chicken thighs (or 2 chicken breasts cut into 4 thin cutlets)
2 tablespoons solid cooking fat, like lard, ghee, or coconut oil
½ head medium sized cabbage (sliced thinly with a large knife, or with a spiralizer)
½ onion, thinly sliced
1 teaspoon smoked paprika
½ teaspoon cumin
½ teaspoon salt
⅛ teaspoon black pepper
Instructions
In a large skillet (about 12 inches) over medium high heat, melt the cooking fat of your choice. Season your chicken with salt and pepper, then place in the very hot pan to brown well, about 3-6 minutes per side depending on your choice of meat. Chicken thighs will take longer. It must brown well for it to release from the pan so you can flip it and brown the other side. Cook your chicken till done, about 165 degrees F tested with an instant read thermometer.
Remove the cooked chicken to a plate and keep warm. Add your sliced onion and cabbage to the pan, and add a splash of water to help remove the delicious browned bits from the bottom of the pan. Cook and stir your veggies until they are softened and browning, about 6-8 minutes.
Add in your cumin and paprika, and season with salt and pepper to taste.
Serve a pile of cabbage noodles with the chicken. Serves 3-5, depending on how hungry you are!
 Nicole is a former pastry chef-turned stay at home mom of two little girls
with a love of cooking, baking, sewing and crafts. Striving to feed her
little family nutrient dense foods while adhering to a loose Paleo diet and
handling several food sensitivities takes up much of her free time. She
calls Seattle her home and loves everything about the weather there, no
matter what you may have heard about the rain. She blogs about food,
living with food sensitivities and more at The Gingered Nectarine.
Beth is the creator here at
Red & Honey
. Mom of (almost) four, wife of one, and proud redhead. Sushi and tex-mex lover, fan of adventure, books, natural health talk, and pyjamas. INFP and Type 4 enneagram. Allergic to small talk. And, if you haven't figured it out already, #nerd. Read more posts by
Beth
.