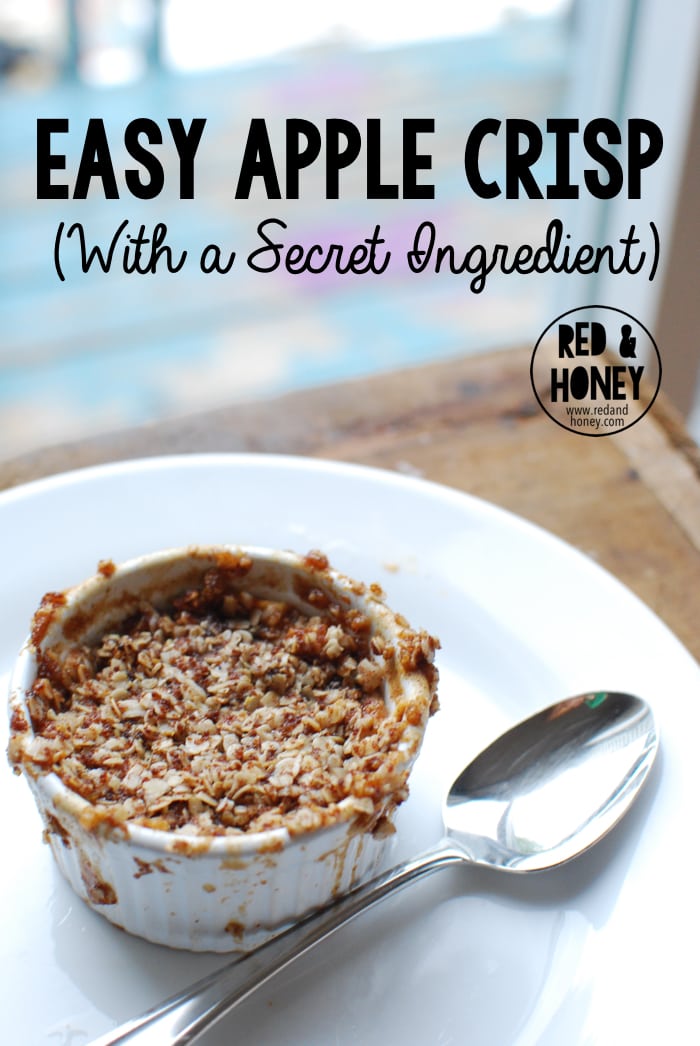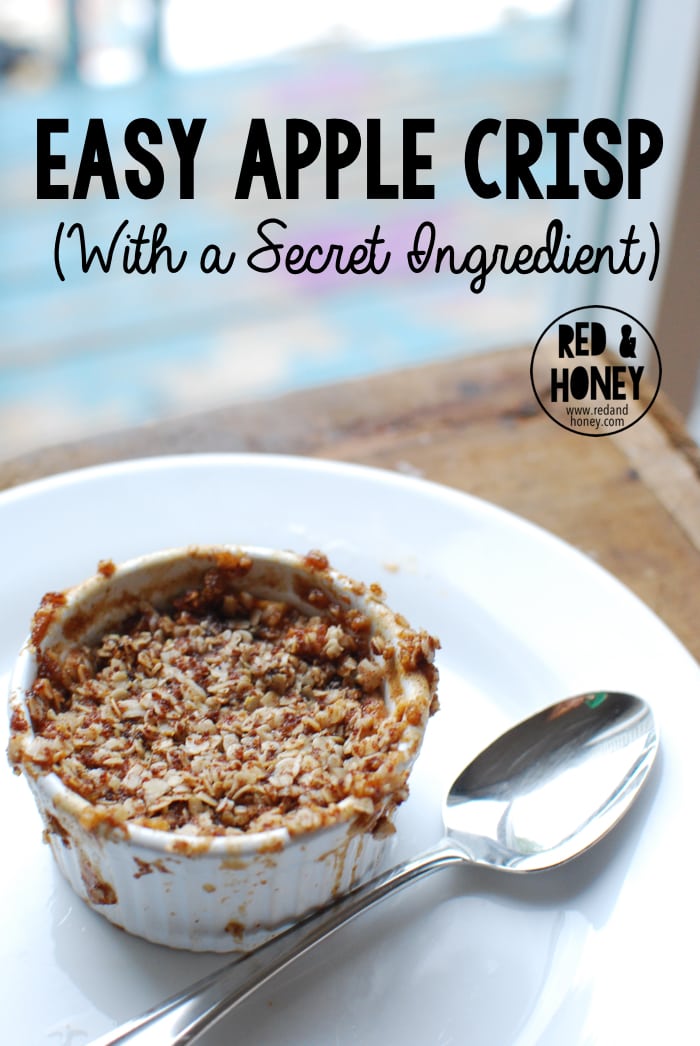 When I was young, I had a friend who used to say, "An apple without cheese is like a kiss without a squeeze." She would eat a slice of cheddar cheese with her apple pie, and I thought it was bizarre.
A decade or two later, I decided to see what all the fuss was about, and I cooked up a little experiment in the kitchen while playing with my apple crisp recipe.
It turned out AMAZING with one of my all-time favorites: cottage cheese.
Cottage cheese gets added to the apple mixture layer, and the yum factor gets taken up a notch or six. The depth of flavor is perfect. Apple crisp is one of my hubby's all-time favorite desserts, and he said it was the best he'd ever had, and that's saying something! The kids were all over it, too. They said it was "WAY better than last time!"
Since I'm not a fan of large chunks of cooked fruit, I diced them smaller (half an inch or less), and that, combined with the cottage cheese addition, left me with a warm, cinnamony, wonderfully creamy mouthful of apple goodness. The oats and coconut palm sugar crunch in the topping are the perfect finish.
It's the best apple crisp I've ever made!

Easy Apple Crisp (With a Secret Ingredient)
Ingredients
Filling:
2 cups apples, diced fairly small
⅓ cup cottage cheese
½ teaspoon cinnamon
2 tablespoons coconut palm sugar
2 tablespoons honey
1 tablespoon rice flour (can sub wheat flour)
Topping:
1 cup quick oats
¼ cup coconut palm sugar
½ cup avocado oil (or melted butter or coconut oil)
½ teaspoon cinnamon
Instructions
Preheat oven to 375F
Combine all ingredients for filling and stir well
Combine all ingredients for topping in a separate bowl
Portion out the filling into 5-6 ramekins (or use a small glass baking pan)
Divide topping evenly
Bake for 20 minutes if using ramekins (if using one single baking dish, it may take longer to bake. Keep a close eye after 20 minutes, and remove from oven when filling bubbles up, or when topping is golden brown) .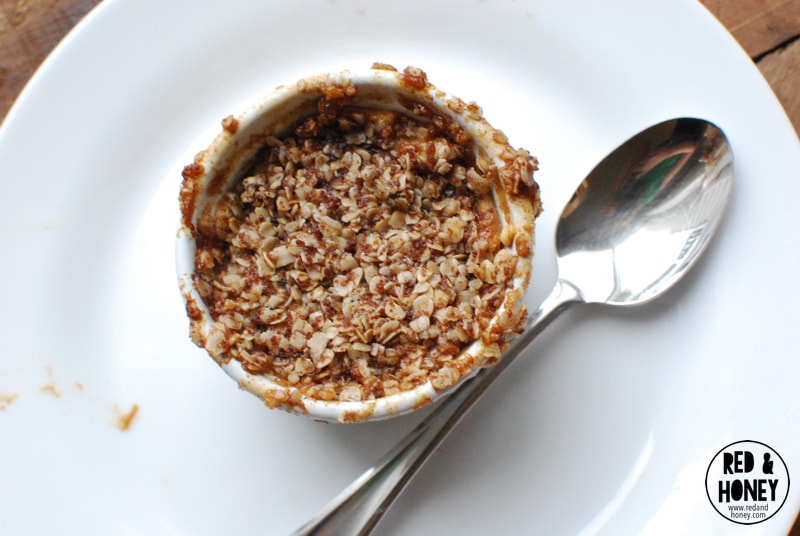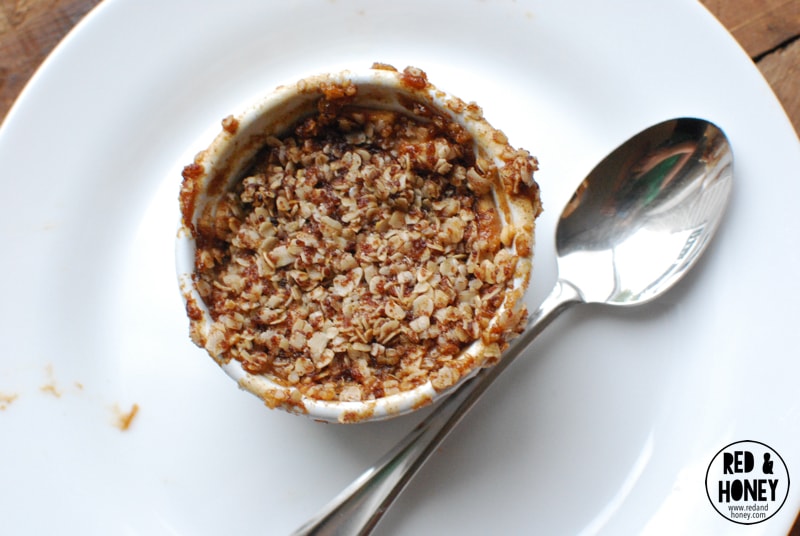 Cottage cheese is actually super versatile – it can pair with savory add-ins, or sweet, and it can really boost the protein content of a dish (14g of protein per serving!).
It's super fun to get inspired by some of the many options out there by using the Friendship Dairies Superfood Generator. Pick your add-ins, see the nutritional benefits, and find new ways to enjoy cottage cheese!
Cottage cheese isn't the new kid on the superfood-block – not by a long shot. The original superfood yumminess of cottage cheese has been around for over a hundred years as a good source of long-lasting energy anytime of day.
This post was sponsored by Friendship Dairies, but all opinions are my own. I love cottage cheese, and this apple crisp needs to be on your menu, stat. #supercurds #sponsored
Beth is the creator here at
Red & Honey
. Mom of (almost) four, wife of one, and proud redhead. Sushi and tex-mex lover, fan of adventure, books, natural health talk, and pyjamas. INFP and Type 4 enneagram. Allergic to small talk. And, if you haven't figured it out already, #nerd. Read more posts by
Beth
.