If you are familiar with the Bulletproof Coffee obsession that has grown over the last few years, you'll soon understand why I had to add the "ish" on there. I like the concept… but the execution needed tweaking for my own real food standards. This is now the only way we take our coffee at home, every morning!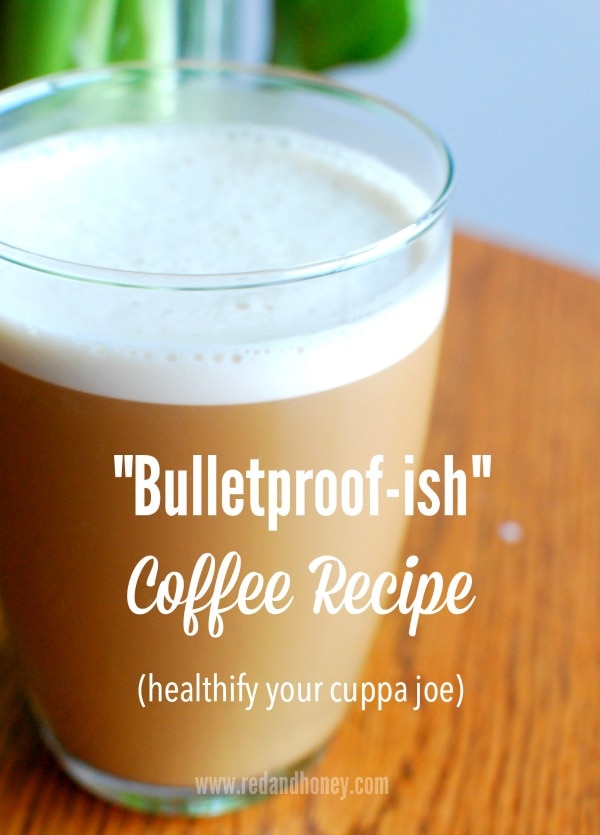 Oh, coffee. You are the wind beneath my wings. You inspire me to stay awake. You are the reason I'm vertical. You're a good friend.
Indeed, I have a big fat crush on a hot cup of joe (still not sure why they call it that), but I don't love pasteurized cream and white sugar. Sadly, I am incapable of enjoying black coffee like the hipsters, so I needed to find an alternative. And find it, I did! Wowza.
This is now the only way we take our coffee at home, every morning. And guess what? This is a healthier way to enjoy coffee than taking it black. Take THAT, cool hipsters.
If you are familiar with the Bulletproof Coffee cult-like obsession that has grown over the last few years, you'll soon understand why I had to add the "ish" on there. I like the concept… but the execution needed tweaking for my own real food standards.
The official Bulletproof cup of coffee includes high quality, low-toxin brewed coffee (there are mold toxins in most cheap coffees that add burden to your body's already-overloaded detoxification system), as well as grass-fed butter, and a shot of MCT oil. Blend it together in a high-powered blender until it's emulsified, with a nice thick foamy layer on top, like a latté. Brilliant, right? Totally.
Or almost, anyway.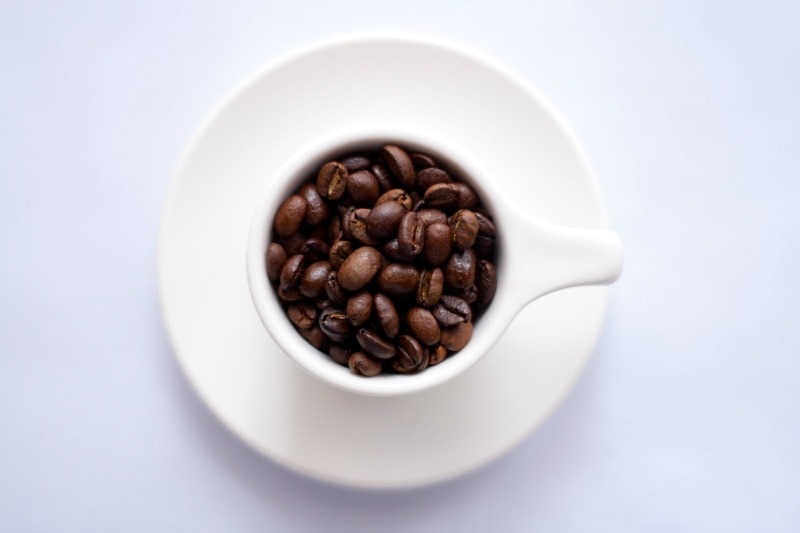 What I Love/Don't Love About Bulletproof Coffee
I definitely cannot deny the motivations for choosing a low-toxin coffee bean. Our bodies are already way over-burdened in today's age with all of the toxic chemical uses in everything from our food (eat clean!) to our furniture (detox your home) to our medicine (try natural remedies).
If I have an opportunity to invite fewer toxins into my home and my diet I'll take it.
Right now we buy this brand of coffee. It's fair-trade and certified organic. I'm currently doing some more research in to the coffee industry and the potential health ramifications of the various methods of roasting and such (like mycotoxins, as mentioned above). We may choose a different brand in the future, but for now this is working well for us. We use a Chemex to brew it.
I also fully agree with the great health benefits of grass-fed butter (or, more accurately, butter from grass-fed cows). Butter is a health food, and grass-fed butter is even better.
MCT oil vs. Coconut Oil
MCT oil is the last ingredient in the official Bulletproof concoction, and that's the one that I skip altogether. MCT stands for medium chain triglycerides (or medium chain fatty acids), which is the type of fat in coconut oil.
Of course, coconut oil is a super health food, right? So I guess they figured, "If coconut oil is so healthy, then how 'bout we make a pimped out, SUPER POWERFUL version of that oil?!"
Unfortunately, all they did was to artificially break it down and separate the components. The lauric acid is removed (one of the best and healthiest components of coconut oil) and we're left with a potent liquid of fatty acids (source). But is that better? In almost every case, I believe that the way nature intended it is the best way*, which means no MCT oil for us.
Instead, I add a dollop of virgin coconut oil in with my butter and coffee, as well as a splash of real maple syrup. You could get creative, too, and try things like cinnamon, cocoa, and more. I've used just coconut oil when cutting back on all dairy, and I've used dates instead of the maple syrup, and all versions are great.
I blend it on high using my Vitamix for about one minute, then pour and enjoy! It's an amazingly frothy, creamy, flavourful concoction with a hint of sweet.
(*Of course, cooking, preparing, and preserving are not what I'm talking about here. I'm referring specifically to artificially altering foods from their original state with non-traditional methods. But you're smart and probably already knew that.)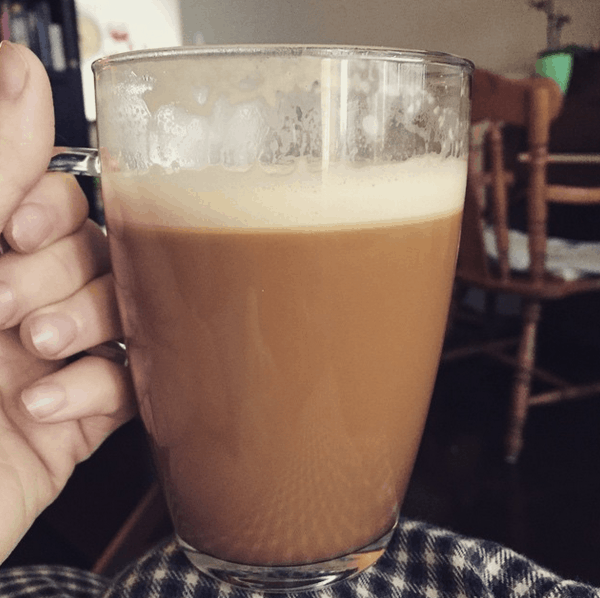 Breakfast Replacement? No Thanks.
The last argument that I have with the official Bulletproof coffee is that the creator actually recommends that it be used as a breakfast replacement. From his website:
"Try this just once, with at least 2 Tbs of butter, and have nothing else for breakfast. You will experience one of the best mornings of your life, with boundless energy and focus. It's amazing."
I definitely agree that this would be a better option than breakfast cereal with low-fat milk (blech). However, I can tell you with absolute certainty that having just a cup of coffee (bulletproof as it may be) for breakfast is not going to work for a lot of people like myself, with adrenal fatigue, who need a big breakfast with some solid protein, fat, and vegetables (see this morning's on instagram here).
When I give up caffeine (I confess: I've been avoiding that step) in order to heal from adrenal fatigue, I'm going to have to find a new way to get a daily dose of coconut oil, but for now – this is sheer perfection.
It tastes great, it's the healthiest way to enjoy a cup of coffee, and it's easy!
Here's my adapted recipe: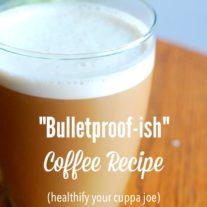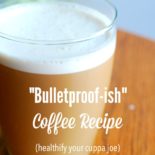 Print Recipe
Bulletproof-ish Coffee Recipe
A frothy, creamy coffee using coconut oil, butter, and maple syrup that will leave you satisfied and energetic! Adapted from the recipe by Dave Asprey.
Ingredients
1

cup

brewed fair-trade

organic coffee

1

tablespoon

coconut oil

1

tablespoon

unsalted butter

2

teaspoons

maple syrup

optional
Instructions
Pre-heat your high-powered blender with hot water for a minute, then dump out.

Combine ingredients and blend on high power for a minute.

Pour and enjoy.

Serve with a real-food friendly breakfast!
Notes
Feel free to adjust quantities as desired, and experiment with other additions like cocoa, vanilla, cinnamon, or dates. A shot of peppermint extract and some cocoa powder would be a delightful version of a peppermint mocha! So many possibilities!
Serve it up alongside a big ol' healthy breakfast with a recipe from my breakfast ebook, The Breakfast Revolution!
Head here to grab your copy.
(Use the code "redbreakfast" to get 10% off.)
Beth is the creator here at
Red & Honey
. Mom of four, wife of one, and proud redhead. Sushi and tex-mex lover, fan of adventure, books, natural health talk, and pyjamas. INFP and Type 4 enneagram. Allergic to small talk. And, if you haven't figured it out already, #nerd. Read more posts by
Beth
.