This cherry vanilla italian soda recipe will delight your tastebuds and create a quick special treat. It's made with simple, real food ingredients, too!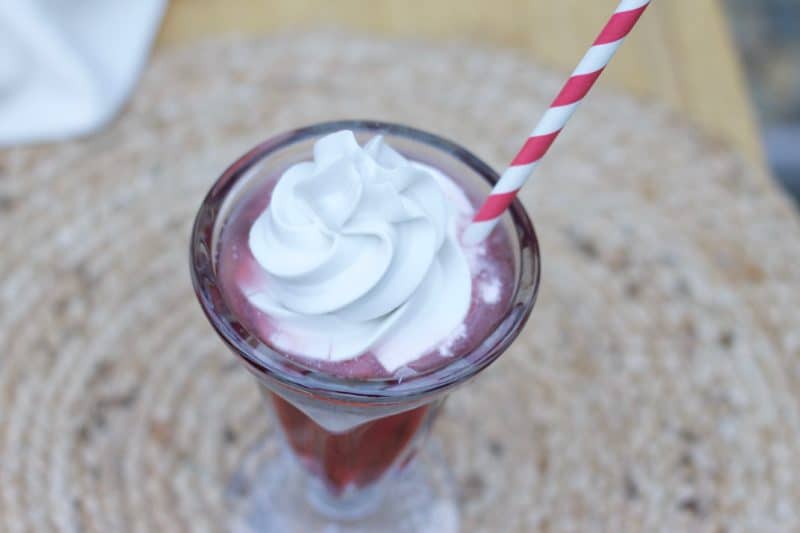 Summer time begs for cold, icy drinks. Ones that can be slowly sipped on the back porch after a day in the sun.
I remember as a kid being thrilled by getting to drink an Italian soda as a special treat once at a restaurant after I had finished a plate of pasta and salad. We never got drinks out so the sweet, bubbly, drink topped with whipped cream was one of those things you simply don't forget.
There is something utterly fancy and delightful about Italian sodas. The bright colors, effervescent bubbles, and smooth creaminess are like magic. (Hey, let's not knock a gal's childhood memories.)
Unfortunately, you know what bright colors mean, yep a nice dose of Red Dye #40. Just what the doctor ordered. Any real foodie out there doesn't want to pump her child full of artificial dyes that can reek havoc on their child's (or their own) body. Here is a why not.
Thankfully God created so many of our fruits and vegetables with vibrant colors that make even unicorns happy…
Bright reds from cherries, purples from grapes, and greens from spirulina are just a few.
Most Italian sodas are carbonated water mixed with a bright, sugary syrup, and cream. Swapping out the syrup and replacing it with fruit juice is a simple way to way to make a once unhealthy treat a healthy one. For those that are dairy-free, coconut milk, and whipped coconut cream are easy wins!
This cherry vanilla italian soda recipe is a healthified and SUPER simple version of that classic treat, and it's customizable, too.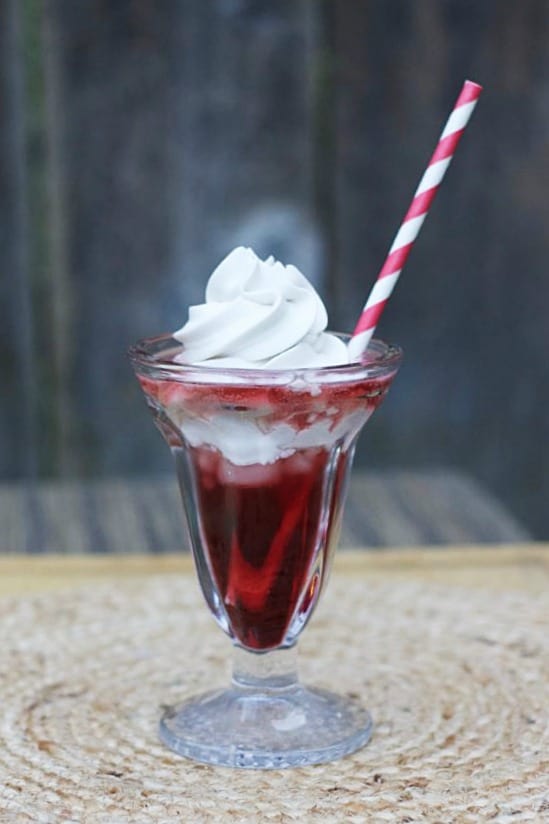 Another win, you can make one of these in 5 minutes or less! (If you want whipped cream, you'll have to add a bit of time.)
Cherry juice with a few drops of vanilla stevia is the perfect base for this homemade cherry vanilla Italian soda recipe. No need for syrup. Fruit juice does have a high amount of naturally occurring sugar, but in the grander scheme of things, it really isn't that much. It is a special treat y'all.
This recipe was born to be flexible.
You aren't dairy-free? No problem, swap the coconut milk for heavy cream. If you decide that you want a stronger cherry flavor, add more juice. If the cherry juice isn't your thing, try another juice that you have on hand. It's not sweet enough? Add more stevia, or a bit of coconut sugar if you want. Ice, no ice, it's up to you.
Really, this cherry vanilla Italian soda recipe is just a guide line for how to create your own healthy Italian soda. It's not a set of rules that you MUST follow.
How ever you make it, this Italian soda is sure to please and help you enjoy the simple moments in life.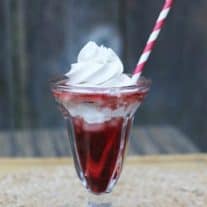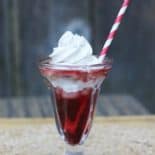 Print Recipe
Cherry Vanilla Italian Soda
This cherry vanilla italian soda recipe will delight your tastebuds and create a quick special treat. It's made with simple, real food ingredients, too!
Ingredients
1

cup

carbonated water

1/3

cup

cherry juice

2

tablespoons

coconut milk

4

drops

vanilla stevia

ice

optional

coconut whipped cream

optional

pinch of salt
Instructions
1. Pour the cherry juice into a glass and add ice.

2. Pour in the carbonated water, then add stevia, and a pinch of salt.

3. Drizzle in coconut milk. Top with coconut whipped cream if desired.

Katie Mae Stanley is the creator of Nourishing Simplicity, where she writes about crafting a made from scratch life with a heaping of grace. She spent 10 years as a missionary dorm "mama" for a bunch of amazing girls at a school for the deaf in Baja California, Mexico. Now she finds herself back in the Statesembracing God's next adventure. A cup of tea or coffee and a bit of dark chocolate make an appearance at some point in any given day.
Latest posts by Katie Mae Stanley (see all)