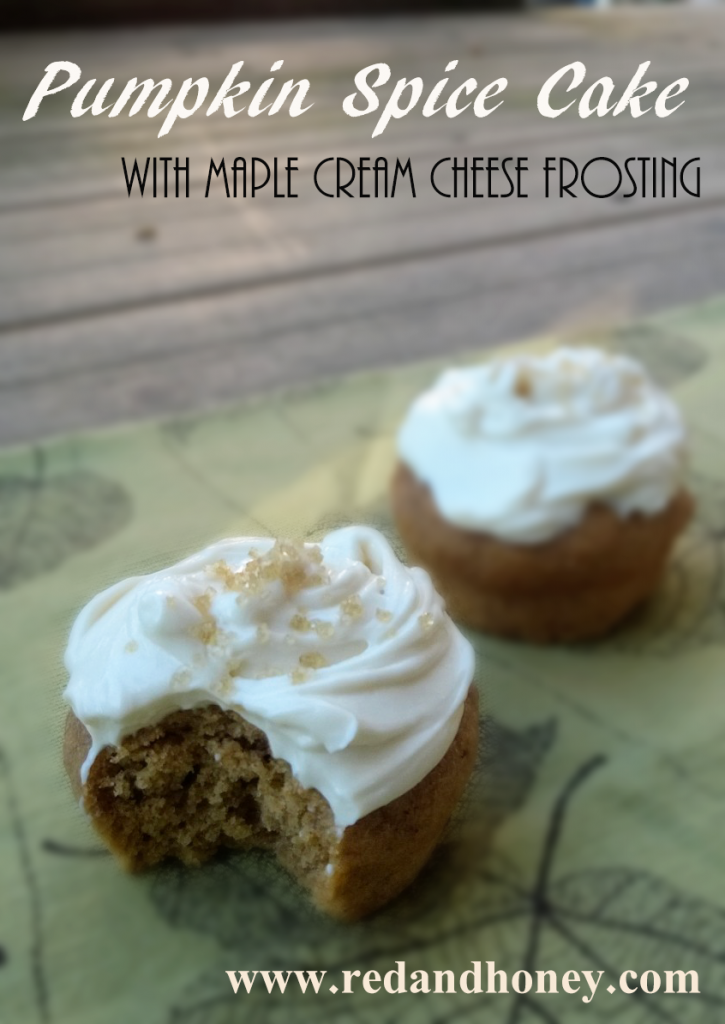 Post by contributor, Jamie Larrison of How to Just About Anything
It seems like once September hits, the pumpkin floodgates are thrown open. Pumpkin-scented, flavored and colored everything can be found almost everywhere.
And while it may seem like overkill to have yet another pumpkin recipe, trust me on this. These taste delicious! Even my super-picky-about-dessert husband managed to say "These are amazing!" past his mouthful (very full) of pumpkin cake.
And what's not to love? They're spiced with seasonal cinnamon and ginger, with a splash of warm vanilla and covered in a velvety, maple kissed, cream cheese frosting.
I will admit that I ate a few (okay four) for breakfast. I think my son had it worse though. He's only three, but old enough to grab tempting food off of the kitchen counter. Every time I looked over at him he had one in his hand. Don't worry though, I didn't let him eat too many!
Since these are made with pumpkin puree, they're really more of a cross between a cake and a muffin. Think somewhere between carrot cake and banana bread.
Maybe it's pumpkin overkill, but these taste amazing with a homemade pumpkin frappe! Or even a vanilla latte that contains superfood ingredients to fight stretch marks, wrinkles and cellulite. And you don't even need a fancy espresso maker to get the creamy whipped top!
Speaking of lattes and frappes, you may be tempted to buy from a popular, slightly overpriced, famous national coffee chain instead of make your own. Especially if this said coffee chain also offers equally overpriced muffins and baked goods. While this is a temptation I'll admit I've succumbed to, especially for early morning college classes, homemade tastes so much better!
Not to mention it's also way healthier too! Have you seen what's actually in those coffee drinks and baked goods? Each 16 oz Pumpkin Spice Frappuccino has  an entire 1/3 cup of sugar! Holy cow!
And their pumpkin cream cheese muffins? Look at these ingredients!
"sugar, cream cheese filling (cream cheese [cream, evaporated skim milk, salt, guar gum, propylene glycol alginate (shown to reduce good gut bacteria and caused death in animal studies) , carrageenan, locust bean gum, bacterial culture], water, sugar, modified corn starch,(usually gmo and chemically altered) lactic acid, salt, sodium citrate, locust bean gum, xanthan gum, carrageenan (shown to cause inflammation), natural flavor, enriched wheat flour (wheat flour, niacin, reduced iron, thiamine mononitrate, riboflavin, folic acid), pumpkin puree, eggs, soybean and / or canola oil, (gmo and rancid) praline pumpkin seeds (sugar, pumpkin seeds, spices, (can mean anything) salt, caramel color (caused cancer in animal studies)  water, modified corn starch, leavening (sodium bicarbonate, sodium acid pyrophosphate, monocalcium phosphate), sea salt,  spices, mono and diglycerides, soy lecithin."
I'll stick with homemade thank you very much.
And it's no less convenient when you whip up a batch or two of these pumpkin spice cakes the night before. They're ready to grab and go in the morning, or ready to pack in a lunchbox.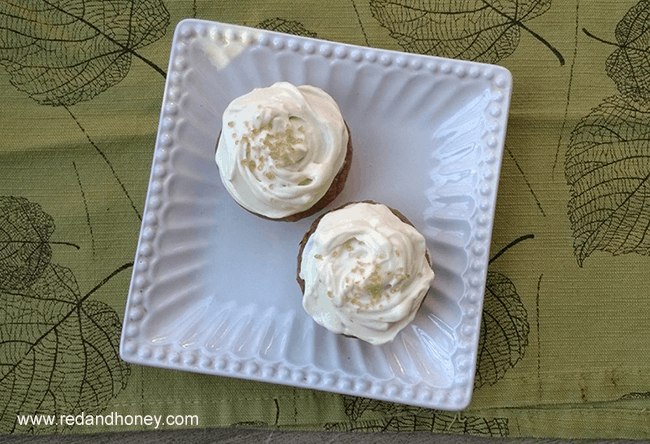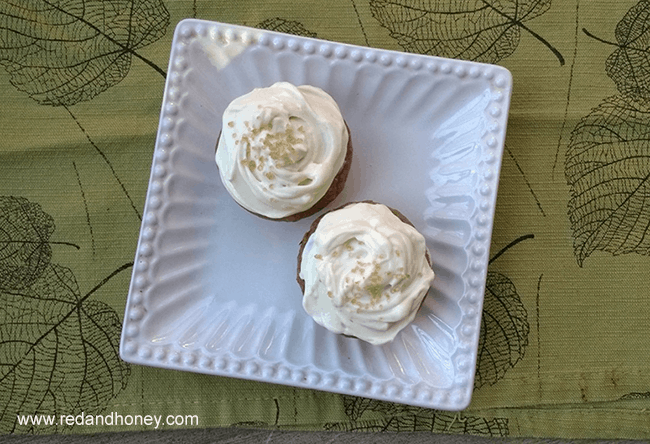 Pumpkin Spice Cake with Maple Cream Cheese Frosting
Ingredients
1 cup pumpkin puree
½ cup butter or coconut oil (softened)
1 teaspoon unrefined sea salt
1 cup raw cane sugar (or coconut palm sugar)
2 teaspoons baking powder
3 eggs
1 teaspoon cinnamon powder
¼ teaspoon clove powder
¼ teaspoon ginger powder
1 teaspoon vanilla extract
½ cup milk (whole cow's milk, coconut, or almond)
2½ cups whole wheat flour
¾ cups nuts (optional)
8oz cream cheese (FOR FROSTING)
¼ cup maple syrup (FOR FROSTING)
1 tablespoon arrowroot powder (FOR FROSTING)
½ teaspoon cinnamon powder (FOR FROSTING, optional)
Instructions
For the cake combine all ingredients except flour and mix very well, until smooth and well combined.
Add the flour and mix until combined.
Stir in the nuts if using.
Pour batter into cake or cupcake pans of choice. I even made some mini loaves with this that turned out well. This doesn't rise too much so fill containers almost to the top.
Bake at 325 degrees for about 15 minutes for cupcakes or about 30 minutes for cake pans.
For the frosting combine all ingredients and mix until smooth. This is best done with the whisk attachment on your mixer, but also works fine with a regular hand mixer.
Frost cake after it has cooled completely. Store any extra frosting in the refrigerator.
What's your favorite fall treat?
Jamie is the wife of Devon and mommy to Liam. She studied Journalism at Grace College and is currently working on a Master Herbalist certificate. She started an all-natural body care business, This & That Herbal, and is the development director for A'amarna Toothpaste.
Latest posts by Jamie Larrison (see all)