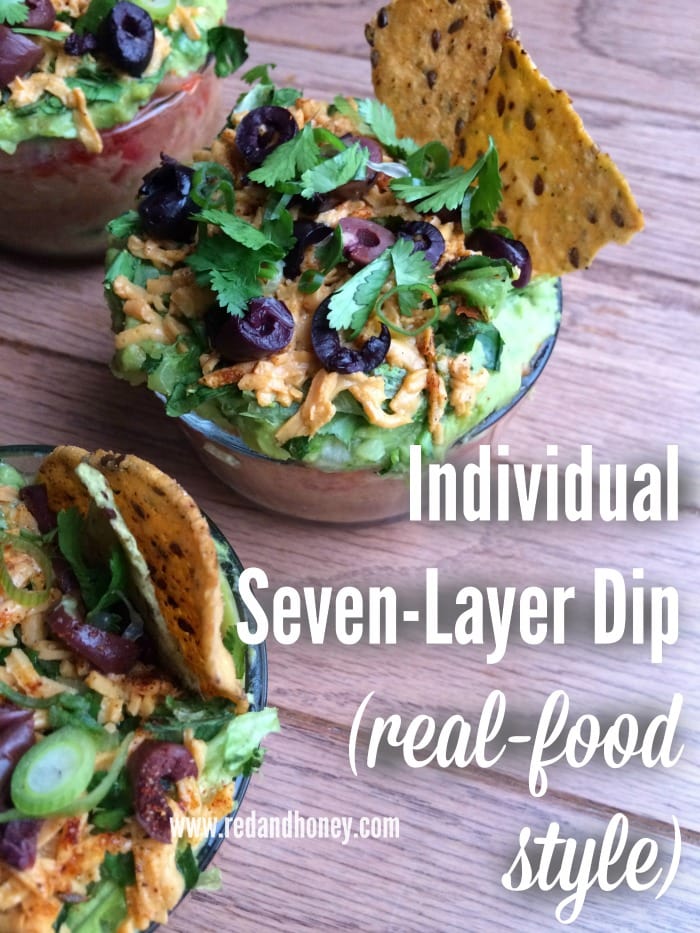 You know those mouth-watering seven layer dips that you see around game day tailgates? They are SO good. But, they are usually also pretty processed, full of strange ingredients you can't pronounce, and sky-high in sodium from the store-made salsa, cheeses, bean dips, and more.
I decided I had to revamp the traditional seven layer dip – using real food ingredients and upping the nutrition. Still keeping the traditional flavors, of course! This version is packed with super fresh produce and also naturally gluten-free and dairy-free.
This recipe is full of options. Can't tolerate dairy? Skip the cheese or use a cheese alternative. Family members not fans of leafy greens? Skip the spinach and just use chopped romaine. You'd rather use black beans than refried pinto? Go for it.
This recipe is like your template… do what you love! Oh, and because these are individual servings, you can also add as much or as little of each layer as your heart desires.
I used individual one-cup portions, which are pretty big for one person (although no complaints from my family!) – this recipe made 4 servings with some leftover ingredients (see my suggestions for leftovers below). I used 1-cup glass pyrex dishes to serve these. If you'd like, you can also just make one larger dip, although I'm not sure how big of a serving container you'd need. If you try it, please let us know!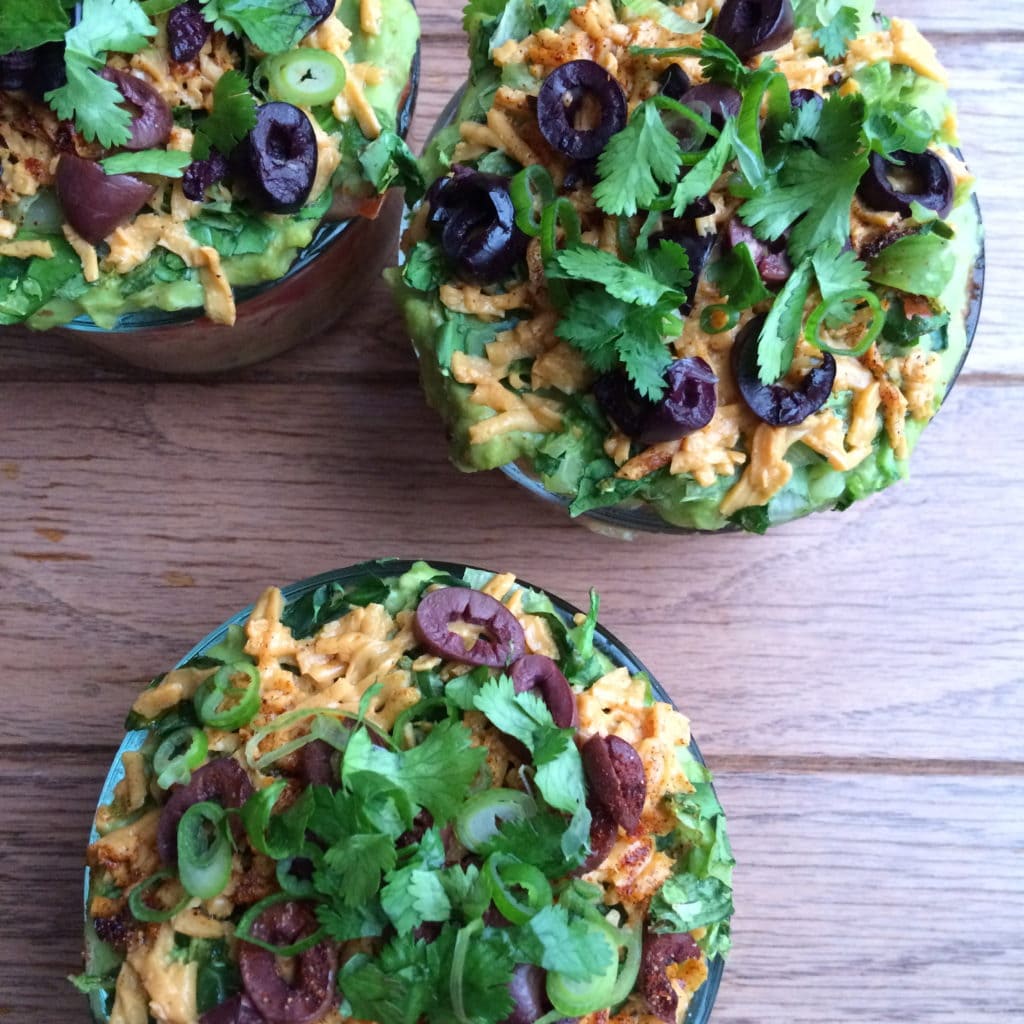 Here's how I revamped the traditional recipe to cut the chemicals and sneak in some additional nutrients:
Layer by layer, starting with the bottom layer:
Layer 1: Refried beans – look for low sodium, and a short ingredient list of items you can pronounce (I used Amy's Organic, Low-Sodium, Traditional Refried Pinto Beans). The can is also BPA-free!
Layer 2: Yogurt with homemade taco seasoning (I use Gimme Some Oven's taco seasoning recipe) – I used plain coconut milk yogurt (I have to avoid dairy). You could also use plain yogurt, plain greek yogurt, or sour cream here (you get a dose of probiotics if you use yogurt!).
Layer 3: A chunky, homemade guacamole. Fresh ingredients, lots of lime. Cilantro-lover? Add tons!
Layer 4: Salsa, salsa, salsa. Just a few ingredients, but we pack in more nutrition by adding chopped red pepper to a traditional fresh veggie salsa.
Layer 5: Shredded romaine with a bit of spinach mixed in. Yep, spinach. It's shredded very fine and the romaine gives a crunch texture to the dip.
Layer 6: Cheese. I used Daiya non-dairy cheese because I can't digest dairy. You could use whatever cheese sounds good to you.
Layer 7: Salty, buttery kalamata olives. Pretty much puts these over the top! Oh, yes – and adds more healthy fat.
Garnish with sliced green onion and chopped cilantro for even more flavor and veggie goodness.
Just in time for the Superbowl!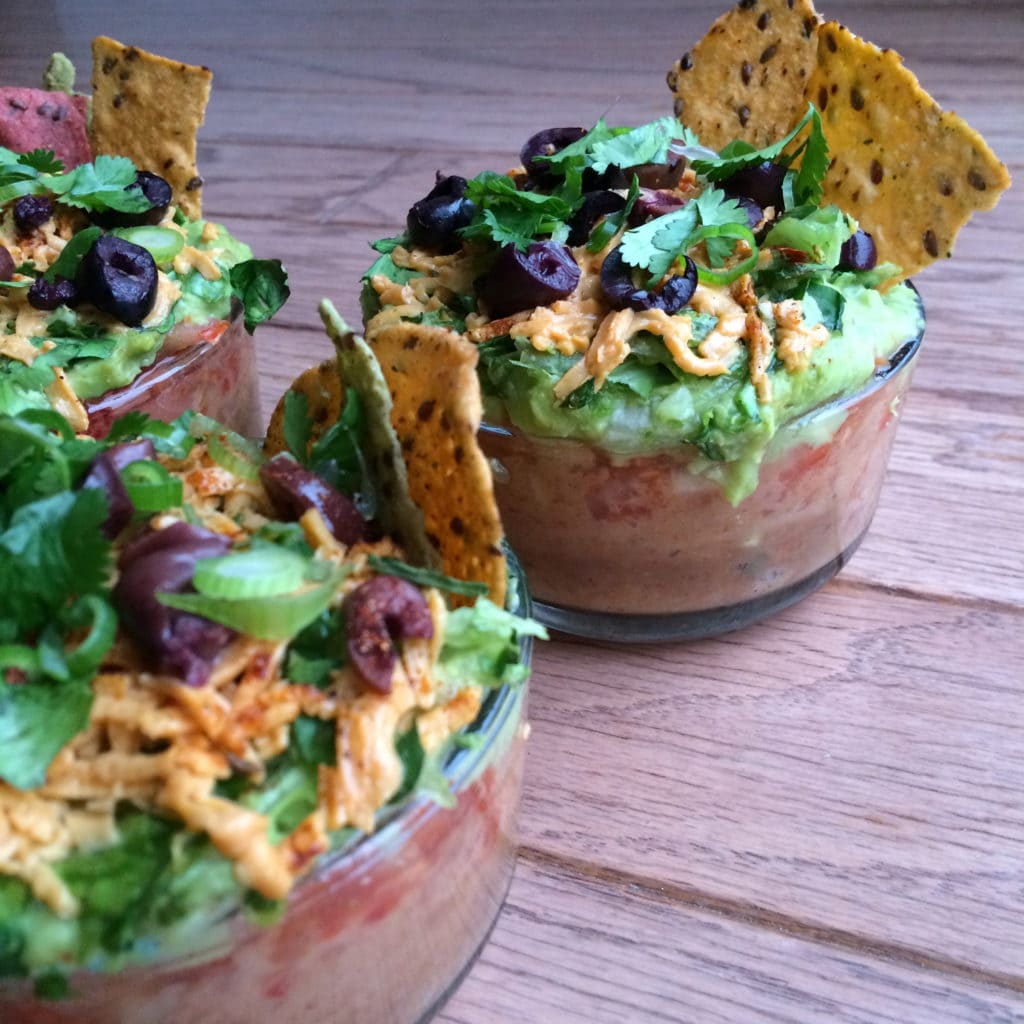 Revamped, Lightened Up 7-Layer Dip
Makes 4 1-cup servings. Use the leftover ingredients as your personal dip or taco salad.
Author:
Alexandra @ Made to Glow
Ingredients
Taco seasoning (recipe here)
2 cups of chopped romaine
1 cup of spinach
1 can refried beans (low-sodium)
1.5 cups of plain yogurt (for dairy-free, use plain coconut yogurt)
4 small avocados, pitted and halved
¾ – 1 white or yellow onion, cut into chunks
1 jalapeño, seeded and minced
2 – 3 limes
1 red pepper, seeded and cut into chunks
3 large tomatoes, cut into chunks
one small bunch cilantro, roughly chopped
Shredded cheese of choice (as much as you would like)
16 (or more) kalamata olives, sliced
1 sliced green onion
Instructions
Heat oven to 325F.
Make your taco seasoning (see above for the recipe I used).
Put 2 cups chopped romaine and a 1 cup of spinach in a food processor, process til shredded, and put in a bowl to the side. Give the food processor a quick rinse so you can reuse it.
Bottom Layer (layer 1): Mix the can of refried beans with ½ tsp – 1 tsp (or to taste) of taco seasoning. Spread into an even layer at the bottom of your serving dishes. Keep the leftover beans on the side.
Layer 2: Mix 3 tsp (or to taste) with 1.5 cups of yogurt until well-combined. Spread into an even layer on top of the refried beans in each of your serving dishes.
Layer 3: Make your gaucamole. Combine the avocados with ¼ of a chopped onion, ½ of your jalapeño, and lime juice to taste in a food processor until chunky. Spread in even layers into your serving dishes. Give your food processor a quick rinse.
Layer 4: Make your salsa. Combine the red pepper, ½ onion, ½ jalapeño, tomatoes, and as much cilantro and lime juice as you'd like, in a food processor until chunky. Spread into even layers into your serving dishes.
Layer 5: Put the shredded lettuce on top of the rest of the layers.
Layer 6: Top with shredded cheese of choice. Sprinkle with taco seasoning.
Layer 7: Put your sliced olives on top.
Put each of the serving dishes on a baking sheet. Bake until cheese has melted (likely 5-10 minutes).
Garnish each serving with sliced green onion and cilantro. Give a final, generous squeeze of lime juice.
Serve with your chips or chopped fresh veggies of choice!
Notes
I used a food processor to make the shredded lettuce, salsa, and guacamole. If you'd rather chop them yourself, go for it!
I like the dip warm, so the cheese is melted and the beans are warm. Feel free to serve room temp, if you wish, but the melted cheese will make it even better!
Add shredded chicken and make this a protein-packed powerbowl.
Use leftover ingredients to make yourself a taco salad.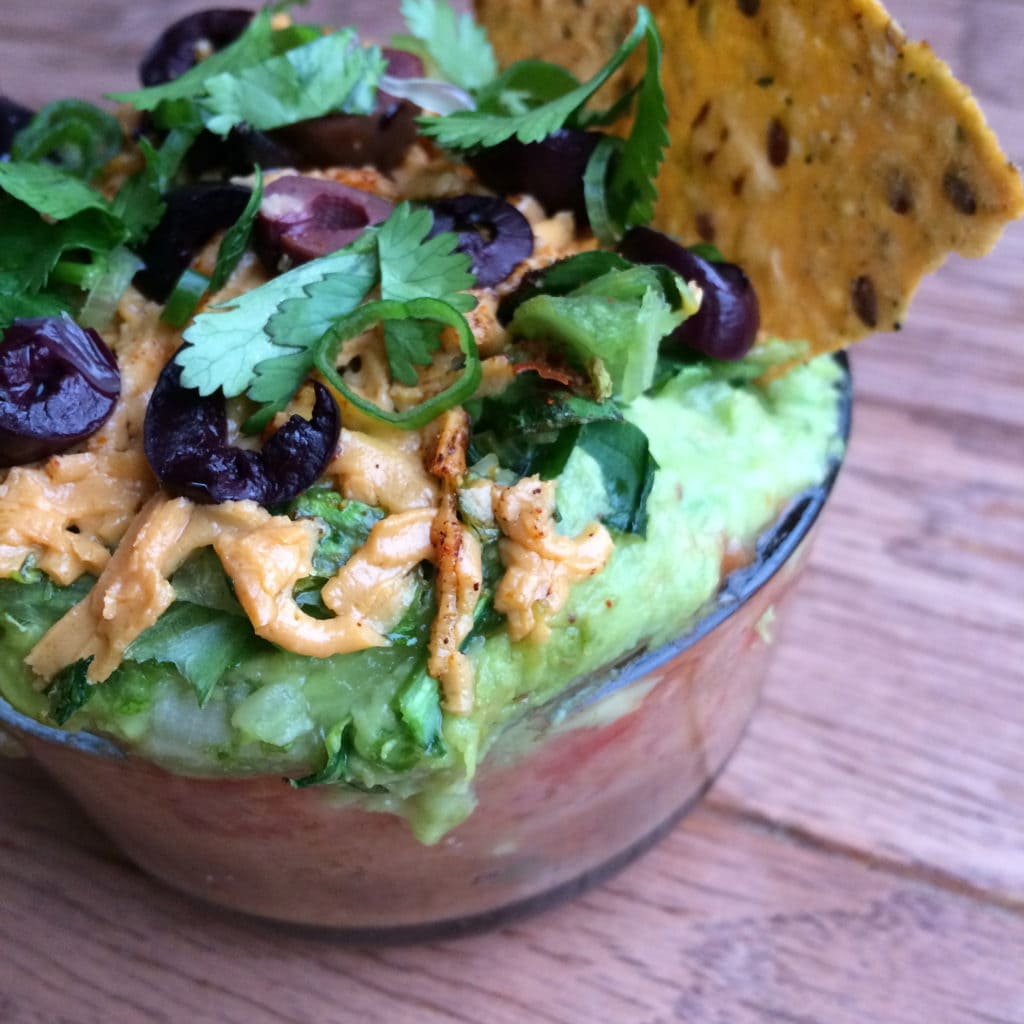 Alexandra Maul, MPH is a health educator, writer, and coach. After experiencing debilitating chronic health issues and learning how to heal, she created
Made to Glow
, an interactive community and healthy living guide that educates and inspires others around healthy eating, self-care practices, and non-toxic living. Alex is passionate about empowering others to feel their best, and loves to share kitchen tips, naturally gluten-free and dairy-free recipes, relaxation and fitness suggestions, and ways to live lean, clean, and green. Connect with Alex on
Facebook
,
Instagram
,
Twitter
, and
Pinterest
.
When we feel whole, balanced, and healthy, we radiate from the inside out. We are all made to glow!
Latest posts by Alexandra Maul (see all)