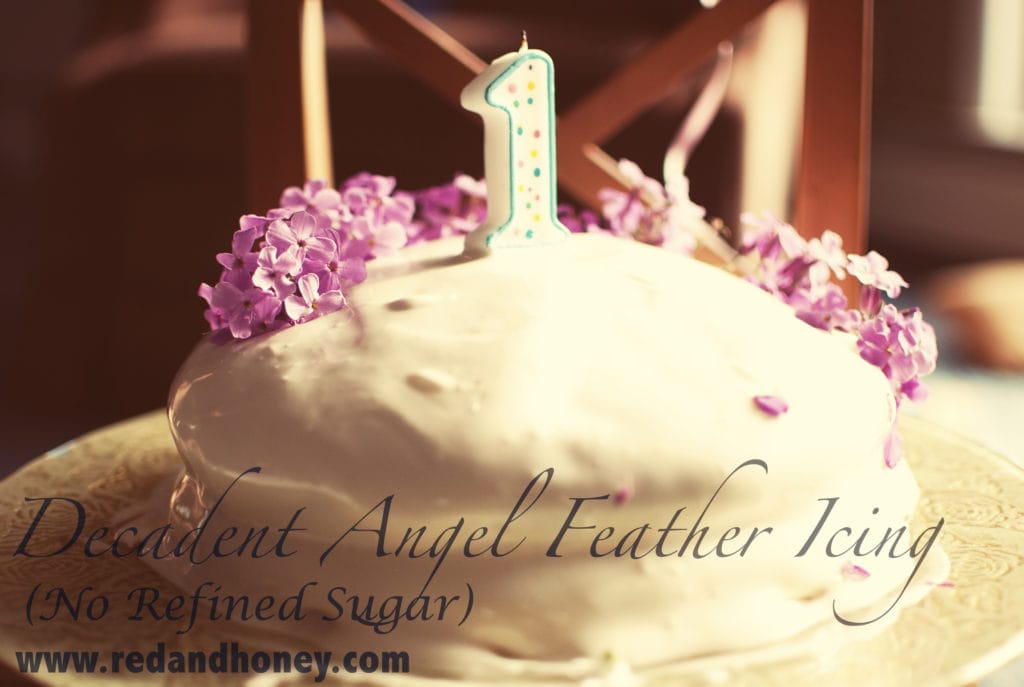 This is the stuff I grew up on. Commonly called "boiled icing", every birthday cake for every family member was covered in this fluffy sweet goodness. My mom's recipe calls for corn syrup and sugar, both of which are ingredients that I now avoid. So I modified the recipe to be real-food friendly and refined-sugar-free! It was always gluten-free, which is perfect for us. It reminds me a bit of that marshmallow fluff stuff, only softer and better. You just need to try it for yourself – it's perfect and rich and has no unhealthy ingredients. If you don't believe in God, I do believe the Rocky Mountains and this icing are all the evidence you need, assuming you're a reasonable sort of person.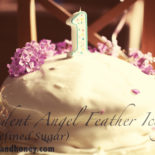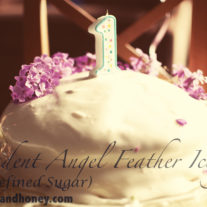 Print Recipe
Angel Feather Icing (Gluten-Free & Refined-Sugar-Free)
Ingredients
2

egg whites

1

c.

honey or maple syrup

2

T.

water

¼

t.

cream of tartar

pinch

of salt
Instructions
You will need a double boiler. I have no idea what a "real" double boiler looks like - I just use one pot nestled into another pot that is slightly larger. The bottom pot has boiling water (you do this on the stovetop) and the top pot is the one with your ingredients in it. The point is just to keep the pot with the ingredients in it from the direct heat on the burner. Steam is much gentler, which is important in this recipe. I recommend adding all of your ingredients to the pot first before putting it onto the double boiler with your water already boiling.

Beat with a hand mixer in double boiler until stiff peaks form when you take the beaters out (5-10 minutes). Add 1 t. vanilla at the end. Ice completely cooled cake. Any leftover icing can be frozen and reused by letting it come to room temp naturally.

Let your kids lick the beaters, while you take care of the spatula. All will be well with the world.
***
Linked up today with Your Green Resource @ Sorta Crunchy, and Pennywise Platter @ The Nourishing Gourmet.
Beth is the creator here at
Red & Honey
. Mom of four, wife of one, and proud redhead. Sushi and tex-mex lover, fan of adventure, books, natural health talk, and pyjamas. INFP and Type 4 enneagram. Allergic to small talk. And, if you haven't figured it out already, #nerd. Read more posts by
Beth
.