Inside a simple cup of tea is the power to transform! Indeed, here we can find the power to comfort, nourish and even heal. Inside a simple cup of tea is a little world of tasty, soothing magic.
Many herbs give themselves easily to water, imparting their healing virtues, vitamins, minerals and even oils. Once extracted in water all that goodness is made readily available and is easily absorbed into the body.
The Difference Between Tea & Infusions
When making an infusion, the plant material is steeped for a much longer period of time than a regular cup of tea. This allows for all the medicinal constituents including vitamins and minerals to be liberated from the herb.
Safe herbs to use for making infusions are ones that are gentle and nutritive for the body – they are like a super food. Teas are are gentler version of that.
Drinking tea and infusions over time provides a strong base and especially with infusions, deep nutrition for the body. You can drink 2 to 4 cups every day or even just a couple of days a week as a way to support yourself.
Making Teas & Infusions
Teas are made by steeping plant material in boiled water for 5 to 15 minutes. Infusions are made by steeping plant material in boiled water for 4 to 8 hours. I like to make mine before going to bed at night so it will be all ready for sipping on during the day.
Brewing Tips:
Always be sure to use a container that can handle very hot liquids for brewing.
Make sure to put a lid or cap on your teas and infusions while they brew to prevent any volatile oils from escaping. (This is especially important for aromatic plants like chamomile and mint.)
Add tasty extras like honey and juice to your brew to make it yummy!
10 incredible wellness-promoting plants to use:
1. Chamomile (matricaria chamomilla)
Drink chamomile to soothe your nervous system with it's rich, relaxing mineral and vitamin content that includes readily available calcium, magnesium, and vitamin B-2.
Useful in cases of  anxiety, stress, insomnia and painful stomach upset.
Drink chamomile before nursing to help soothe an irritated child and alleviate some of the stress of colic.
People who are sensitive to ragweed maybe be allergic to chamomile.
Brew chamomile as tea, only steep for 3 to 8 minutes as it will become very bitter.  Don't worry, this one is still very effective with the short brewing time. Chamomile combines well with lemon balm, rose petals, mints and oatstraw.
2. Lemon Balm (melissa officinalis)
Lemon balm is a wonderfully tasty herb that calms restlessness and anxiety in adults and children alike.
It is also a wonderful anti-viral helping to fight infection while providing healing relaxation during illness.
It combines well with chamomile, mints and oatstraw.
Brew as either an infusion or a tea.
Read more about lemon balm here.
3. Peppermint & Spearmint (mentha piperita & mentha spicata)
Mints make extremely tasty teas that help to soothe stomach upset and combat illness.
They are high in vitamins, minerals and fragrant healing oils.
Peppermint is generally considered to be stronger than spearmint which is a favorite among children.
Mints combines well with most other herbs being used to add flavor to brews.
Brew as either an infusion or a tea.
Read more about peppermint and spearmint here.
Rose petals in tea? Yup it is possible and tasty! The petals are great for lifting the spirit, easing PMS and soothing lung infections.
Rose hips, which are the fruit of the rose plant, are chock full of vitamin C and have a delicious tangy flavor.
Rose petals and hips combine well with oatstraw, elderberries and lemon balm.
Brew as either an infusion or a tea.
Read more about roses and rose hips here.
Elderberries are wonderful for treating and preventing the flu. In fact they are specific against the flu virus. The berries make a superbly delicious tea.
The seeds from elder can cause digestive upset, so strain them out before serving.
Elderberry combines well with lemon balm, rose petals and hips, mint and oatstraw.
Brew as a tea or infusion.
Read more about elderberries and elder flowers here.

6. Sage (salvia spp.)
You may know it best as an herb to go along with turkey but sage is amazing as a tea!
It is very grounding and emotionally centering.
Sage tea helps to clear excess mucus and fight infection. It is specific for afflictions of the mouth and throat.
Sage also helps ease cramping and excessive blood flow during menstruation.
Sage is very drying and so should be avoided in cases of dryness.
It combines well with rosemary and thyme.
Brew as a tea.
Nettle is a favorite plant among herbalists.
It is highly nutritive acting as a body-wide tonic with an affinity for the kidneys and adrenals.
Nettle leaf contains very high amounts of vitamins, minerals and nourishing green chlorophyll that extract well when made as an infusion. It feeds the endocrine glands, builds the blood, provides essential nutrients for a stressed out nervous system and nourishes the liver.
Plus it's yummy! Nettle has a deep, rich soupy flavor. I like to combine it with our next plant, oatstraw.
Preferably brewed as an infusion.
Read more about stinging nettle here.
8. Oatstraw (avena sativa)
Oatstraw is one of my favorite herbs. Gently yet extremely powerful, used over time as an infusion oatstraw will help to soothe and heal an overwhelmed, overtaxed nervous system.
It creates a sense of well being, supporting the emotions and integrity of the individual.
It combines well with most herbs especially chamomile and lemon balm.
Preferably brewed as an infusion.
Read more about oatstraw here.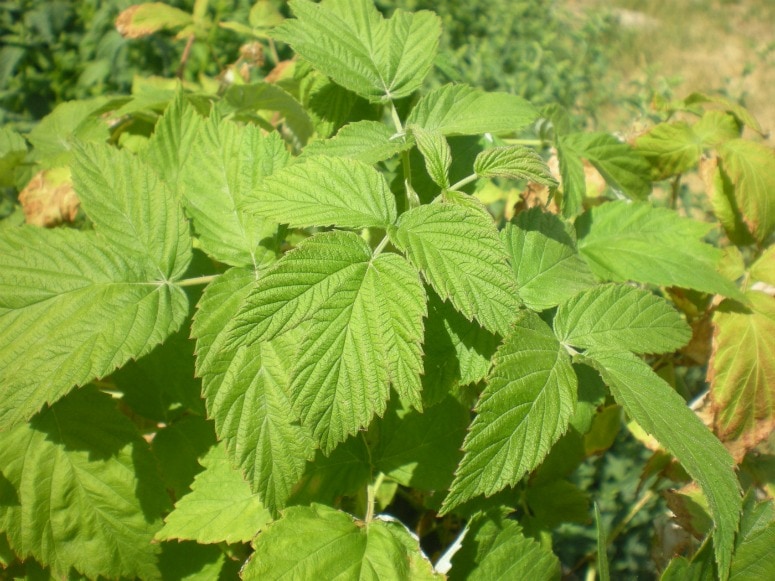 9. Red Raspberry Leaves (rubus spp, idaeus, strigosus, parviflous)
The leaves of this plant make a delicious astringent infusion.
Especially valued as an herb for women, raspberry leaf is an energetic tonic for the reproductive organs.
Raspberry is high in vitamins and minerals such as calcium, iron, phosphorus, potassium and vitamins C, B and E.
Raspberry combines well with nettles, oatstraw and mints.
Preferably brewed as an infusion.
Read more about red raspberry leaves here.
10. Alfalfa (medicago sativa)
Known as "The Father Of All Foods," alfalfa is a highly nutritive herb bringing health the body by feeding it well.
This amazing plant has a tap root that reaches a full 100 feet down deep into the rich depths of Mother Earth bringing up mineral rich goodness right into it's leaves and stems!
Make infusions of alfalfa to get all that goodness into your cup.
Alfalfa has a very green flavor so it is nice to use aromatic plants such as mint as a flavorful accompaniment.
Do you need herbs to make your own tasty infusions? Visit Mountain Rose Herbs to find the best quality online!
Kids love herbal teas and infusions too! They especially like to taste teas and  make their own blends. Check out the fun of tasting and making tea blends with wee ones
here
.
Teas and infusions are a great way to get to know herbs and also to enjoy many of their wonderful properties. I hope you found some inspiration here for adding an herbal brew or two to your life, and that your next cup of tea will bring you a little bit of herbal joy!
Have you explored the wonderful world of herbs? What have you used so far?
Disclaimer: I am not a doctor or medical professional, and this post should not be taken as medical advice. Please do your own research. Material on this blog is provided for informational purposes only. It is general information that may not apply to you as an individual, and is not a substitute for your own doctor's medical care or advice.