This immune-boosting tea blend is quick to whip up when you have the herbs on hand, and tastes great too!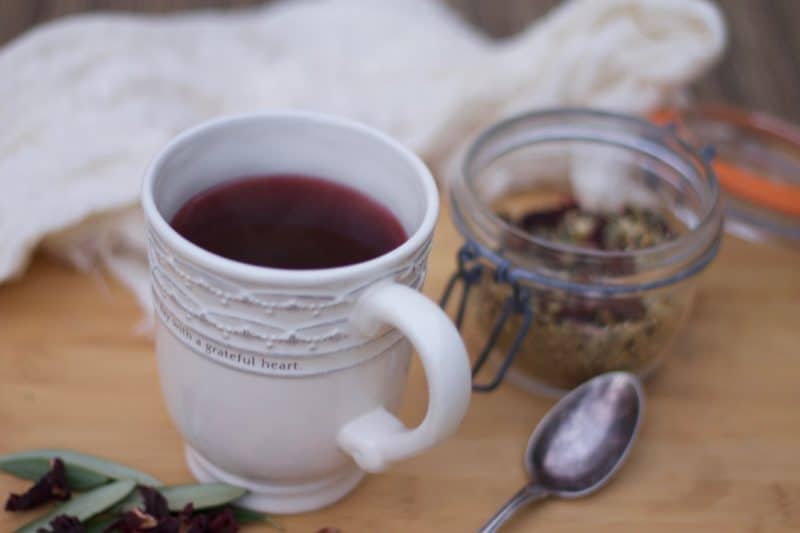 It may be the most wonderful time of the year, but… it's also the time of year when coughs and running noses are just waiting to take up residence in your body.
We are surely in the midst of cold and flu season. Holidays are a wonderful time of year but, they also tend to be the time of year when you get less rest and eat more sugar. Lack of sleep and sugar both weaken your immune system's defense.
It is important to start building up your immune system before a cold or flu settles in. My favourite ways to do this is through immune-boosting herbs like echinacea, olive leaf, elderberry, rose hips, and hibiscus. This immune-boosting tea blend is simple, tasty, and effective!
Immune-boosting tinctures and elderberry syrup are usually my first go to when it comes to fighting off colds but sometimes, a hot cup of tea is more soothing, and let's face it, most tinctures are not very tasty.
Immune-boosting tea is not hard to make. It contains herbs that are full of Vitamin C, which is essential for building up a strong immune system to fight off all the germs floating around. It also has herbs for helping the body to relax, which promotes better rest – something we all need this time of year.
You may be surprised to see that this immune-boosting tea is lacking possibly the most popular herb when it comes to fighting off a cold, echinacea. That is because echinacea is most effective when taken for more than two weeks at the onset of a cold or when you have been exposed to illness. (It also does not taste all that great.)
For this blend, I chose to go with herbs that can be consumed for longer periods of time so that you can benefit from it the entire season.
This immune-boosting tea is a combination of hibiscus, elderberries, olive leaf, rose hips, lemongrass, chamomile, and orange peel. The main flavor is hibiscus, which is common in many fruity tea blends, it has a similar flavor to cranberry juice. Lemongrass and orange peel add a perfect citrus note, while the remaining herbs add just a hint of flavor, blending in to create a soothing drink to warm and nourish the body.
When should I start boosting my immune system?
As soon as you've been exposed to illness or feel a tickle in the back of your throat, it's time to start taking something. The sooner you stop a cold in its track – or better yet, prevent it from starting – the better. If you have this immune-boosting tea on hand then you will be ready when the germs come your way. As is common with a holistic approach to health, be sure to pair it with a variety of other natural remedies and immune-boosting techniques for best results. (Like the suggestions here for beating cold and flu season.)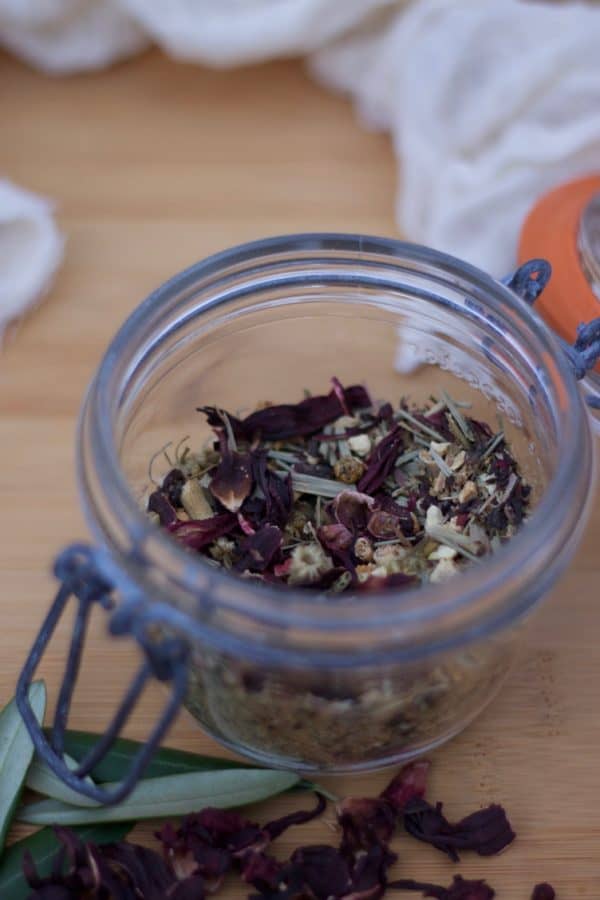 Immune-Boosting Tea Herbs
Hibiscus
Hibiscus is not widely popular an immune booster, but it is widely popular in fruity herbal teas blends. It is known all over Mexico as "Agua de Jamaica" or Hibiscus water. It is high in Vitamin C which is essential for boosting and stimulating the immune system.
Olive Leaf
Olive leaf's antiviral properties give it the ability to prevent the common cold. Unlike other herbs that are known for their immune-boosting properties, olive leaf can be used for an extended period of time. It can be taken indefinitely by adults, however for children it is suggested to not be taken for long periods of time to allow for their immune systems to be strengthened on their own.
Elderberry
Elderberry has long been known as one of the kings of herbs when it comes to cold and flu season. I love to keep homemade syrup on hand from fall on. Studies have shown it to have strong anti-bacterial properties and stimulate the immune system, as well as to be effective in treating strep and various strands of the flu.
Rose Hips
Rose hips are extremely high in Vitamin C, containing more than citrus fruits, making it perfect for boosting the immune system. They also contain Vitamins A, B, and D, and as well as flavonoids. Flavonoids help the body to better assimilate Vitamin C, making rosehips a perfect pairing for elderberries and other herbs that contain Vitamin C.
Chamomile
Chamomile has antibacterial and sedative properties, as well as many other therapeutic effects, such as promoting relaxation.
Lemongrass
Lemongrass is high in Vitamin C, known for strengthening the immune system. It helps to restore the body's vital systems, allowing it to absorb important nutrients. It like chamomile promotes relaxation.
Orage Peel
Oranges are noted for their high Vitamin C content, the peels, which are less frequently consumed contain almost twice the amount. They are also full of pectin, which feeds the beneficial bacteria in your gut.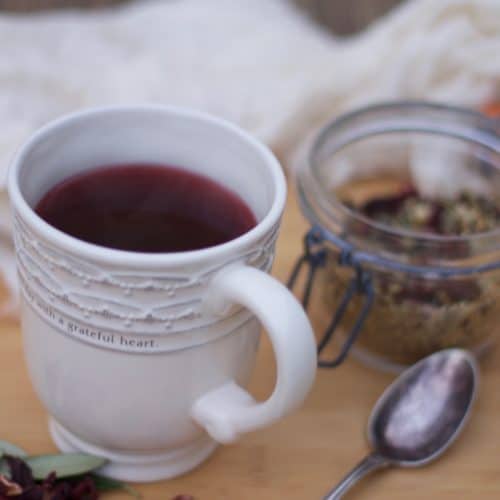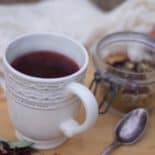 Print Recipe
Immune-Boosting Tea
When coughs and running noses are just waiting to take up residence in your body, start building up your immune system before a cold or flu settles in. This immune-boosting tea blend is simple, tasty, and effective!
Ingredients
1

cup

hibiscus flowers

whole

1/2

cup

elderberries

1/4

cup

olive leaf

cut

1/4

cup

lemongrass

cut

1/4

cup

chamomile

1/4

cup

orange peel

cut
Instructions
Add all the herbs to a quart jar. Shake to mix.



To prepare, add two tablespoons of the tea for every 8 ounces of water to a sauce pot. Bring to a boil, reduce heat and allow to simmer for 20 minutes.

Strain, and drink while still warm. Add raw honey if desired.
Notes
Where to buy herbs? My main sources are Mountain Rose Herbs, and The Bulk Herb Store. Amazon sometimes has herbs as well!
Nutrition
Calories:
11
kcal
|
Carbohydrates:
2
g
|
Potassium:
23
mg
|
Vitamin A:
1.7
%
|
Vitamin C:
7.9
%
|
Calcium:
0.5
%
|
Iron:
8
%
More Ways to Boost Your Immune System
Don't simply stop with making this immune-boosting tea, there are several ways to build up your immune system.
Make rest a priority.
Exercise, even simple ways like a taking a walk or playing in the snow.
Eat less sugar.  Sugar depresses the immune system, so keeping your sugar, even unrefined sugar to a low amount is important.
Consume more gut healing foods like gelatin. A healthy gut is key to a healthy immune system. This nourishing Thai soup is a great way to heal the gut and a cold at the same time.
Make immunity boosting tinctures like this simple version.
Enjoy some of these common beverages that have immune-boosting properties.

SaveSave
SaveSave
SaveSave
SaveSave
Katie Mae Stanley is the creator of Nourishing Simplicity, where she writes about crafting a made from scratch life with a heaping of grace. She spent 10 years as a missionary dorm "mama" for a bunch of amazing girls at a school for the deaf in Baja California, Mexico. Now she finds herself back in the Statesembracing God's next adventure. A cup of tea or coffee and a bit of dark chocolate make an appearance at some point in any given day.
Latest posts by Katie Mae Stanley (see all)