Anxiety at night is SO frustrating! This post shares 12 holistic ways to reduce anxiety and fall asleep peacefully (& my personal experience with each one).
You've had a long, tiring day, and you desperately just want a solid night of sleep to recharge before you wake up and do it all over again. Finally, you climb into bed and lay your weary body down, and close your eyes.
Instead of a peaceful drift into dreamland, though, you find your mind frustratingly revving like a motor.
The more you try to quiet your thoughts, the louder and more insistent they get. Anxiety starts to rear its ugly head and soon you're in flight or fight mode, your cortisol is spiking, you can feel your heart beating like a drum, and your body is anything but relaxed. With every minute that goes by the cycle perpetuates itself and sleep grows more elusive.
Ugh, what an utterly awful feeling of despair!
Of all the health struggles that fall through the cracks with mainstream medicine, anxiety at night is one of the most common and also one of the most deeply frustrating. Sleep is essential, and when it doesn't come easily or naturally – life starts to unravel, as I know from personal experience.
(Having a high-needs, "never-sleeps" infant painfully drove that point home years ago, and I can't help but empathize with other people's sleep woes, especially now that I'm having sleep trouble without a baby waking me up!)
With many years of experience in trying to find an effective approach to anxiety at night and sleep issues, I have PLENTY to share with you. Once I finished writing this post I found that it was 5000 words (holy moly!), so I'm including this handy-dandy Table of Contents here at the beginning. I hope it's helpful! 🙂
Anxiety at Night & Sleep Difficulty: A Frustrating Cycle
If the above scenario has ever happened to you, you're not alone. I used to fall asleep super easily, but in 2020 the combination of excessive stress and a medication that I (reluctantly) started is wreaking total havoc with my sleep.
These days, I experience this struggle almost every night, much to my despair. My husband and our oldest son have also struggled with sleep for most of their lives, and it has been a very long road of trying to improve it.
Anxiety at night & insomnia can look different for different people, but often it involves some of these things:
Difficulty falling asleep
Night waking and having difficulty falling back asleep
Feeling less than fully rested in the morning
Physical symptoms like dry mouth, heart palpitations,
Psychological symptoms like a sense of stress/anxiety or intrusively worrisome thoughts
The super frustrating part is that anxiety at night makes it tough to sleep, and a lack of sleep often makes you anxious. Your difficulty sleeping may have different root causes, but eventually anxiety is most often all tangled up in it.
Why Is My Anxiety Worse at Night?
If you struggle with a bit of anxiety in the daytime (in a post-2020 world, how many of us *don't*, right?!) you may find that your anxiety ramps up significantly when your head hits the pillow. Why is this? There are three main theories:
fatigue from the day means your brain can be less able to do that hard work of emotional regulation.
you may have anxiety at night specifically surrounding bedtime/sleep if you've been experiencing sleep difficulty for a while and feel frustrated and helpless.
once you lay down in the quiet darkness, there is nothing to distract your thoughts, which allows anxieties to bubble to the surface that you may have been trying to suppress all day.
Whatever the trigger, it can quickly become a perpetual cycle and it's really difficult to break.
My oldest kiddo (a tween) who is twice-exceptional struggles with ADHD and anxiety alongside his gifted brain that seems to run at double-speed and has trouble shutting down at night. He often finds himself struggling to fall asleep for several hours simply because he's "worrying about having a bad night of sleep". The poor kid knows how ironic that is, but can't seem to help it.
How to Reduce Anxiety at Night: Our Family's Personal Experience
Needless to say – we have tried many, many things in our attempt to get more (and better) sleep in our household, and I want to take the time to lay it all out and share what we've learned: the good, the bad, and in-between.
The good news? There are definitely some excellent, non-pharmaceutical options that often help. It often takes trial and error, but if you find the thing that works for you, it's so worth it!
For each of the tools that I list below I'll explain what they are and how they are theorized to work, followed by my personal take and experience.
You'll notice as you read through them that some of these are more potent as an "in-the-moment" trick (like listening to meditations or sleep stories to literally distract your brain from anxious thinking) while others are more powerful when used over time to nudge the body's natural mechanisms back to functionality.
I'll be honest with you – it's difficult to break out of the modern "pill for every ill" mindset where we expect instant results after popping a pill (or trying an herb, etc). Nevertheless, it's worth checking ourselves in this regard, and being open-minded about a synergistic, slow, long-term approach that supports the intricate functioning of the human body.
The Conventional Approach Falls Short With Insomnia & Anxiety at Night
As a layperson with a passion for health, one of my biggest frustrations with the conventional philosophy in Western medicine is their unwillingness to look at the big picture. In general – most health & wellness complaints are treated as single, isolated problems.
This leads our healthcare to be both reactive (instead of preventative) and surface level (instead of digging for root causes).
I'm really thankful that I decided to start digging in and asking questions over a decade ago, which continues to this day. (For my fellow personality typing nerds: I'm a classic "Questioner" in Gretchen Rubin's 4 Tendencies model, and an enneagram 5 with an insatiable drive to deeper knowledge.)
In my experience, most conventional doctors offer just two options for a patient with anxiety at night and sleep trouble:
1) Do nothing, or tell you to "try relaxing" (or maybe melatonin)
2) Pharmaceutical medications
In reality, there are SO many other options to try.
The Holistic Approach to Anxiety at Night
Alternative approaches, however, can offer a much more comprehensive and effective strategy, which can be especially helpful for issues like this.
Here are the main components to a more big-picture approach to anxiety at night & sleep issues:
First, a holistic assessment (the whole picture: health, lifestyle, diet, mental health, etc.)
Root cause exploration (finding connections & peeling back the layers to get at the root)
Potential changes to diet, lifestyle, habits
Natural medicinals like herbs or supplements
These are the steps that I choose to focus on long before I wind up resorting to pharmaceutical meds. For the record – I'm not against using pharmaceuticals altogether. I just don't think they should be our first step in addressing most issues. Sometimes they're necessary, and sometimes they can be used to relieve an acute issue while you work on the slower root cause healing process.
Side note that has to be said: I'm a huge advocate of taking charge of your health and educating yourself from a range of experts (both mainstream and alternative). That being said, everyone's situation is unique, so be sure to consult with a trusted healthcare provider before doing anything considered "medical" for your anxiety at night, like supplements or herbs.
Natural Remedies to Try for Anxiety at Night
Here are the remedies I'll discuss below. For each one, I'll share the explanation and evidence, followed by my personal experience (mine or someone in my family) with that particular thing.
Routine & environment
Therapy/counselling
Weighted blankets
Guided meditation
Brainwave music
Journaling
Mind mapping
Types of magnesium
Tart cherry juice
Glycine
Grounding or earthing
Herbs
Melatonin
1. Routine & Environment
If you're having trouble sleeping, this is the very first place you need to start. The routine can be simple but being intentional can make a major difference.
Brushing teeth, taking a bath, reading… a bedtime routine can help us (especially kids) relax and get into a calm mindset, which sends signals to the brain to start producing sleep hormones. It doesn't help though if that bedtime routine is rushed and too late at night. Allow enough time to have bedtime rituals before you get overly tired, and try to go to bed at the same time.
You should also make sure your sleeping environment is as ideal as possible:
And beyond those basics, perhaps keep your bedroom tidy and clutter-free, as evidence shows that clutter and anxiety are linked.
Personal experience: this doesn't seem to make much of a difference for my anxious kid (his room is always a mess of half-finished inventions, a trillion legos, and "spare parts" for his creative pursuits)… but I found it beneficial for myself when I decluttered every square foot of our bedroom/closets/bathroom and also replaced our old, ripped duvet cover. A tidy space is a great stress reliever for me.
2. Therapy/Counseling
There's plenty of evidence that talk therapy (with a psychologist or certified counsellor) can have a profound impact on stress and anxiety (including anxiety that mostly shows up at night).
If you can afford it, therapy can be a powerful way to mitigate anxiety at night and sleep troubles. Working through your anxiety and releasing it will mean less suppressed anxiety to creep into the forefront of your brain at night, and often leads to better sleep in this way.
If therapy is financially out of reach, you may want to consider trying an app. There are quite a few out there now that target anxiety and mood tracking, and even some that use CBT (cognitive behavioural therapy) techniques.
Mindshift
CBT Companion
Bloom
Wysa
Reach Out Breathe
Calm
Headspace
Woebot
Personal experience: I've long been a fan of using counselling as an occasional tool to peel back layers to get to my healthiest, happiest self – both individually and as a couple. We had an incredible counsellor that helped our marriage in powerful ways years ago, but I've had a few "meh" experiences over the years too. When you find a great fit the benefits can be amazing.

Since therapy isn't always easily accessible, I've also tried some apps. My favourite are Bloom (for working through things with CBT techniques), Calm (I mainly use it for guided meditations for falling asleep, but it offers more), and Woebot, which is targeted to kids and uses an AI to interact and "talk" to you, and work through anxious thoughts.
3. Weighted Blankets
While it may seem strange to sleep under 30 pounds of blanket, it can do wonders for sleep anxiety. Weighted blankets help activate sensory systems on the skin. The brain then releases neurotransmitters that calm the body.
This meta-analysis reviewed current studies on the use of weighted blankets for better sleep. They found that although a weighted blanket probably won't help insomnia on its own, it has a profound effect on anxiety at night.
And in this study 63% of participants who used a weighted blanket reported less anxiety. In the same study 78% preferred the weighted blanket to help them calm down.
Personal experience: we bought one of these for our oldest kiddo a few years ago. He tried it and liked it, but found it less effective than other strategies. Our daughter now uses it and enjoys the sensation for anxiety-relief.
4. Guided Meditations
Calming music, guided meditations, or soothing stories before bed helps gear the body for bedtime. These therapies help distract the brain from overthinking and spiraling into anxiety territory.
Researchers in this study found meditation reduced anxiety by about 39 percent. Researchers examined how participant's brains behaved during meditation. The parts of the brain that control worry, emotion, and deep thought lit up as anxiety decreased.
Mindfulness meditation can significantly improve sleep quality, anxiety, and depression symptoms. The more we flex our meditation muscles, the more profound the effects on sleep anxiety. Meditation even works better than better sleep habits alone for insomnia and fatigue (source, source).
Personal experience: this is definitely among the most effective remedies in our family. My oldest son has been listening to sleep stories (we use the Calm app subscription, but there are plenty of free options out there if search places like Spotify or Apple Music, or podcasts) for probably the last 4-5 years now, and it is usually the most reliable thing by far.

For myself – I really love the guided sleep meditations on the Calm app (I haven't tried others, though) and they were a total game-changer when I started a new med in fall 2020 that caused insomnia. Without them, I toss and turn until 2am stuck in that anxiety at night cycle, but with them I'm usually asleep in 10-20 minutes. Something calm and meditative to focus on is essential to prevent my brain from revving into intrusive, anxious thought territory and getting stuck.

For further reading check out 5 Practical Ways to Invite Peace and Silence into Your Day.
5. Brain Wave Music
Our brain neurons communicate through electrical pulses called brain waves. During sleep we produce Theta brain waves (the falling asleep process, REM sleep) as well as Delta brain waves (the deepest stage of sleep). You can find music that uses sound frequencies to produce specific brain waves to lull you off to sleep.
There's not a huge body of research but what has been conducted is fascinating – and promising! This study showed that slow wave sleep brain-wave music was associated with increased sleep efficiency.
"Listening to these sounds that create a low-frequency tone, research indicates, triggers a slow-down to brainwave activity—and that may help you relax, lower your anxiety, and make it easier for you to fall asleep and sleep more soundly." – Michael J Breus Ph.D.
Personal experience: brainwave music is a recent discovery for me so I have not had tested it yet for actually falling asleep at night, but I have been listening to this YouTube version of Delta Brain Waves (still image above) on low volume all day when I'm working in the home office, and I find it to be incredibly calming and relaxing.

(It actually reminds me of music I've heard in relaxing spa environments, which makes sense!) Of course – it stands to reason that decreasing my daytime anxiety levels will have a positive impact on my anxiety at night, too.
6. Journaling for Sleep Anxiety
Journaling is a great way to get thoughts and worries out onto paper. The practice has been around for thousands of years and researchers are continually uncovering more behind why it can work so well.
This study found people who journaled had less mental stress and generally felt better. Participants also had less anxiety, less depression, and more resilience. Journaling along with other natural therapies, like healthy eating was also found to reduce pain and the need for anxiety medication (source).
In another study researchers compared a group of people who wrote a to-do list compared to a group that recorded completed tasks. The group that wrote a nightly to-do list for the next day fell asleep significantly faster, while the other group had more trouble sleeping. Setting a plan in place for later helps our brain feel more relaxed so anxiety at night is reduced, and sleep comes easier.
There are a number of journaling apps you can try, including ones with prompts for working through anxiety.
Personal experience: I haven't really ever journaled regularly, but I am a big fan of writing things down to get them off my mind to lower my anxiety and stress. I use Notion to record and organize all of my random notes, thoughts, to-do's, and so on. It's kind of a digital version of a bullet journal for me. I even have a section for the occasional journal/rant-type entry for when I just need to get something off my chest that's banging around in my brain like rocks in a dryer.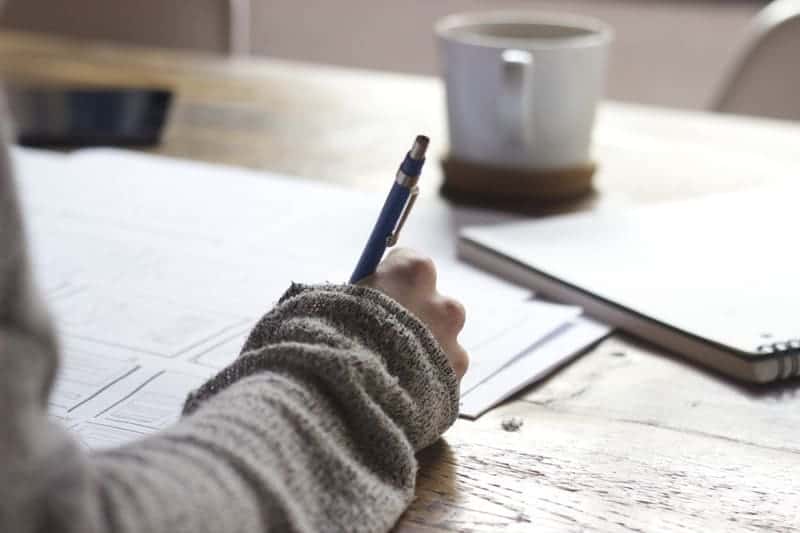 7. Mind Mapping for Peace of Mind
Similar to journaling, mind mapping is one of my favorite ways to declutter my thoughts. This practice blends the artistic/creative side of our brains with the logical side for a powerful organizing tool. I do my mind mapping on paper so that it's super easy to make connections in my jumble of thoughts. It's then easier to record or journal things in Notion.
Mind mapping uses the effective combination of pictures + words to get thoughts out onto paper. This decreases stress and anxiety to help our brains chill out and relax at night.
Personal experience: Mind mapping is always the first thing I turn to when my brain is completely overwhelmed. You can learn more in my blog post about how to use mind mapping for clarity, calm, and sleep anxiety.
8. Magnesium
We all need magnesium, but this study says that up to 75% people are not getting enough of this vital nutrient. "Research has shown that the mineral content of magnesium in food sources is declining, and that magnesium depletion has been detected in persons with some chronic diseases."
Getting nutrients from food is almost always superior, but if that proves difficult, your healthcare provider may agree that supplementation could be helpful. While there are many different forms of magnesium, there are few that stand out when it comes to addressing sleep anxiety.
Magnesium Glycinate
This form of magnesium is a combination of magnesium and glycine. Since it's chelated it's better absorbed than some other forms of magnesium. Magnesium glycinate helps our neurotransmitters operate smoothly for better sleep and mood. Both magnesium and glycine support the nervous system and help sleep anxiety.
Magnesium Threonate
Scientists believe this form of magnesium can cross the blood brain barrier and improve brain function and neuron balance. Magnesium threonate helps improve sleep quality, calms the body, and targets anxiety and depression. In this animal study it significantly improved memory and decreased depression symptoms.
Magnesium Chloride (Magnesium Lotion and Oil)
Found in seawater, magnesium chloride is an increasingly popular way to get your daily dose of magnesium. Because it's applied directly to the skin, it bypasses the digestive system and is better tolerated than some forms of magnesium. Despite limited research, study results so far are encouraging. Many swear by magnesium lotion to help them sleep at night.
Personal experience: This is one of the most commonly recommended supplements for sleep, but in our house it's hard to really measure a difference due to the various root causes at play. Some people may experience anxiety at night and insomnia simply due to a magnesium deficiency, but I think most people usually have other things going on too.

Regardless – the research shows that it's a really important mineral for a huge variety of bodily processes, including neuro issues like anxiety. (I keep it on hand as a natural remedy for constipation, too.)
9. Tart Cherry Juice
A popular sleep remedy is popping some melatonin pills, but there's a better way to get your melatonin on. Melatonin is actually a hormone that our body naturally produces at night to tell our brain it's time to sleep. Blue light at night, not enough sunshine during the day, and other daily stressors can skew our melatonin production.
Instead of reaching for the melatonin bottle, reach for some juice. Tart cherry juice not only tastes delicious, but it helps our body create more of its own melatonin. In this study participants had an ounce of tart cherry juice concentrate right after waking up, and right before bed.
Compared to the placebo group, the cherry juice group had much higher melatonin levels, spent more time asleep at night, and slept more soundly. Here's another study that also found tart cherry juice improved sleep time and quality.
Personal experience: This is another remedy that I find has smaller impact purely on its own, but given the evidence I think it's totally worth using for its synergistic impact alongside other things listed here. Worth a try paired with a dose of sunshine, which can also help regulate melatonin.

My favorite way to get my tart cherry juice in? A big glass of sparkling water (we love our SodaStream to carbonate at home) + a generous splash of tart cherry juice + a few slices of lime. It's so darn delicious you'll forget it's supposed to be therapeutic!
10. Glycine
Glycine is an amino acid and neurotransmitter our body needs to function well. We need it for muscle strength, bone health, heart health, metabolism, and brain function to name a few. While our bodies do make some glycine, we also get it through high protein foods like meat, fish, eggs, bone broth, and gelatin.
Glycine also helps us get some shut eye. We need glycine to make the hormone serotonin. Then our body uses the serotonin to make melatonin, a sleep hormone. Glycine also helps lower the core body temperature at night, another trigger that tells our body it's time for bed.
Glycine helps us:
Fall asleep faster
Increase sleep efficacy
Have less insomnia
Experience better sleep
Promote more restful sleep
There are glycine supplements, but one of the best ways to get this nutrient is through food. The skin, connective tissue, and bones of animals hold the highest amounts of gelatin. Bone broth or gelatin are really high in glycine and an easy way to get more in your diet. Homemade, fruit sweetened jello is a yummy way to get your daily dose.
Here are some more gelatin rich recipes to try:
Personal experience: I haven't done a personal test on how glycine alone impacts my anxiety at night, or my sleep, and it surely isn't just a matter of popping a supplement/pill before bed. Glycine's effects on sleep are more indirect and synergistic, like several other items on this list. However – I do include collagen and gelatin in our diets for a variety of reasons as the benefits are plentiful.
11. Grounding or Earthing
Known as grounding or earthing, connecting our bodies to the earth below us is a simple and powerful way to rebalance energy flow in the body. Thick shoe soles, indoor flooring, and driving instead of walking are just some of the common barriers between our body and the earth.
We are designed to connect with earth's magnetic field and our hormones and circadian rhythms work best with that connection.
It may sound a little "out there", but scientists have discovered solid evidence of grounding's benefits for sleep, specifically for anxiety at night. People in this study practiced grounding and saw less nighttime cortisol (the stress hormone). Their cortisol also better synchronized with a 24 hour circadian cycle. They reported less or no pain, better sleep, and less or no stress.
Personal experience: Anecdotally, I find that I enjoy some of the most refreshing nights of sleep after a summer's day outside with bare feet around the yard and garden. The study makes perfect sense considering how humans have always lived up until the modern era.

This R&H article talks about the benefits to letting your kids go barefoot, but adults can totally benefit too!
12. Herbal Medicine
The world of herbalism is fascinating. Plants contain multitudes of wisdom and medicinal properties for humans, which is unsurprising considering they are the foundation of modern medicine!
Using herbs directly is an excellent way to address many wellness issues by getting the full spectrum of benefits they can offer. Generally, herbs are meant to support your body in its natural processes (vs. getting an effect by force) so seeing the benefits can be a slower process.
On the upside, though: the actual benefits can be more comprehensive and well-rounded when using the whole plant, as opposed to an isolated (and often synthesized) part like in modern drugs. As Dr. Weil, an integrative physician who studied botany in his undergrad reminds us: "the fact is, the natural, whole plant often has both benefits and safety that put the isolated compounds to shame." (source)
There are a number of herbs that we know are highly effective in anxiety at night & sleep-related issues. Here are a few you may want to try:
Valerian
Hops
Chamomile
Kava
Lemon balm
Lavender
Passionflower
The most common ways to use herbs therapeutically are:
As a cup of tea (note: not all prepackaged teas use fresh, high-quality herbs which usually impacts efficacy, so choose your brand wisely – or make your own blends with loose herbs)
As a tincture (herbs that steep for weeks in an alcohol or glycerin liquid, which is taken in small amounts)
As a capsule (unfortunately, quality of commercial herbs & supplements can really vary, so be sure to do careful research on companies)
What About Essential Oils?
Some herbs are available as essential oils as well, and often people wonder if one is better than the other. From what I've learned, the answer is "it depends". People certainly have their preferences in this area. 😉 In general, though, herbs will offer more comprehensive benefits while acting more slowly, whereas essential oils lose some of the plant's original synergy but can have a faster, more potent effect.
Personally, I've found great success with some essential oils such as tea tree for an infected hangnail area, or a digestive blend on the tummy area for quick relief. However I don't jump to them for every situation either. (I generally prefer them for acute issues over chronic ones, though there are exceptions.)
If you'd like to try essential oils as part of your plan, I recommend this blend or this blend for adults, and this blend for kids.
Further reading:
Personal experience: We have tried both essential oils and herbs for anxiety at night and sleep trouble. Personally, I lean more toward herbs for this purpose, but only in conjunction with other things such as those listed in this post. Ultimately I haven't found herbs or oils to be "enough" on their own for significant anxiety and sleep issues, although I have no doubt that they can be for others. I choose to include them regularly as part of the overall plan.

I'll just note: I believe strongly in the slow, synergistic effects of most natural remedies, and am cautious about focusing too much on any one avenue, which some essential oil enthusiasts seem prone to doing.
13. Supplement with Melatonin
Sunlight and blue light at night plays a critical role in our body's ability to secrete melatonin at night. For some though, supporting natural melatonin production just isn't enough. It's most effective half an hour before bedtime.
If all else fails, supplementing with the hormone melatonin can be a good option for sleep anxiety at night. It doesn't directly target anxiety, but it can help you sleep, which at least eliminates one source of anxiety at night!
Both animal and human studies have shown that melatonin is safe in the short term, even in high doses. At worst, you may have mild side effects like dizziness, headache, and nausea from taking too much (source). I note, though, that while boosting your melatonin will help you sleep – it doesn't actually address any of the psychological effects
In this study of older adults, 2mg of melatonin before bed improved sleep quality, alertness the next morning, and improved quality of life. Long term use is not associated with dependence, a rebound in insomnia, or withdrawal symptoms in current available research.
Side note: some people worry that long-term use could cause your body to end up producing less naturally. I'd love to see some deeper research on that. Ultimately, though, I think the negative health impacts of not getting enough sleep are worse, and I keep melatonin on hand as a fallback option.
Personal experience: our oldest kiddo does tend to use melatonin a fair bit. Sometimes it works better than others, but he does see a clear benefit most of the time. For him, it's most potent in conjunction with a relaxing, stress-free bedtime lead-up (we try to keep a close eye on his anxiety over things like dinner dishes, sibling stuff, and so on), as well as a calming sleep story or guided body scan meditation.
What's the Bottom Line?
Our culture has conditioned us to want quick and easy fixes, but unfortunately that's not always how it works. The quickest "fix" (like sleeping pills) may not always be in our best interest to try before gentler teamwork options.
If you're reading this with a sleep-deprived, foggy brain, though, I really do empathize. My advice is this: don't overwhelm yourself by trying to do everything listed here. We're all unique, and different combos will work for different people to tip the scales on your anxiety at night. Instead, choose maybe three things to start with.
Out of all of them, listening to a guided sleep meditation (like a progressive body relaxation, for example) is the one I'd try first. Look into the other things and try them to see how they fit and work as a package deal. Exercise is also a valuable part of any plan to balance neurotransmitters, like when trying to calm anxiety. (Yoga can be a good way of adding something gentle that also focuses on breath, here are 20 Reasons to Start Practicing Yoga)
Above all – take care of yourself and try to avoid panic by challenging your catastrophizing thoughts. This is manageable, but it can take time to get it right. If none of these tools work for you (or if your anxiety gets unmanageable and overwhelming), please be sure to go back to your healthcare provider and insist on help – even if that means meds in the end.
Getting sleep (and controlling anxiety) is vital to your health and wellbeing, and there's zero shame in whatever avenue you wind up using. Be as gentle and kind to yourself as you would to a dear friend. I wish you sweet dreams!