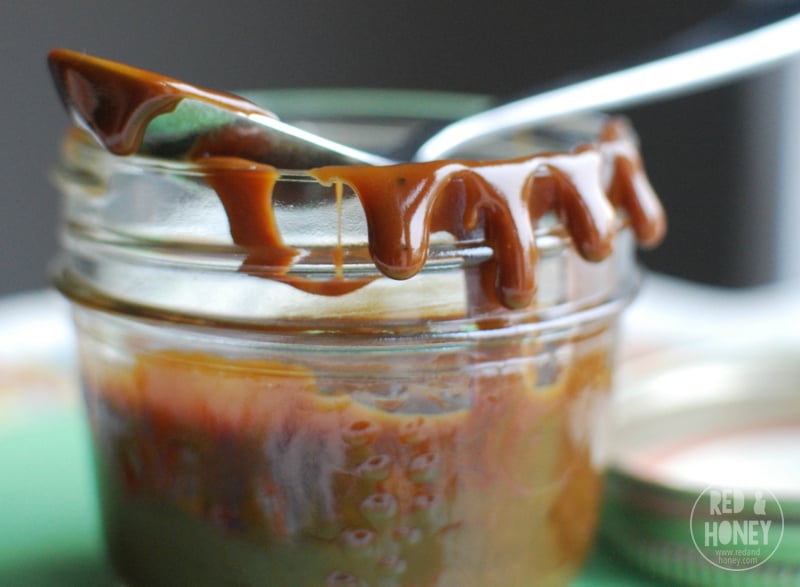 You know how I know God loves me? Because this homemade, dairy-free salted caramel sauce is SO DANG EASY TO MAKE.
Also: no dairy, and no refined sugar. Which makes it a health food. Kidddddding! Sorta. Yes, it's basically made of (natural) sugar, and our body still needs to process it as sugar. BUT. It's not refined white sugar, which does behave differently in the body. Coconut palm sugar in particular has a lower glycemic load, and is rich with healthy minerals.
(Like Tom and Donna in Parks & Rec, I believe wholeheartedly in the Treat Yo' Self approach to life. The analogy breaks down there, though, because they go crazy once a year, while I believe in Salted Caramel as a weekly occurrence, at minimum.)
Like I said above, this recipe is really super easy to make. Caramel is essentially melted/liquified and browned sugar, with some sort of fat added. Typically, recipes use dairy-based cream, but since I'm working my way into being 100% dairy-free to try to heal my leaky gut issues, I developed this recipe with full-fat coconut milk instead. (I love working with coconut milk because of the richness it lends to a recipe.)
Yesterday I shared my recipe for Salted Caramel Baked Banana Splits. Such an easy dessert, but so decadent and satisfying. This homemade Salted Caramel sauce is a key player in that dessert, so here it is!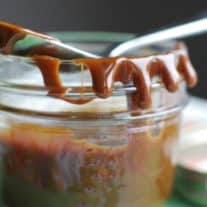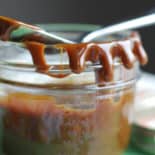 Print Recipe
Salted Caramel Sauce (Dairy-Free, Naturally-Sweetened)
This rich and decadent caramel sauce is the perfect addition to many recipes, and best of all - it's free from gluten, dairy, refined sugar, and soy!
Ingredients
1/2

cup

coconut palm sugar

1/2

cup

water

2/3

cup

full-fat coconut milk

I used canned, but stir first as the cream tends to settle on top

1/4

teaspoon

salt
Instructions
Combine coconut palm sugar and water in a small pot on medium heat.

Heat while mixture is gently bubbling for 3-4 minutes.

Add coconut milk and salt, stir in, then reduce heat to medium-low.

Gentle simmer for 10-15 minutes while sauce thickens.
Notes
Sauce will thicken more after cooling.
If you use a candy thermometer, heat to between 338F and 345F, then remove from heat. (I didn't use a candy thermometer because there wasn't enough depth in the caramel in the pot to get an accurate reading. Going by sight worked for me!)
A few additional cracks of coarse sea salt over top of the sauce may be an excellent idea as well, depending on the recipe!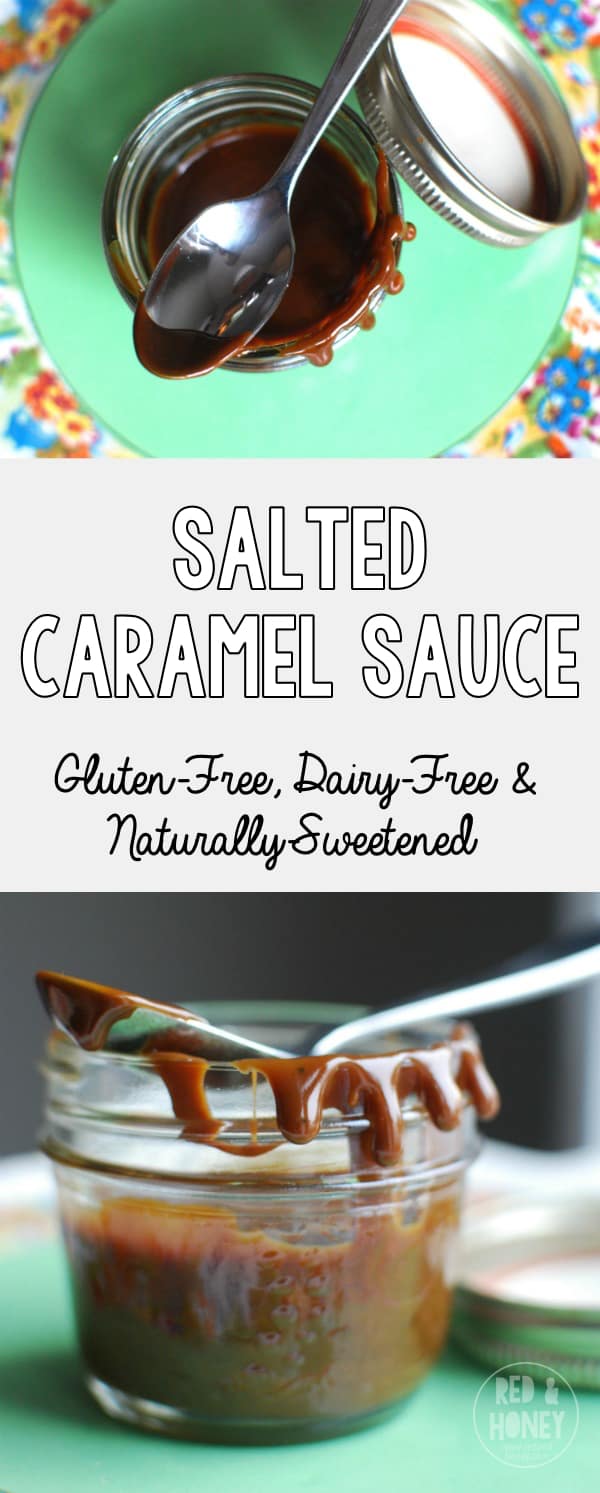 Beth is the creator here at
Red & Honey
. Mom of four, wife of one, and proud redhead. Sushi and tex-mex lover, fan of adventure, books, natural health talk, and pyjamas. INFP and Type 4 enneagram. Allergic to small talk. And, if you haven't figured it out already, #nerd. Read more posts by
Beth
.