As I mentioned recently, we're doing a Whole30. We aren't very good at it, though, and are breaking a lot of rules. I am doing a luscious blended coffee concoction with coconut oil in the mornings that I am quickly becoming quite romantically attached to. I puffy-heart-love it. (I'm such a rebel. And by rebel I mean dork. And by that, I mean awesome. Yeah, and also: all of the above, obvis.)
I used to get the mid-morning munchies on a regular basis. Even when eating a decent breakfast of eggs with fruit. Sometimes a meat side, sometimes some sauteed veggies. My fast metabolism (stangely dormant in my muffin top zone – bah humbug) can easily crank through those calories and demand more in short order.
Regardless of what I put on my plate, though, I always manage to prevent those annoying tummy rumblings when I include coconut oil or full-fat coconut milk in my breakfast routine.
And you know what? I have noticed myself being satiated after breakfast for WAAAAAYYYYY longer since starting Whole30.
The difference? I am including a lot more coconut oil and coconut milk in my diet right now. One or the other (or both) are happening daily.
And so it is with lip-smacking pleasure that I must inform you that I've bumped another fave to the level of mad passionate love: coconut milk. The full-fat kind in a can (watch your labels for junk additives) that glops out the cream with a lovely sluuurp noise, followed by the gush of liquid.
That stuff is crazy-powerful for knocking out the hunger pangs, friends. My can says that it has 13 grams of fat in 1/3 cup (with 5x that in the whole can), and most of it is saturated.
(NOTE: Don't be afraid of saturated fat, friends. The latest research disproves the notion that it is unhealthy, and shows that it is actually essential for good health! Check out this article from Katie at Wellness Mama for more information.)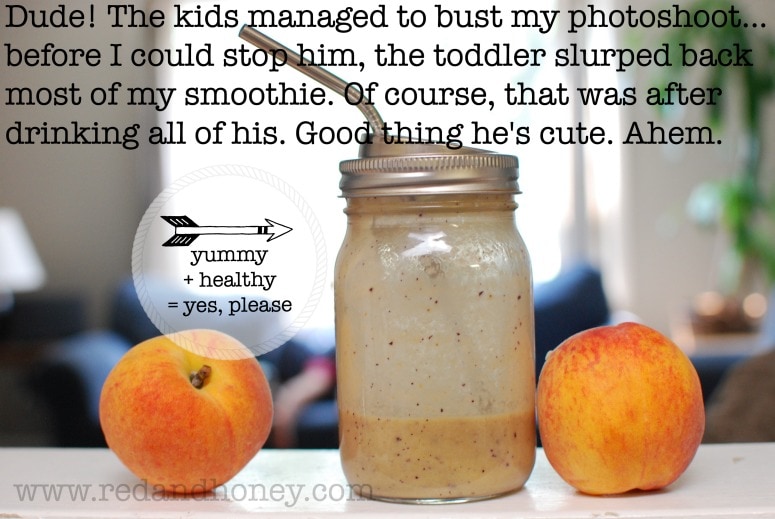 My favorite way to have coconut milk is in this smoothie. I always dump the whole can in the blender with the rest of the ingredients, and I can barely pour it fast enough in my kids' cups before they're licking them out like ravenous beasts. They get grumpy when I don't refill fast enough, too.
My advice: double-batch it if you want some for yourself. If there are leftovers (ha! you're funny!) then pour 'em in popsicle molds to blow their little minds at tomorrow's snack time. Racking up Mom-of-the-Year awards like a boss.
Make and enjoy!
Print Recipe
Customizable Coconut Milk Smoothie: Rich in Healthy Fats to Curb the Munchies
Ingredients
1

can coconut milk

watch your label for junky additives.

2

frozen bananas

2

cups

fruit

your choice

1

tablespoon

hemp hearts

optional

1

handful spinach or de-stalked kale

optional
Instructions
Blend coconut milk and hemp hearts together on high with a high-powered blender.

Add the banana and the rest of the fruit.

Add the greens, if desired.

Enjoy!
Notes
You can use fresh or frozen fruit for this - either one works beautifully. I typically use frozen, unless it's in season. I made this recipe with frozen banana and fresh blueberries and peaches in the summer - that was my favourite version thus far - and it was amazing. The consistency is more like a milkshake if you use fresh fruit, or a thicker smoothie if you use all frozen. Another fun note: because the coconut milk and banana are white, you can customize the color of your smoothie depending on what you add! Play around with it and see what you can come up with! This is the blender I use and love! (affiliate link) It's expensive, but so worth it!
Beth is the creator here at
Red & Honey
. Mom of four, wife of one, and proud redhead. Sushi and tex-mex lover, fan of adventure, books, natural health talk, and pyjamas. INFP and Type 4 enneagram. Allergic to small talk. And, if you haven't figured it out already, #nerd. Read more posts by
Beth
.