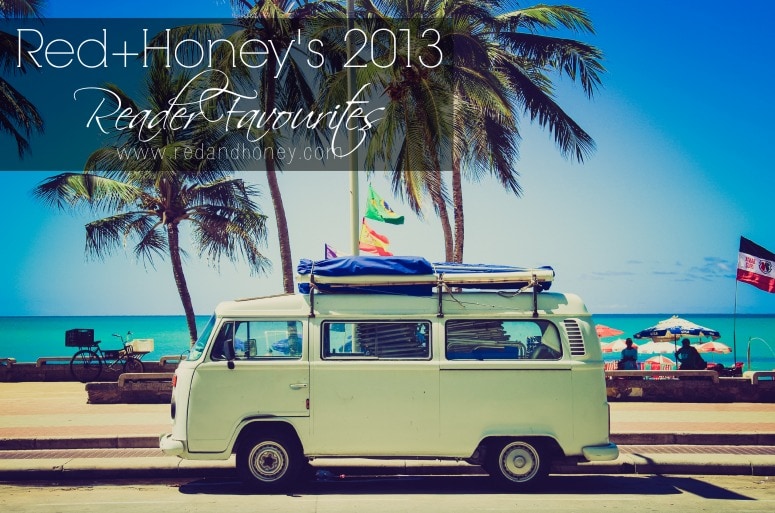 Dear Reader,
So, hey.
I know that most bloggers did their popular post roundups like three weeks ago, but as usual, I'm late to the party. I tend to think and ponder on things so long that by the time I'm ready to speak it's embarrassingly late. Example: I currently have the urge to play around with pumpkin recipes and I have some thoughts about the whole Duck Dynasty debacle. See what I mean?
Anyway, I'm giving myself major props (is that still a thing in 2014? are the cool kids still saying that??) for doing this post only 3-ish weeks late. Woohoo! Go me! The bonus of this method (I mean, I planned this all along, ahem) is that I now get to share a few of my blogging friends' roundups too, so that you get exponentially more awesomeness to peruse. You're so much very much welcome. (That's a little phrase often spoken around here by a certain little 5.5-yr-old, and it's every bit as adorable as you think.)
I'm loving this little slice of the interweb pie that I'm privileged to own. Writing here is a joy for me. At the risk of sounding 100% cliche (and egotistical?!), I feel like I was born to play with words. A carefully-crafted sentence gets my blood pumping like none other. Mmmhmmm.
I envision everything I write as a story. The story of these chocolate chip cookies, the story of my marriage, the story of this crazy natural remedy I tried and loved and want to share. All I wanna do is just keep on telling stories to anyone who'll listen.
2014 is looming large in front of me and I'm completely excited about what's ahead. One of these days I'm going to have to give you a more personal update on where hubs and I are at, job-wise. For now, I'll just say that this little blog is beginning to bring a few dollars to the table, and I'm just so blown away by that. Thank-you, thank-you, thank-you a million times over for being a part of that by just being here with me. I love you all – commenters, haters, lovers, and lurkers. I'd sing you a 90's love song about wind and wings and raising up and so on any day of the week. Let's do lunch.
xoxo,
Beth
R+H Top Posts in 2013

1. 100 Healthy Snacks (Real Food Style)
2. How to Clean Your Whole House Without Nasty Chemicals
3. Healthy Homemade Granola Bars

4. No-Bake Chocolate Coconut Macaroons (Grain-free, Dairy-free, No Refined Sugar)
5. Homemade Toothpaste (with Clay and Coconut Oil)
6. The Ultimate Strep Throat Remedy (If You're Brave Enough…)

7. Homemade Honey-Sweetened Lemonade
8. Dear Middle Class America: I have a Bone to Pick With You …

10. I Am Supermom
11. 20-Minute Oatmeal Peanut-Butter Chocolate-Chip Cookies
12. How to Stay Clean Without Showering Every Day

13. Is Your Mattress Toxic? Hidden Dangers in Your Sleeping Environment
14. Homemade Cough & Cold Syrup Recipe
15. Homemade Peanut Butter Cups (no refined sugars!)
*Note: not all are published in 2013. These are the posts that got the most views in 2013.

And more 2013 round-up goodness from around the web:
More than Mundane | Top 10 Posts of 2013
The Humbled Homemaker | Top 10 Posts of 2013
Gidget Goes Home | 2013: Recapping my Creative Goals and Favorite Posts
Simply Rebekah | My 10 Most Popular Posts of All Time
GNOWFGLINS | A Look Back at 2013 (Plus Top 25)
Sarah Bessey | In Which My Best Posts of 2013 Are
Live Renewed | When Things Don't Go As Planned: Moving from 2013 into 2014 With Hope
Nourishing Joy | Top 25 Posts of 2013
Pinch of Yum | The Failed Recipes of 2013
Intentional By Grace | Top Posts from 2013
Common Sense Homesteading | Top 15 Posts from 2013
Kitchen Stewardship | Top 10 Healthy Living Posts of 2013
A final note:
I know that the future is trending toward commenting on blogs going out of style, especially since over half of my traffic is now coming from mobile devices. Crazytown. BUT… today would you take a second and just say a quick hello in the comments? Which post was your favourite? How long have you been following my posts? Consider this your official de-lurking invitation! I'd love to hear from you!