This post gives an honest review for Norwex cleaning supplies from a naturally-minded mom!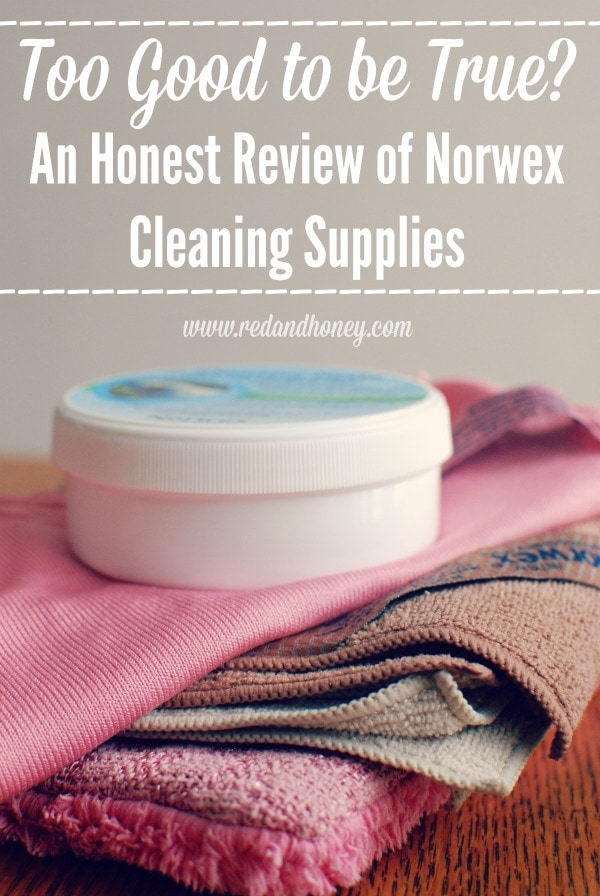 I have spent at least eleventy billion hours cleaning my house thus far.
Okay, that's a total lie. If that were true it would be a heck of a lot more sparkling clean around here. Half that number, then half it again, then – oh never mind.
Let's just say that while I love a clean and sparkling house, the actual scrub-a-dub-dub doesn't set my heart a-flutter. You feel me?
That's why the cleaning tools that I use (when I use them, ahem) need to be top-notch. No messing around with sub-par stuff that takes longer and doesn't work as well, thus requiring me to clean *more* often. Ain't nobody got time for that, punks.
Messy house whining aside, when it comes down to it – we all have to clean sooner or later. Some sooner, some later, but that's beside the point. And you probably want to do it with as few toxic chemicals as possible.
Detoxing your cleaning supplies is one of the easiest baby steps to take toward a more natural, toxin-free lifestyle, and may I just say: Norwex is my ultimate favorite non-toxic cleaning product. I have used it and loved it for five years now, so writing this post on behalf of Heather, the Norwex consultant that I have partnered with, is a perfectly natural fit. In fact, I loved my Norwex cloth so much that I sought her out for this post. True story right there.
Here are some key reasons I love my Norwex cleaning supplies with the fiery passion of a thousand lovers (or something along those lines…)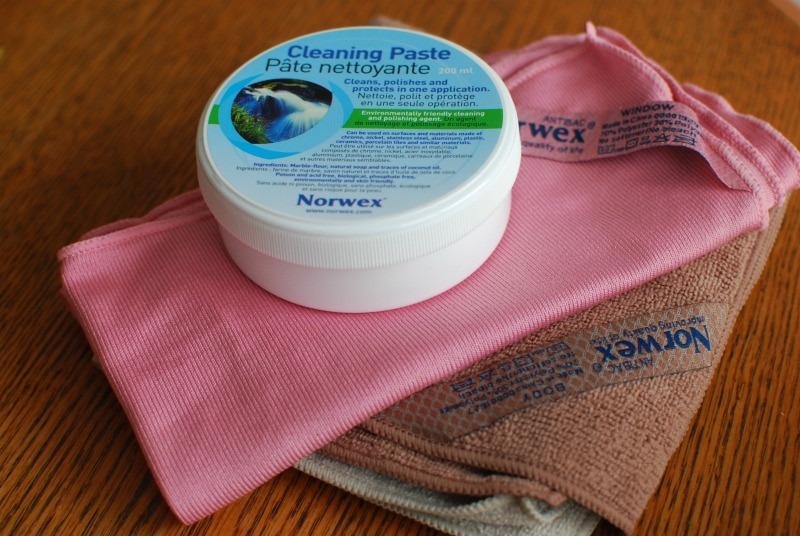 1. Naturally anti-bacterial
Most of their products (the "anti-bac" ones) are anti-bacterial from the tiny silver particles that are threaded in to the fibers. Silver is a naturally anti-bacterial agent, which is something I've known for years now. I use colloidal silver on occasion for medicinal purposes.
The basic premise is that the incredible quality of the microfiber picks up even the tiniest particles and organisms when it's wet, including germs, which are then rinsed down the drain when you rinse the cloth out. The cloth then disinfects itself naturally while it dries and awaits your next use.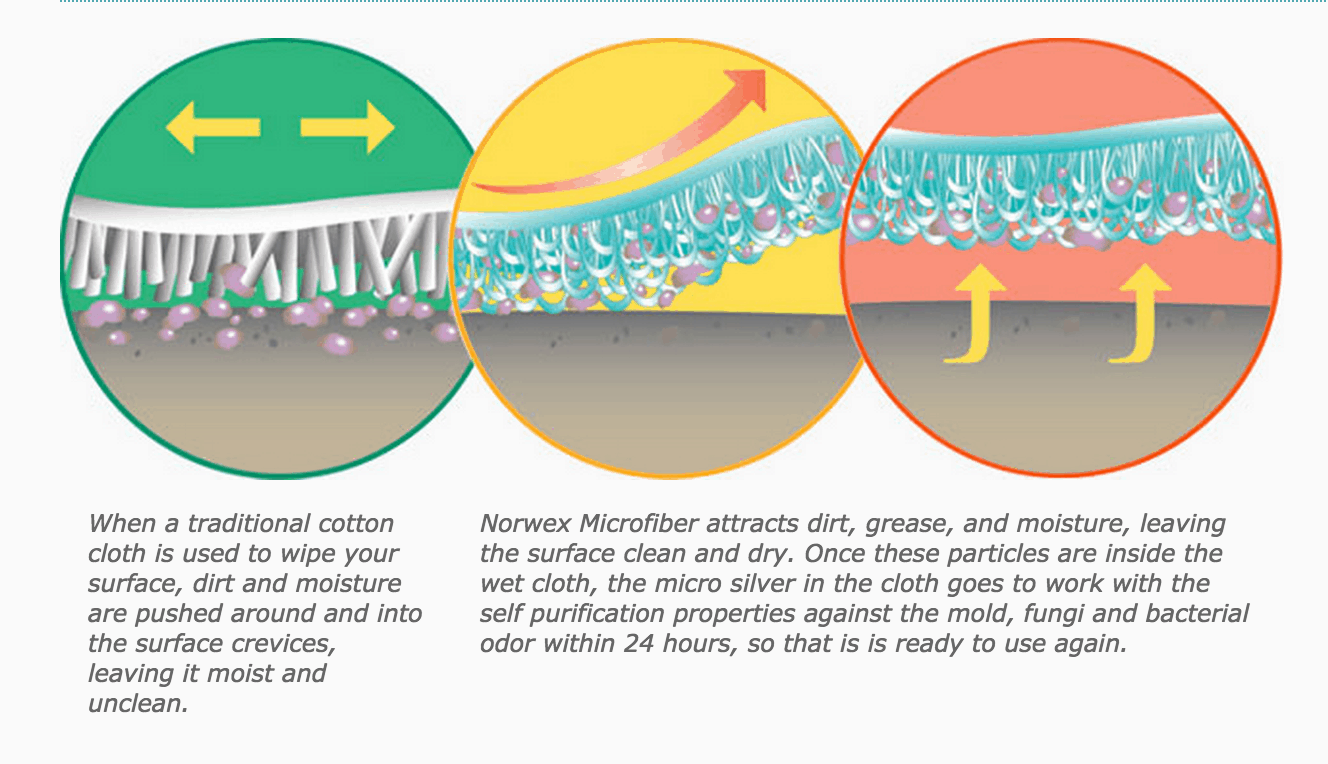 It's recommended to launder it after especially nasty uses, like raw meat juices on the counter, or cleaning the toilet, but for regular every day use you can simply rinse it and hang to dry. I love not having to throw my kitchen cloth in the wash every time I use it. With normal cloths I only let them go about half a day before throwing them in the laundry. With my Norwex kitchen cloth, I wait about a week.
2. More effective
This is perhaps the best part of all. Once I started using a norwex window cloth, I refused to use anything else on all of my stainless steel and glass. It's absolutely incredible. I honestly wouldn't have imagined the difference it would make, but it really, really does.
I clean my stainless steel faucet with a regular ol' cloth + homemade cleaning spray… and it's clean (with more scrubbing), but full of streaks and smudgy spots. The Norwex window cloth makes it as shiny as when it was brand new. No kidding.
And since shiny things are my favorite, the window cloth is my BFF. It does the same for mirrors and other glass. It impresses the heck right outta me. Dare I say: it *almost* makes cleaning legitimately fun.
You should also know that this is no cheap dollar store microfiber. Cheaply made microfiber cannot compare – I've used it, and thrown it in the back of my closet never to see the light of day again. In my normally-very-frugal opinion, the Norwex cloths are actually worth the money because they last so long and are total workhorses.
My enviro cloths and window cloth that I bought five years ago (a 4-pack of the travel sized cloths in order to save money back then!) are still going strong, and I still favor them over all other cleaning supplies. I figure they've probably saved me a ton of money by now simply by being so much more efficient than other options.
3. Simplicity at its finest
Norwex products are completely free of harmful chemicals, yet you can use them with only water for maximum efficacy! In fact, soap can clog the fibers, so it's recommended to stick with water.
Because they're free of those nasty toxic chemicals found in conventional (and some so-called "natural" or "organic") cleaners, they are totally perfect for anyone that has allergies or chemical sensitivities. Or, you know, lungs.
I don't know about you, but I don't especially want to breathe in more chemicals that what's already around me through the furniture, the house, the package wrapping on any number of items, etcetera, etcetera!
I also LOVE that I can just wet it and go. No hauling out an assortment of cleaning scrubs and sprays (although I do have one small jar of their cleaning paste that I use and love) – just wetting it provides enough 'oomph' to the cloth to clean almost any mess.
And of course, the fact that I can clean pretty well my whole house with just a few cloths or scub mitts is pretty amazing. I love the simplicity of this system!
In case I haven't made myself clear yet: I honestly love Norwex and can't live without it! Here are my personal faves:
Cleaning Paste (I use this stuff only when my regular Norwex cloths fail me… so, rarely. And it only takes a small bit. But it's great to get the tough spots that you figure were a lost cause – like toddler art on your walls.)
SaveSave
Beth is the creator here at
Red & Honey
. Mom of four, wife of one, and proud redhead. Sushi and tex-mex lover, fan of adventure, books, natural health talk, and pyjamas. INFP and Type 4 enneagram. Allergic to small talk. And, if you haven't figured it out already, #nerd. Read more posts by
Beth
.