Estimated reading time: 10 minutes
Are you ready to throw open the doors and give your house a deep cleaning? Read on for our ultimate spring cleaning checklist to get those deeply satisfying clean house vibes flowing!
After a cold winter isn't it nice to soak up the warm days of spring? A new season is always a good time for a reset.
At this time of year all the fresh air and sunshine nudges me out of cozy hygge and hibernation mode, and into spring cleaning checklist mode! A clean home is so incredibly good for our mental and emotional health, and spring is the perfect time to make it happen.
As much as we all love to complain about the actual cleaning part, you have to admit – there's nothing quite like flinging the windows wide open to let that deliciously fresh air flow into a sparkling clean area of the house, while relaxing on the couch with your feet up and a big iced chai latte in hand as a reward.
So! *insert Mary Poppins clap* Let's earn that chai latte, shall we? Time to pull those dust bunnies from their hiding places and take part in what people have been doing for generations: spring cleaning.
Spring Cleaning is Rooted in Cultural and Religious History
As it turns out – a spring cleaning checklist isn't something your mom made up to coerce you into scrubbing the baseboards as a chore. It actually has a long cultural and religious history that's kind of fascinating.
One of the earliest known traditions of spring cleaning is the preparation for the Jewish Passover in the spring. Houses are cleaned to remove any leaven before Passover to remember the exodus from Egypt in the Old Testament.
In Iran, the the Persian New Year is celebrated in the spring. The tradition "khooneh takouni" means "shaking the house". Houses are given a deep cleaning to welcome the new year, and it's a time of celebration. In addition – the Catholic church cleans the church alter the Thursday before Good Friday (during Holy Week), which usually roughly coincides with the arrival of spring.
According to the Washington Post, during the 1800's, houses were lit with candles and oil lamps. Coal and wood fires were essential for cooking and heating, which meant that after a long winter houses were inevitably covered with a layer of soot and grime. The warmer days of spring allowed people to open up the entire home and give it a much-needed deep cleaning.
Considering all of that – if you feel the urge to clean all areas of your home from top to bottom in the spring, you aren't alone!
Regardless of whether you relate to these religious or historical roots – spring is a good opportunity for a season of renewal and refreshing. You can even embrace the longer days by seeking to spring clean other areas of your life, too, like your online & digital presence, your goals and resolutions, your habits, and more.
Okay – ready to get going? Let's dive in!
Tips to Set Yourself Up for Successful Spring Cleaning (Especially With a Busy Family Life)
First of all – get organized! Below is a room-by-room spring cleaning checklist to follow so that you don't miss a thing. It's broken up room-by-room with an extra list for all the general touch points throughout the whole home.
Secondly, remember that spring cleaning doesn't have to happen all in one day – especially for those of us with precious little free time. Busy family life often doesn't afford us an entire weekend to clean uninterrupted, so choose a pace that works for you.
1. Sketch Out a Timeline Plan
Unless you live in a tiny house, most of us can't get all of these areas of the home tackled in 24 hours, or even an entire weekend. So, the best way to make your spring cleaning efforts successful is to remember to be realistic with your time and energy. Consider mapping out your plan before you begin.
Be realistic with your goals and time
Pick one or two areas to clean a day, or perhaps a few areas to tackle on a recurring weekly basis
Get the whole house involved by dividing tasks among family members
Pace yourself (don't forget to eat and sleep)
Plan on fun rewards for a job well done
Roll up your sleeves, gather the family, put on some fun music, and start. I don't know if I can promise you'll have a great time (ha!), but you will definitely be ultra satisfied with the end result!
2. Tidy Up and Declutter
Pick up basic clutter
Declutter & get rid of unused items (have a yard sale or donate)
Empty and clean the vacuum
Refill or make your favourite cleaning products
Gather your cleaning supplies
3. Include Safety-Related Tasks
Life can get so busy that it can be a challenge to remember to do these basic safety tasks. Use your spring cleaning efforts as the perfect opportunity to remember these things:
Clean air vents and registers
Check lightbulbs
Change batteries in smoke detectors and carbon monoxide detectors
Check fire-extinguisher
Inspect first aid kits & replenish
4. Plan Easy Meals
I'm a huge proponent of meal planning in the best of times, but this is one of those times where meal planning is practically essential to success! While you're planning out your big spring cleaning checklist goals to take place over the course of a week or two (or whatever time frame suits your situation), do yourself a huge favor and plan your meals carefully!
Here are some ways meal planning can make your spring cleaning efforts 10x easier:
Plan your favorite quick and easy meals
Make freezer meals ahead of time (precooked or not – either way, use your slow cooker or instant pot)
Plan some convenience foods into the rotation that you might not normally use (maybe not your nutritional ideal, but still cheaper and healthier than takeout! We do things like gluten free chicken nuggets or nitrate-free hotdogs for occasions like this.)
Use meal prep tactics like washing and chopping produce and storing for easy grab access, or cooking up some basic protein like taco spiced ground beef or shredded chicken to use alongside whatever non-fancy sides you like.
Spring Cleaning Supplies List
microfiber cloth (ideally several of them)
warm water with all-purpose cleaner or dish detergent (for any large areas, like walls)
an all-purpose cleaning spray bottle (ideally several)
a disinfectant spray and/or wipes (I like using white vinegar)
stainless steel & glass cleaner (I love my Norwex glass cloth for this… it's crazy effective.)
vacuum and broom
paper towel, if desired, for the yuckiest jobs, but old rags work perfectly well and are the more eco-friendly alternative
plastic bag for trash
optional: essential oil* to diffuse or use in DIY cleaners (*not all oils are safe to use around kids and pets.)
Here are some cleaning posts here at Red & Honey that you might want to check out: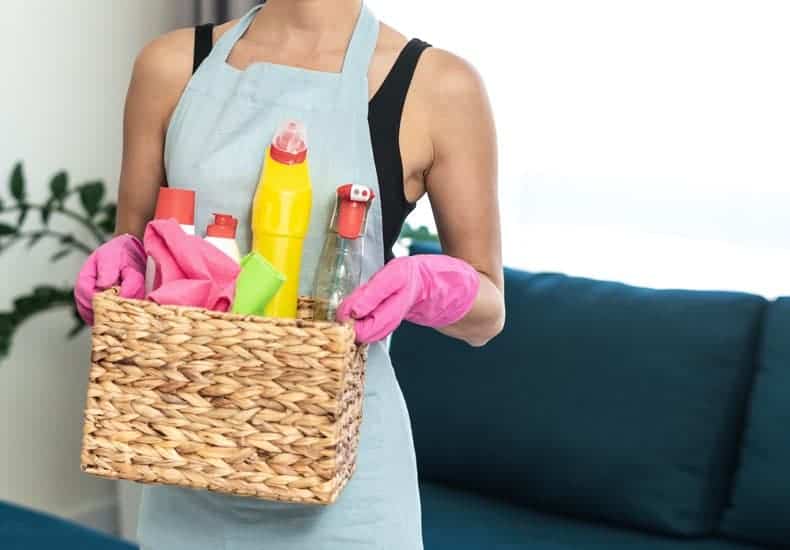 Ultimate Spring Cleaning Checklist
>> General Household
These are the basic touch points that you want to tackle through out the house.
Vacuum, sweep, mop floors
Polish woodwork
Dust bookshelves
Dust lamps and shades
Deep clean carpets
Clean area rugs (spot clean, or machine wash)
Scrub walls
Clean baseboards and chair rails
Dust ceiling fan blades and light fixtures
Dust blinds
Remove cobwebs from corners and hard to reach places
Dust wall hangings and decorations
Wipe down doors
Sanitize high-touch spots like switch plates (light switches)
>> Windows
Wash windows
Clean window screens
Dust window seals
Clean window tracks
Clean blinds (tip: mini blinds can be easily cleaned in the bathtub!)
Wash or vacuum window treatments like curtains, valances, etc.
Area Specific Spring Cleaning Checklist:
Entryway/Mud Room
Organize Shoes
Organize Coats
Clean Rugs
Rotate seasonal items
Sweep & mop floor
Kitchen
Wipes down cabinet doors and backsplash
Wipes down and organize kitchen cabinets and drawers
Clean counter tops and sanitize
Dust decorations
Clean out and wipe down fridge and freezer (check the expiration date of anything you put back)
Defrost freezer if needed
Dust behind fridge and coils
Thaw and organize deep freeze
Wipe & shine stainless steel small appliances (including any gross drip pans)
Clean toaster or toaster oven
Clean coffee maker
Wipe down microwave
Organize pantry, dispose of expired food
Clean oven and stove top
Degrease grates and hood
Wash indoor trash and recycling bins
Refresh garbage disposal
Wash kitchen mat
Clean dishwasher (run a cycle on hot with just vinegar)
Organize junk drawer
Clean and shine your kitchen sink (baking soda + lemon juice work great!)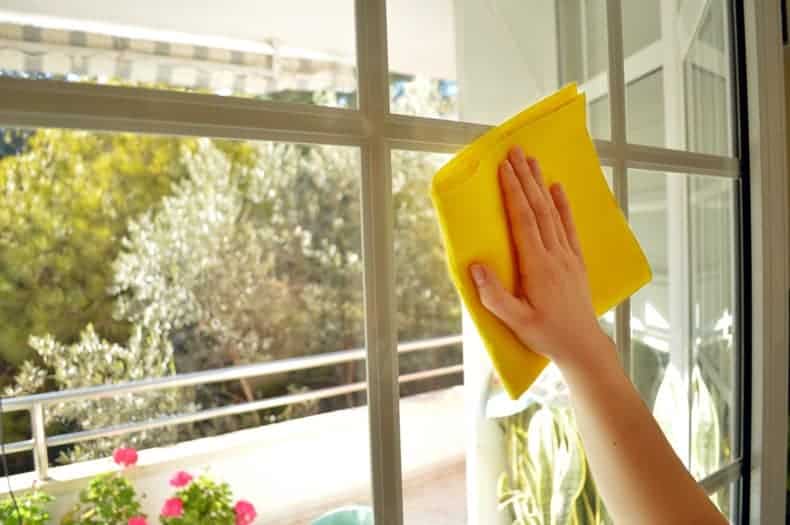 Bedrooms and Guest Room
Wash mattress pad or toppers and blankets and duvet covers
Rotate mattresses
Organize closets and drawers, donate or giveaway old cloths
Vacuum behind dressers and under beds
Clean pillows
Remove clean clothes from dresser and vacuum out drawers
Bathrooms
Strip bath towels
Descale shower and bath heads
Clean drains
Wash shower curtains and liners
Schub tub and shower
Organize under sink cabinets
Reseal grout
Wash toothbrush holder
Dispose of expired medications
Wash bath mats
Dispose of old makeup, beauty, and bath products
Living Room and/or Family Room
Move sofas and chairs to clean behind
Vacuum sofa
Wipe down TV and remotes
Wash throw pillow covers and fluff throw pillows
Launder and fold blankets
Wash slipcovers
Vacuum upholstered furniture (sprinkle baking soda first to help freshen)
Home Office
Dust bookcase and desk
Wipe down computer and device screens
Clean keyboards with bottle of compressed air
Recycle and shred unneeded paperwork
Declutter and organize office supplies
Laundry Room
Clean washing machine
Clean lint trap
Clear out dryer vent
Organize laundry supplies
Wipe out cabinets or drawers
Linen Closet
Wash and freshen linens if necessary
Fold and reorganize
Declutter old linens that don't get used
Implement storage baskets if appropriate
Garage
Organize tools
Organize toys and sports equipment
Wash and vacuum car
Sweep with a stiff bristle broom
Remove cobwebs
Wash garage door exterior
Get outdoor furniture out (if it was away for winter)
Playroom
Wash toys as appropriate
Donate or giveaway unwanted toys
Wipe down shelves and toy bin
Sort through craft supplies
What did this list miss? Every home is unique. When you plan, be sure to jot down any extra tasks that are unique to your space.
Pro tip: keep your plan handy (I like using a clipboard I can carry around easily) as you clean, and take notes on any little "do later" tasks that grab your attention. Doing so will allow you to continue working on your spring cleaning goals without getting sidetracked.
Free Printable Spring Cleaning Checklist
Want a printable simplified version of this spring cleaning checklist? This 1-page checklist has the major items that most often get pushed to the bottom of the priority list in regular home cleaning throughout the year.
R&H email subscribers can download this checklist for free. Get it here:
Remember, you can do as much (or as little) as you want from this list. There are no spring cleaning police (phew), so you can do what works for you! Scrub every square inch of your house with an old toothbrush… or just hit the major spots that are bugging you personally.
Bottom line? Don't overthink it! Grab your list, a cleaning cloth, some DIY spray, and get scrubbing. You'll be SO glad you did!