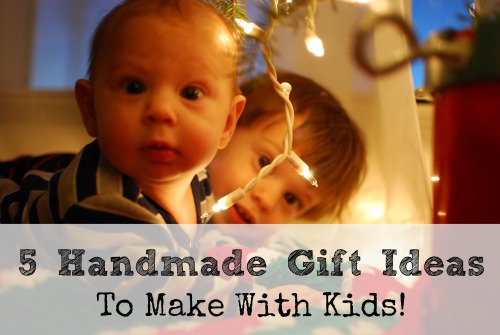 (This is my monthly post over at Frugal Granola)
Now that Thanksgiving is officially over, there's really no excuse to tone down the Christmas talk. Yippee! (says the Christmas-enthusiast-who-started-listening-to-Christmas-music-in-October).
Handmade gifts have enjoyed a resurgence of popularity in the last few years, and there is a never-ending supply of ideas out there, starting (of course) with Pinterest. For the majority, handmade usually equals frugal and green, which is music to my ears!
Following are five of my favourite homemade gift ideas that anyone will love, and the best part is that you can totally let your littles help you out.
A kid-friendly project + Christmas shopping done = total score!
These are all over the internet, but I haven't seen any cute kid-scribble designs. I think it would be a pretty adorable gift for parents or grandparents.
(Number four is my personal favourite, tied with number one!)
Are you making any handmade gifts this year? How's your gift-buying going? I'm pretty close to being done! I don't think I'll quite make my deadline, but I'm close, which is a huge improvement over previous years! 🙂
Beth is the creator here at
Red & Honey
. Mom of four, wife of one, and proud redhead. Sushi and tex-mex lover, fan of adventure, books, natural health talk, and pyjamas. INFP and Type 4 enneagram. Allergic to small talk. And, if you haven't figured it out already, #nerd. Read more posts by
Beth
.