By Virginia Miner
What is a milpa, and why should you plant one?
Planting a garden is a good way to know where your food comes from, but how do you make sure that you don't do the same thing to your backyard that the big growers are doing to their fields?
Over fertilizing, depleting soil, etc. can happen in your garden just as easily as in a big farm field.
There are lots of systems of plant rotation that try to replicate traditional techniques of building and preserving soil, but I want to introduce a system that doesn't even involve rotating crops.
What is a Milpa?
The milpa originated thousands of years ago in southern Mexico and Central America. The term means "maize field" but refers to a field planted not only with maize but with squash, beans, melons, and possibly peppers, sweet potatoes, and other plants as well.
By the time European settlers were living in North America, the milpa concept had spread far from Central America and people were planting "the three sisters" (corn, squash, and beans) far up the east coast of North America.
I encountered the milpa in the book 1491 by Charles C. Mann (a worthy read) and many of the facts here presented are from Mann's research. According to Mann, corn and beans are complementary in their nutritional profile, each being much more easily digested if consumed with the other.
Not only are they nutritionally complementary, but if you plant corn and beans together you have eliminated the need for bean poles; instead your corn becomes the growing pole for your beans.
Squash plants make excellent ground cover, and anything else you grow is just icing on the cake!
But the best part is that you can plant a milpa in the same plot over and over again because of the way each plant uniquely builds the soil.
There are fields in Mesoamerica that have been planted with a milpa continuously for 4000 years and continue to be fruitful.
How do you plant a milpa?
The first thing you should do is choose a variety of corn and look at a planting calendar for your area. Our next season plants in late February or early March, and we are in the southwestern U.S.
The variety of corn we chose was a non-GMO Oaxacan dent corn; it has beautiful green kernels and is used for making corn flour (yes, you CAN use your Vitamix to grind corn).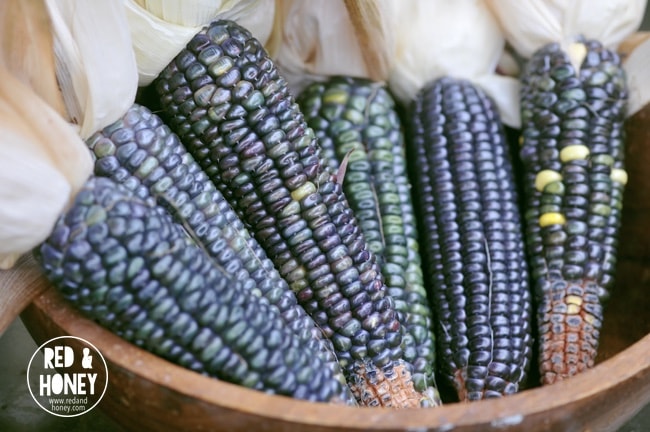 Any variety you choose will work, though; sweet corn, popcorn, and flour corn are all fair game. Victory Seeds is an excellent place to source non-GMO corn. Do some regional research and see what grows well in your area.
Get some bean and squash seeds as well, and start planting! You will want to plant your beans around your corn so that they can climb, and then the squash in between to provide ground cover.
Plant at least two rows of corn; this could be a 2 row by 2 row plot and literally take up 16 square feet. We put ours in our front yard (we now have a reputation in our neighborhood) and planted 3 rows of 5 or 6 corn stalks each.
Why should you plant a milpa?
It's one of the best ways to get non-GMO corn.
Corn from the grocery store makes me feel yucky, but I loved eating what we grew, and it didn't affect my digestion.
It's sustainable and simple.
I am terrible of keeping track of rotations in my garden (though I try) and I love that no rotating is involved in a milpa.
It shows your true colors.
As our lovely, proper, elderly German neighbor said, "Why would ANYONE grow corn in their front yard? I have room in my backyard if they need it!" She had better watch out, lol 🙂
What do you think? Have you ever planted "the three sisters"? Will you try a milpa this year?