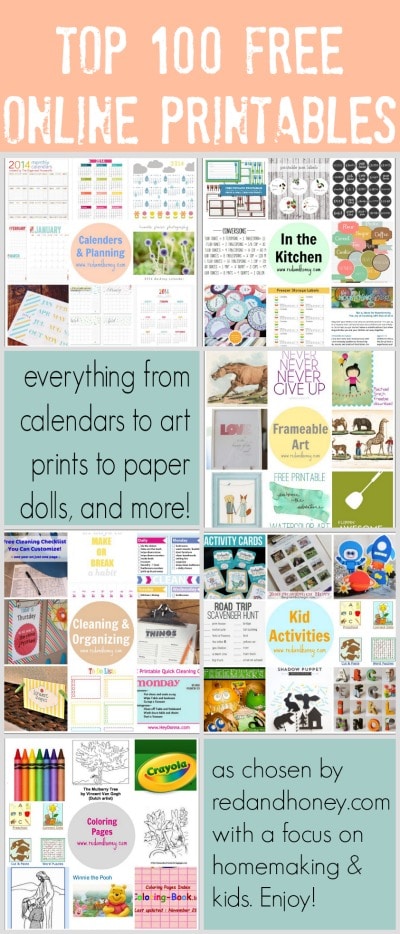 This post needs little intro. It's full of awesomeness. But it should come with a warning label: there is some amazing eye candy and organizational goodness just ahead. I'd advise a cup of tea and a comfy spot to sit while browsing the awesomeness contained in this post.
These links are the best of the best that I have found after collecting links here and there for probably a year or so now.
I can now go and throw out approximately a bajillion scraps of paper stuffed in various places around my house with random notes to myself about cool printables I found.
Also: let the record show that this post took me eleventy hundred years to finish. My eyes are glazed over and my dreams contain the soundtrack of printer noises. Gosh, the sacrifices I make for you people – it's downright noble.
Without further ado, let's dive right in…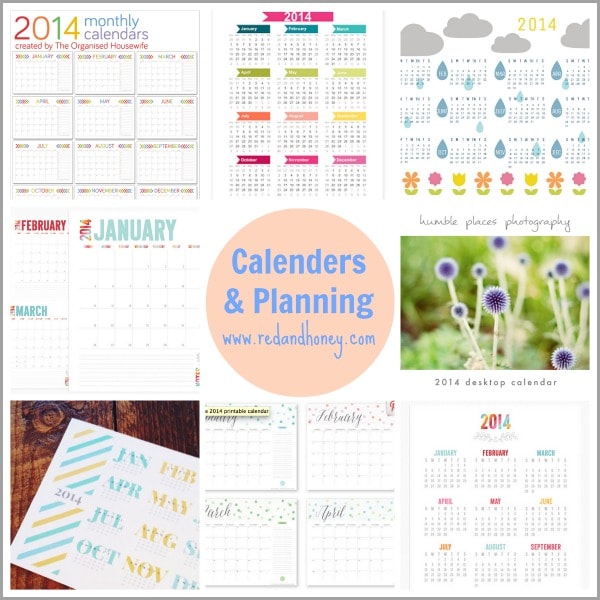 Planning + Calendars
1. Action Items and Brain Download List sheets | Lara Casey (love that "download" sheet for your mind – to clear the clutter and make space for creativity.)
2. 2017 Monthly Calendar printables | Short Stop Designs
3. Simplified Life Binder Printable Library from Emily Ley
4. Free Printable (and Customizable) 2017 Desktop Calendar  | It's Always Autumn
5. Round up of various free printable daily planners, menu planners, etc. | Design Finch
6. Free Goal-Setting Workbook | Living Well, Spending Less
7. 2017 Editable Printable Calendar | Sarah Titus (this one is editable on the computer before you print it so you can type in things that you already know or that will occur regularly).
8. 2017 Inspirational Flip Calendar | Botanical Paperworks
9. 2017 3D calendar | A Piece of Rainbow (how unique is this?!)
10. Printable Birthday Calendar | U Create Crafts
11. Simple but Sweet 2017 Calendar | Landeelu
12. Creative To-Do Calendar Mashup | Idillized  
13. The Harmonized House Personalized Family Planner Printable Pack | World Label
14. 2017 Perpetual Calendar | Lemon Thistle
15. Colouring-in 2017 Calendar | Scrappy Stinky Inky Mess
16. Perpetual Fillable Birthday Calendar | A Real Life Housewife
17. Printable Daily Planners | Canva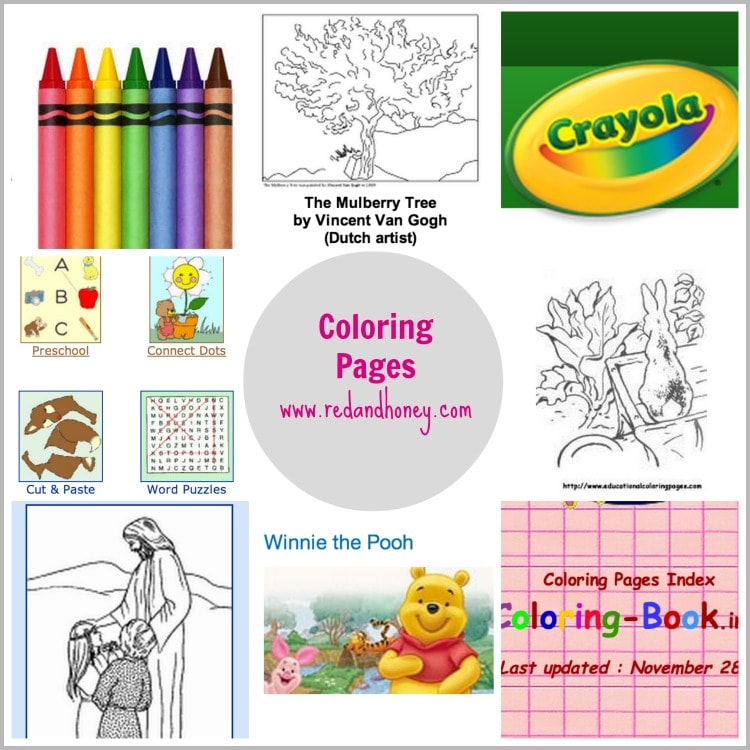 Coloring Page Websites
1. Coloring.ws | This site has hundreds of coloring pages organized by categories like Alphabet, animals, holidays, cartoon characters, fantasy & medieval, nature, transportation, etc. Many of the categories are also further broken down into sub-categories. For example, the animals category is broken down into dozens of specific animals like dragonflies and rhinoceroses (each with their own selection of pictures to choose from.) They also have color-by-number and dot-to-dot.
2. Famous Works of Art Coloring Pages | Coloring.ws (this is from the site linked just above, but I wanted to link it directly because it is perfect for anyone who desires to introduce their kids to great artwork.
3. Activity Village Colouring Pages | Activity Village (around 1500 printable colouring pages! One of my favourites!)
4. DLTK Kids | This one is a companion site to the one above. It lists coloring pages in dozens of categories, including every holiday you can think of.
5. Crayola Coloring Pages | Crayola.com (lots of categories)
6. Coloring Pages of Licensed Characters | Coloring Info
7. Coloring Pages | Coloring-page.com (the one above is .org, and it features licensed characters, whereas this one features regular pages in categories like nature and transportation.)
8. Educational Coloring Pages | ECP (Another huge, categorized assortment)
9. Bible Coloring Page | Coloringpages.net (hundreds of Bible-themed pages)
10. Enchanted Princess Coloring Pages | Spoonful
11. Quirky Coloring Pages | Don't Eat the Paste (more advanced designs for older kids – lots of mandalas, etc.)
12. 1000 Coloring Pages | The Coloring Barn (some absolutely gorgeous coloring pages here, but watch out for the odd stuff mixed in. Ie… don't click on the one that tells you how to get rid of toenail fungus… etc. I'm including this site because the actual coloring pages are beautiful, but just beware of the spammy stuff.)
13. Best Coloring Pages (this site is a little annoying to navigate, but it's good to have on hand in case you are searching for something specific, like a picture of a hibiscus for a certain unit of nature study in homeschooling, etc.)
14. Relaxing Flower Power Coloring Sheet for Big Kids (or Grown-Ups) | Dover Publications
15. All Aboard! Train Coloring Sheet Customizable with Child's Name Before Printing | Frecklebox (this is the coolest!)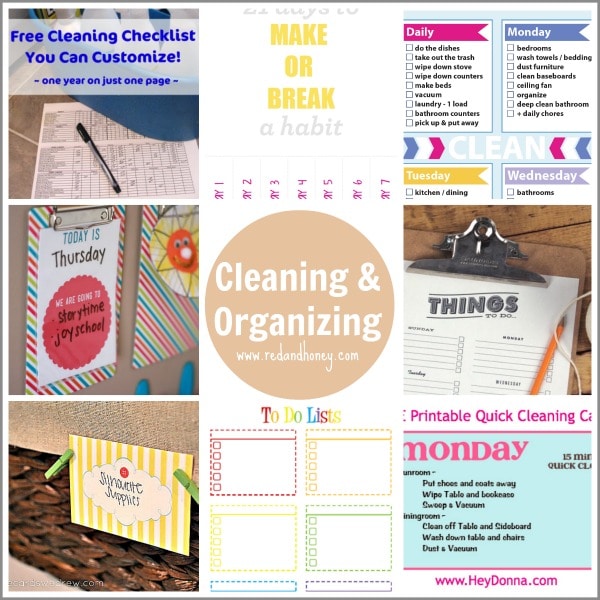 Cleaning + Organizing
1. Cleaning Checklist you Can Customize – One Year on One Page | Simply Rebekah
2. Printable Quick Cleaning Cards | Hey Donna
3. Weekly Menu Plan & Weekly Cleaning Checklist | My Humble Kitchen
4. Customizable Organizing Labels | Tater Tots and Jello
5. 21 Days to Make or Break a Habit | Sweet Paper Trail (I love this idea SO much!)
6. Daily & Weekly Cleaning Schedule | Sweet Paper Trail
7. DIY Toddler Command Center with Printable "Daily" Sheets | My Sister's Suitcase (So cute!)
8. Party Planning Printables | A Pair of Pears
9. Rainbow To-Do List | The Idea Room
10. Toy Bin Labels | Mom's Daily Adventures
11. Phone Directory | The Organized Home
12. Blog Planner | A Virtual Woman
13. 5 Ways to Get More Organized: Free Printables | Infarrantly Creative
14. Rose Tag Frames | Sweetly Scrapped Art
15. Vintage-Inspired Organizing Labels | Sweetly Scrapped Art
16. Emergency & Medical Information Sheets for Your Family | Fine and Dandy Paperie
17. Notes for the Babysitter | Darling Doodle Design
18. Chevron Labels | World Labels
19. Paint Can Labels | The Creativity Exchange (this is actually a really smart idea – who doesn't have a bunch of half-used cans of paint kicking around that you've forgotten exact details about?)
20. Monthly Budget Planning Sheet | SissyPrint

In the Kitchen
1. Kitchen Measurement Conversion Printable | Turning It Home
2. Mason Jar Labels | Limeshot
3. Recipe Cards | Volume 25
4. Printable Jam Labels | Packagery (these are just darling. love them.)
5. Potluck Printable Cards | A Well-Crafted Party (these are a great idea for identifying ingredients/possible allergens, etc. so that everyone can enjoy the potluck with you.)
6. Kitchen Pantry Organizing Labels | World Label
7. Spice & Pantry Chalkboard Labels | World Label
8. Freezer Storage Labels | 247 Mom
9. Recipe Binder Cards | Dimplicity
10. Coffee First – Art Print | EJ Photography (I need this blown up as large as possible so that all I have to do is scowl and point at it in the mornings. Ha.)
11. Frameable Mason Jar Photos | Redfly Creations
12. Chalkboard Kitchen Art Prints (Set of Four) | The Shabby Creek Cottage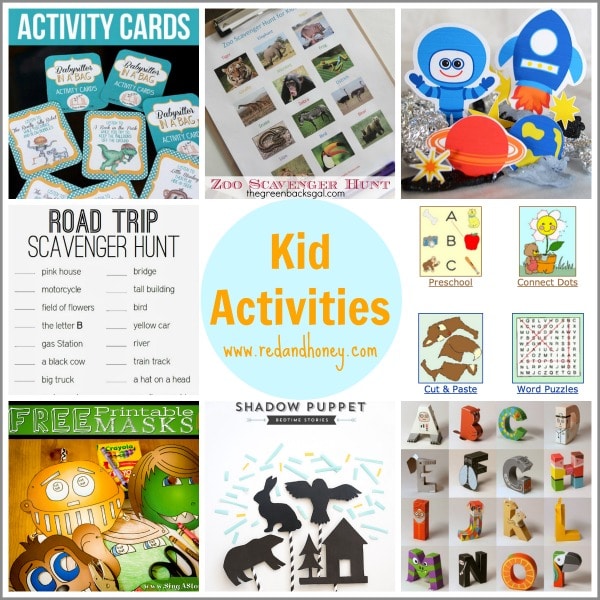 Kid Games + Activities
1. DIY Campfire Story Printable Shadow Puppets | Handmade Charlotte
2. Adorable Printable Space Character Figures | Picklebums
3. Activity Pad | Papa Jan's (Preschool activities, dot-to-dots, mazes, word puzzles, color by numbers, etc.)
4. Printable Play Masks | Sing a Story
5. Road Trip Scavenger Hunt Sheet | Turning It Home
6. Zoo Scavenger Hunt for Kids | The Greenbacks Gal (we have a family zoo pass, and I LOVE this idea!)
7. Babysitter in a Bag | The Dating Divas (this is awesome. I love the idea of leaving new and special activities for the babysitter, and the printable cards are something my kids would absolutely love.)
8. Papercraft alphabet | Tip Junkie
9. Grocery Store Shopping Scavenger Hunt | The Mud Pie Makers
10. Time Capsule with Free Printable About Me Sheet + Goals Sheet | Playful Learning
11. Mr Printables | A huge resource of dozens of coloring sheets and craft/activity sheets. I love the Balancing Circus Toy cutouts, the Lunch Box Notes, Animal Finger Puppets, and the Rainbows & Rain Game (like snakes and ladders, only with rainbows and rain that you cut out and pop up 3D. So cute!)
12. Themed Word Searches | TipJunkie
13. Pond-Themed Preschool Activity Pack | Confessions of a Homeschooler
14. The Shapelys Memory Game | And We Play
15. DIY Geometric Fridge Magnets | And We Play
16. Dry-Erase Coloring Mats | And We Play (this is brilliant!)
17. Fairy-Tale Dress-Up Paper Dolls | TipJunkie (an amazing tip: print these on magnetic paper to play with them on the fridge!)
18. Paper Nesting Dolls | TipJunkie
19. 10 Kind Cards | Kind Over Matter
20. Car Bingo for Road Trips | Evite
21. Trucks Pattern Card Pack | The Measured Mom
22. Build Your Own Paper Neighborhood: Bring in the Fuzz | The Neighborhood
23. The Ultimate Printable Paper Doll Collection | Cool Mom Picks (I'm swooning over some of these. Adorable.)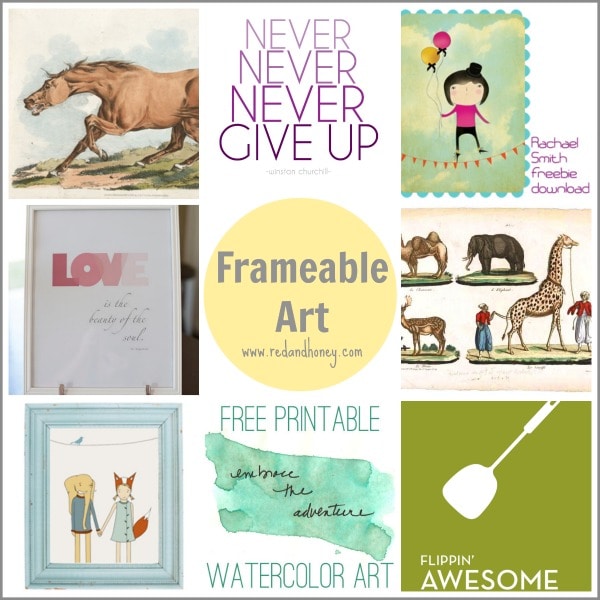 Art
2. Printable quote by Winston Churchill
3. Watercolor Art Print with Adventure Quotation | Shabby Creek Cottage
4. Summertime (and the Livin' is Easy) art printable | Shabby Creek Cottage
5. 8×10 Thanksgiving Word Art | Vintage Kids, Modern World
6. 73 Journal/Scrapbooking Cards | Miss Tiina Digital Art
7. 128+ Journal/Scrapbooking Cards | Miss Tiina Digital Art
8. Be Thankful Art Print | Fine and Dandy Paperie
9. New York Public Library Digital Gallery | via Thrifty Decor Chick (I'm linking to her blog post about it so that you can be inspired before diving in to the actual collection. This is an absolute goldmine – the images are stunning and varied and sophisticated and rich with history, and well, I'll stop gushing now… but seriously. Gorgeous.)
10. Floral with Quotes Art | On Sutton Place
11. Vintage Printable (This site. You guys – GO TO IT NOW. Hundreds of out-of-copyright or public domain images. Mostly vintage naturalist or scientific illustration. I just wanna take you by the hand and meander slowly through together, enjoying the visual feast. So much goodness.)
12. Dozens of beautiful art prints | Feed Your Soul Free Art Project (another drool-worthy site. I'm so inspired by these images.)
13. Daisy Botanical Vintage Art Print | The Graphics Fairy (click around the site for more!)
14. WPA Posters | Library of Congress (lots of free images here)
15. Summer Subway Art | Eighteen 25 (and they have tons more free printables, categorized here.)
16. Chesteron Rainbow Quotation Art | Simple as That
So. Much. Free. Awesomeness. Which one's your favorite?
* I apologize in advance for the inevitable broken links as time goes on. I'll attempt to update them as I'm able. If you find a broken link, feel free to leave a comment to let me know. Thanks for reading!
Beth is the creator here at
Red & Honey
. Mom of four, wife of one, and proud redhead. Sushi and tex-mex lover, fan of adventure, books, natural health talk, and pyjamas. INFP and Type 4 enneagram. Allergic to small talk. And, if you haven't figured it out already, #nerd. Read more posts by
Beth
.