June 9th, 2012

{when a placenta is spread out it resembles a tree, which, like the placenta, also symbolizes life}
:: WARNING :: GRAPHIC PHOTOS INCLUDED IN THIS POST.
I do believe this is the farthest into crazy crunchy hippie territory that I've ventured thus far. A couple of years ago when I first heard of people burying their placenta under a tree as a symbol of life I thought that was weird.
Now? I'm nearly forty weeks pregnant with my third child, and planning to encapsulate and consume my own placenta in order to reap the many health and postpartum healing benefits as has been done in traditional cultures for thousands of years.
I wrote an article for Frugal Granola a few months ago on some of the history and benefits of placentophagy (the act of consuming one's own placenta after birth), and one of the commenters with a placenta encapsulation business in Texas very kindly offered to answer my questions and give advice as I went through the process.
A friend of mine here in Tiny Town just gave birth to a beautiful babe on Wednesday, and knowing that I was planning to encapsulate my own placenta, asked me to do hers as well. I nervously agreed, since I had never done it before. Dana's instruction and guidance was invaluable to me as I went through this process, and she has given me permission to share it here as well.
The Process
The placenta was dropped off by K's husband where it was stored in my fridge (it was stored in a hospital-grade bag then double-bagged again, in case you're wondering). The optimal time to process a placenta is within 3-5 days, and I started on the evening of day 2. It was an overnight process, as it required 12 hours in the dehydrator.
I began with spreading out a garbage bag over my table, and setting out my glass cutting board and knife, along with the steamer pot ready with cut up lemons, a jalapeño pepper, and a hunk of fresh ginger.
(Optional: Lay the placenta out on a canvas to make an artistic print. Check out the photos on Dana's site to see some examples).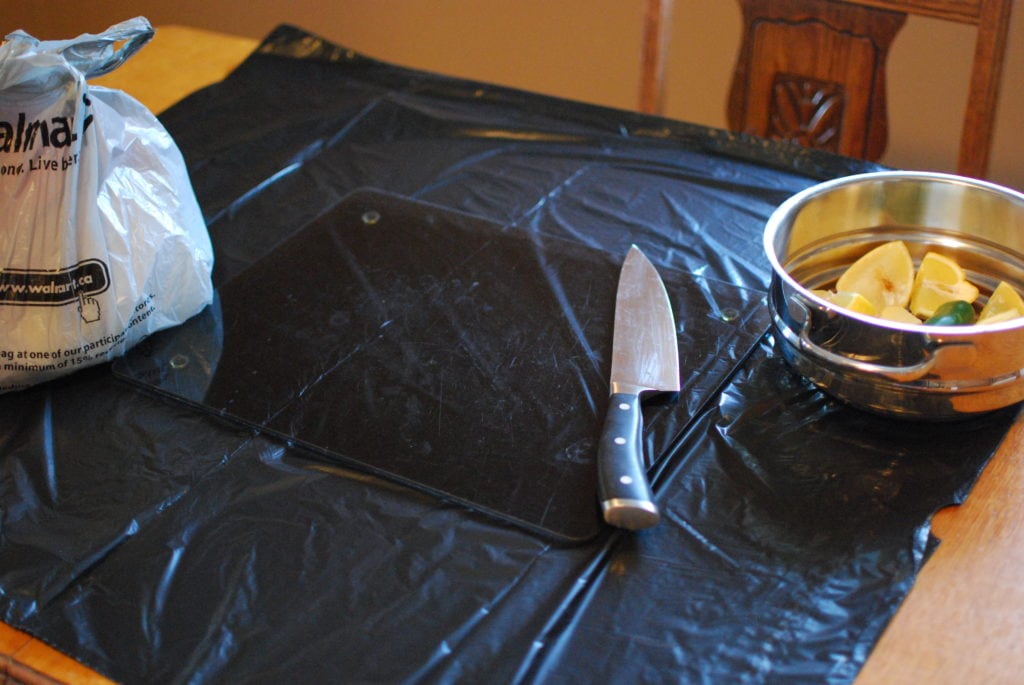 Dana explains the purpose of these in the TCM (Traditional Chinese Method): "The lemons are an astringent, the ginger and pepper are blood warming and help to move things along in the blood stream. Remember that this is following the Traditional Chinese Method. If you don't use any of them, you are still going to get the benefits of your placenta but these things are definitely helpful."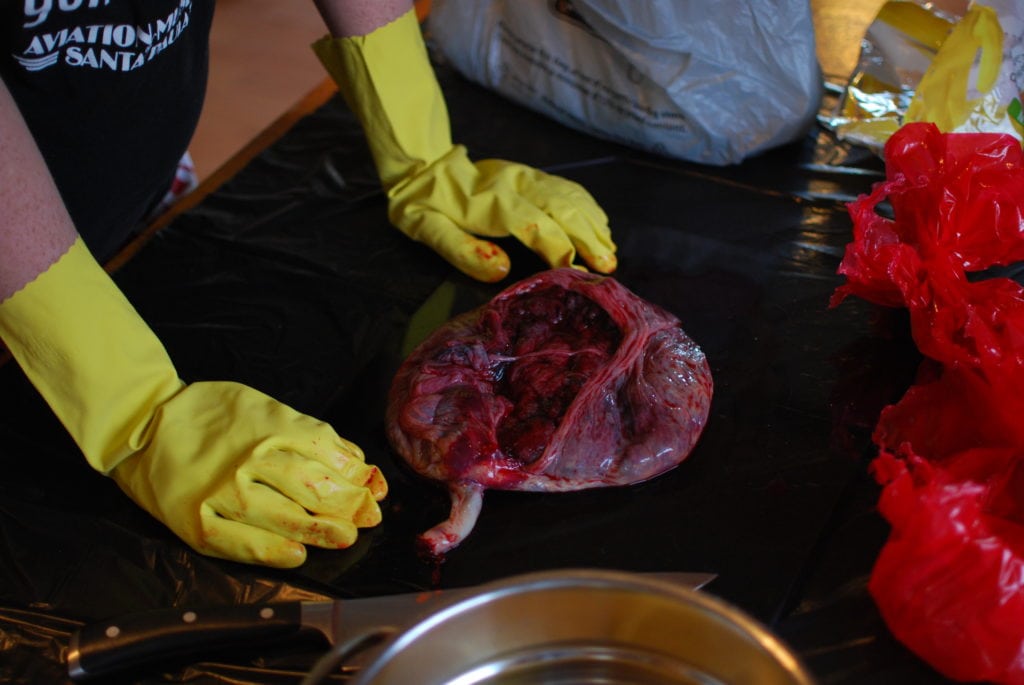 Once you've unwrapped the placenta and laid it out, cut the cord off. Optionally, you can reserve the cord to shape into a heart and dehydrate as a keepsake (I chose to skip this step, as the cord had already been mostly cut off).
FYI: If it's your first time handling and seeing a placenta or anything bloody there may be some "ick factor" to deal with. This part was a little crime-scene-esque for me, but nothing I wasn't able to handle overall. I almost felt like I was in medical school or something.
Then rinse it under running water, gently massaging it for 5-10 minutes to get the blood out. Dana says "getting the blood out is not a necessary step but I do so because it tends to irritate the stomach for some". The placenta should lighten in colour after this step.
Place it in your steamer basket that is ready with the lemons, pepper, and ginger.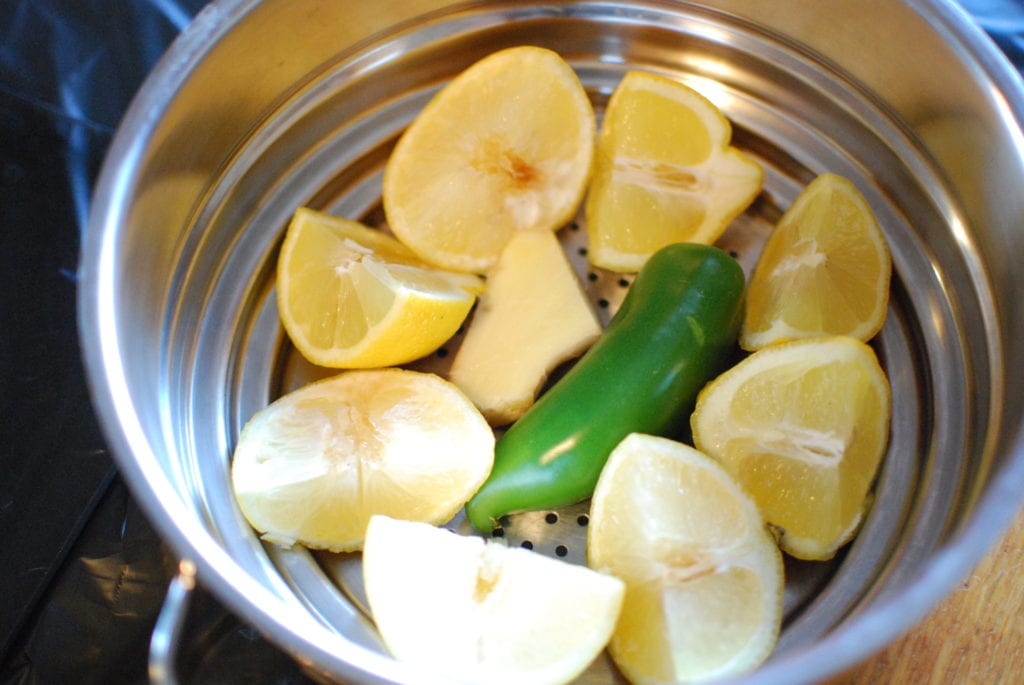 Steam the placenta for 20 minutes. I used a hot plate burner out on my deck in case there was a lingering smell. (I didn't want to take chances with my sensitive pregnancy nose – as it turned out the smell of the ginger was the grossest thing for me, the placenta didn't really smell much).
Be careful not to add too much water to your pot like I did – mine kept overflowing all down the sides and into the burner (which was really hard to clean!) and onto the table, which, I'll be honest, just grossed me out. My Hubby was helping me and he didn't think it was gross at all, so it'll really depend on your own "ick factor" level!).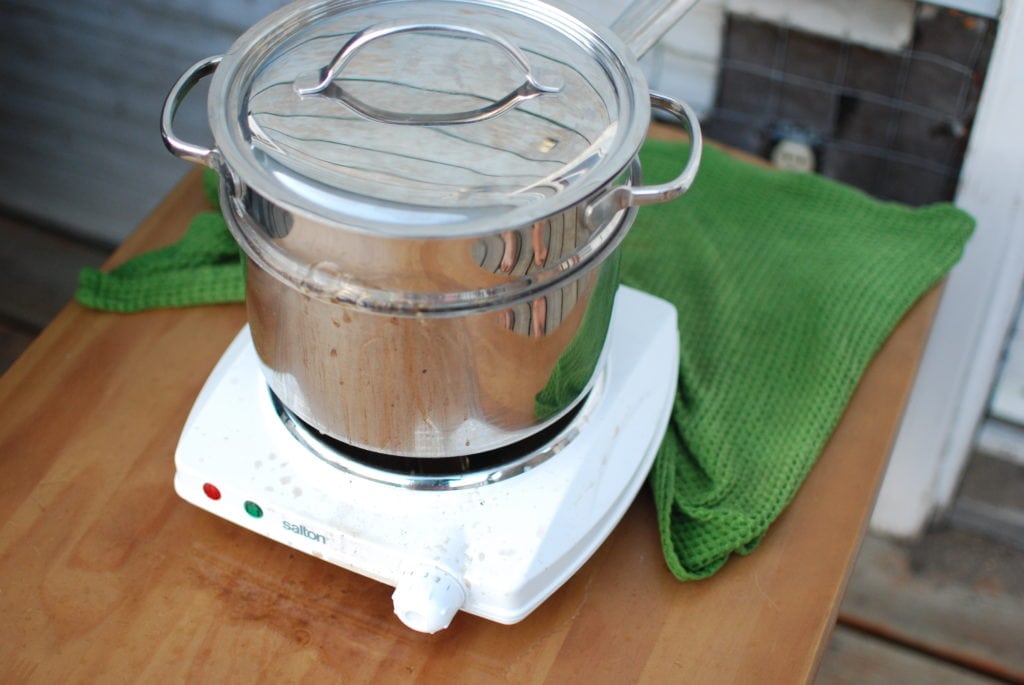 When it is done steaming (and it's best to err on the side of underdone), cut it into 1/4 inch slices. Place on parchment paper (for easier clean-up) on your dehydrator tray, and dehydrate at 118 degrees for 12 hours.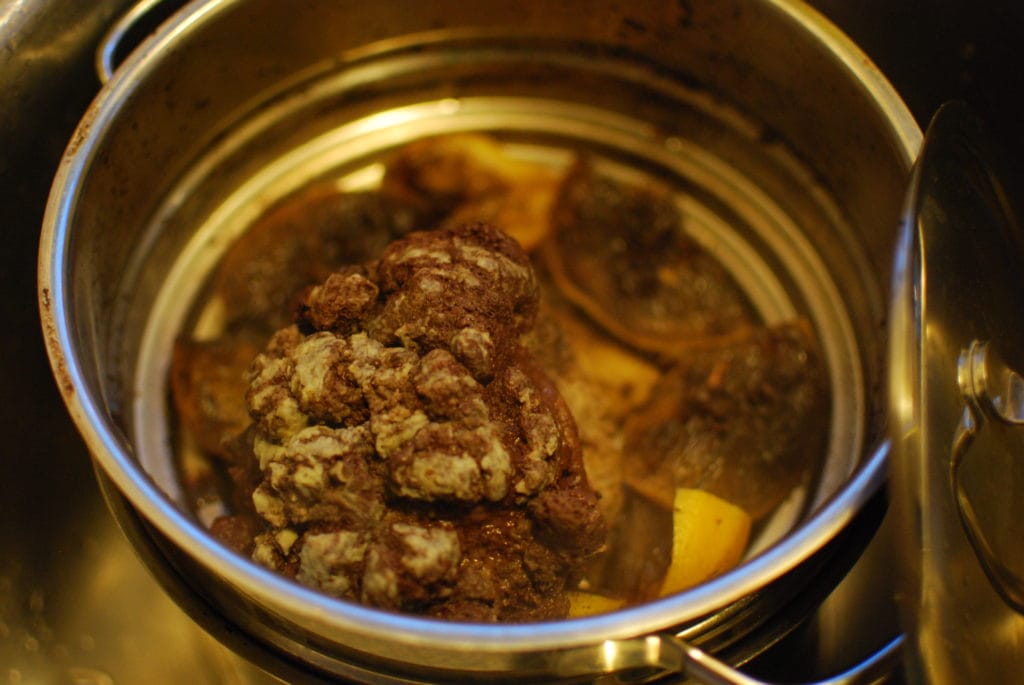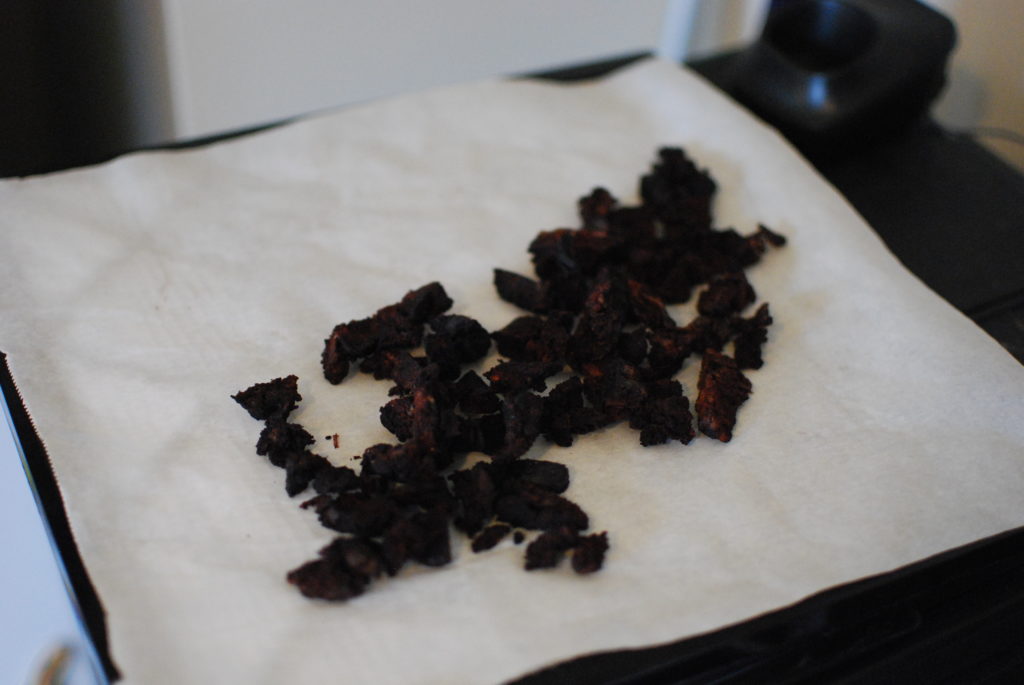 This is it after dehydrating. Little pieces of placenta jerky… mmm (yes, I definitely curled up my nose at this thought, too!). Once it's done dehydrating (I began the process in the evening so that I could dehydrate overnight – I didn't want to have to get up in the middle of the night to take it out!), then you need to grind it into a fine powder. A food processor, Magic Bullet, or coffee grinder could all work. I used a food processor.
Once it is in powder form, it is time to encapsulate.
Though this was the part that I was afraid would be the most difficult, it was actually quite easy. K had bought empty capsules (size 00) from the health food store here in Tiny Town. I simply opened a capsule, scooped some powder into each end, and put the capsules back together. Easy-peasy. This was the least "icky" part of the whole process for me, though it was a bit time-consuming.
Unfortunately things got crazy in my house with a friend (and her two kids) here to help me cook a bunch of freezer meals for my upcoming postpartum period (which was so amazing!), so I totally forgot to take a photo of the finished product in the cute little jar I found in my cupboard. It was a great sense of accomplishment!
The capsules should be stored in the fridge in a dark glass bottle. If you are interested in dosage information, feel free to email me!
Would you ever consider encapsulating your placenta? Do you have any other questions?
52 Responses