What up, mamas on the interwebz?
So you use Pinterest. You love it. You pin cool stuff and even try a recipe or DIY or two now and then. More if you're that camp-counsellor-style fun mom that I love to hate. I mean love. Ok, fine, I'm jealous, if you must know. But for the rest of us regular moms who pin approximately 98% more stuff than they actually do in real life, this PSA is for you.
If the internet in general is information-overload, then Pinterest is awesome-idea-overload, right?
Do you ever feel a little twinge of guilt when you surf the newsfeed on Pinterest? All the awesome things converged into one little never-ending scrolling screen of infinity, most of which you'll never do, unless you quit all responsibilities to become a Professional Real-Life Pinster [I invented that title approximately four seconds ago. Don't quit your day job. It's not a thing].
You trepidatiously walk that narrow balance beam between the two extremes of doing All the Cool Things with your kids vs. drowning in a sea of guilt every time you log on to the newsfeed and see a bajillion brilliant ideas pinned to your boards that never do manage to make it to the summit of Mt. To-Do List.
Good gracious, do I ever know that line. I walk it every day and although I try to stay upright, many days find me just a teensy bit dejected when I realize that the amount of things I'm able to actually do is like eensy-weensy spider-sized, as compared to the massive list of Awesome Things You Should Do!!! which is more along the lines of, say, a pregnant hippo. (Oh, didn't you know? It's weird and random analogy day. Work with me, peeps.)
So anyway, listen – I saw a photo on the internet this weekend of a friend's kid's birthday party. It was a shot of a cake in a 9×13 glass pan, with light pink icing and a precious little face with puffed up cheeks, blowing out the single flickering candle with gusto.
"Aww, cute kid." I thought to myself. Then, out of the blue like a sneaky ninja, a voice in my head whispered in a tiny voice: "I guess they were plain-jane'ing it on the birthday cake this time around."
As quickly as the thought crept into my mind, one of my eyebrows nearly shot off my head as my brain tumbled over itself in a rather unsettling combination of uncomfortable feelings.
I guess, if I'm being 100% honest, a tiny part of me believes this to be true: some people "settle" when they don't marry their true love. Some people "settle" when they stay in a passionless job when they desperately wish to be doing something else. And some people "settle" for a less-awesome birthday cake than what Pinterest tells them can be done in Just 10 Easy Steps!
Eek!
Is this seriously my thought process?! That's ridiculous. RI-freakin-DICULOUS. I don't blame Pinterest, though. When my husband worked in IT Support, there was an acronym they used in the office. PEBKAC: Problem Exists Between Keyboard and Chair. Fully applicable to this situation, I admit.
So then, a giant lightbulb went on – ping! – above my head. A revelation popped in to my head that seemed so ridiculously simple that even I rolled my eyes at first.
I realized… that my kids don't have Pinterest. Duh, right? They're 5, 3, and 1 and don't even understand what the internet is, let alone the awesomeness contained inside those Pinterest hallowed hallways. THEY HAVE NO IDEA THAT PINTEREST CAKES EXIST. I'm not disappointing them by failing to do all the things I've pinned.
Obviously we don't all do All the Things all the time. No Pinterest user is a machine, churning out chevron-patterned 3-tier birthday cakes every day, served on a cake stand made from local reclaimed wood out in the woodworking shop of your uniquely decorated home. Accompanied by a mason jar full of homemade naturally-sweetened lemonade to sip. With a paper straw that you ordered from some hipster site on the internet in the fashion-forward style of gold and grey stripes, because: duh.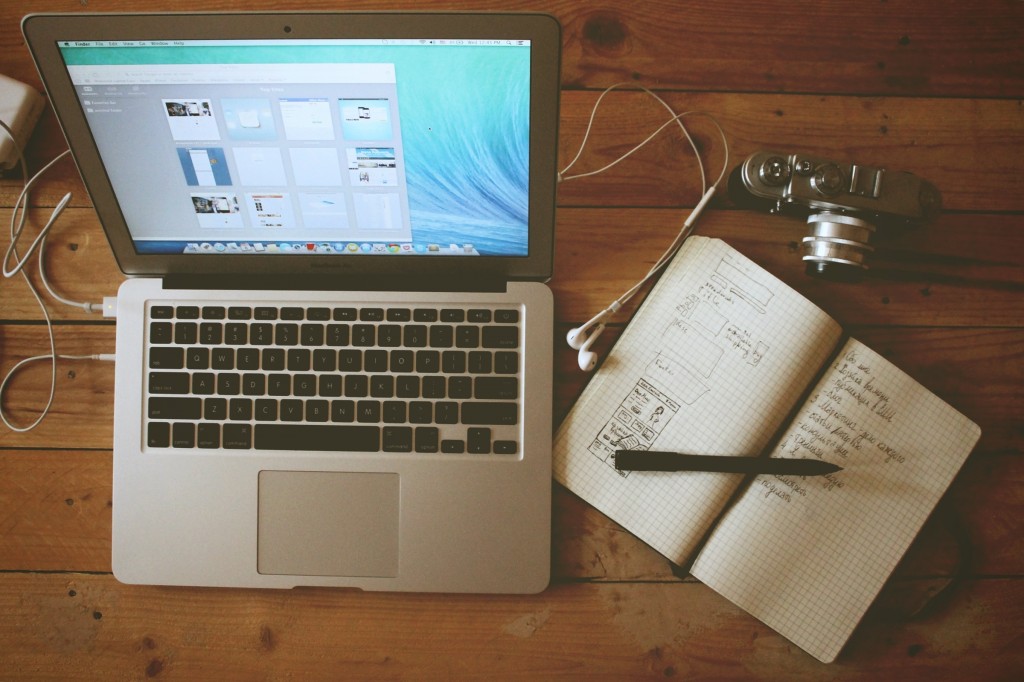 We all do it, right? We make choices about our priorities, our time, boundaries, all of those good and wise things we think about. We compromise one thing in favour of another, and we don't actually choose The Most Important Thing, we choose Our Most Important Thing.
What if the Pinterest cake isn't better than the plain-jane version… it's just different?
There is a time for everything under the sun: a time to make Pinterest-awesome birthday cakes, and a time to whip up cupcakes from a box. A time to DIY some amazing sensory bin activities that take you an hour to clean up after 20 minutes of play, and a time to boot the kids outside to play with dirt and sticks. A time to use netflix as a babysitter, and a time to choose to read extra stories while ignoring the dirty dishes in the sink.
In the pink birthday cake photo this past weekend, the sweet kiddo's eyes were bright with anticipation. Her face was radiating with that magical thrill of a special moment. The lack of fancy-pants accoutrement to her birthday cake as pinned to her mama's "awesome party ideas" board did not cross her mind for a split second, I'm sure.
Truth be told, your kids likely won't ever know the difference between the version in reality and the version in your head and it would be a shame if you missed out on sharing in some of their joy because a small part of you was too busy wishing you had managed to do it better.
Listen to me, mama: I'm pretty sure your kids adore you. I'm pretty sure that the special things you do for them are not just the plain-jane version of mothering. They are the fibers of the unbreakable connection to their hearts that you are expertly cultivating. No awesome project or great idea can do that without you.
By all means, delight your kids. Use things like Pinterest to inspire. Use it to instruct. But don't use it as a to-do list, for heaven's sake. Use your imagination, and your time and energy as you're able, and above all use your heart and your intuition to connect with their little hearts.
And then when you're lucky enough to see those lit-up eyes and huge grins from something you did for them? Be sure to snap a photo so you can pin it later.